---
Crew
Director – Andrew Thomas Hunt, Screenplay – David Murdoch & Svet Rouskov, Producers – Bruno Marino & Pasha Patriki, Photography – Pasha Patriki, Music – Wade MacNeil & Andrew Gordon MacPherson, Visual Effects Supervisor – Crystal Reeves, Makeup Effects – The Butcher Shop FX Studio, Production Design – Vincent Moskowec. Production Company – Hangar 18 Media.
Cast
Emily Alatalo (Emma), Michelle Argyris (Amy), Julian Richings (Emperor), Jason Rouse (Sam), Kiriana Stanton (Cassie), Chelsea Muirhead (Jill), Kathryn Kohut (Lea), Ryan Allen (Driller), Kevin Kase (Biker Earl), Morgan Bedard (Tim), Erin Noble (Doctor), Matt Connors (Bartender), Lewis Hodgson (Sheriff)
---
Plot
The all-girl punk band Ms. 45, consisting of sisters Amy and Emma and the girlfriends Cassie and Jill, are heading back from a concert. An enthusiastic fan Sam comes up alongside and drives them off the road. They are forced to accept a tow truck ride that takes them to a nearby scrap metal dealer's yard. There they are gassed and come around to find that the locals have surgically removed their arms and replaced them with weapons. Now they are expected to fight in the arena as sacrifices to the gods.
---
Andrew Thomas Hunt is a managing partner in the Toronto-based Raven Banner Entertainment and has been a regular produced of Canadian genre material since the late 2000s with the likes of June (2015), Stake Land II (2016), Dead Shack (2017), It Came from the Desert (2017), Lifechanger (2018), Super Grid (2018), James vs. His Future Self (2019), P.G. Psycho Goreman (2020) and Sky Sharks (2020), among others. He first appeared as director with the horror film Sweet Karma (2009) and Spare Parts was his second directorial outing.
Spare Parts comes with an intriguing premise that made me want to watch it – an all-girl punk band are imprisoned and have their limbs surgically replaced with weapons where they are forced to fight in an arena. The premise made me think of one of the Gonzo Japanese Splatter Films – the likes of Meatball Machine (2005) Tokyo Gore Police (2008), Vampire Girl vs Frankenstein Girl (2009), Mutant Girls Squad (2010) and especially Hard Revenge, Milly (2008), which feature girls going into combat with chainsaw, samurai sword and other weapons attachments grafted onto them.
On the other hand, Spare Parts quickly falls into disappointment. I began to get a sinking feeling from the opening scenes with the punk band – Andrew Thomas Hunt stages a barroom fight where the girls put down their instruments in the middle of their performance to wade into the fray and yet somehow the music they were playing keeps on going. Not to mention, the subsequent scenes with the girls driving back and arguing about wanting to improve their music, getting pregnant and bitching that they are only interested in dick. I don't want to stereotype but I have hung out with punk bands and the band we have here seem like average whitebread twentysomethings and what is crucially lacking is the angry defiance and individualism that drives most punk. It is quite possible that Andrew Thomas Hunt has never hung out with a punk band or even a riot grrl band before, rather what he and the cast have created is what they imagine a punk band to be.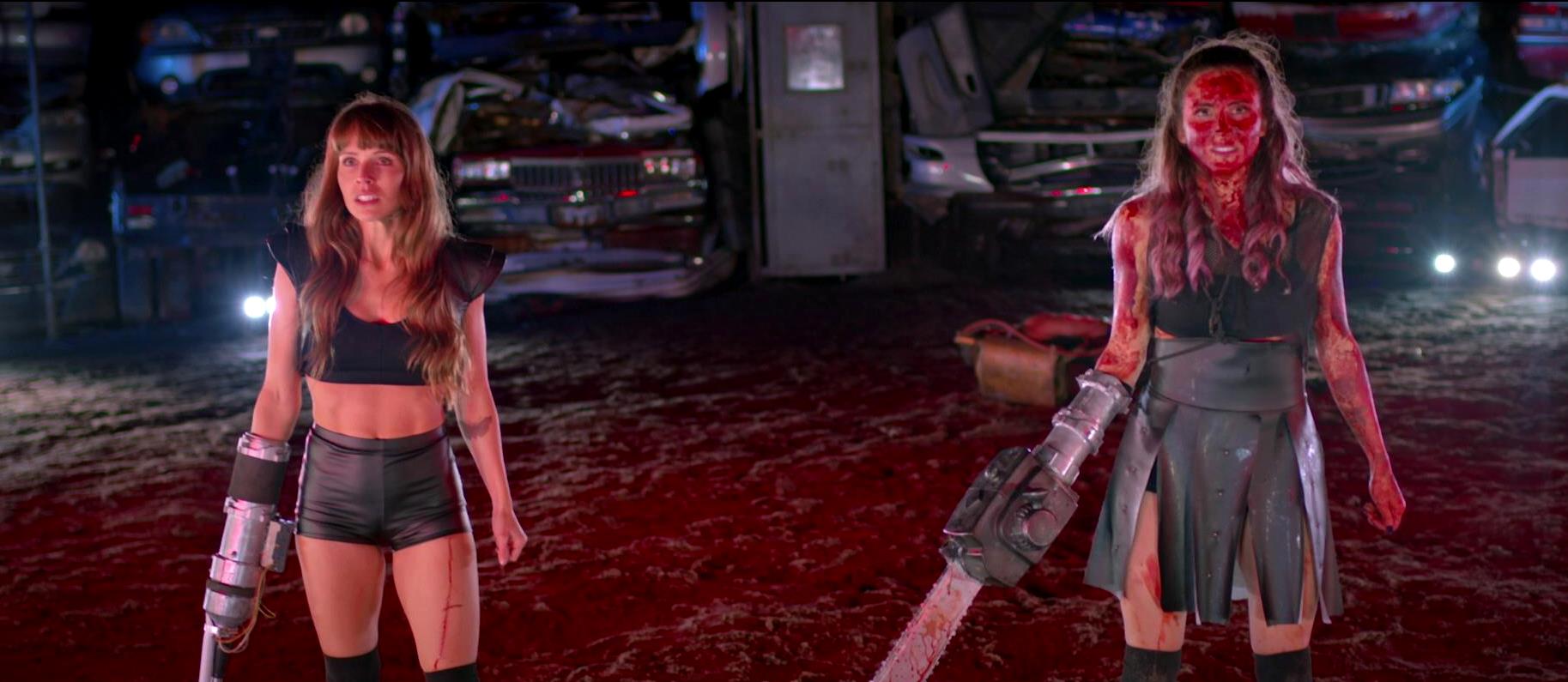 Crucially, Spare Parts fails on its premise. Andrew Thomas Hunt can think of no more than having the girls receive various bladed, hammer and chainsaw surgical attachments on the end of their arms and then engaging in fight scenes with assorted opponents. The choreography of these fight scenes is strictly average, nothing special. You also keep wondering about the medical likelihood of it – I mean, the girls undergo major surgery to have their limbs removed and are then instantly required to fight with their new attachments. In real life, people with arm and leg prostheses take months to regain mobility and coordination. And that's not even talking about the health issues presented by sending people into combat when their scars wouldn't have even healed.
You are not even sure of the film's timeframe – we see the girls spending some time in training and yet there cannot be more than a day or two difference between when Emily Alatalo calls boyfriend Morgan Bedard and he comes searching for her. It is short enough a span of time for the barman to remember which way they headed when they left, which gives the impression it is the same or maybe the following night.
All that we have seems never anything more than an episode of American Gladiators (1989-93) where the combatants have weapon attachments. You know if this had been a Japanese production we would have had a madcap melange of gore-drenched scenes with the girls fighting bio-mechanoid mutations and spouting all manner of advanced technology and/or twisting their own body parts into unique new forms. The scenes here where Emily Alatalo learns to play guitar with Jason Rouse seem laughably tame in comparison.
---
Trailer here
---