---
Crew
Director/Screenplay – Drew Marvick, Producers – Drew Marvick & Brian Mills, Photography – Brian Mills, Music – Michael Conway, Visual Effects – Craig Bergonzoni, Title Animation – Malcolm Hardiman, Makeup Effects – Katie Jacobs. Production Company – Floating Eye Films/Big Idea Productions.
Cast
Kristen Noel McKusick (Blaire Winthorpe), Margaux Neme (Nancy), Crystal Stoney (Britney), Destiny Faith Nelson (Jasmine), Alexis Adams (Tiffany), Nick Byer (Clay), Drew Marvick (Blaine Winthorpe), Mark Justice (Troy), Jimmy Grosse (Danny), Jenifer Marvick (Kelly), John Molinaro (Mr Winthorpe), Sally Burnswello (Mrs Winthrope), Dora Deceuninck (Dora), Trevor Layne (Chet), Leanna Vamp (Mrs Stevens), Cameron Lee Vamp (Pool Boy)
---
Plot
Bitchy Blaire Winthorpe's parents go away on vacation. While they are away, Blaire decides to throw a pool party. Joining her are her childhood friend Nancy and her bitchy friends Britney, Jasmine, Kelly and Tiffany. The party is also later invaded by Tiffany's boyfriend Troy and his obnoxious brother Clay. Also lurking around the house is a killer who starts slaughtering everybody using a variety of tools taken from the garage..
---
Pool Party Massacre is a directorial debut for Las Vegas-based filmmaker Drew Marvick. Before making Pool Party Massacre, Marvick had worked for some years in commercials, had worked as an associate with Ted V. Mikels, had made one short film, as well as several acting appearances in other low-budget horror films. When his friend, cameraman Brian Mills called to say he had a new camera and was looking for a project to try it out on, Marvick lied and said he had a new script called Pool Party Massacre and was then stuck with having to actually come up with one.
Marvick stated that he wanted to shoot Pool Party Massacre for "only $11", although ended up spending around $6000. The film was shot in Marvick's own home – in the spirit of makeshift improvisation, his wife Jenifer also appears as the first of the girl friends to be killed (with a claw hammer up through her mouth), while Marvick himself plays the killer. Elsewhere, Marvick traded a few favours to persuade cast and crew to work for free – one of these appears to be porn star Alexis Adams who also gets her clothes off for one scene.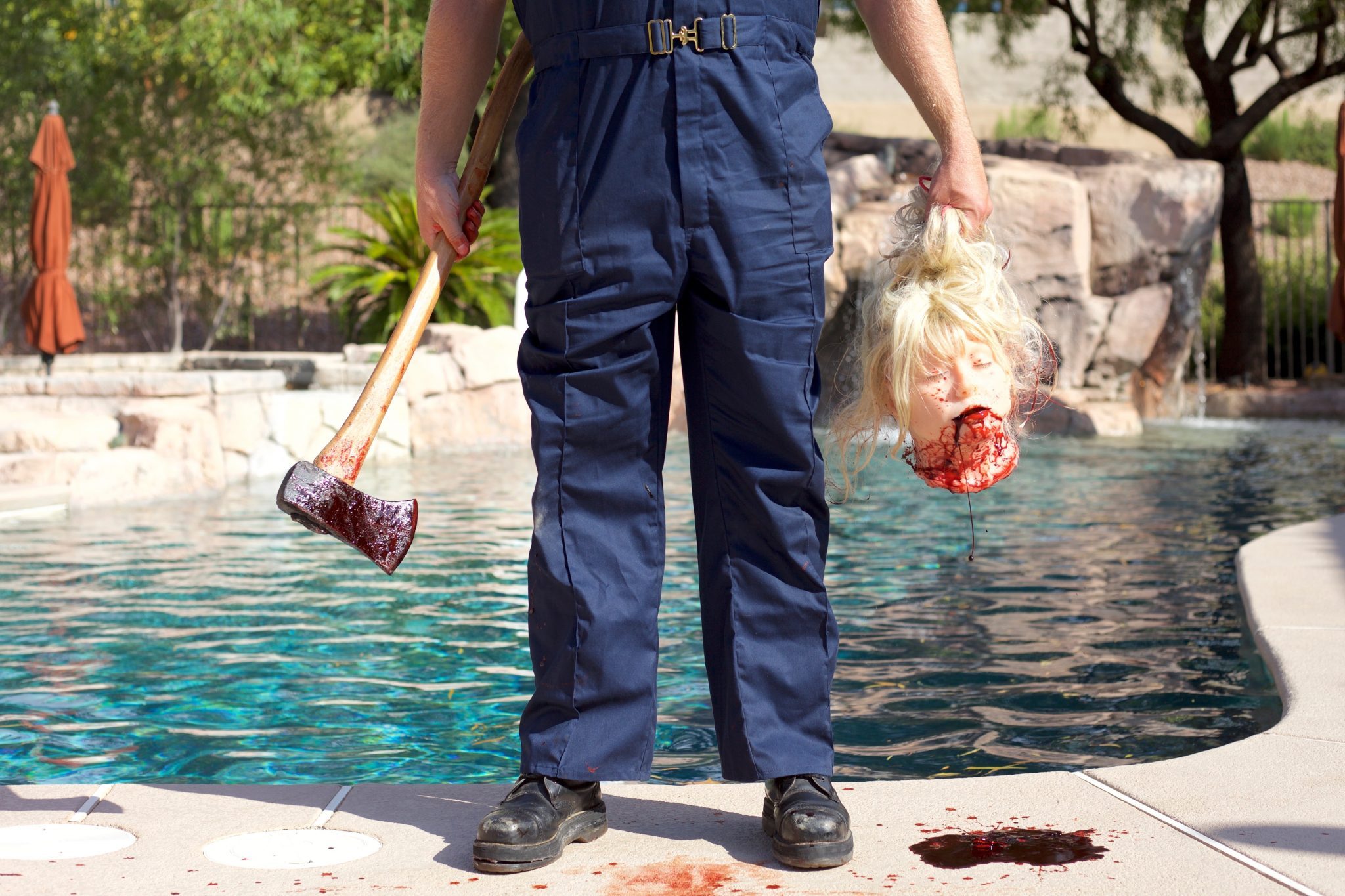 Made with the resources to hand and carried the rest of the way by a whole lot of over-the-top attitude, the result emerges as one of the most entertaining no-budget films ever made. The clear direction that Marvick has given each of the girls is to ramp the bitchiness up to eleven on the dial. The results are thoroughly hilarious – the Vinegar Stroke scene had me rolling in laughter in my seat
.The most entertaining performance in the film comes from Nick Byer who runs a frat rat obnoxiousness over everything and goes beyond anything the girls do to deliver a performance at around at least a seventeen on the dial. He even gets a scene where he, at length, voices the theory that has done the rounds of Reddit boards in recent years where Matthew Broderick in Ferris Bueller's Day Off (1986) is just a Tyler Durden-like alter ego in Alan Ruck's imagination.
Not to say that the comedy eclipses the horror aspect either. Marvick is a clear fan of the 1980s slasher film – the end credits include a thank you to "every 80s slasher film ever made". Many of the despatches come in the same entertainingly over-the-top vein of the performances, most hilariously the scene with Nick Byer being killed while seated on a toilet whacking off.
---
---