---
UK. 2017.
Crew
Director/Photography – Richie Moore, Screenplay – Russell Geoffrey Banks, Raimund Huber & Richie Moore, Producers – Raimund Huber & Aki Komine, Visual Effects – Aaron Fuks, Production Design – Raimund Huber. Production Company – Motionpictures/Joyplex.
Cast
Russell Geoffrey Banks (Oliver), Sara Malakul Lane (Sophia), Margaret Roche (Mama), Kelly Woodcock (Clair), Champagne Nuttanun (Asian Girl), Cecilia Belletti (Italian Girl)
---
Plot
Oliver, a British guy with extreme social awkwardness, has arrived in Thailand. There he picks up girls and brings them back to his apartment where he has sex with them and then kills them, all under the directions of his domineering mother who watches from his laptop webcam. In a local amusement park, he meets Sophia, an American girl, and the two strike up an attraction. However, when Oliver's mother gets wind of the other woman, she demands that Oliver kill her.
---
Who's Watching Oliver is a low-budget British-made film, shot in Thailand. Director Richie Moore makes his debut as a director here after credits as a camera operator on a number of films, including The Hangover sequels, Bangkok Dangerous (2008) and Mission: Impossible – Ghost Protocol (2011). Moore co-writes with his leading actor Russell Geoffrey Banks, who has had small parts in films such as Pernicious (2014), Tekken: A Man Called X (2014), Ghost House (2017) and King Arthur and the Knights of the Round Table (2017), many of which have also been shot in Thailand.
Running this site, I get contacted by various filmmakers and distributors asking me to review films. In the case of Who's Watching Oliver, I was contacted by lead actor/co-writer Russell Geoffrey Banks who forwarded me a screener. Watching so many horror films in this job, you end up a bit jaded after a while – many of them blur into a sameness and you end up searching for nuggets of originality in between the mediocrity. It becomes a considerable surprise when you get something that breaks with expectation.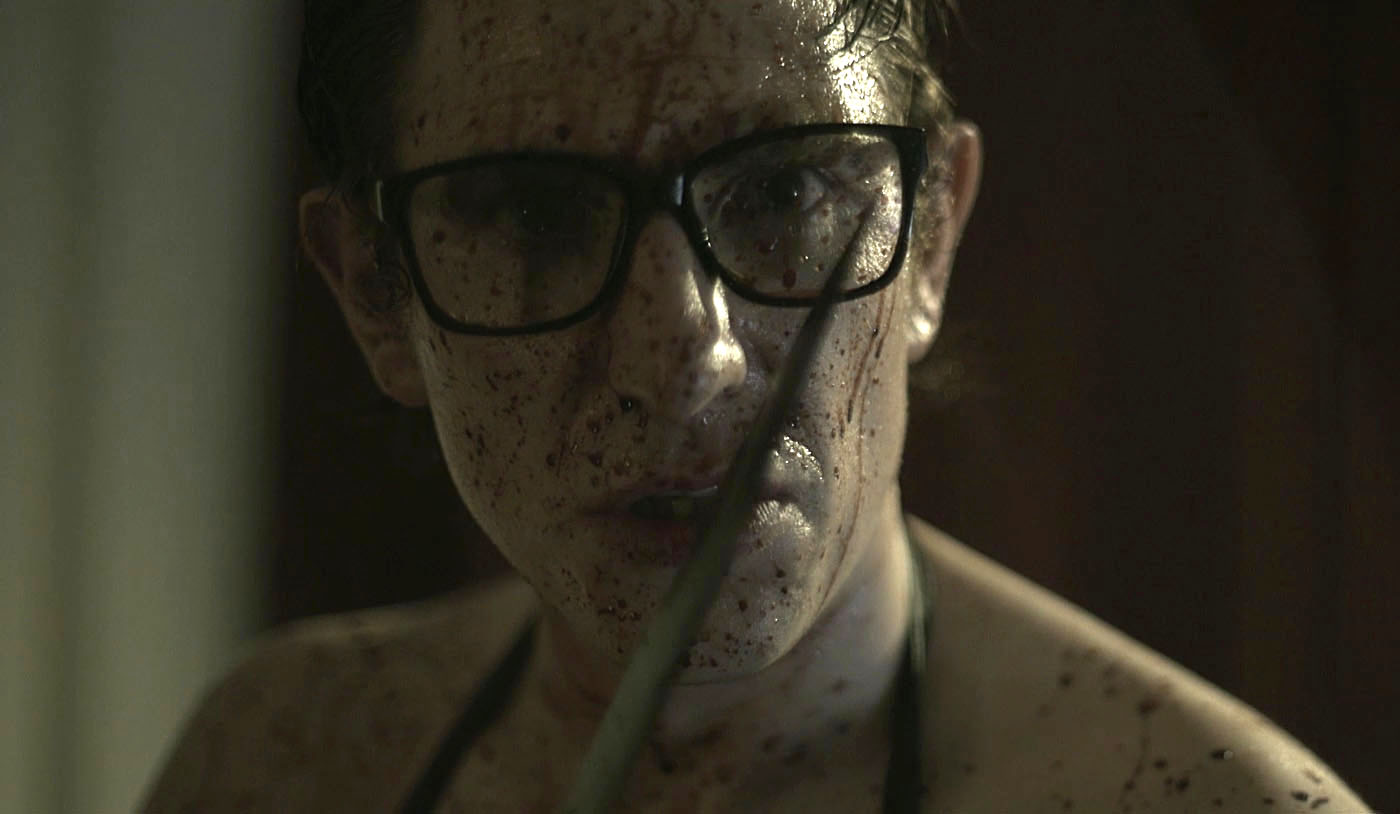 The opening of the film leaves you bewildered. We are introduced to Russell Geoffrey Banks's Oliver just after he has arrived in Thailand. He's outfitted like some supporting character from an episode of The Sweeney (1975-8) – in hornrims, greased-backed hair, short-sleeved shirt and pants cuffs that are several inches too short, and walks with a perpetually hunched over gait. (He even wears a socks and shorts combination at one point). He also comes with a lack of social graces that would rank high on the Gilliam Asperger's scale – it becomes painful watching him trying to negotiate even normal conversations.
Not long in, there is a rather perverse scene that grabs your attention in which Banks lures a girl (Kelly Woodcock) that he meets in a bar back to his apartment with the promise of drugs and then has sex with her while his mother (Margaret Roche) watches via laptop webcam, urging him on with invocations like "fuck her dirty little ass", before he slits the girl's throat. Afterwards, Roche even orders him to clean up the mess and go to bed. There is similar uncomfortable perverseness in later scenes where Margaret Roche berates and browbeats Banks, demanding he whack off for her in front of the webcam.
The film left me with an appreciation for Russell Geoffrey Banks who had not registered on my radar before this. The ability he has to create a persona and live in it from the inside out is the sort of thing that actors are meant to do. This is what you define as a watershed role and I hope that Who's Watching Oliver gets the kudos it deserves and it springboards to greater exposure for him.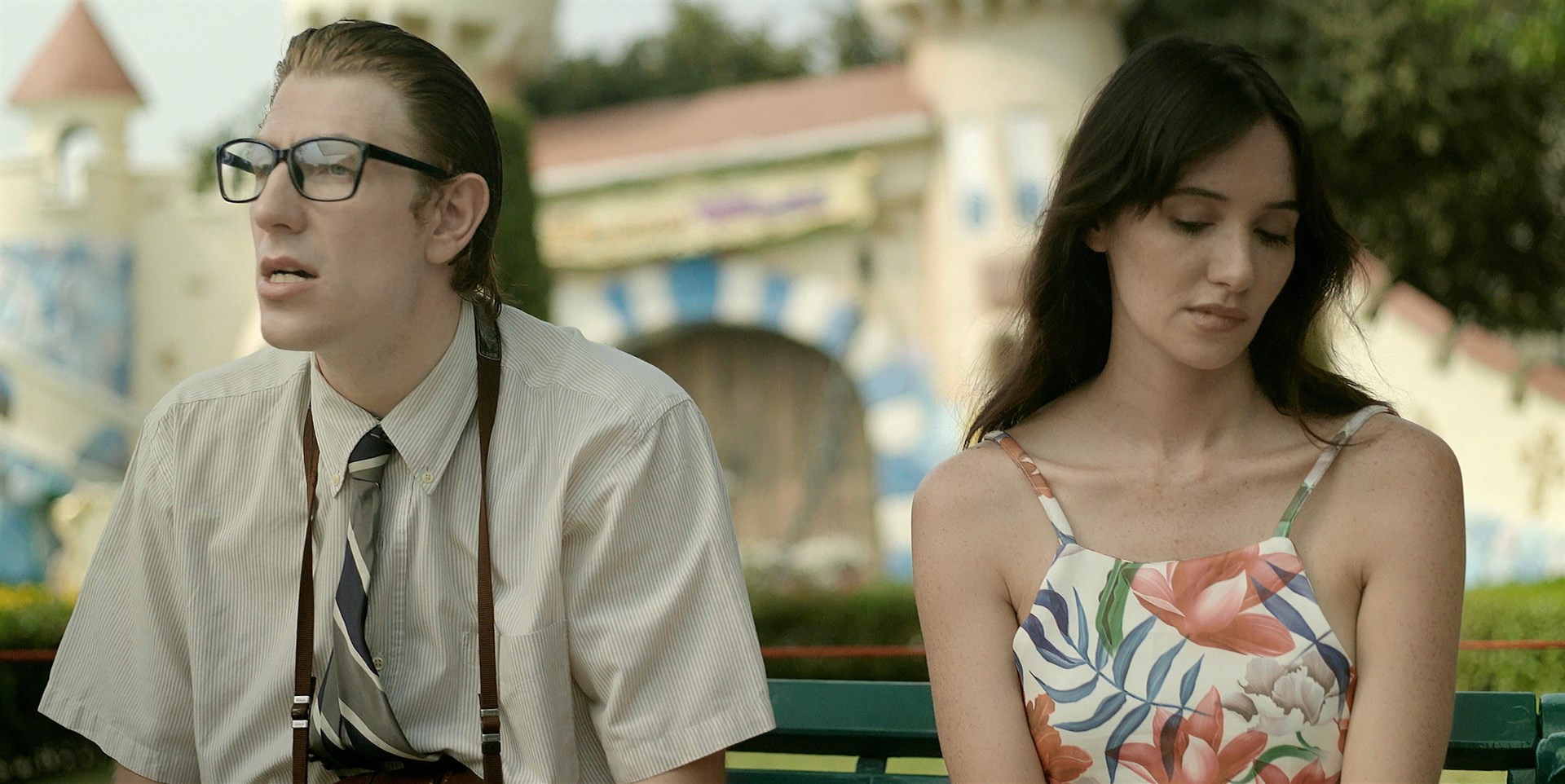 Not long after we are introduced to Banks's Oliver, Sara Malakul Lane enters the picture. I had seen Lane (who is half-Thai herself but could easily pass for the American girl she is cast as) in assorted low-budgets films such as Sharktopus (2010), Pernicious, Jurassic City (2015), Shark Lake (2015), Halloween Pussy Trap Kill Kill (2017) and King Arthur and the Knights of the Round Table, where she has always impressed as being capable of more than the standard parts she has been cast in. Who's Watching Oliver left me with a newfound respect for her. Richie Moore shoots her with a radiant beauty and natural elegance. You actually warm to such a socially awkward character as Oliver and root for him as we see him becoming attached to her and fighting against the control of his mother. The film reaches an oddly touching ending (although if you watch to the mid-credits scene, this has a none-too-happy epilogue).
This is a film that draws you into a perverse headspace. One of the baffling things about it comes once Sara Malakul Lane is drawn to Banks and spies on him – despite seeing him kill others, all that she get upset at is seeing him with another woman. At one point, she walks in on him standing over a bloodied corpse and the only reaction she has is one of romantic reconciliation.
What adds to the perverse state of mind is that the film is scored with jaunty big band music that is often wildly at odds with the grim scenes of watching Banks carve up and dispose of bodies. Or the encounters between Banks and Lane in the Dream Land amusement park, which adds a level of surreal banality with its train rides, slides and sinisterly happy animal-head rides.
---