---
Crew
Director – Josh Bear, Screenplay – Matt Entin & Ed Kuehnel, Story – Josh Bear & Bill Muehl, Producer – Bill Muehl, Photography – Joseph Winchester, Music – Chainsaw, Visual Effects – Moontower VFX (Supervisors – Greg Omelchuck & Ray Pena), Animated Sequence – David Leung, Special Effects Supervisor – Bob Trevino, Makeup Effects – Legacy Effects (Supervisor – J. Alan Scott), Production Design – Jason Hammond. Production Company – Madisonian Films.
Cast
Michael Madsen (Dr Peter Shirtcliff), Ciara Flynn (Faith Fitzsimmons), Jarrett King (Reggie), Alex Dobrenko (Jeff Conway), Chase Joliet (Stanley Hellenberger), Adam Sessler (Doug), Brina Palencia (LuAnn Potts), Brandon Ford (Lumberjack Man), Andy San Diamas (Theresa), Christopher Sabat (Jeff), Arthur Simone (Leon), Jasmin Carina (Jacqueline), Moon Ray (Danielle), Athena Paxton (Courtney), David Nguyen (Raymond), Alyona Real (Stacey), Zachary Guerrero (Ernie), Tyler Mount (Trevor), Troy Yingst (Logan), Hector Becerra (Alberto), Nikki Seven (Darlene), Vanessa Veracruz (Chiffon)
---
Plot
A group of teenagers head to the Good Friends Bible Camp to prepare as counsellors. As various of them defy the strict rules and get up to mischief, they come up against the resurrected spirit of the lumberjack Nehemiah Easterday. In the 19th Century, Easterday had his special family pancake recipe stolen by a J.T. Jeppson who went on to create a popular pancake company and then returned to drown Nehemiah in a vat of maple syrup. The undead lumberjack passes through the camp, slaughtering everybody to add their blood as sauce on his giant pancakes.
---
Lumberjack Man was the third film for Josh Bear. Bear had previously made a couple of other films, Postal (1997) and The Dorm Room (2006), neither of which appear to be widely released. He however has far more credits as a creator and director of videogames.
Lumberjack Man has been intended as a parody of the slasher film. The setting is a variant on the summer camp of Friday the 13th (1980) et al but in this case is a Bible camp, which the film digs into with a readily sarcastic bite. Rather than a hockey-masked killer slaughtering various teenagers, the hulking boogeyman of the show is a resurrected lumberjack who walks through the show killing people and using their blood as the syrup on the cart of giant pancakes he drags along with him. As Michael Madsen as the resident crazed academic sums it up perfectly at one point: "That demon logger has been out there for centuries putting before him a breakfast of ghastly vengeance."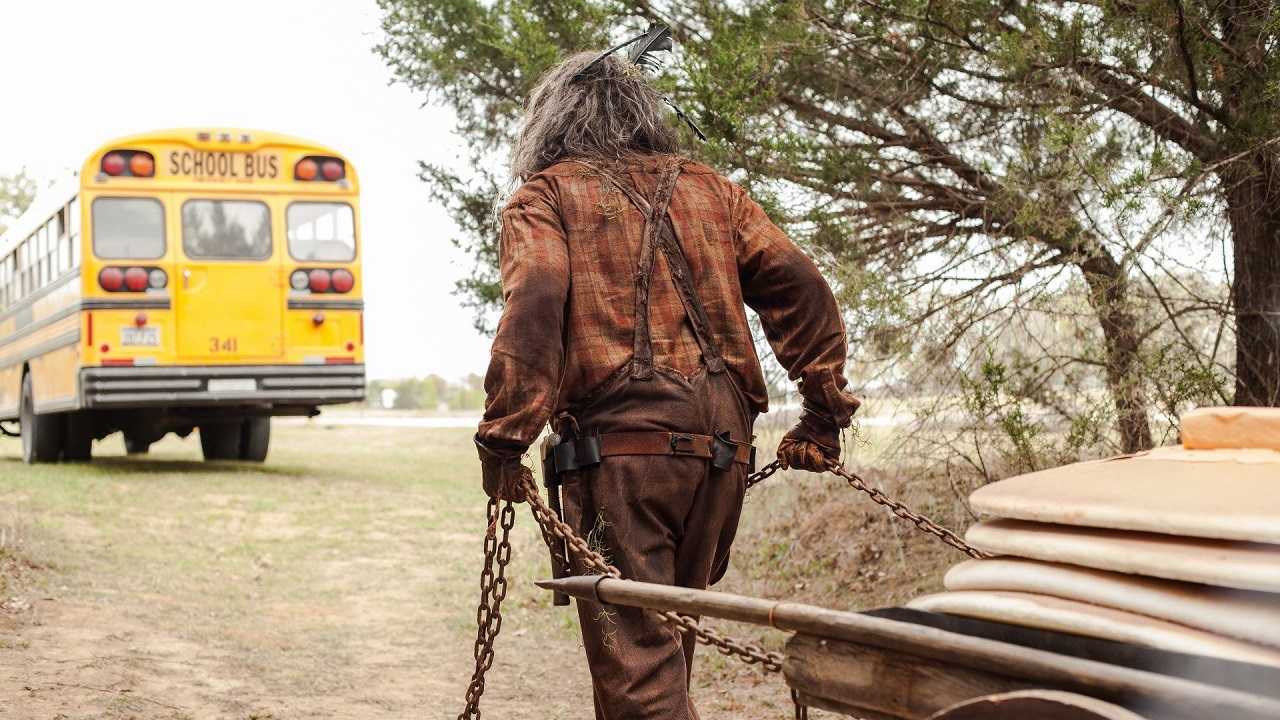 The early scenes with the counsellors heading to the camp sees Josh Bear hitting a stride of broad farce in digging a knife into Christian camps and their bland moralistic preachings. You cannot help but feel that the comedy in these scenes could have been fine-tuned a good deal more than it is. Nevertheless, the film starts to find its stride when the killings begin. There is the rather amusing scene where the stoner bus driver (Arthur Simone) picks up two girls for a good time session in the aisle of the bus whereupon the Lumberjack Man appears as the two naked girls are riding on top of him, lops their heads off in one blow before Simone emerges from underneath oblivious to what is happening.
The deaths become consistently more hilarious – in one scene, Athena Paxton is strung upside down from a tree and a bung tap hammered into her forehead to allow the blood to be run out onto the pancakes; another victim is smothered in a giant pancake. Elsewhere, pancakes are served up to the gathered camp only for them to find they are made from human flesh including one that has the face of the fat kid (Zachary Guerrero) on it, still including his glasses.
---
---