---
Crew
Director – Tommy Stovall, Screenplay – Stuart Flack, Producers – Marc Sterling & Tommy Stovall, Photography – Ben Brahem, Music – Joseph Bishara, Makeup Effects – Robert Siracusa. Production Company – Pasidg Productions.
Cast
Lin Shaye (Joyce Smith), Oliver Rayon (Bob Villanuela), Valeska Miller (Sarah), Ryan Ochoa (Wayne), Linda Cushma (Gladys), Casey Nicholas Price (Edward)
---
Plot
In Sedona, Arizona, aging Joyce Smith's husband Fred has died. In the aftermath of the funeral, she finds she has bills and no money to pay them. She picks up an ad about converting one's house into a bnb. The ad is first answered by young couple Edward and Sarah but they argue and leave early. They later split up but Sarah continues to write letters to Joyce. Joyce then rents the room to young, handsome Bob. Joyce runs around after Bob and in her letters to Sarah imagines herself engaged in a romance with him. However, her obsession starts to become unbalanced.
---
Tommy Stovall is an Arizona-based director. Stovall had previously made the non-genre Hate Crime (2005) and the quasi-fantastical Sedona (2011) about a mystical town. I first discovered Stovall with the modest and quite effective Aaron's Blood (2016) about a kid who receives a blood transfusion from a vampire.
Room for Rent stars Lin Shaye who has become a horror icon in the last few years. Shaye has been acting since the 1970s but it was not until she appeared as the medium in Insidious (2010) that she found fame – at 66 years old, the age most people are collecting their retirement cheques. After this, she discovered a new career in the horror genre appearing in films like Ouija (2014), The Signal (2014), Abattoir (2016), Jack Goes Home (2016), The Midnight Man (2016) and The Grudge (2020), among others. She had also previously appeared earlier in Tommy Stovall's Sedona.
Room for Rent begins with a simply premise – Lin Shaye is an elderly widow who finds herself on her own for the first time and becomes a little deranged in her attachment to her handsome new border (Oliver Rayon). There are a number of similarities to the earlier, quite hilarious The Landlady (1997) starring Talia Shire. It's a great character and Lin Shaye has a field day. She and Tommy Stovall have fun fleshing Joyce out – from seeing her getting her romance books from the library to the intimations her marriage was not a happy one, including physical abuse, to her struggle to cope on her own – from the discovery of the lack of funds in the bank to the humiliating moment where her credit cards are declined and she is forced to pay for cans of cat food by counting out pennies.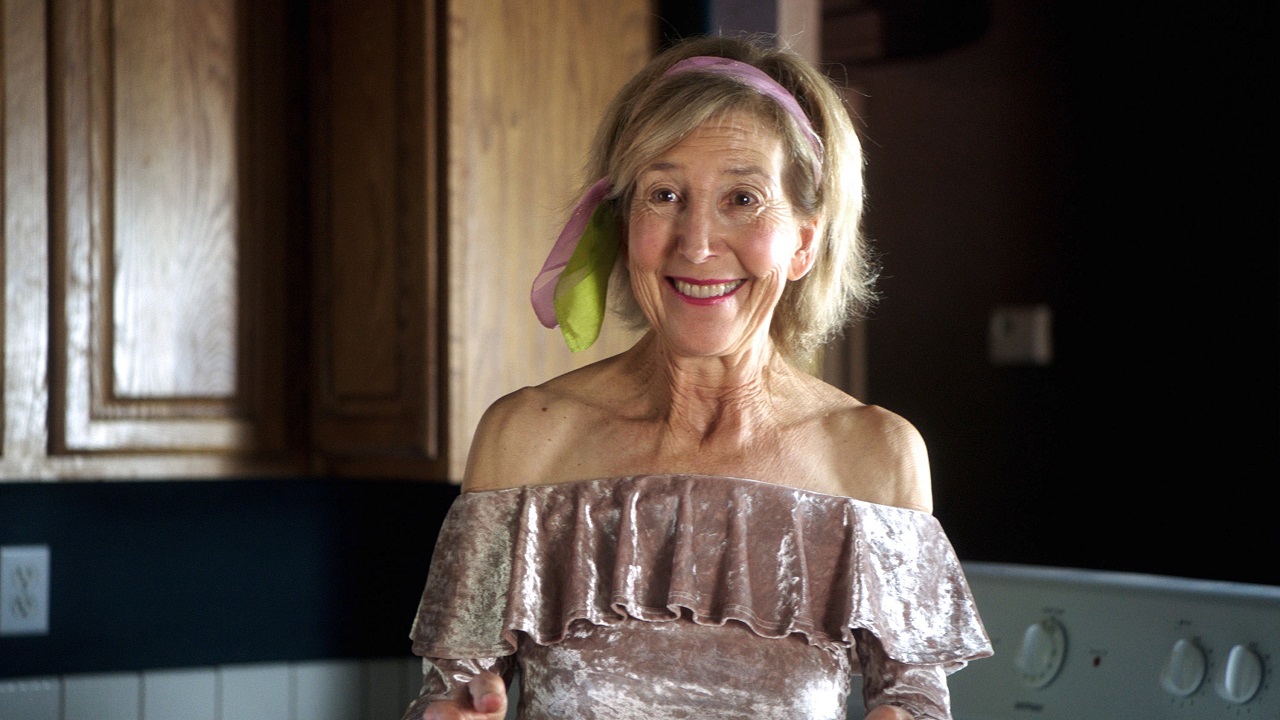 The film becomes at times unsettling as we see Lin Shaye adjust to life outside her sheltered bubble. There's the scene where she is watching the boys at the local skate park and they jeer at her with crude innuendos before she responds by picking up a skateboard and dumping it in a trash can. This has an unsettlingly perverse comeback a little later where the boys mob and harass Lin on the way back from the convenience store with lead gang member Ryan Ochoa pushing and slapping her to which she responds by simply kissing him, causing him to run off in disgust.
Things get even stranger with the introduction of Oliver Rayon's Bob. We see Lin Shaye going through his things, putting on his deodorant, even using his toothbrush and then getting a tv and sports channel installed – the scenes with her tending him and pretending to enjoy the sports end up being quite sad and pathetic. All of this is contrasted to her letters to Valeska Miller where she maintains a fantasy of what is going on with Bob that is in marked contrast to the reality we see. This is abruptly turned on its head as Valeska makes a surprise visit to see Lin again – only for her and Bob to end up in bed together.
All of this plays out rather well. It becomes painful watching Lin Shaye's feeble fantasies come crashing up against the brick wall of harsh reality. The only dissatisfying plot element is where it is hinted by Valeska Miller and a couple of other lines that Bob has a darker side (possibly some criminal past?) but nothing ever emerges of this. That said, all of the other plot strands play off rather well.
(Nominee for Best Actress (Lin Shaye) at this site's Best of 2019 Awards).
---