---
USA. 2001.
Crew
Director/Screenplay – Sebastian Gutierrez, Producers – Lou Arkoff, Colleen Camp & Stan Winston, Photography – Tom Callaway, Music – David Reynolds, Visual Effects – First Unit Inc (Supervisor – Dan Schmidt), Special Effects Supervisor – Jor Van Kline, Makeup Effects – Stan Winston Studio (Supervisors – Shane Mahan & Andy Schoeneberg), Production Design – Jerry Fleming. Production Company – Creature Features Productions.
Cast
Carla Gugino (Lily), Rufus Sewell (Angus Shaw), Rya Kilhstedt (The Mermaid), Aubrey Morris (Woolrich), Jim Piddock (Captain Dunn), Reno Wilson (Bailey), Mark Aiken (Gifford), Gil Bellows (Miles)
---
Plot
Ireland, 1905. Carnival huckster Angus Shaw has an exhibit where his girlfriend Lily poses as a mermaid. Upon discovering the mundane truth of the exhibit, the drunken Woolrich invites them to his home and startles them by showing them the real mermaid he keeps there. Angus is determined to obtain the mermaid. When Woolrich refuses to sell it, Angus returns to take it by force, only for Woolrich to have a heart-attack in the process. Angus transports the mermaid to America but the creature emerges aboard the ship and starts attacking crewmen. Meanwhile, Lily develops a strange bond with the mermaid, believing it can read her thoughts.
---
She Creature was one of a host of old AIP B-movie titles that were remade as cable movies in 2001 under the umbrella title Creature Features, produced by former AIP co-head Samuel Z. Arkoff's son Lou, actress Colleen Camp and makeup effects man Stan Winston. The other remakes in the series were The Day the World Ended (2001), Earth vs the Spider (2001), How to Make a Monster (2001) and Larry Clark's amazing Teenage Caveman (2001).
None of these films had anything to do with their B movie predecessors. The original The She-Creature (1956) was a modest B-budget effort wherein a hypnotist regressed Marla English to a previous life, causing her to physically turn into a sea monster. This She Creature is now a horror film about a mermaid.
Welcomely She Creature brings the mermaid out of the province of Disney and the cutsie likes of Splash! (1984) and The Little Mermaid (1989) and reconstructs it as a horror theme – the first time such has been done since arguably Curtis Harrington's Night Tide (1961). It even goes so far as to have a topless mermaid, the way the legend is meant to have it.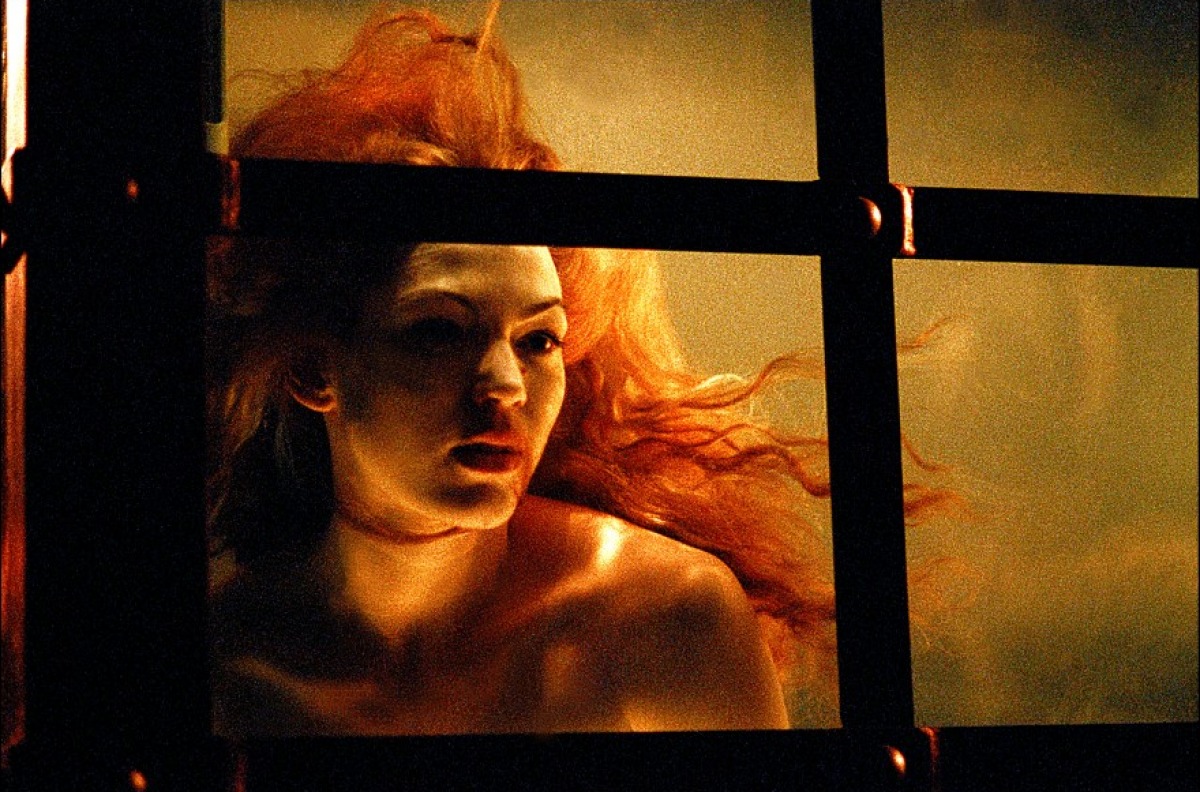 The resulting film is a modestly effective effort. It is no great classic but director Sebastian Gutierrez evinces a certain unsettling mood. As the mermaid, Rya Kihlstedt exudes an eerie presence, filled with intensive stares and some subtle makeup effects from the Winston studio. The story twists in intriguing ways and the results are absorbing. The only faults might be Rufus Sewell's accent, which shifts all over the place between Irish and working class British, although Carla Gugino far more unassumingly gets hers down pat.
Sebastian Gutierrez had previously directed the thriller Judas Kiss (1998) and would go onto the vampire hunter film Rise (2007), followed by gonzo non-fantastical efforts such as Electra Luxx (2010), Girl Walks Into a Bar (2011), Hotel Noir (2012) and the cloning film Elizabeth Harvest (2018). Gutierrez has written a number of screenplays for other horror films including Gothika (2003), Snakes on a Plane (2006) and The Eye (2008).
---
---