---
Crew
Director – Edward L. Cahn, Screenplay – Lou Rusoff, Based on an Idea by Jerry Zigmond, Producer – Alex Gordon, Cinematography (b&w) – Frederick E. West, Music – Ronald Stein, Art Direction – Don Ament. Production Company – AIP/Golden State Productions.
Cast
Chester Morris (Dr Carlo Lombardi), Marla English (Andrea Talbott), Lance Fuller (Dr Ted Erickson), Tom Conway (Timothy Chappell), Ron Randell (Lieutenant Ed James), Cathy Downs (Dorothy Chappell), Paul Blaisdell (The She-Creature), Bill Hudson (Bob), El Brendel (Olaf), Paul Dubov (Johnny)
---
Plot
Dr Carlo Lombardi, a carnival sideshow hypnotist of dubious repute, makes a prediction that a prehistoric creature is going to rise from the ocean and kill. Lombardi becomes a suspect when he is found near a murder scene but police are unable to hold him because there is no direct evidence that he is the killer. Businessman Timothy Chappell decides to exploit Lombardi's newfound fame and promotes him. For Chappell's private audiences, Lombardi gives demonstrations of hypnotic regression using his subject Andrea Talbott where he causes her to regress to a previous life as 17th Century Englishwoman Elizabeth Wetherby. As psychic researcher Ted Erickson arrives to cast doubts on Lombardi's claims, he is drawn to try and rescue Andrea from under Lombardi's thrall. Meanwhile, the prehistoric She-Creature continues to emerge from the ocean. Under Lombardi's bidding, it begins to kill people.
---
The She-Creature is one of the classic 1950s monster movies. Paul Blaisdell's creature has become an iconic figure (even a kitset model) and the film has developed a B movie reputation. The She-Creature was made by producer Alex Gordon and director Edward L. Cahn, who both have a number of other credits in the genre (see below). Gordon and Cahn produced the film at AIP (American International Pictures), a company that were renowned for making B-budget monster movies where they would come up with a sensationalistic title, a lurid poster and then design a film to go along with it.
The She-Creature taps into the mid-1950s fad for hypnotic regression and past lives that came out after Morey Bernstein published his non-fiction book The Search for Bridey Murphy (1956), later filmed as The Search for Bridey Murphy (1956). In the book, Bernstein claimed to have hypnotised a housewife and regressed her to a past life as a woman named Bridey Murphy who lived in Ireland around the turn of the 19th Century. This caused a sensation and a fad for hypnotic regression and past lives for several years after. Correspondingly, a number of other films of the era immediately adopted hypnotic regression themes – see the genre likes of I've Lived Before (1956), The Aztec Mummy (1957), Blood of Dracula (1957), I Was a Teenage Werewolf (1957), The Undead (1957), The Bride and the Beast (1958) and The Alligator People (1959). Here, the Bridey Murphy fad has become so popular that we even see people staging fashionable hypnotic regression parties.
The She-Creature is maybe a Bridey Murphy fad jumper that has been thrown together with the recent cinematic fad created by The Creature from the Black Lagoon (1954) for prehistoric humanoid reptilian creatures on the prowl. When it comes down to it, the hypnotic regression plot and the monster movie element do not mix – the monster has no place in what is otherwise a moody hypnotic regression film. In the latter half, the Bridey Murphy story is mixed up with undeniable dashes of The Cabinet of Dr Caligari (1919) – Chester Morris's hypnotist is a variant on Dr Caligari and Marla English is surely a female equivalent of Cesare the Somnambulist kept under his hypnotic thrall.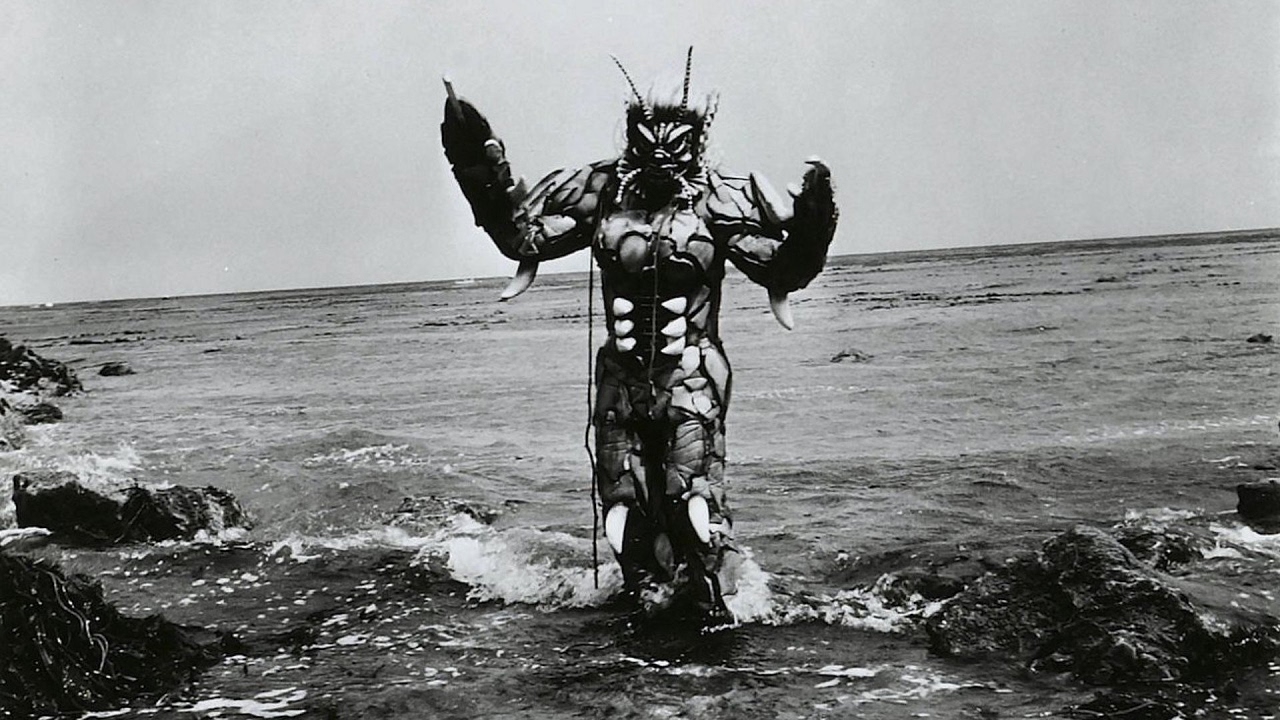 The She-Creature has an unusual atmosphere, especially so for one of AIP's usually cheap B monster movies. There are some spooky scenes regressing Marla English with Elizabeth's spirit emerging and Chester Morris getting her to remotely open a set of French doors, pull curtains and bring a dog to him, or the lifting off and then replacing of a visiting professor's glasses. One of the most fascinating parts about the film is Marla English's performance. She has a wonderfully haunted look and her doomed, fatalistic relationship with Chester Morris forms the centre of the film. That said, during the hypnotic regression scenes, Marla English displays surely one of the least convincing English accents ever put on screen. In a dapper pencil moustache and perpetually cross expression, Chester Morris, an early sound era matinee idol, comes across as swarthily thuggish. Paul Blaisdell's monster is unique and memorable.
The She-Creature was later remade as Larry Buchanan's cheap Creature of Destruction (1967). In 2001, as part of the Creature Feature series for cable tv, a host of old AIP titles were revived as the basis of new monster movies and the title used as She Creature (2001) in an otherwise unrelated horror story about a mermaid. The She-Creature is unrelated to H. Rider Haggard's book She (1887) about an immortal queen and the various film versions of this – most notedly She (1935) and She (1965). The She-Creature costume was later reused as the monster in Voodoo Woman (1957) from the same cast and crew.
Director Edward L. Cahn's other genre films are:– Creature with the Atom Brain (1955), Invasion of the Saucer Men (1957), Voodoo Woman (1957), Zombies of Mora Tau (1957), The Curse of the Faceless Man (1958), It! The Terror from Beyond Space (1958), The Four Skulls of Jonathan Drake (1959), Invisible Invaders (1959) and Beauty and the Beast (1961).
Alex Gordon produced a number of other genre films with Day the World Ended (1955), The Atomic Submarine (1959) and The Underwater City (1961). Gordon even wrote two films for Edward D. Wood Jr with Jail Bait (1954) and Bride of the Monster (1955).
---
---