---
Crew
Director/Screenplay – Sebastian Gutierrez, Producers – Fred Berger, Leon Clarance, Sebastian Gutierrez & Brian Kavanaugh-Jones, Photography – Cale Finot, Music – Rachel Zeffira, Visual Effects – Hy*drau*lx (Supervisor – Joel Sevilla) & Vitality Visual Effects (Supervisor – Jiwoong Kim), Special Effects Supervisors – Burningbull S.A.S. & Createm S.A.S., Makeup Effects – Robert Kurtzman MUFX (Supervisor – Robert Kurtzman), Production Design – Diana Trujillo. Production Company – Automatik/Rep 12.
Cast
Abbey Lee (Elizabeth), Ciaran Hinds (Henry Kellenberg), Matthew Beard (Oliver), Carla Gugino (Claire), Dylan Baker (Detective-Lieutenant Logan)
---
Plot
Elizabeth has married scientist Henry Kellenberg, an older man to her, and moves to his home where he lives along with his assistants Claire and the blind Oliver. Henry gives Elizabeth the freedom of the house but asks that she does not go into one room. However, when he is away, she ventures in to the room to find a laboratory with bodies in containers. When Henry returns, he pursues Elizabeth through the house and kills her. Several weeks later, Henry marries another version of Elizabeth and brings her home, making the same stipulations. However, as events repeat themselves, she kills him this time. Variously aided and kept prisoner in the house by Oliver, Elizabeth begins to come to an understanding of who she truly is.
---
Sebastian Gutierrez was a name that was on the rise a few years ago and has made some reasonable genre productions. Gutierrez had previously directed the thriller Judas Kiss (1998) and ventured into genre material with the mermaid horror She Creature (2001) and the vampire hunter film Rise (2007), followed by non-fantastical efforts such as Electra Luxx (2010), Girl Walks Into a Bar (2011) and Hotel Noir (2012). Gutierrez has also written a number of screenplays for other films including Gothika (2003), Snakes on a Plane (2006) and The Eye (2008).
Back in the director's chair after an absence of six years, Sebastian Gutierrez creates an undeniably interesting film. There is the captivating opening where Ciaran Hinds brings his younger wife Abbey Lee home for the first time. We are taken by the opulence of the home where Gutierrez delights in putting the furnishings, decor, lighting schemes, landscaping and wardrobes of clothing on display for us. It becomes a very visual film.
You become aware that the film is conducting a modernised retelling of the Bluebeard fairytale – first written down in France sometime in the 17th Century concerning a man who forbids each of his wives to enter a room and kills them after they break this rule. The fairytale has been previously filmed as Bluebeard (1944) and Bluebeard (1972).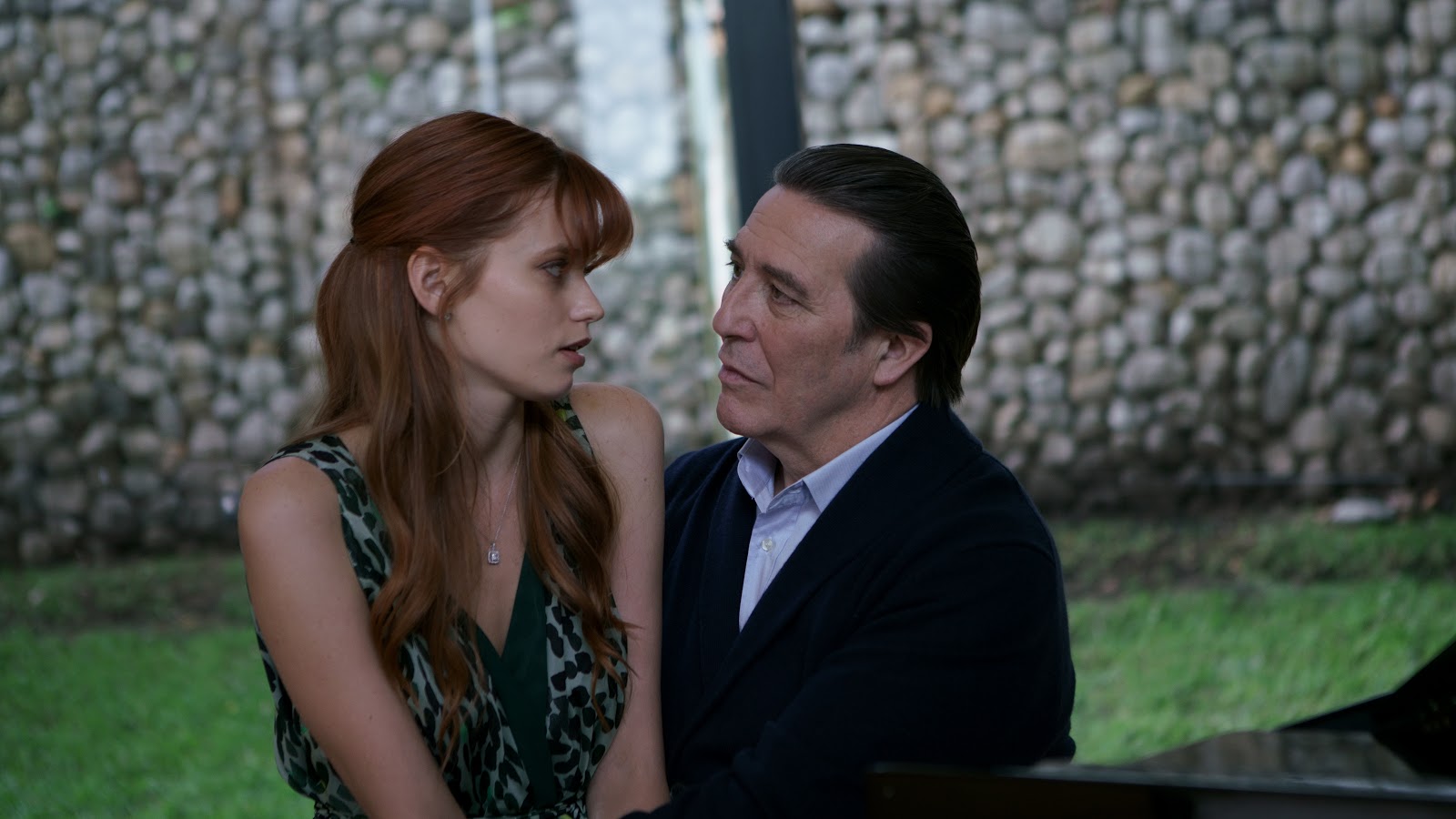 Here Ciaran Hinds gives newlywed wife Abbey Lee the freedom of his house but warns her not to go into the one room. Left alone in the house, she promptly does just that – finding a body in a slab drawer (the significance of which will not become apparent to us later). Ciaran returns home, knows what she has done and the jolt is that he pursues her through the house and kills her. This is a shock akin to the opening of Psycho (1960) that abruptly kills off Janet Leigh 47 minutes into the film.
The spin that Sebastian Gutierrez then places on everything is to repeat of exactly the same scenes with Ciaran Hinds arriving at the house with his newlywed bride Abbey Lee. Everything repeats itself again and while we are wondering WTF is happening, this is then thrown on its head to have Abbey Lee manage to fight off and kill Ciaran Hinds this time.
I am not giving anything away in saying that Elizabeth Harvest eventually reveals itself as being a cloning film. It joins a number of films in recent years that have done some snappy and intelligent things with cloning themes – see the likes of Xchange (2000), Never Let Me Go (2010), Recreator (2012) and tv's Orphan Black (2013-7). (For more detail see Films About Clones and Cloning). Even with the main surprise revealed, Gutierrez keeps piling on a sharp series of twists and unexpected revelations. It is this conceptual dexterity of plotting that makes Elizabeth Harvest a rather enjoyable film.
(Winner for Best Cinematography at this site's Best of 2018 Awards).
---
---