aka Rise: Vampire Hunter
---
Crew
Director/Screenplay – Sebastian Gutierrez, Producer – Greg Shapiro, Photography – John Toll, Music – Nathan Barr, Visual Effects – Comen VFX (Supervisor – David J. Witters) & Reality Check Studios, Special Effects Supervisor – Larry Fioritto, Makeup Effects – K.N.B. EFX Group, Inc. (Supervisors – Howard Berger & Greg Nicotero), Production Design – Jerry Fleming. Production Company – Ghost House Pictures/Kingsgate Films.
Cast
Lucy Liu (Sadie Blake), Michael Chiklis (Detective Clyde Rawlins), James D'Arcy (Bishop), Carla Gugino (Eve), Mako (Poe), Margo Harshman (Tricia Rawlins), Julio Oscar Machoso (Arturo), Holt McCallany (Rourke), Kevin Wheatley (Ethan Mills), Cameron Richardson (Collette/Franny), Samaire Armstrong (Jenny), Fran Kranz (Alex), Marilyn Manson (Bartender), Elden Henson (Taylor), Allan Rich (Mr Harrison), Natsuko Ohama (Sadie's Mother), Robert Forster (Lloyd)
---
Plot
Sadie Blake hires a prostitute and takes her to a Los Angeles mansion. She offers the women as a gift to the vampire Harrison to obtain the whereabouts of another vampire. However, instead of allowing the woman to be drunken from, Sadie kills Harrison and then continues on in her quest. Sadie was working as a reporter for the L.A. Weekly when she did an article on Goth sub-culture. Tricia Rawlins, one of the girls she talked to, was then found dead. Sadie followed a trail from a secretive website, only to be abducted by the vampire Bishop and his cohorts who drank her blood and left her dead. However, she woke on the morgue table. Trying to cope with her newfound vampiric condition, Sadie was found by a group in Mexico who outfitted her with a crossbow and sent her to hunt Bishop and his cohorts. Eliminating her way up through Bishop's circle, she soon became hunted by police because of her trail of killings. Now arrested by Tricia Rawlins' obsessed detective father, the two of them are forced into an unusual alliance in order to track down Bishop.
---
Rise was the fifth film made by Sam Raimi's production company Ghost House Pictures, which became a rising player in the theatrical horror stakes in the late 00s (although has faded off in the 2010s). Ghost House has so far put out The Grudge (2004), Boogeyman (2005), The Grudge 2 (2006), The Messengers (2007) and subsequently 30 Days of Night (2007), Raimi's Drag Me to Hell (2009), The Possession (2012), Don't Breathe (2016), The Unholy (2021) and the remakes of Evil Dead (2013) and Poltergeist (2015), as well as the tv series Legend of the Seeker (2008-10) and 13: Fear is Real (2009).
Director/writer Sebastian Gutierrez had previously made the thriller Judas Kiss (1998) and the modestly effective mermaid horror film She Creature (2001), and would go onto oddities such as such as Electra Luxx (2010), Girl Walks Into a Bar (2011), Hotel Noir (2012) and the cloning films Elizabeth Harvest (2018). He has also written a host of horror films including Gothika (2003), Snakes on a Plane (2006) and The Eye (2008).
While Ghost House's other films have all enjoyed a reasonably high profile and cinematic releases, Rise only received a brief theatrical release in the US and was dumped to dvd in most areas. This is a disappointment as the surprise about watching Rise is that it is one of the better of Ghost House's films. Sebastian Gutierrez certainly holds one's attention with an unusual atmosphere. The story, when eventually seen, is nothing too different from many other vampire films, but Gutierrez draws us in with his evocatively stylish telling and aura of cool sophistication.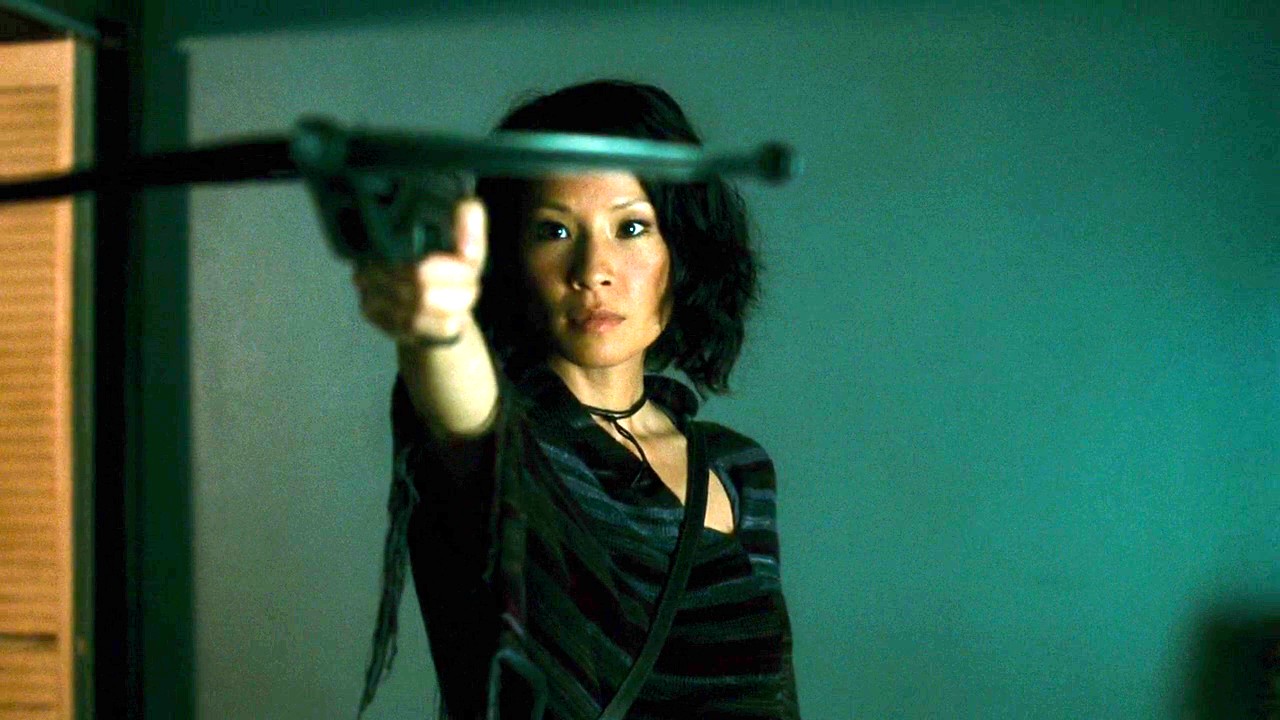 Gutierrez gives us a captivating opening where Lucy Liu hires a hooker (Cameron Richardson) and takes her to a Hollywood mansion with the seeming intent of enjoying her services and asks her to take a shower, whereupon the bars of the shower suddenly enclose and trap the woman and Lucy reveals she has brought her as a victim for the wheelchair-ridden vampire Allan Rich to trade for the whereabouts of her nemesis. The tables of expectation are again turned when Lucy returns and shoots the wheelchair-bound vampire with a crossbow bolt and frees the girl. Gutierrez even throws in a unnecessary if effective scene, undeniably influenced by recent Japanese horror hits, where Michael Chiklis is at home and a bloodied hand takes forever to creep around the edge of the doorframe and then he sees a blood-covered girl get up off the bed and turn around, before this is revealed to be a dream.
I am still undecided as to whether Lucy Liu is an actress of merit or one who will be forgotten after her five minutes in the spotlight are over. Certainly, the diminutive Liu is not the first person that comes to mind when it comes to conceiving of a gun and crossbow-toting heroine intent on revenge – although to her credit she does competently in the part.
The always reliable Michael Chiklis gives a convincing and well rounded performance as the detective. James D'Arcy makes for a nicely soft-spoken vampire villain. There is an appealingly sympathetic performance from Carla Gugino (Sebastian Gutierrez's girlfriend) as one of the vampire cabal, but she gets too little screen time to be effective. There is a brief performance from Holt McCallany who is effectively threatening as a supposed neighbour who turns up at the apartment Lucy Liu is investigating and then abruptly refers to her by name.
---
---