---
USA. 2001.
Crew
Director/Screenplay – George Huang, Producers – Lou Arkoff, Colleen Camp & Stan Winston, Photography – Steven Finestone, Music – David Reynolds, Visual Effects – First Unit Inc (Supervisor – Dan Schmit), Computer Animation Director – Steven Rein, Special Effects Supervisor – Jor Van Kline, Creature Effects – Stan Winston Studio (Supervisors – Shane Mahan & Paul Mejias), Production Design – Jerry Fleming. Production Company – Creature Features.
Cast
Clea Duvall (Laura Wheeler), Steven Culp (Peter Drummond), Jason Marsden (Bug), Tyler Mane (Hardcore), Karim Prince (Sol), Colleen Camp (Faye Clayton), James Sullivan (Monster), Julie Strain (Herself)
---
Plot
Three brilliant but socially maladjusted tech geeks are hired to make the computer game 'Evilution' look scary. A million dollar bonus is promised to the one that succeeds in doing so. However, the fight for the bonus creates much bickering, in-competition and sabotage of the others work. A power surge then creates an overload in the AI design. This causes the game to bring the motion-capture suit used to model characters to life and start pursuing them through the laboratory as though they were game combatants.
---
How to Make a Monster was one of a host of old AIP titles that were remade as cable tv movies in 2001 under the umbrella table Creature Features and produced by former AIP head Samuel Z. Arkoff's son Lou, monster maker Stan Winston and actress Colleen Camp. The other films in the Creature Features series included The Day the World Ended (2001), Earth vs. the Spider (2001), She Creature (2001) and Teenage Caveman (2001).
As with all of the other Creature Features, the only connection with the 1950s B movie namesake is the title. The original How to Make a Monster (1958) was one of Herman Cohen's teenage monster films and concerned a makeup artist fired by his studio who uses his creations to take revenge.
The 2001 How to Make a Monster is now a variation on films like Nightmares (1983), Brainscan (1994) and Arcade (1994), which feature computer/VR games coming to life and eliminating players. The minor difference between How to Make a Monster and these other malevolent videogame films is that this has been updated to the era of the internet startup and computer geekdom. There is certainly some ingenuity to the premise where the killer cyborg of the show is a motion capture suit that has been taken over by the game's AI, which 'plays' the suit thinking it is taking on players in the game.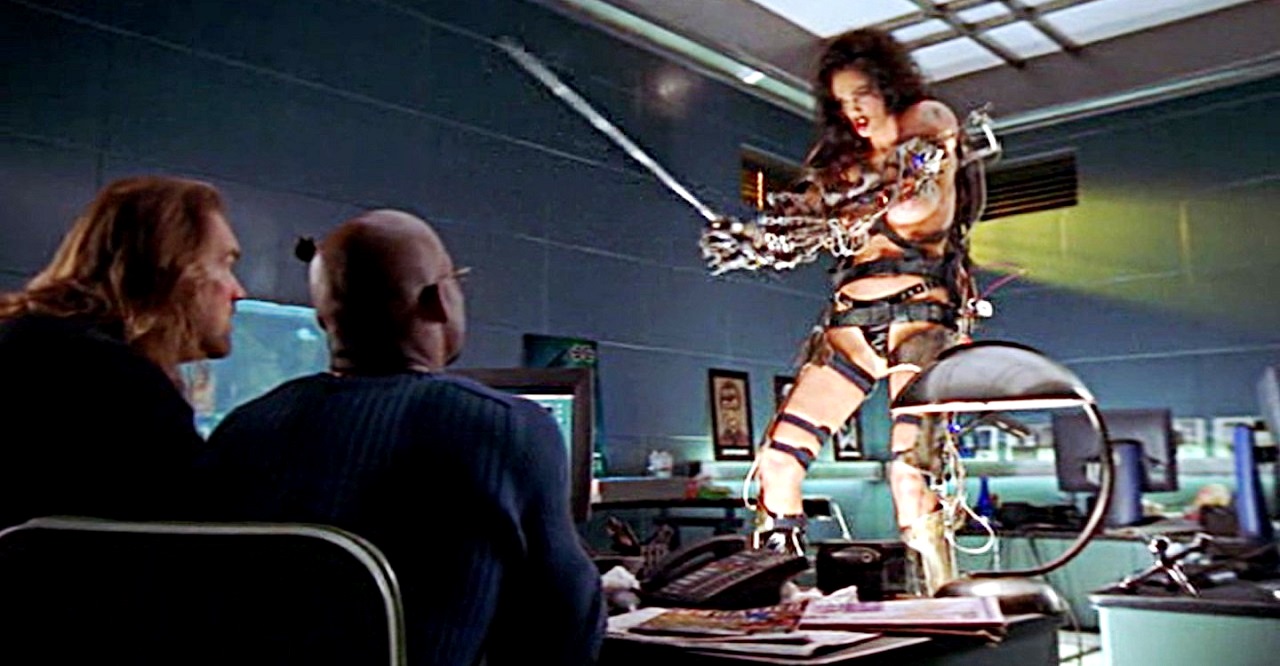 However, the film doesn't work. The characters created by George Huang – who also made the hilarious Hollywood black comedy Swimming with Sharks (1994) – are all shrill caricatures. The bickering between the four geeks gets on one's nerves. Everyone seems infected with too much knowing cynicism. The most amusing of these is Julie Strain, an actress known in genre films for taking her clothes off, who plays herself coming in to model for the game and treating the geeks lusting over her and excuses to take off her clothes with cynicism. Of course, having made an amusing gag of getting her to play against type and complaining about taking her clothes off, the film still gets her to take her clothes off anyway.
The end message that the film has heroine Clea Duvall reach is: "Don't be nice [ie. be ruthless and cutthroat] because the world isn't nice." While it may be a personal point-of-view that George Huang seems to be arguing (one that Swimming with Sharks also echoes), it is also one that in its presentation leaves an unpleasantly callous aftertaste in the mouth. Outside of that, all there is is a routine monster movie.
George Huang has subsequently not directed anything outside of television, although has been listed as a creative consultant on several Robert Rodriguez films.
---
Trailer here
---