---
Crew
Director – David Gordon Green, Screenplay – Jeff Fradley, David Gordon Green & Danny McBride, Producers – Malek Akkad, Bill Block & Jason Blum, Photography – Michael Simmonds, Music – Cody Carpenter, John Carpenter & Daniel Davies, Visual Effects – Cutting Edge (Supervisor – Simon Maddison), Special Effects Supervisors – Heather Hood & David Poole, Makeup Effects Design – Christopher Nelson, Makeup Effects – VVDFX, Production Design – Richard A. Wright. Production Company – Malek Akkad/Rough House Pictures/Blumhouse.
Cast
Jamie Lee Curtis (Laurie Strode), Andi Matichak (Allyson), Nick Castle and James Jude Courtney (The Shape), Judy Greer (Karen), Will Patton (Officer Frank Hawkins), Jefferson Hall (Aaron Korey), Haluk Bilginer (Dr Sartain), Virginia Gardner (Vicky), Toby Huss (Ray), Rhian Rees (Dana Haines), Dylan Arnold (Cameron Elam), Omar Dorsey (Sheriff Baker), Miles Robbins (Dave), Michael Harrity (Warden Kueman)
---
Plot
Aaron Korey and Dana Haines, who run a true crime investigatory podcast, go to visit Michael Myers where he is locked in an asylum. They are interested in telling the story of what happened in Haddonfield in 1978 but Michael has not spoken since then. They then track down Laurie Strode who lives in a gated compound still traumatised by the events of Halloween 1978. She has so many mental health issues that her daughter had to be taken away by social services. The daughter is the now adult Karen who is married and has her own teenage daughter Allyson. Defying her mother, Allyson reaches out to contact Laurie and invite her to her graduation. At the same time, Michael Myers is being moved in a prison transfer but the bus crashes on the highway and he makes an escape. As Halloween night comes around, Allyson goes out partying unaware that Michael is stalking her and her friends. Laurie tries to warn people of the dangers as Michael leaves a trail of bodies.
---
John Carpenter's Halloween (1978) is a landmark film. It is impossible to state just how influential it was. Without Halloween, we would not have the Slasher Film period. The original has been sequelised several times with Halloween II (1981), Halloween 4: The Return of Michael Myers (1988), Halloween 5 (1989), Halloween: The Curse of Michael Myers (1995), Halloween H20: Twenty Years Later (1998) and Halloween: Resurrection (2002). It was then remade by Rob Zombie with Halloween (2007), which miscued all the effectiveness of the original, nevertheless did produce a sequel Halloween II (2009).
I cannot say that a revival of Halloween did anything to get me excited when it was announced. Apparently it did for audiences who made it into a surprise box-office hit where it earned some $159 million in the US alone. Just the talents involved left me with a sinking feeling. In the director's chair was David Gordon Green, not someone whose body of work shouts out someone steeped in genre history. Most of Green's films are comedies such as All the Real Girls (2003), Pineapple Express (2008), The Sitter (2011), Prince Avalanche (2013) and Our Brand is Crisis (2015), although he has made a number of dramas too with the likes of George Washington (2000), Undertow (2004), Snow Angels (2007), Joe (2013) and Manglehorn (2014). I look to any genre associations in Green's oeuvre and the sole work I find is Your Highness (2011), a fantasy comedy so legendarily unfunny that star James Franco made jokes about it in This is The End (2013).
Which does bring me to Green's co-writer Danny McBride, a frequent Gordon associate – the two created the tv series' Eastbound & Down (2009-13) and Vice Principals (2016-8) and co-wrote Your Highness together – who is primarily an actor associated almost entirely with comedy roles. On the plus side, the film is produced by Jason Blum and his Blumhouse production company who have been a strong voice in horror in the 2010s – see below for Blumhouse's other films.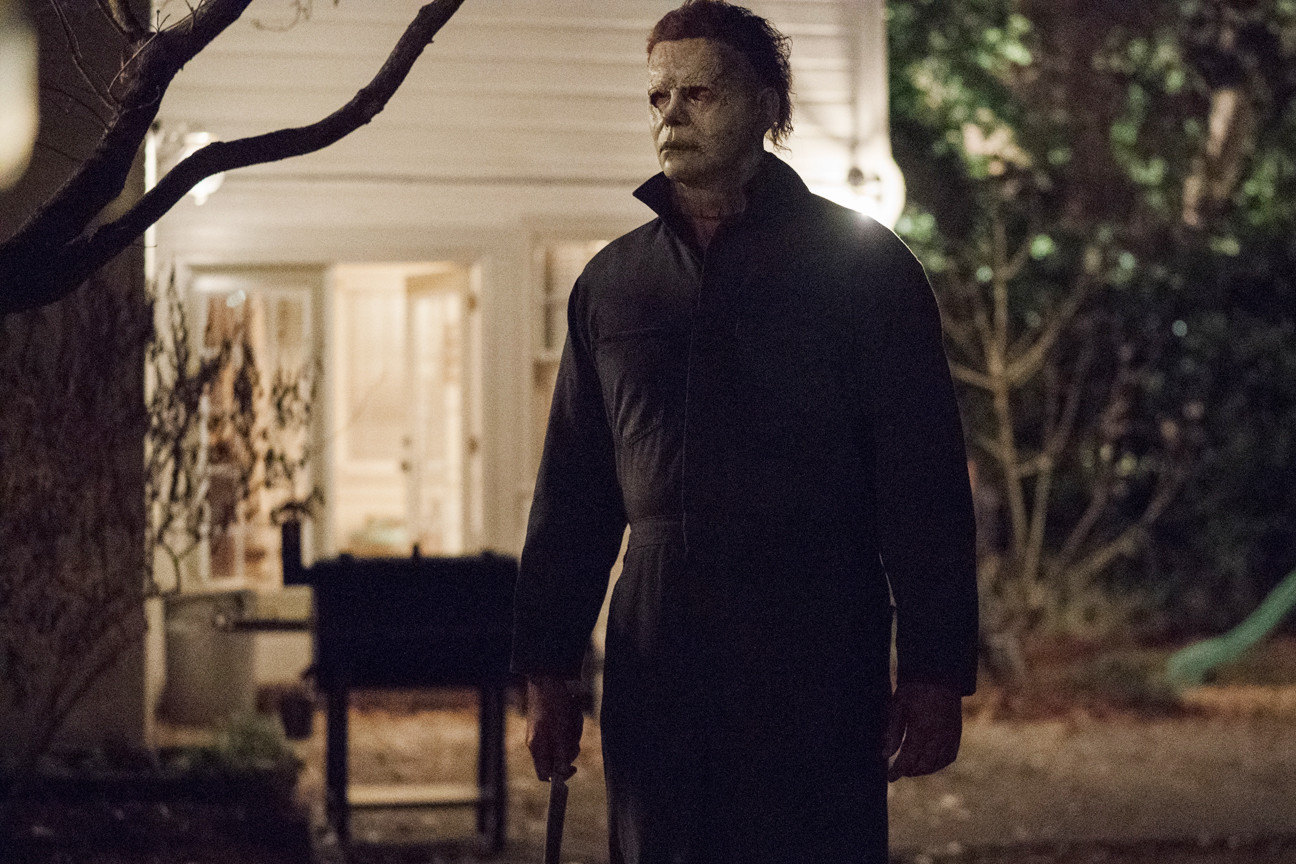 It feels hard to be enthused about yet another Halloween outing. Moreover, one that decides it is now being a direct sequel to the 1978 film. Of course, this brings us to the continuity nightmare afforded by the other sequels. Halloween 4 announced that Laurie Strode was dead and had an escaped Michael Myers pursuing her daughter, something that Halloween V followed on from. However, with H20: Twenty Years Later, we suddenly find that Laurie was alive, had a son and has been hiding under an assumed identity for twenty years, while Halloween: Resurrection follows on from this and opens with Laurie being killed off. Halloween 2018 decides to ignore this tangle and simply erases the continuity of all the sequels. It even erases the idea introduced in Halloween II (and retained in all the sequels and the remake series) that Michael Myers and Laurie Strode were siblings – there is a scene here where one of the teens asks why Michael keeps coming after Laurie and dismisses the idea that maybe they are related as something that was made up.
I felt divided about Halloween 2018. The scene where podcaster Jefferson Hall goes to see an incarcerated Michael Myers – now played by James Jude Courtney who also played a psycho killer back in the heyday of the original slasher fad, the title role in The Freeway Maniac (1989) – and holds up a William Shatner mask drags the series kicking and screaming into the 2010s if nothing else. There is also a jolt that comes when we are first introduced to a now sixty-year-old Jamie Lee Curtis who has become a harsh, mentally troubled survivalist living inside a heavily secured compound. Curtis is one actress who has made a big thing about not undergoing cosmetic surgery and there is a considerable shock to seeing her looking her age and not made up. (Although to me an established actress boasting that she is just fine with her curves and wrinkles the way they are is kind of like rich people telling everybody else "You don't need money to be happy." While it is an admirable stance to hold in real life, I'd really like Curtis to still be able to make such a boast if she were an unknown actress struggling to get a foot in the door of a casting call today).
I wanted to like Halloween 2018. With the film's surprisingly strong box-office response, I felt hopeful hoped that David Gordon Green might have given new life to the franchise. The surprise is that all Green settles for doing is recycling material from every other Halloween film. The plot is essentially a rehash of the first Halloween – Michael Myers makes an escape from the asylum where he has been incarcerated for most of his life and returns to Haddonfield where he stalks a teenage girl and her friends on Halloween night with a relentless unstoppability. A crazy person runs about town trying to warn others that Michael is evil incarnate. The one surprise here is that in the absence of a Dr Loomis (Donald Pleasence died in 1995)  the role of the crazy person is now inherited by a traumatised Laurie Strode. (Haluk Bilginer's psychiatrist, despite being a disciple of Loomis, does sort of fill the Loomis role but is surprisingly subdued). Michael's escape during a prison transfer is a scene lifted from Halloween 4, which also has a plot about Michael stalking Jamie Lee's daughter (granddaughter here) and her friends.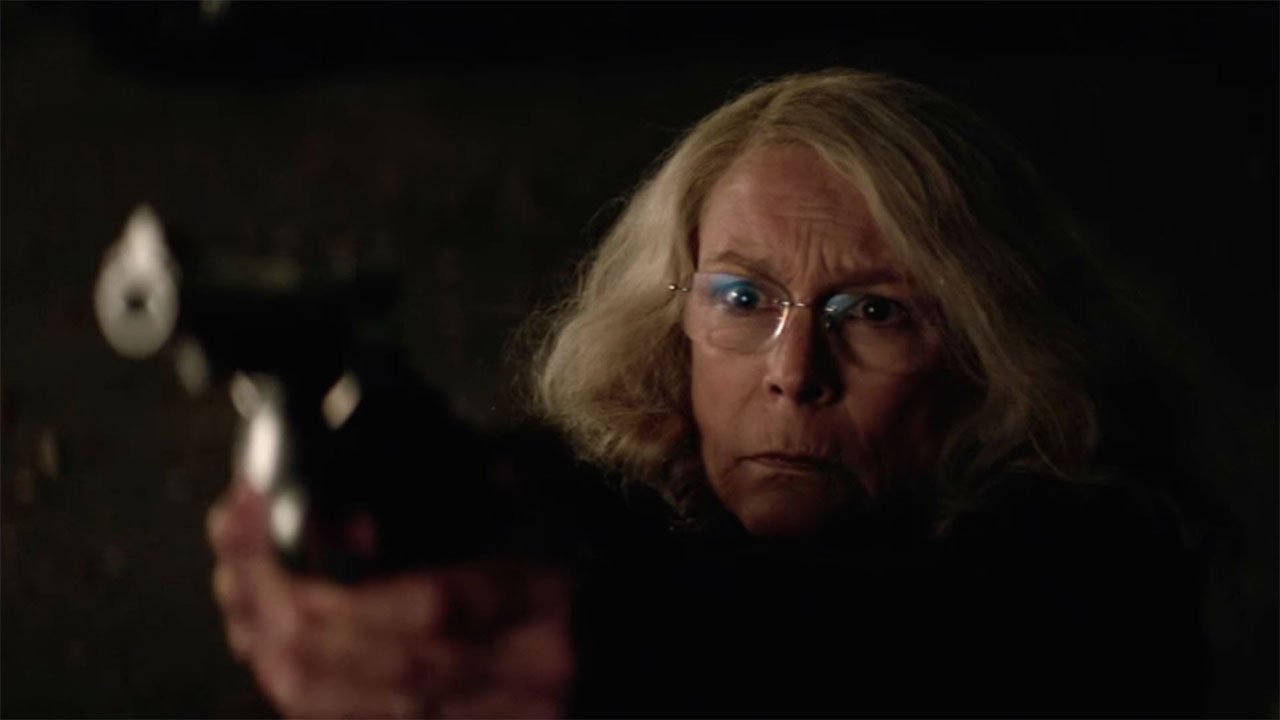 The other thing that might be noted is that the transformation of Laurie Strode has been photocopied from The Terminator franchise. In The Terminator (1984), Linda Hamilton's Sarah Conner was a regular girl pursued by an unstoppable monster; by the time of the sequel Terminator 2: Judgment Day (1991), she had morphed into a harsh hard-edged survivor armed to the teeth and trained in how to use it, while shouting warnings of the danger to come. All that David Gordon Green and Danny McBride have done is taken the Sarah Connor character arc and merely changed the names. There is even the storyline in both where she comes to connect with the (grand)-child that was taken away from her in between the two films.
I think the biggest disappointment of Halloween 2018 is that David Gordon Green does nothing to emulate John Carpenter's suspense. (Surprisingly enough, Carpenter is back on board – he and Jamie Lee are listed as executive producers, while Carpenter and his son Cody compose the score and Nick Castle, the original Shape, has returned to inhabit the mask for some of the scenes). Green does nothing whatsoever to try and rival any of Carpenter's eerie peripheral scares where Michael Myers would pop up out of the corner of the frame when least expected.
There is the odd scene where Michael's reflection appears on a window, he comes up behind somebody or is seen passing through a background but these scenes are notably only in how unremarkable they are. If Carpenter were in the director's chair, you can guarantee he would have audiences jumping out of their seats. Compare the scene where Michael slaughters babysitter Virginia Gardner and her boyfriend to the incredible spookiness of the ones where he kills P.J. Soles and boyfriend in the original and see how much this is missing in any essential atmosphere. I wanted Halloween 2018 to have something of the impact the original did when I saw it back in the early 1980s; all I can say is that it joins another in a line of forgettable sequels.
This was followed by two sequels Halloween Kills (2021) and Halloween Ends (2022) also from David Gordon Green, Blumhouse and Danny McBride and featuring Jamie Lee Curtis. David Gordon Green, Blumhouse and Danny McBride next went on to revisit another classic horror franchise with The Exorcist: Believer (2023).
Jason Blum and his Blumhouse production company have produced a number of other genre films including:- Hamlet (2000), Paranormal Activity (2007) and sequels, Insidious (2010) and sequels, Tooth Fairy (2010), The Bay (2012), The Lords of Salem (2012), The River (tv series, 2012), Sinister (2012) and sequel, Dark Skies (2013), Oculus (2013), The Purge (2013) and sequels, the tv mini-series Ascension (2014), Creep (2014), Jessabelle (2014), Mercy (2014), Mockingbird (2014), Not Safe for Work (2014), Ouija (2014) and sequel, 13 Sins (2014), The Town That Dreaded Sundown (2014), Unfriended/Cybernatural (2014), Area 51 (2015), The Boy Next Door (2015), Curve (2015), The Gallows (2015), The Gift (2015), Jem and the Holograms (2015), The Lazarus Effect (2015), Martyrs (2015), Visions (2015), The Visit (2015), The Darkness (2016), Hush (2016), Incarnate (2016), The Veil (2016), Viral (2016), Amityville: The Awakening (2017), Get Out (2017), Happy Death Day (2017), The Keeping Hours (2017), Split (2017), Stephanie (2017), Bloodline (2018), Cam (2018), Delirium (2018), Seven in Heaven (2018), Truth or Dare (2018), Upgrade (2018), Black Christmas (2019), Ma (2019), Prey (2019), Don't Let Go (2019), Sweetheart (2019), Black Box (2020), The Craft: Legacy (2020), Evil Eye (2020), Fantasy Island (2020), Freaky (2020), The Hunt (2020), The Invisible Man (2020), Nocturne (2020), You Should Have Left (2020), Black As Night (2021), The Black Phone (2021), Dashcam (2021), Firestarter (2022), M3gan (2022), Mr Harrigan's Phone (2022), Nanny (2022), Soft & Quiet (2022), Run Sweetheart Run (2022), Sick (2022), They/Them (2022), The Visitor (2022), Torn Hearts (2022), Unhuman (2022), The Exorcist: Believer (2023), Five Nights at Freddy's (2023), There's Something Wrong With the Children (2023) and Totally Killer (2023).
---
---