---
Crew
Director – Daniel Goldhaber, Screenplay – Isa Mazzei, Story – Daniel Goldhaber, Isabelle Link-Levy & Isa Mazzei, Producers – Greg Gilreath, Adam Hendricks, John Lang & Isabelle Link-Levy, Photography – Katelin Arizmendi, Music – Gavin Brivik, Graphics Animation – Gates Bradley, Visual Effects – Clean Plate FX, Makeup Effects – Joe Badiali, Production Design – Emma Rose Mead. Production Company – Blumhouse Productions/Gunpowder & Sky/Seer Capital/Divide-Conquer Productions.
Cast
Madeline Brewer (Alice Ackerman/Lola), Melora Walters (Lynne Ackerman), Patch Darragh (TinkerBoy), Devin Druid (Jordan Ackerman), Michael Dempsey (Barney), Imani Hakim (Baby/Hannah Darin), Flora Diaz (Fox), Samantha Robinson (Princess_X), Jessica Parker Kennedy (Katie)
---
Plot
Alice Ackerman works as a cam girl on the Freegirls.live website under the handle Lola_Lola where she strips and performs sex acts to a crowd of online admirers who pay her in tokens and gifts. She is obsessed with getting into the site's Top 20. In the real world, she keeps what she does a secret from her family. Alice suddenly finds that an identical impostor has taken over the account and shut her out. The doppelganger pushes things to even more of an extreme than Alice did and breaks through into the Top 20. As Alice fights to regain control of her account, the doppelganger ends up wreaking havoc in her offline life.
---
Cam was a film produced by the near-ubiquitous Blumhouse that was released to Netflix after making the rounds of several film festivals. It is a directorial debut for Daniel Goldhaber from a script by Isa Mazzei who based it on her own experiences as a cam girl.
Cam comes with the interestingly original premise – a cam girl who performs on a live video porn site finds that a doppelganger has stolen her identity and is wreaking havoc with her life. We have had assorted doppelganger films before with the likes of The Man Who Haunted Himself (1970), The Dark Half (1993) and Doppelganger (1993) to a more recent spate of films with the likes of Another Me (2013), The Double (2013), Enemy (2013), The One I Love (2014), The Evil Within (2017) and Us (2019). On the other hand, the life of the webcam girl is not one that has been explored on film before. The only prior example that one has come across was the slasher film Girlhouse (2014).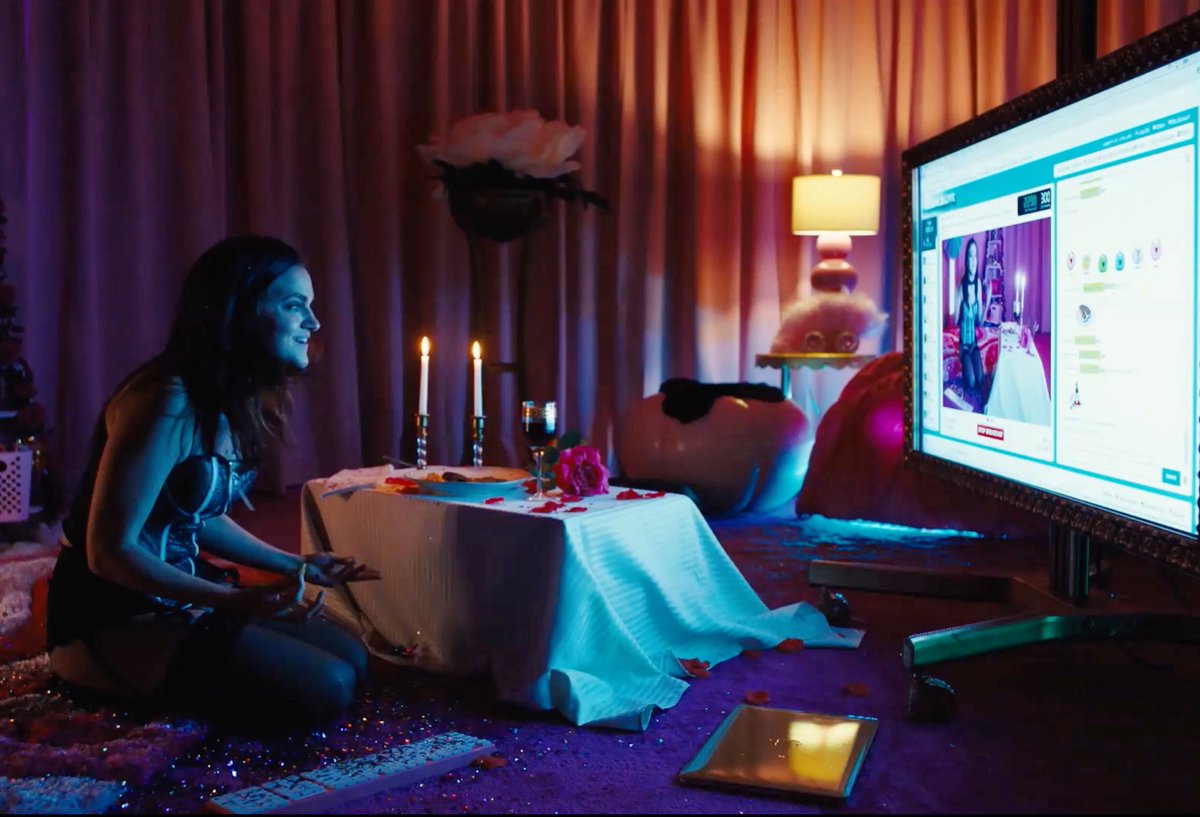 The mix of the doppelganger theme and the interestingly original central character of a camgirl certainly makes Cam seem potentially worthwhile. As it opens and we see Madeline Brewer competing for tokens and various users responding with chat messages and icons, it feels like one is being drawn into a secret world that one had no idea existed. It is also something that feels far more authentic than Girlhouse, which seemed to be trying to be awfully safe and avoid actually having the cam girls do the things they do – take their clothes off. The opening – where Madeline Brewer, better known as the crazy one-eyed Janine on The Handmaid's Tale (2017– ), slits her throat as a piece of performance theatre – certainly grabs your attention.
The problem is when Cam starts to operate as a horror film. The antagonist of the doppelganger is a frustratingly indistinct one. Indeed, the film reaches an end without ever offering any explanation of what the doppelganger is – some entity that lives on the internet and takes the identity of camgirls, while killing the original off and nothing more clear than that. It is the case of a film being carried a good way in by an unusual premise but then being at a loss of where to develop the plot beyond a set-up, least of all offer an explanations as to what is going on. As it plays out, you cannot help but feel that Cam would have worked better as a short film rather than being extruded out to a feature film.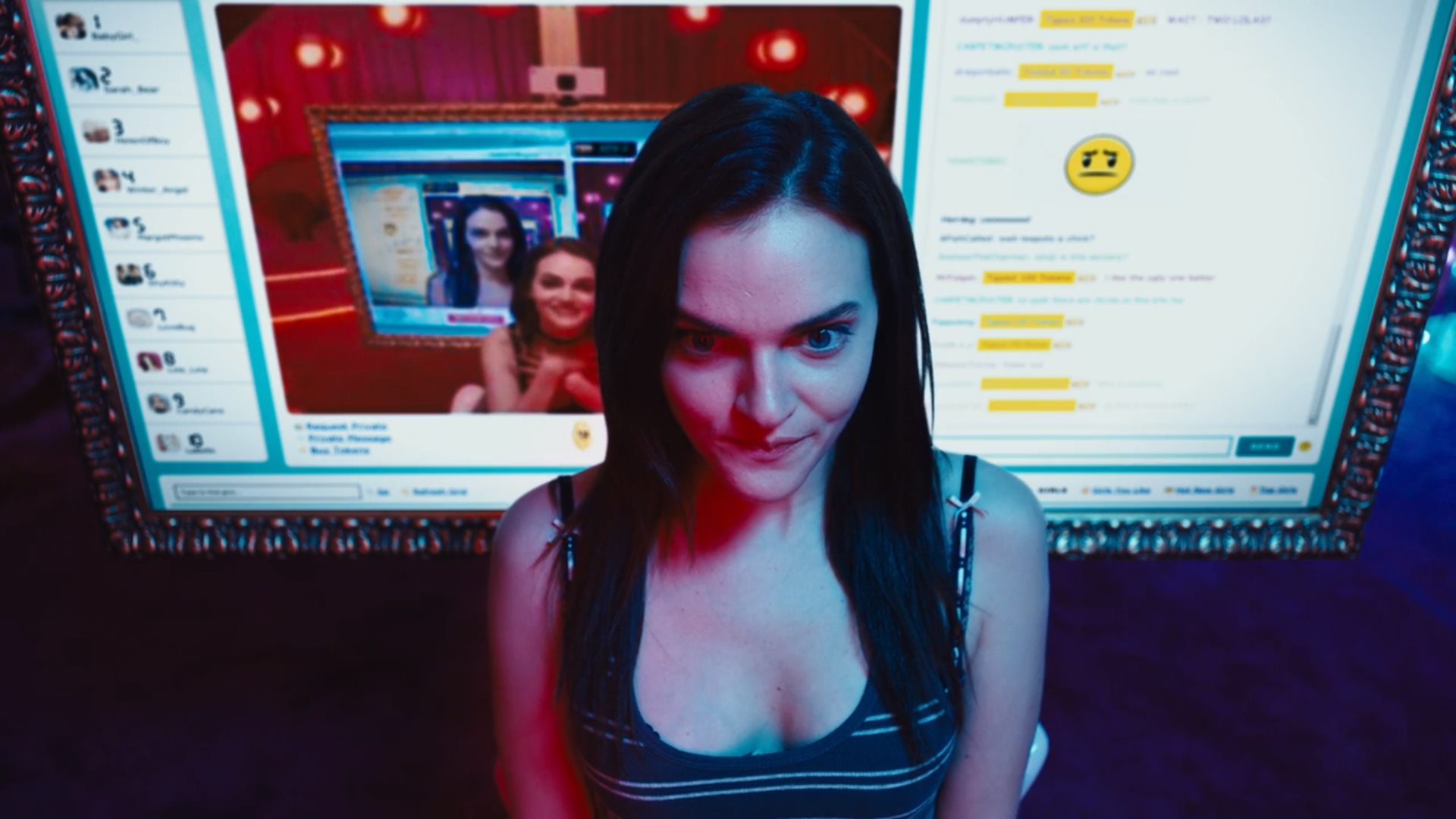 As the doppelganger only ever exists on the computer screen, there is never any of the sense of it impersonating the heroine in the real world and stealing her life away as you get in all the abovementioned films. Madeleine Brewer's real world struggles are limited to being caught in a difficult plight when a client (Michael Dempsey) meets with her in person and then is puzzled to find she (the doppelganger) is online at the same time, or her family's reaction to finding out she is a cam girl at a birthday party (which don't involve the doppelganger). It becomes more of an identity theft story than a doppelganger story. The climax where Madeleine Brewer faces down the doppelganger in a contest of masochistic one-upmanship feels like it should have been more than it is.
Jason Blum and his Blumhouse production company have produced a number of other genre films including:- Hamlet (2000), Paranormal Activity (2007) and sequels, Insidious (2010) and sequels, Tooth Fairy (2010), The Bay (2012), The Lords of Salem (2012), The River (tv series, 2012), Sinister (2012) and sequel, Dark Skies (2013), Oculus (2013), The Purge (2013) and sequels, the tv mini-series Ascension (2014), Creep (2014), Jessabelle (2014), Mercy (2014), Mockingbird (2014), Not Safe for Work (2014), Ouija (2014) and sequel, 13 Sins (2014), The Town That Dreaded Sundown (2014), Unfriended/Cybernatural (2014), Area 51 (2015), The Boy Next Door (2015), Curve (2015), The Gallows (2015), The Gift (2015), Jem and the Holograms (2015), The Lazarus Effect (2015), Martyrs (2015), Visions (2015), The Visit (2015), The Darkness (2016), Hush (2016), Incarnate (2016), The Veil (2016), Viral (2016), Amityville: The Awakening (2017), Get Out (2017), Happy Death Day (2017), The Keeping Hours (2017), Split (2017), Stephanie (2017), Bloodline (2018), Delirium (2018), Halloween (2018), Seven in Heaven (2018), Truth or Dare (2018), Upgrade (2018), Black Christmas (2019), Ma (2019), Prey (2019), Don't Let Go (2019), Sweetheart (2019), Black Box (2020), The Craft: Legacy (2020), Evil Eye (2020), Fantasy Island (2020), Freaky (2020), The Hunt (2020), The Invisible Man (2020), Nocturne (2020), You Should Have Left (2020), Black As Night (2021), The Black Phone (2021), Dashcam (2021), Firestarter (2022), M3gan (2022), Mr Harrigan's Phone (2022), Nanny (2022), Soft & Quiet (2022), Run Sweetheart Run (2022), Sick (2022), They/Them (2022), The Visitor (2022), Torn Hearts (2022), Unhuman (2022), The Exorcist: Believer (2023), Five Nights at Freddy's (2023), There's Something Wrong With the Children (2023) and Totally Killer (2023).
---
---