---
Crew
Director – Kiah Roache-Turner, Screenplay – Kiah Roache-Turner & Tristan Roache-Turner, Producers – Troy Lum, Andrew Mason & Tristan Roache-Turner, Photography – Tim Nagle, Music – Michael Lira, Visual Effects Supervisor – Andrew Mason, Visual Effects – Cumulus VFX (Supervisor – Will Gammon), Goodman Brothers, The Nekro Solo Heroes & Slate VFX, Special Effects Supervisor – Rodney Burke, Creature and Makeup Effects – Make-Up Effects Group (Supervisors – Paul Katte & Nick Nicolaou), Production Design – Nicholas Dare. Production Company – Hopscotch Features/Guerilla Films.
Cast
Ben O'Toole (Howard North), Monica Bellucci (Finnegan), Caroline Ford (Molly), Tess Haubrich (Torquel), Epine 'Bob' Savea (Rangi), David Wenham (Luther), Berynn Schwerdt (Uncle Dave), Felix Williamson (Ginsberg), Goran Kleut (Lurch)
---
Plot
Howard North and his half-brother Rangi work in his stepfather's sewage business. Rangi becomes obsessed with a new cellphone game that allows a player to hunt ghosts and entities around the city. In the course of this, Howard then possessed by one of these entities. During the midst of the fight with it, Howard is dragged away by Luther and his two daughters Molly and Torquel who introduce themselves as Nekromancers who specialise in hunting demons. They are fighting the demon Finnegan who seeks to devour the souls of those who play the game so that she can become more powerful. During a fierce battle with Finnegan's forces, Rangi is killed and Luther sacrifices himself so the others can get away. Howard comes around in hospital and is startled to find that Rangi is now a disembodied wraith. Finnegan appears, revealing that she is Howard's mother and imploring him to join her. Howard instead chooses to join the two sisters and become a Nekromancer.
---
Australian director Kiah Roache-Turner made a debut with the zombie film Wyrmwood: Road of the Dead (2014), which gained reasonable festival attention around the world A lot of people regarded Wyrmwood as a some kind of classic of the genre. I remained somewhat less enthused but was sufficiently interested to see what Kiah Roache-Turner would make as a follow-up. This comes about with Nekrotronic. Subsequent to this, Roache-Turner made the sequel Wyrmwood: Apocalypse (2021).
Nekrotronic resembles an occult investigator/monster hunter film like Constantine (2005) or Dylan Dog: Dead of Night (2010) but where everything has been told in comic-book panels – about the only thing that is missing from the film is comic-book onomatopoeia "Biff!" "Splat!" etc. It is a film that seems driven entirely by a kinetic pace and action happening on the screen. Characters wield big guns and seem more concerned with action movie poses than the practicality of such moves.
Certainly, there is a complexity to the way the supernatural operates that you wish more films would expend their time creating – the Roache-Turner brothers have certainly spent a great deal of time engaged in world-building. The Nekromancers come with some amazing gadgetry and devices.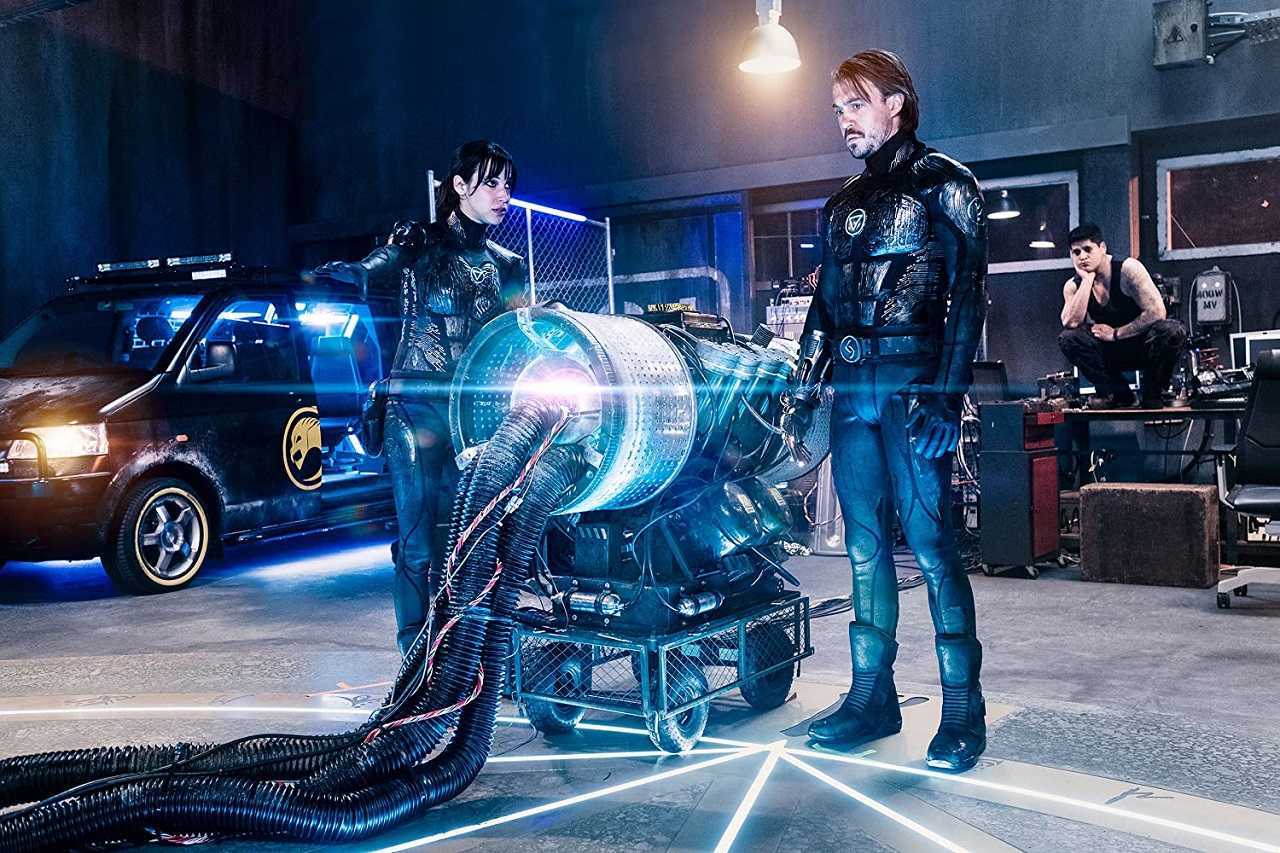 However, the frustration of the film is that all of this just sits there as cool gadgetry and the film does nothing to explore the fascinating world it has created, It is maddening watching a film that clearly has a great deal expended on it – the makeup effects on the various dead are amazing – and yet has no more intellectual depth that a cartoon made for children's television.
The bigger budget has meant that Roache-Turner has been able to employ a better calibre of actor even some with names. Monica Bellucci turns up as the head demon and displays far more class and elegance than the film deserves. Ditto Australian actor David Wenham who has a few scenes as the girls' father, is then killed off and later turns up as a head in a box, leaving you wishing he had been around more.
In the initial scenes, the banter between Ben O'Toole and Epine 'Bob' Savea slips into the coarse broad banter that Australians call a sense of humour. Epine 'Bob' Savea's ghostly companion does become one of the film's more amusing aspects, even if his relationship with Ben O'Toole is appropriated from and was done far better by Griffin Dunne's character in An American Werewolf in London (1981).
---
---