---
USA. 2017.
Crew
Director – Stacy Title, Screenplay – Jonathan Penner, Based on the Story The Bridge to Body Island by Robert Damon Schneck, Producers – Simon Horsman, Trevor Macy & Jeffrey Soros, Photography – James Kniest, Music – The Newton Brothers, Visual Effects Supervisor – Bret Culp, Visual Effects – Rocket Science VFX Limited, Makeup Effects – Robert Kurtzman's Creature Corps (Supervisor – Alan S. Tuskes), Production Design – Jennifer Spence. Production Company – STX Entertainment/Intrepid Pictures/Los Angeles Media Fund.
Cast
Douglas Smith (Elliot Wright), Lucien Laviscount (John), Cressida Bonas (Sasha), Michael Trucco (Virgil Wright), Jenna Kanell (Kim Hines), Carrie-Ann Moss (Detective Shaw), Erica Tremblay (Alice Wright), Cleo King (Mrs Watkins), Leigh Whannell (Larry Redmon), Faye Dunaway (Widow Redmon), Doug Jones (The Bye Bye Man), Keelin Woodell (Young Mrs Redmon), Jonathan Penner (Mr Daizy)
---
Plot
Elliot Wright, his girlfriend Sasha and best friend John, who are university students in Madison, Wisconsin, buy a house together. Soon after they move in, strange things begin to happen. Elliot finds a nightstand that has the phrase "don't think it, don't say it" and reference to The Bye Bye Man written all over the inside. Their friend Kim holds a seance but flees at what she sees in the house. Soon all three of them start experiencing troubling hallucinations and cannot be sure whether what they see is real. Elliot finds that the house was the home of a Larry Redmon who killed his wife and several others in 1969. Delving into the past, he learns the legend of the shadowy figure known as the Bye Bye Man. As soon as one speaks his name, the Bye Bye Man will claim that person and anyone else to whom they have mentioned its name. Having been marked as one of its victims, Elliot also realises that the Bye Bye Man will be coming after Sasha, John and anybody else they have spoken his name to.
---
I first became aware of Stacy Title with her debut film, the black comedy The Last Supper (1995), which has the rather funny premise of a group of liberals who invite right wing bigots to dinner and bump them off. Title has not exactly been prolific since then but has put out several films, including Let the Devil Wear Black (1999), a modernisation of Shakespeare's Hamlet (1602), and the horror anthology Snoop Dogg's Hood of Horror (2006). This would be Title's last work as a director, apart from a 2017 episode of the tv series Freakish, and she passed away from Lou Gehrig's Disease in 2021. The script is written by Title's husband Jonathan Penner who also has a small one-scene role as the florist Mr Daizy that Cressida Bonas goes to talk to.
The end credits note that The Bye Bye Man is based on the story The Bridge to Body Island by Robert Damon Schneck. You assume that this is a novel or a short story that the film has adapted but a quick Google of the details reveals that Schneck is a former contributor to Fortean Times and a writer who specialises in real-life ghost stories and tales of the paranormal. The Bridge to Body Island is actually a chapter from The President's Vampire: Strange But True Tales of the United States of America (2005), one of Schneck's collections of these stories.
There is an undeniable originality to the conception of the Bye Bye Man – as a mental meme that is spread virally by being spoken to another person, who must then be eliminated unless they pass the threat on to someone else. Stacy Title creates a number of unusual and eerie appearances – a scene where young Erica Tremblay wanders into the bedroom and an unearthly creature appears out of a small door on the opposite wall; a mysterious hooded figure that may be lurking in the shadows.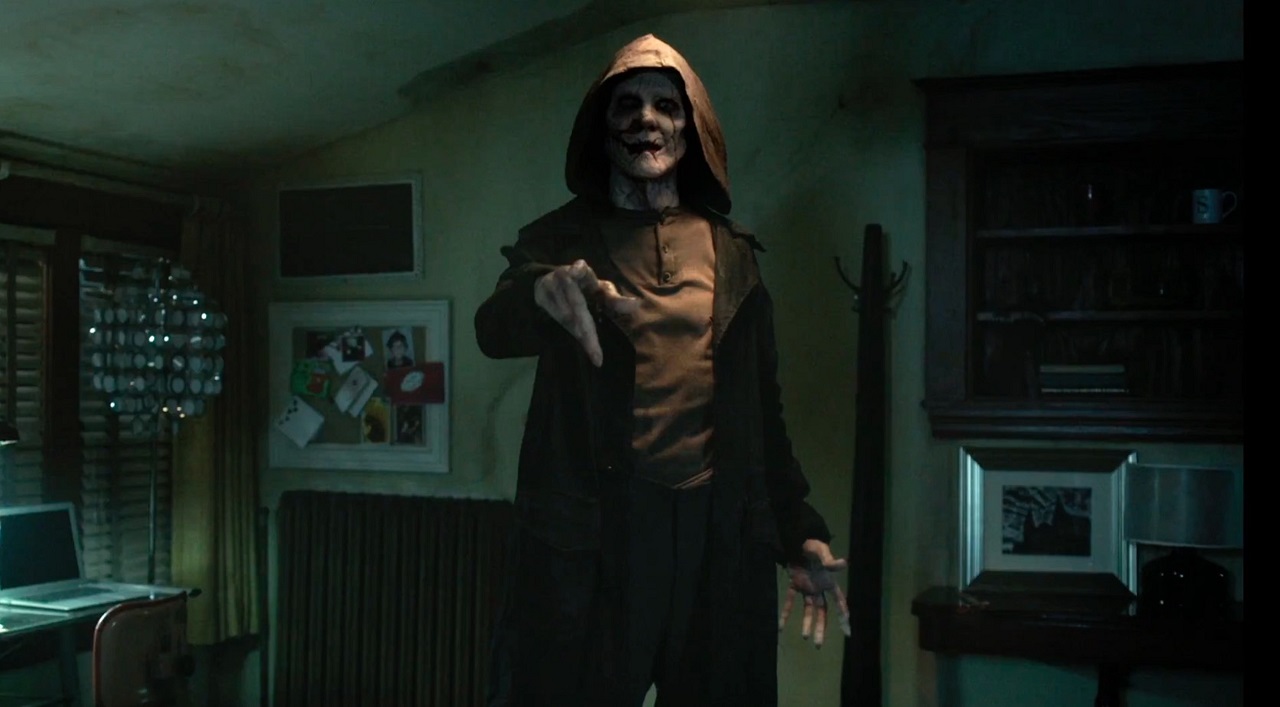 There is an arresting opening scene with Leigh Whannell, the co-writer of Saw (2004), as a bespectacled man back in the 1960s who abruptly blasts his wife and neighbours away with a shotgun. Actually, the best scene is not a horror one at all but just an exchange between two people – Carrie-Anne Moss as the investigating detective who is questioning Douglas Smith at the station where he uses the analogy of asking whether she would she go home and tell her children about a graphic murder to plead with her not to ask him to tell her what happened.
The disappointment of The Bye Bye Man is that it has the benefit of an interesting idea and some effective direction but also ends up being no good. The main problem is the fleshing out of the rest of the show. The Bye Bye Man comes with some interesting quirks but is ultimately a generic horror movie boogeyman who methodically kills people until they devise a means to fight back. The characters are generic victims and zero effort is made by the script or actors to turn them into people you give a toss about. Aside from one or two moments that Stacy Title offers, The Bye Bye Man is mostly just a formulaic and unexceptional trip.
---
Trailer here
---