(Slugs, Muerte Viscosa)
---
Crew
Director – J.P. Simon, Screenplay – Ron Gantman, Based on the Novel Slugs by Shaun Hutson, Producers – Francesca De Laureniis, Jose A. Escriva & J.P. Simon, Photography – Julio Bragado, Music – Tim Souster, Special Effects – Emilio Ruiz, Makeup Effects – Carlo De Marchis, Art Direction – Gonzalo Gonzalo. Production Company – Dister Productions.
Cast
Michael Garfield (Mike Brady), Kim Terry (Kim Brady), Philip Machale (Don Palmer), Santiago Alvarez (John Foley), John Battaglia (Sheriff Reese), Emilio Linder (David Watson), Alicia Moro (Maureen Watson), Concha Cuetos (Maria Palmer), Manuel De Blas (Mayor Eaton), Frank Braña (Frank Phillips), Kari Rose (Donna Moss), Kris Mann (Bobby Talbot), Tammy Reger (Pam), Juan Majan (Harold Morris), Stan Schwartz (Ron Bell), Harriet L. Stark (Florence Fortune)
---
Plot
Mike Brady, a health inspector in the small American town of Ashton, is forced to deal with an increasing number of dead bodies. He comes to the realisation that toxic waste mutation has caused by slugs to grow in size and have they have started feeding on human flesh. As the slug related deaths grow in number, Mike tries to get the authorities to take action and close the sewers.
---
Slugs: The Movie was one of the films made by hack Spanish director Juan Piquer Simon (1935-2011), variously also known as J.P. Simon, Juan Piquer and J. Piquer Simon. Juan Piquer Simon made a number of other genre films such as The Fabulous Adventure at the Center of the Earth (1977), Supersonic Man (1979), Beyond Terror (1980), Monster Island/Mystery on Monster Island (1981), The New Extraterrestrials/The Return of E.T. (1983), Pieces (1983), Cthulhu Mansion (1990) and The Rift/Endless Descent (1990), all of which are impoverished and cheap productions.
Slugs: The Movie is based on Slugs (1982), a novel by British horror writer Shaun Hutson. Hutson is known for his gore-drenched novels. In this respect, Juan Piquer Simon certainly keeps to the essence of the novel, even if he has thrown out almost all other plot similarities. The opening scene is laughable in its deliberate cheese factor – involving a woman in a dinghy taking off her clothes to go swimming, moments before her boyfriend is gored to death in the water.
A few minutes later there is an entertainingly ludicrous scene where Juan Majan gets a slug in his gardening glove and, in his agonised contortions, ends up spilling acid and overturning a shelf, before hacking off his wrist with an axe and then accidentally igniting the spilt chemicals and blowing up the greenhouse.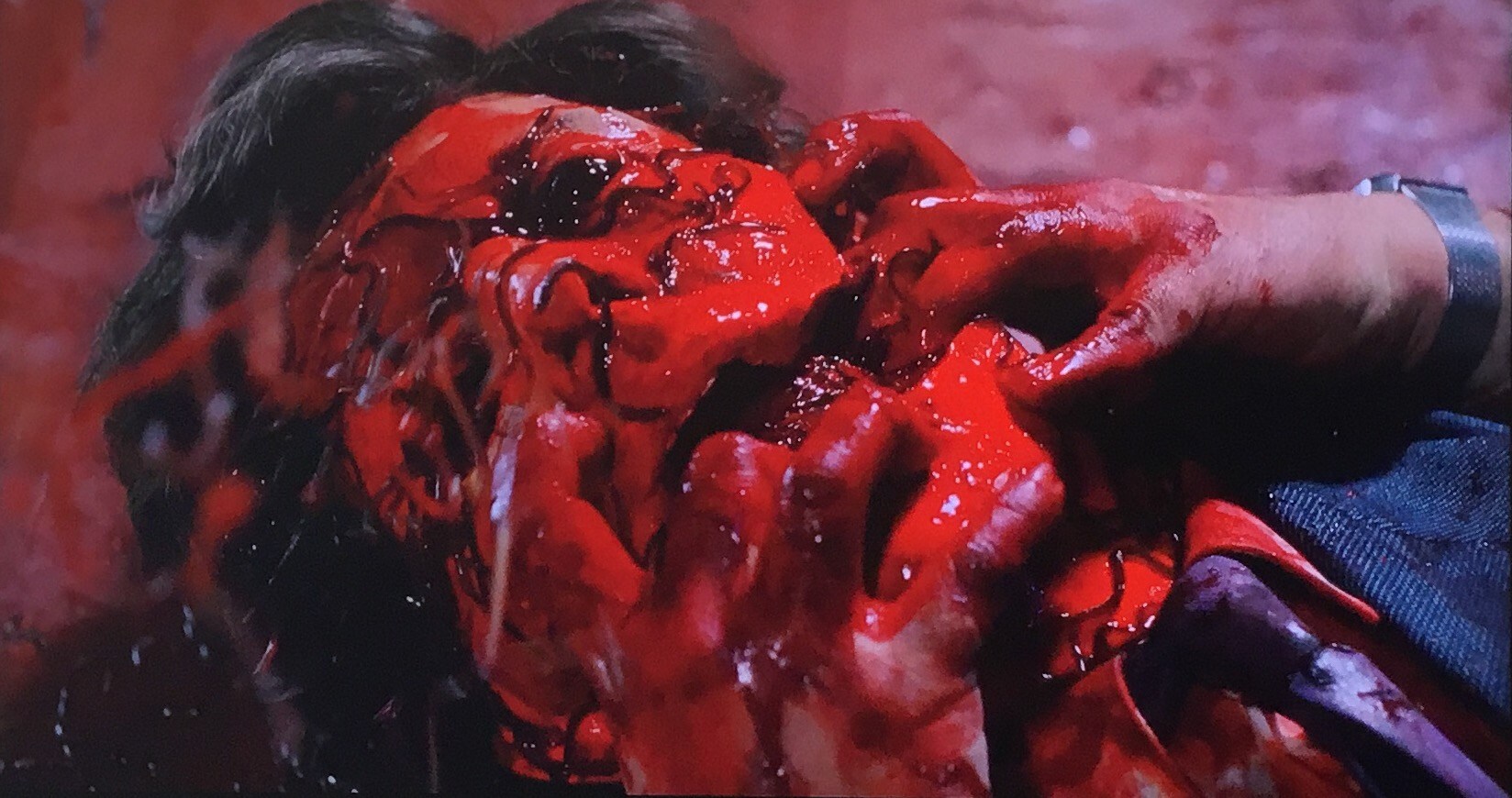 There are some nastily gore-drenched scenes – particularly of two lovers stepping off a bed onto a floor of slugs, which then burrow into the girl's naked body. Or of Emilio Linder's head exploding with blood and slugs in the middle of a restaurant. There is even a scene where the slugs are seen strangling a hamster. Indeed, these absurdly gore-drenched scenes become the film's only notable watching point.
The plot is churned out via the cliches of the Animals Attack Film – the hero who knows what is happening but is ignored by all; the authorities who want to quash the hero's warnings because of their own ignorance and/or short-sighted business interest; the climactic venture into creatures' sewer lair. Slugs: The Movie is probably the most competently made and watchable of all Juan Piquer Simon's films. Even so, in anybody else's books it is still a routine, if not downright poor, film.
Juan Piquer Simon has made Slugs: The Movie for the English-language market more so than many of his other films – in this case, having his largely Spanish cast affecting American accents and having gone to shoot in a real American town (Lyons in New York State). Amid the cast, American actor Michael Garfield has a handsomely assured presence and plays like he means every word that he is saying. One is surprised that Garfield has not gone onto have a more widely known name. Mindedly, none of the rest of the cast have either.
---
---