---
Crew
Director – Jon Knautz, Screenplay – John Ainslie & Jon Knautz, Story – John Ainslie, Jon Knautz, Trevor Matthews & Patrick White, Producers – Neil Bregman, Trevor Matthews & Patrick White, Photography – Joshua Allen, Music – Ryan Shore, Visual Effects – Technicolor Creative Services Vancouver, Special Effects Supervisor – Marcus Rait, Makeup & Creature Effects – Form and Dynamics (Supervisor – David Scott), Production Design – Jonathan Hobin & Jason MacIsaac. Production Company – Brookstreet Pictures.
Cast
Trevor Matthews (Jack Brooks/The Forest Troll), Robert Englund (Professor Gordon Crowley), Rachel Skarsten (Eve), James A. Woods (John), Daniel Kash (Counselor Silverstein), David Fox (Old Howard), Stefanie Drummond (Janice), Ashley Bryant (Kristy), Evan Gilchrist (Young Jack Brooks), Austin MacDonald (Young Howard)
---
Plot
Ever since he saw his family killed as a child, a memory that he has repressed, Jack Brooks has had anger issues. He now works as a plumber and attends night school with his girlfriend Eve but is struggling to keep up. Jack's chemistry professor Gordon Crowley asks him for help at home with his rundown boiler. In trying to fix the old pipes, Jack unwittingly causes something buried outside to be unearthed. Afterwards, Crowley finds a wooden box in the backyard and is driven to devour the heart that it contains. This causes him to become possessed by an ancient evil and start to transform into something monstrous. As the school is taken over, Jack is left with the job of being its saviour.
---
Jack Brooks, Monster Slayer was a debut film for Canadian director Jon Knautz. The film played at a number of fantastic film festivals worldwide and garnered favourable word of mouth. Jon Knautz subsequently went onto make the straight horror films The Shrine (2010), Goddess of Love (2015) and The Cleaning Lady (2018) and co-directed the slasher Girlhouse (2014).
I expected witty and amusing things from Jack Brooks, Monster Slayer and must admit that I was disappointed. For much of the first three-quarters of an hour, it is hard to see where the film is going. You expect a monster hunter film akin to Van Helsing (2004) or more so one with its tongue planted in its cheek along the lines of Buffy the Vampire Slayer (1997-2003) or Matthew Blackheart (2002).
However, rather than the comic-book tone that the film's poster and promotion suggests, rather than a lantern-jawed Bruce Campbell going into action with a quip at the ready, we get plumber Trevor Matthews who spends most of the film in a decidedly unheroic beard and baseball cap giving the impression he would be happier sinking a few beers at the local bar. His expression is less stalwart and heroic than it is taciturn and tight-lipped, while the film devotes much of the running time to dealing with his anger issues.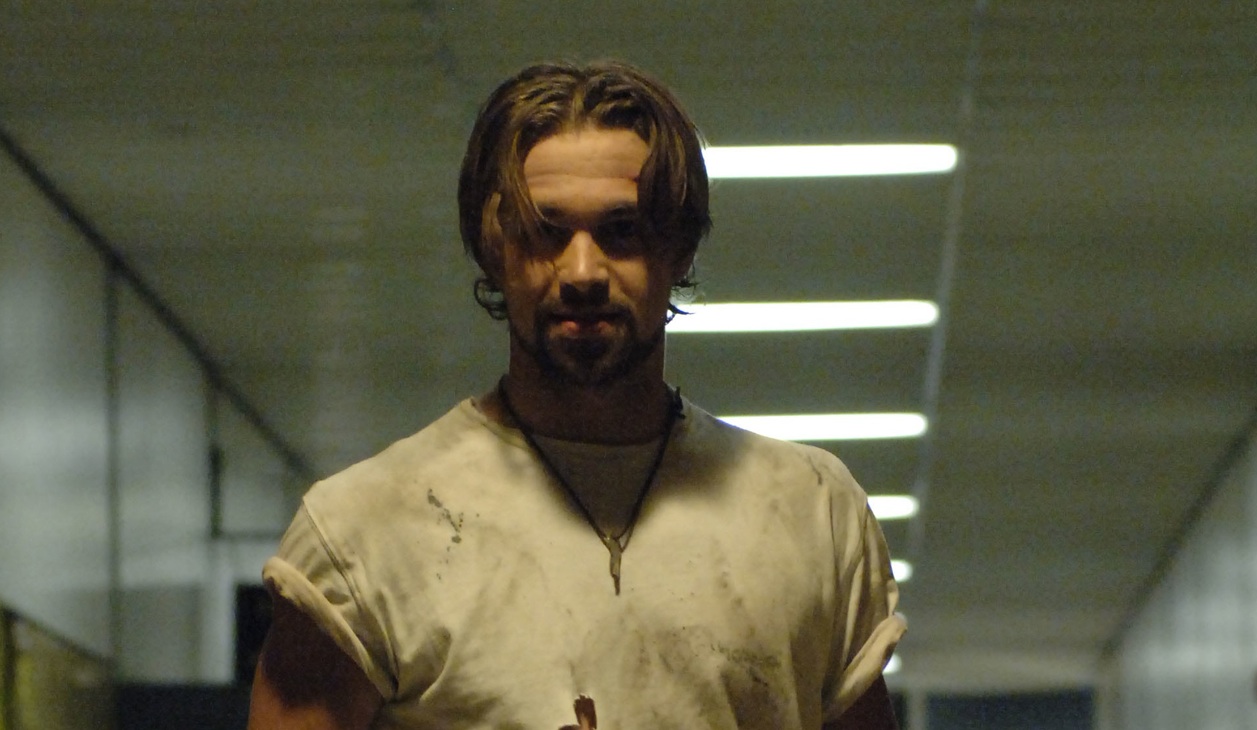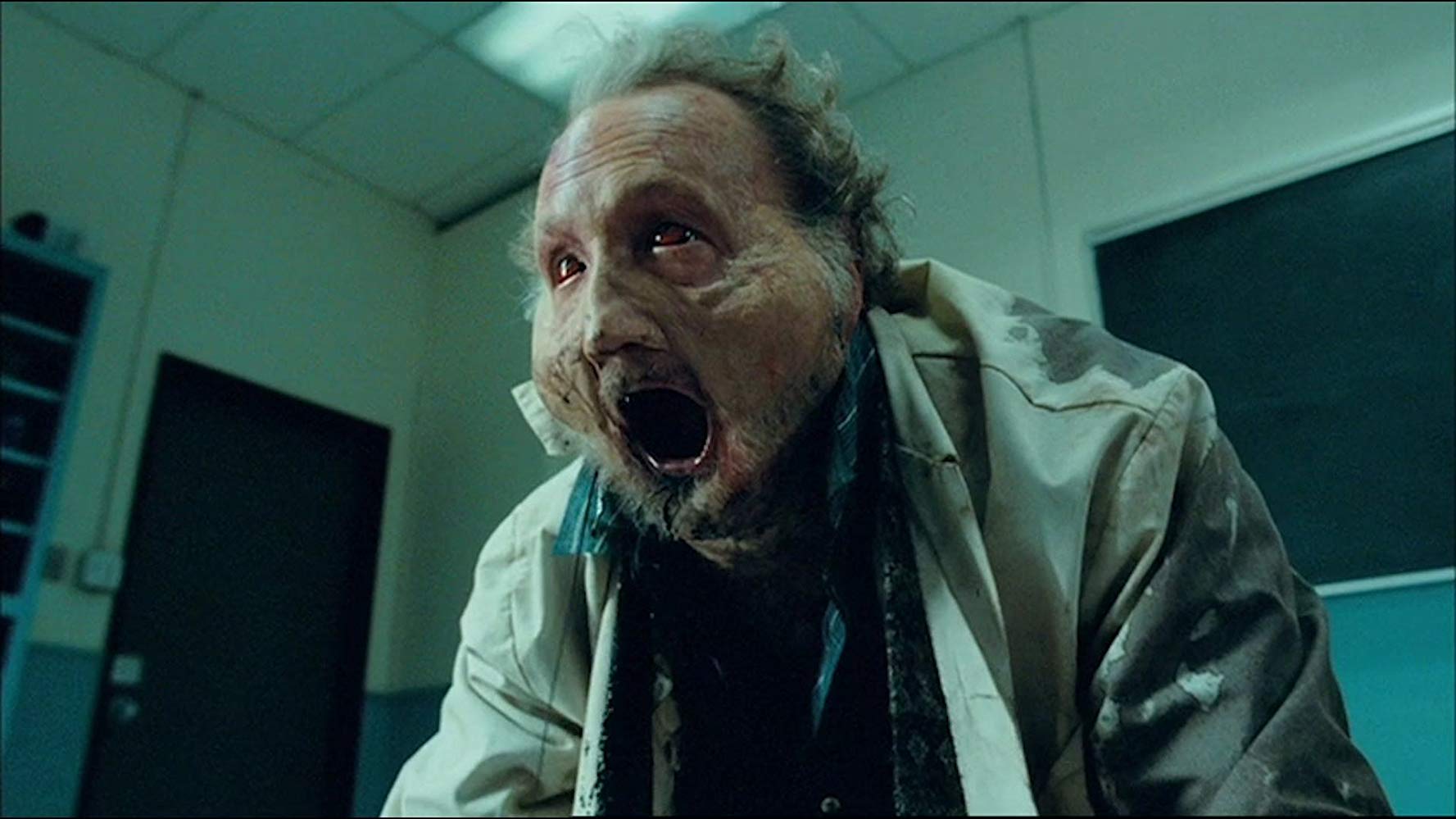 Moreover, with a title like Jack Brooks, Monster Slayer you expect the hero to well be slaying monsters. Instead, we get a film where Trevor Matthews spends most of the running time attending night class and the closest we get to any monsters is seeing Robert Englund mutating after Matthews' plumbing adventures inadvertently disturb something buried in the backyard. (The plus side of these scenes is that they give Robert Englund one of his most substantial acting roles in some time at which he plays something close to normal for once, despite giving the impression of mutating into Jabba the Hut for much of the film). Even the promised horror comedy you go in expecting is entirely absent from the proceedings.
To its credit, the film does pick up in about the last twenty minutes after we get to see Robert Englund transformed. The monster effects looks very rubbery – particularly the Englund monster – but Jon Knautz goes at the scenes with a low-budget energy turning Trevor Matthews' battle against Englund and the possessed students into something that harkens back to The Evil Dead (1981). Knautz provides (within the low-budget at his disposal) some full tilt, high-energy fights and buckets of popcorn gore and splatter, which is exactly what we expected of the film initially. It is a shame that the rest of the show is burdened with such long exposition to get where the audience has been waiting for it to go.
---
Trailer here
---