---
Crew
Director – Tobe Hooper, Screenplay – Jace Anderson, Adam Gierasch & Michael D. Weiss, Story – Boaz Davidson, Producers – Boaz Davidson, Frank DeMartini & Danny Lerner, Photography – Eliot Rockett, Music – Serge Colbert, Visual Effects – Flat Earth Productions, Inc. (Supervisor – Kevin O'Neill), Special Effects Supervisor – George Phillips, Makeup Effects/Animatronics – K.N.B. EFX Group, Inc. (Supervisors – Howard Berger, Robert Kurtzman & Greg Nicotero), Production Design – W. Brooke Wheeler. Production Company – Nu Image.
Cast
Mark McLauchlin (Brady Turner), Caitlin Martin (Claire), Chris Solari (Duncan McKay), Harrison Young (Sheriff Ezra Bowman), Sommer Knight (Sunny), Doug Reiser (Kit), Julie Mintz (Annabelle), T. Evans (Shurkin), Rhett Jordan (Foster), Greg Wayne (Hubs), Adam Redmond (Lester)
---
Plot
A group of friends head up to Sobek Lake for springbreak. Brady finds it awkward because Claire, the girl he had a major crush on, has been invited but so also has Sunny, a girl who now likes him a good deal. They head out onto the lake in a rented houseboat. Around the campfire, Kit tells the story of Harland Clemens who built a hotel in the area a century ago and imported a crocodile he worshipped but how it took revenge when Harland's son destroyed its' eggs. Fishermen now find some eggs on the banks of the lake and are attacked by a giant crocodile after they destroy them. The group find the rest of the eggs and one is placed in Claire's backpack as a prank. The group are then pursued by the giant crocodile determined to gets its' egg back and devour every one of them in revenge.
---
Tobe Hooper will always be the director who made The Texas Chain Saw Massacre (1974), a landmark film that redefined the horror genre. This propelled Hooper onto a Hollywood path and he turned out some strong genre entries for a number of years – the Stephen King tv mini-series Salem's Lot (1979), a fairly good slasher film The Funhouse (1981), the fine Steven Spielberg-produced ghost story Poltergeist (1982), the hugely entertaining alien vampires film Lifeforce (1985) and The Texas Chainsaw Massacre 2 (1986), a sequel that pushed the original into realms of outrageously funny black comedy. However, it seemed like the talent switch suddenly went off after that point and fairly much everything that Hooper has made from 1990 onwards, which has included I'm Dangerous Tonight (1990), Spontaneous Combustion (1990), Night Terrors (1993), The Mangler (1995), The Apartment Complex (1999), Mortuary (2005) and Djinn (2013), has felt like clumsy amateurism. (See below for a full list of Tobe Hooper's films).
Crocodile was made not long after the moderate success enjoyed by Anaconda (1997) and in particular Lake Placid (1999) and just at the point when a number of companies were relishing the opportunities afforded by the then-new CGI technologies to churn out cheap monster movies for consumption on the video market. Nu Image, a company mostly known for their action films and more recently hits like The Expendables (2010), made a score of such cheap monster movies and killer shark films over the next few years with the likes of Shark Attack (1999), Octopus (2000). Spiders (2000), Rats (2003), Shark Zone (2003), Larva (2005), Mansquito (2005), Raging Sharks (2005), Kraken: Tentacles of the Deep (2006), Attack of the Gryphon (2007), Mega Snake (2007), Flu Bird Horror (2008) and Shark in Venice (2008).
By the time of Crocodile, Tobe Hooper was well into a decade of making consistently mediocre, forgettable and frequently downright bad films. In fact, his career nosedived so much so that while he was putting out about a film every second year in the 1990s, the decade ahead becomes increasingly more sporadic in its output. Crocodile is no different. It is as though Hooper no longer cared what he was making and is only going through the motions. He has simply gone with the standard formula plot of teens in peril that countless horror films have done before. The teens here are much more unlikeable than most – almost none being sympathetic and their journey on foot back through the swamps almost entirely consisting of bickering and bitching at one another.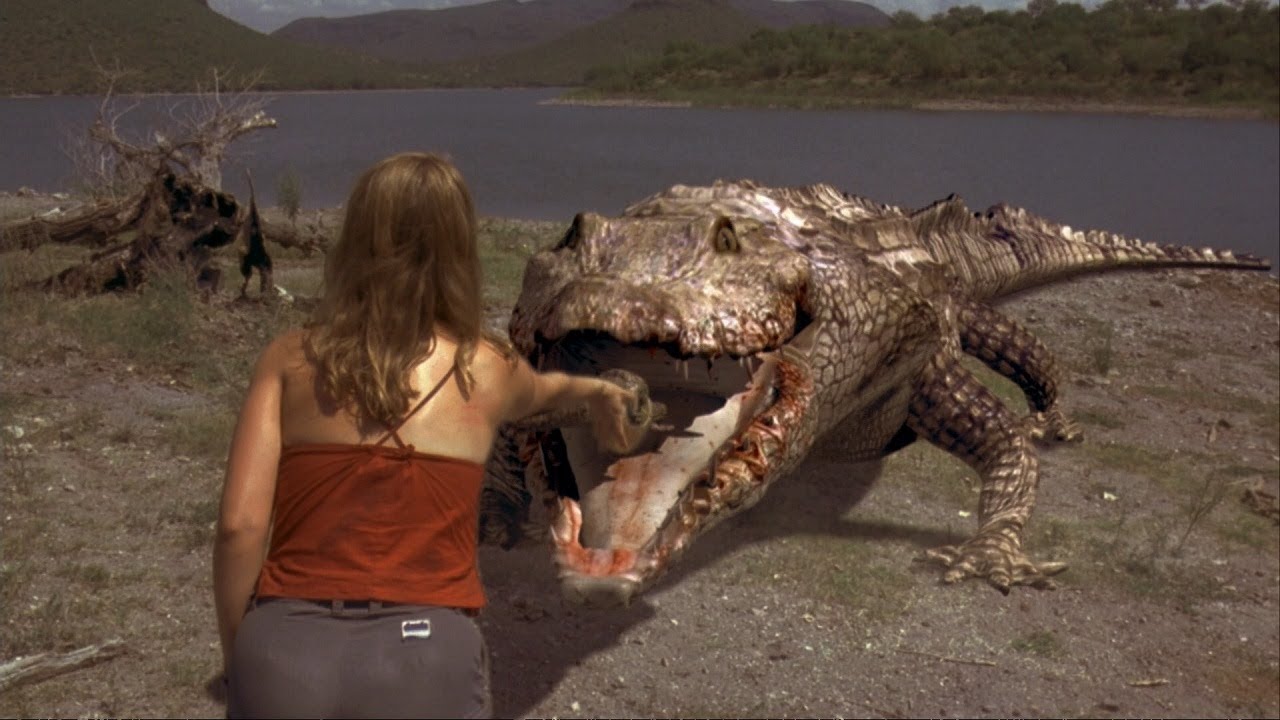 The killer alligator/crocodile film has always had a dodgy reputation – see the likes of The Great Alligator (1979), Dark Age (1987), Killer Crocodile (1990), Croc (2007), Primeval (2007), Freshwater (2016), The Hatching (2016) and Crawl (2019), with only a few exceptions like Alligator (1980), Black Water (2007) and Rogue (2007). Crocodile is no different.
The opening scene with the crocodile attacking a fisherman in his vehicle looks ridiculous. Wisely thereafter, Hooper keeps the crocodile only briefly glimpsed for most of the film, which at least effectively turns it into a shadowy menace. In Hooper's favour, he does pull off a couple of decent attack scenes with the full-size K.N.B.-provided crocodile – one where Sommer Knight is trapped with her foot caught in a tree root and is devoured alive; another with the croc bursting in through a convenience store wall, smashing the store up then chomping a pick-up truck and causing the entire store to explode from spilt gasoline.
Nu Image produced a sequel with Crocodile 2: Death Swamp (2002) from the same screenwriters but without Tobe Hooper in the director's seat.
Tobe Hooper's other films are the classic The Texas Chain Saw Massacre (1974), the Southern Gothic Eaten Alive/Deathtrap (1977), the fine tv adaptation of Stephen King's Salem's Lot (1979), the slasher film The Funhouse (1981), the Steven Spielberg-produced ghost story Poltergeist (1982), psychic alien vampire film Lifeforce (1985), the remake of Invaders from Mars (1986), the underrated The Texas Chainsaw Massacre 2 (1986), the dire pyrokinesis film Spontaneous Combustion (1990), the haunted dress tv movie I'm Dangerous Tonight (1990), an episode of the John Carpenter anthology Body Bags (tv movie, 1993), the erotic film Night Terrors (1993), a terrible Stephen King adaptation The Mangler (1995), the weird apartment dwellers black comedy The Apartment Complex (1999), the slasher remake Toolbox Murders (2003), Mortuary (2005) and Djinn (2013), as well as directing the pilots for various genre tv series.
---
---