---
Crew
Director – David DeCoteau, Screenplay – Sergei Horesencz, Producers – David DeCoteau & John Schouweiler, Photography – Stephen Ashley Blake, Music – Guy Moon, Music Supervisor – Jonathan Scott Bogner, Makeup/Creature Effects – Craig Caton, Production Design – Royce Mathew. Production Company – Titan Productions.
Cast
Linnea Quigley (Spider), Andras Jones (Calvin), C.D. LaFleur [George 'Buck' Flower] (Janitor), Robin Rochelle (Babs Peterson), Hal Havins (Jimmie), John Stuart Wildman (Keith), Brinke Stevens (Taffy), Michelle McClellan (Lisa), Kathi Obrecht (Rhonda), Carla Baron (Frankie), Dukey Flyswatter (Voice of the Imp)
---
Plot
Three geeks sneak into the Tri Delta sorority to watch as two pledges, Lisa and Taffy, are being initiated. They are discovered peeking at the girls in the shower. In punishment, they are sent along with Lisa and Taffy as they are ordered to steal a trophy from the bowling alley at the Plaza Camino mall as part of the initiation. Unknown to them, the mall is owned by the sorority leader Babs' father and the girls are planning some nasty surprises. There they also encounter Spider, a thief who has broken into the bowling alley. When they knock over the bowling trophy they unleash a demonic imp that has been trapped inside. It offers the group a series of cursed wishes, while turning the other sorority sisters into zombies.
---
Sorority Babes at the Slimeball Bowl-O-Rama may be a strong contender for one of the great exploitation titles of all time. (Director David DeCoteau claims that the title came from the winner in a contest held by Charles Band). Sorority Babes came out in the mid-1980s just when the vogue for making cod bad 1950s B-movies and the strongly intertwined Scream Queen fad was gaining strength. Sorority Babes at the Slimeball Bowl-O-Rama was directed by David DeCoteau, a director who has made a good many bad films, both unintentionally and deliberately, down the low-budget end of the market. (See below for David DeCoteau's other films).
Sadly, the attention-getting title is the best thing there is about the Sorority Babes at the Slimeball Bowl-O-Rama. Needless to say, there is little in the film that comes with any of the cocky verve that the title suggests. The film is cheap, badly made and particularly badly acted. David DeCoteau's pace is pedestrian and the film criminally dull. At most, it descends to much campy overacting. The puppet effects, which have bizarrely been voiced over with what sounds like a hip streetwise Black man, look extremely cheap and the zombie effects even cheaper.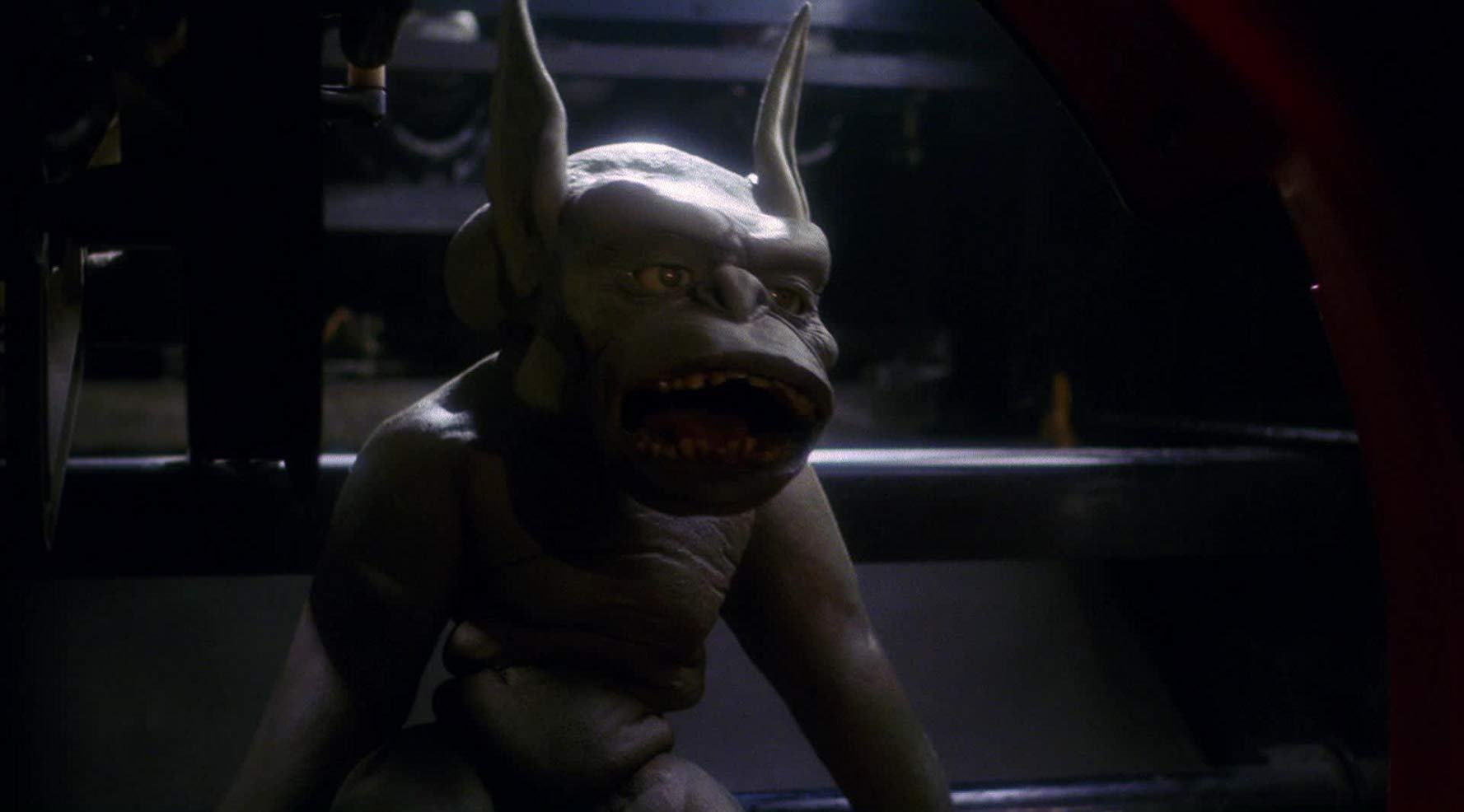 David DeCoteau was one of the prime instigators of the Scream Queen fad and Sorority Babes at the Slimeball Bowl-O-Rama features two of its most prominent names – actresses Linnea Quigley and Brinke Stevens. Expectedly, all the women in the film take the opportunity to disrobe at least once and DeCoteau contrives an entirely gratuitous scene where the guys peep in on Brinke Stevens showering and washing whipped cream off her body. There is an amusing performance from C.D. LaFleur (in actuality Hollywood big guy George 'Buck' Flower hiding under a pseudonym) as a deaf janitor.
There was a sequel, produced by David DeCoteau, with Sorority Babes in the Dance-a-Thon of Death (1991). Brinke Stevens later returned to star in and direct Sorority Babes in the Slimeball Bowl-O-Rama 2 (2022), along with different Scream Queens.
David DeCoteau's other films of genre interest are:– Dreamaniac (1986), Nightmare Sisters (1987), Creepozoids (1987), Dr Alien/I Was a Teenage Sex Maniac (1988), Murder Weapon (1990), Puppetmaster III: Toulon's Revenge (1991), Beach Babes from Beyond (1993), Test Tube Teens from the Year 2000 (1994), Blonde Heaven (1995), Prehysteria! 3 (1995), Beach Babes 2: Cave Girl Island (1996), Bikini Goddesses (1996), Lurid Tales: The Castle Queen (1996), Petticoat Planet (1996), Prey of the Jaguar (1996), The Journey: Absolution (1997), Shrieker (1997), Skeletons (1997), Beach Babes from Beyond 2 (1998), Curse of the Puppet Master (1998), Frankenstein Reborn (1998), The Killer Eye (1998), Talisman (1998), Alien Arsenal (1999), Ancient Evil: Scream of the Mummy (1999), Witchhouse (1999), The Brotherhood (2000), Frankenstein and the Wolfman Reborn (2000), Prison of the Dead (2000), Voodoo Academy (2000), Final Stab/Final Scream/Scream 4 (2001), The Frightening (2001), The Brotherhood 2: Young Warlocks (2001), The Brotherhood 3: Young Demons (2002), Wolves of Wall Street (2002), Leeches (2003), Speed Demon (2003), Ring of Darkness (2004), The Sisterhood (2004), Brotherhood IV: The Complex (2005), Killer Bash (2005), Witches of the Caribbean (2005), Beastly Boyz (2006), Grizzly Rage (2007), The Raven (2007), House of Usher (2008), Alien Presence (2009), The Brotherhood V: Alumni (2009), The Brotherhood VI: Initiation (2009), Nightfall (2009), The Pit & the Pendulum (2009), Son of a Witch (2009), Stem Cell (2009), 1313: Giant Killer Bees (2010), Puppet Master: Axis of Evil (2010), A Dream Within a Dream (2011), 1313: Haunted Frat (2011), 1313: Actor Slash Model (2011), 1313: Boy Crazies (2011), 1313: Wicked Stepbrother (2011), 1313: Bermuda Triangle (2012), 1313: Bigfoot Island (2012), 1313: Cougar Cult (2012), 1313: Frankenqueen (2012), 1313: Hercules Unbound (2012), 1313: Night of the Widow (2012), 1313: UFO Invasion (2012), A Halloween Puppy (2012), Immortal Kiss: Queen of the Night (2012), Santa's Summer House (2012), Snow White: A Deadly Summer (2012), 2: Voodoo Academy (2012), Hansel & Gretel: Warriors of Witchcraft (2013), My Stepbrother is a Vampire (2013), A Talking Cat (2013), A Talking Pony (2013), 3 Scream Queens (2014), 3 Wicked Witches (2014), 666: Devilish Charm (2014), 666: Kreepy Kerry (2014), 90210 Shark Attack (2014), Bigfoot vs D.B. Cooper (2014), Knock 'Em Dead (2014), Asian Ghost Story (2016), Bloody Blacksmith (2016), Evil Exhumed (2016), Sorority Slaughterhouse (2016), 666: Teen Warlock (2016), The Wrong Child (2016), The Wrong Roommate (2016), Swamp Freak (2017), The Wrong Crush (2017), The Wrong Man (2017), The Wrong Student (2017), The Wrong Cruise (2018), The Wrong Friend (2018) and The Wrong Teacher (2018). DeCoteau has made films under a variety of pseudonyms, including Ellen Cabot, Richard Chasen, Julian Breen and Victoria Sloan.
---
---