---
Crew
Director – Ellen Cabot [David DeCoteau], Screenplay – Bill Kelman & Alexander Sachs, Producer – Karen L. Spencer, Photography – James Lawrence Spencer, Music – Reg Powell, Visual Effects – Fantasy II Film Effects (Supervisors – Mike Joyce & Gene Warren, Jr). Production Company – Torchlight Entertainment.
Cast
Sarah Bellomo (Xena Quark), Joe Estevez (Uncle Bud Elric), Linnea Quigley (Sally Mellow), Michael Todd Davis (Dave), Ken Steadman (Jerry), Michael Roddy (Ziggy), Tamara Landry (Luna), Nicole Posey (Sola), Albert Andrukaitis (Hassler), Joey Travolta (Dr Veg), Don Swayze (Gork), Burt Ward (Mr Bun), Jacqueline Stallone (Yanna)
---
Plot
While her parents are away, Xena is persuaded by her friends Luna and Sola to borrow her parents' space cruiser and head to Beta-45 (the planet Earth) in search of fun and adventure. Running out of fuel, they crash on a California beach. Meanwhile, Jerry and his best friend Dave have come to California and go to stay with his Uncle Bud, an ex-surfer who spends his time meditating on the beach. The guys meet up with the alien girls and romance soon blossoms. At the same time, Bud's ex, the model agency head Sally, is scheming to have Bud's beachside home condemned. The only hope to save Bud's house is for Xena to win the $30,000 prize money offered in a bikini design competition.
---
David DeCoteau is an extremely prolific genre contributor. He has been making low-budget science-fiction, monster and horror films since the 1980s. (See below for a full list of DeCoteau's other genre credits). Towards the end of the 1990s, DeCoteau found the freedom to come out (at least on film) as a gay man and almost all of his genre work now falls into the field of softcore gay erotica. By the time of Beach Babes from Beyond, which was made earlier in his career, DeCoteau was working as a regular genre director for Charles Band, the prolific producer behind Full Moon Entertainment. Torchlight Entertainment was a Full Moon subsidiary that was launched to specialise in softcore genre erotica, although the only other films they ever appear to have put out were the DeCoteau directed vampire film Blonde Heaven (1996) and the sequel to Beach Babes (see below). The listed director Ellen Cabot was a pseudonym that DeCoteau used on around ten films for Band between 1989 and 1997. (DeCoteau can also be seen in the film as the apologetic city official come to condemn Joe Estevez's home).
Beach Babes from Beyond sinks into awfulness stakes from the opening scenes where we get Don Swayze, Patrick's butt ugly brother, and Sylvester Stallone's mother Jacqueline cast as an unlikely married couple. What makes the sequence sink so badly is that neither they nor the filmmakers are taking any of the scene seriously. They toss around comic lines that have absurd science-fictional sounding phrases attached to them. "My little nebula of love … my little ring of Saturn … Men – can't live with them, can't disintegrate them with a gamma death ray," not to mention making jokes about how there is a nearly forty year disparity between the two of them in real-life. The film's most excruciating scene however is the bikini competition later in the film, which comes with a band singing a song that mostly consists of the phrase "I've got a woody" repeated over and over.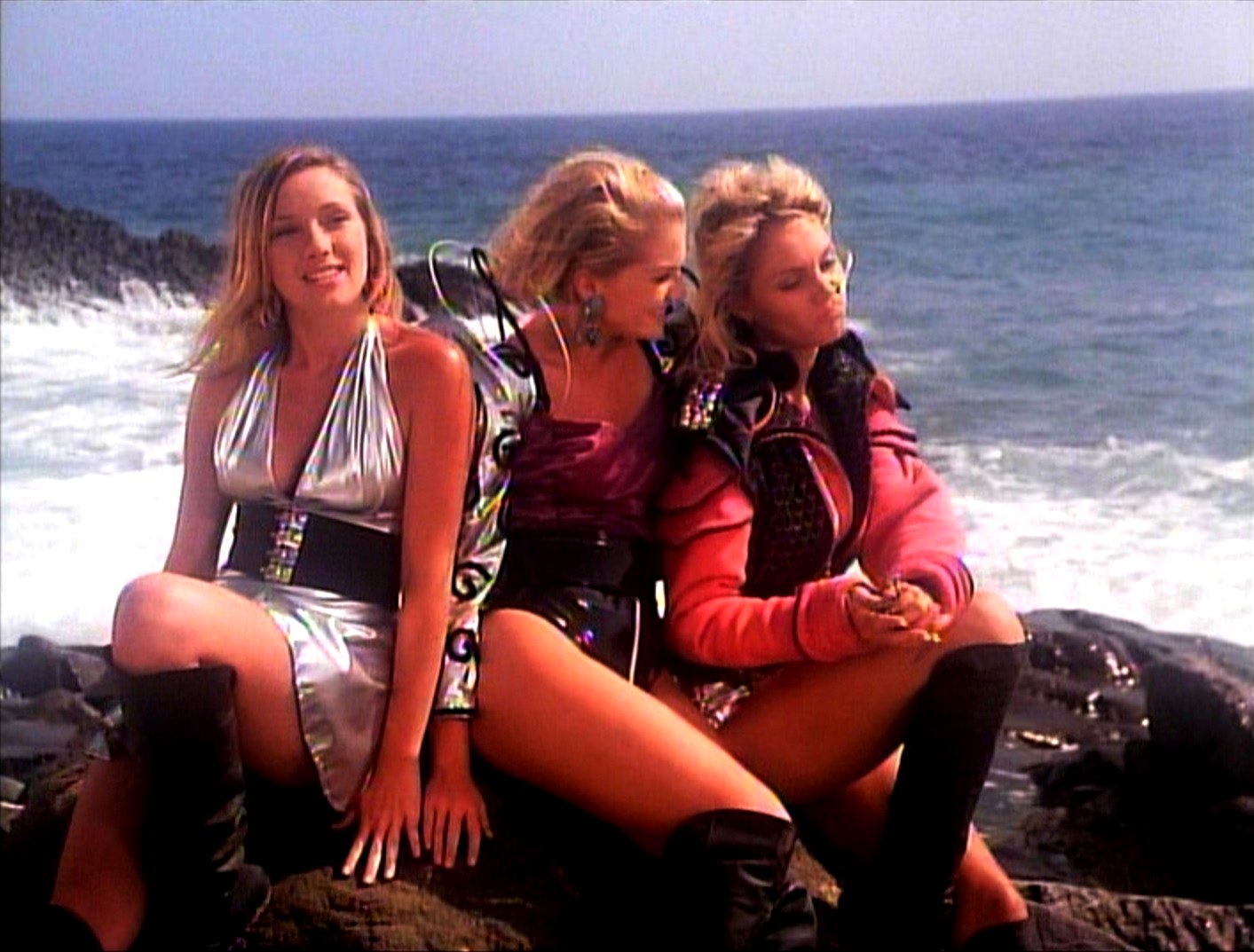 Expectedly, Beach Babes from Beyond has been construed around endless filler shots of bikinied babes dancing, suntanning topless, playing volleyball and so on. If nothing else, the film is perfectly accurate about delivering on its title promise. At one point, one of the guys states – "That's my kind of woman – an intergalactic Gidget." And that is precisely what the film is offering up – an SF version of Gidget (albeit a less than innocent Gidget) mixed up with something like Earth Girls Are Easy (1989). DeCoteau delivers several extremely softcore tumblings between the various guys and girls, which are predictable and fail to raise any steam. (I don't know about anyone else but I find there to be something weird about a gay man trying to direct straight erotica).
The major problem with the film is that nothing happens – alien babes arrive on Earth, meet guys, there is much running around the beach, the odd sex scene but mostly lots of filler scenes with girls in bikinis playing volleyball and tanning. Towards the end, the film contrives a situation about Joe Estevez's ex Linnea Quigley scheming to have his home condemned and the need to win the bikini contest to raise the prize money in order to prevent this but they are contrived dramas where one could not care less about the entirely predictable outcome.
Beach Babes from Beyond seems to be trying to get by on some of its stunt casting. Among other things, it casts the relatives of various celebrities – as mentioned, Don Swayze, the brother of Patrick, and Jacqueline Stallone, the mother of Sylvester, turn up as the parents of Sarah Bellomo in the opening and closing scenes; Joe Estevez, the brother of Martin Sheen, plays the aging hippie surfer who hosts the guys; Joey Travolta, brother of John, turns up as a tripped-out former rocket scientist running a vegetarian hotdog stand on the beach; while there is also an appearance from Burt Ward, the now middle-aged Robin from tv's Batman (1966-8), as the organiser of the bikini contest.
The sequel was Beach Babes 2: Cave Girl Island (1996), again directed by David DeCoteau and featuring a return performance from Sarah Bellomo.
David DeCoteau's other films of genre interest are:– Dreamaniac (1986), Nightmare Sisters (1987), Creepozoids (1987), Sorority Babes at the Slimeball Bowl-O-Rama (1987), Dr Alien/I Was a Teenage Sex Maniac (1988), Murder Weapon (1990), Puppetmaster III: Toulon's Revenge (1991), Test Tube Teens from the Year 2000 (1994), Blonde Heaven (1995), Prehysteria! 3 (1995), Beach Babes 2: Cave Girl Island (1996), Bikini Goddesses (1996), Lurid Tales: The Castle Queen (1996), Petticoat Planet (1996), Prey of the Jaguar (1996), The Journey: Absolution (1997), Shrieker (1997), Skeletons (1997), Beach Babes from Beyond 2 (1998), Curse of the Puppet Master (1998), Frankenstein Reborn (1998), The Killer Eye (1998), Talisman (1998), Alien Arsenal (1999), Ancient Evil: Scream of the Mummy (1999), Witchhouse (1999), The Brotherhood (2000), Frankenstein and the Wolfman Reborn (2000), Prison of the Dead (2000), Voodoo Academy (2000), Final Stab/Final Scream/Scream 4 (2001), The Frightening (2001), The Brotherhood 2: Young Warlocks (2001), The Brotherhood 3: Young Demons (2002), The Wolves of Wall Street (2002), Leeches (2003), Speed Demon (2003), Ring of Darkness (2004), The Sisterhood (2004), Brotherhood IV: The Complex (2005), Killer Bash (2005), Witches of the Caribbean (2005), Beastly Boyz (2006), Grizzly Rage (2007), The Raven (2007), House of Usher (2008), Alien Presence (2009), The Brotherhood V: Alumni (2009), The Brotherhood VI: Initiation (2009), Nightfall (2009), The Pit & the Pendulum (2009), Son of a Witch (2009), Stem Cell (2009), 1313: Giant Killer Bees (2010), Puppet Master: Axis of Evil (2010), A Dream Within a Dream (2011), 1313: Haunted Frat (2011), 1313: Actor Slash Model (2011), 1313: Boy Crazies (2011), 1313: Wicked Stepbrother (2011), 1313: Bermuda Triangle (2012), 1313: Bigfoot Island (2012), 1313: Cougar Cult (2012), 1313: Frankenqueen (2012), 1313: Hercules Unbound (2012), 1313: Night of the Widow (2012), 1313: UFO Invasion (2012), A Halloween Puppy (2012), Immortal Kiss: Queen of the Night (2012), Santa's Summer House (2012), Snow White: A Deadly Summer (2012), 2: Voodoo Academy (2012), Hansel & Gretel: Warriors of Witchcraft (2013), My Stepbrother is a Vampire (2013), A Talking Cat (2013), A Talking Pony (2013), 3 Scream Queens (2014), 3 Wicked Witches (2014), 666: Devilish Charm (2014), 666: Kreepy Kerry (2014), 90210 Shark Attack (2014), Bigfoot vs D.B. Cooper (2014), Knock 'Em Dead (2014), Asian Ghost Story (2016), Bloody Blacksmith (2016), Evil Exhumed (2016), Sorority Slaughterhouse (2016), 666: Teen Warlock (2016), The Wrong Child (2016), The Wrong Roommate (2016), Swamp Freak (2017), The Wrong Crush (2017), The Wrong Man (2017), The Wrong Student (2017), The Wrong Cruise (2018), The Wrong Friend (2018) and The Wrong Teacher (2018). DeCoteau has made films under a variety of pseudonyms, including Ellen Cabot, Richard Chasen, Julian Breen and Victoria Sloan.
---
---