aka The Girls Rebel Force of Competitive Swimmers; The Undead Pool
(Joshikyoei Hanrangun)
---
Crew
Director – Koji Kawamo, Screenplay – Satoshi Ohwada, Producers – Yoji Hirako & Masami Teranishi, Photography – Mitsuaki Fujimoto, Music – The Bigshallows, KojirocK & Hideto Takematsu, Visual Effects – Yutaka Arai. Production Company – GP Museum Soft
Cast
Sasa Handa (Aki Kitashima), Yuria Hidaka (Sayaka Motoshita), Ayumu Tokito (Miss Mariko), Sakae Yamazaki (Scientist)
---
Plot
Aki Kitishima is a new exchange student at high school. She befriends Sayaka Motoshita who invites her to join the girls' swim team. While they are together in the shower, Aki sees that she and Sayaka have identical moles on their necks and marks on their breast. At the same time, a group of scientists are giving the student and faculty body a series of inoculations against a virus. However, this causes the students and teachers to turn into crazed zombies. The swim team are the only ones unaffected because the chlorine in the swimming pool dissolves the effect of the drug. In the midst of the zombie onslaught, Aki and Sayaka become lovers. Aki tells Sayaka her story – how she was trained as an assassin by a scientist and forced to become his lover before she made an escape. As the swim team come together to fight off the zombies, her scientist lover reveals he is the one who unleashed the zombie virus and has returned to settle the score with her.
---
While much attention has focused on the popular Japanese horror fad of the 2000s with films such as Ring (1998), Ju-on: The Grudge (2003) and various sequels and imitators, there has been another growing fad that has not attained as much of a high profile. This is the fad for gonzo horror where Japanese filmmakers readily plant tongue in cheek and serve up a demented range of gore, zombies, martial arts, schoolgirls and nutty genre hybrids. Examples include Meatball Machine (2005), Hard Revenge, Milly (2008), Tokyo Gore Police (2008), Machine Girl (2008), Robo Geisha (2009), Samurai Princess (2009), Vampire Girl vs Frankenstein Girl (2009), Big Tits Zombie (2010), Gothic & Lolita Psycho (2010), Helldriver (2010), Mutant Girls Squad (2010), Zombie Ass: The Toilet of the Dead (2011), Dead Sushi (2012) and Bloody Chainsaw Girl (2016).
Attack Girls' Swim Team vs. the Undead reads as the film made by someone who is more used to emerging from the neighbourhood adult store with a brown paper bag who has taken the opportunity of a directorial assignment to work out his sexual fetishes on screen. (Some of the other directors of the aforementioned gonzo horror films also emerged from the Japanese porn industry). In particular, Koji Kawano loves Japanese schoolgirls and shows scenes of them showering or frequently positions his camera so that he can look up the skirts of their school uniforms at their panties. A substantial part of the plot is also a lesbian love story between heroine Sasa Handa and the girl she befriends Yuria Hidaka, which is fulfilled in great detail in mid film. (A later somewhat indecent twist reveals the two girls are sisters). There are also scenes of Sasa Handa masturbating as mad scientist Sakae Yamazaki makes her writhe under the influence of a flute he plays.
This would be fairly normal fare for the Japanese pinku (softcore pornographic) film – however on this occasion, it has been bizarrely cross-matched with the zombie film. You are not entirely sure if what you are seeing is a mash-up between a pinku film and a zombie film, or whether Koji Kawano has subverted what started as a zombie film with his own predilections.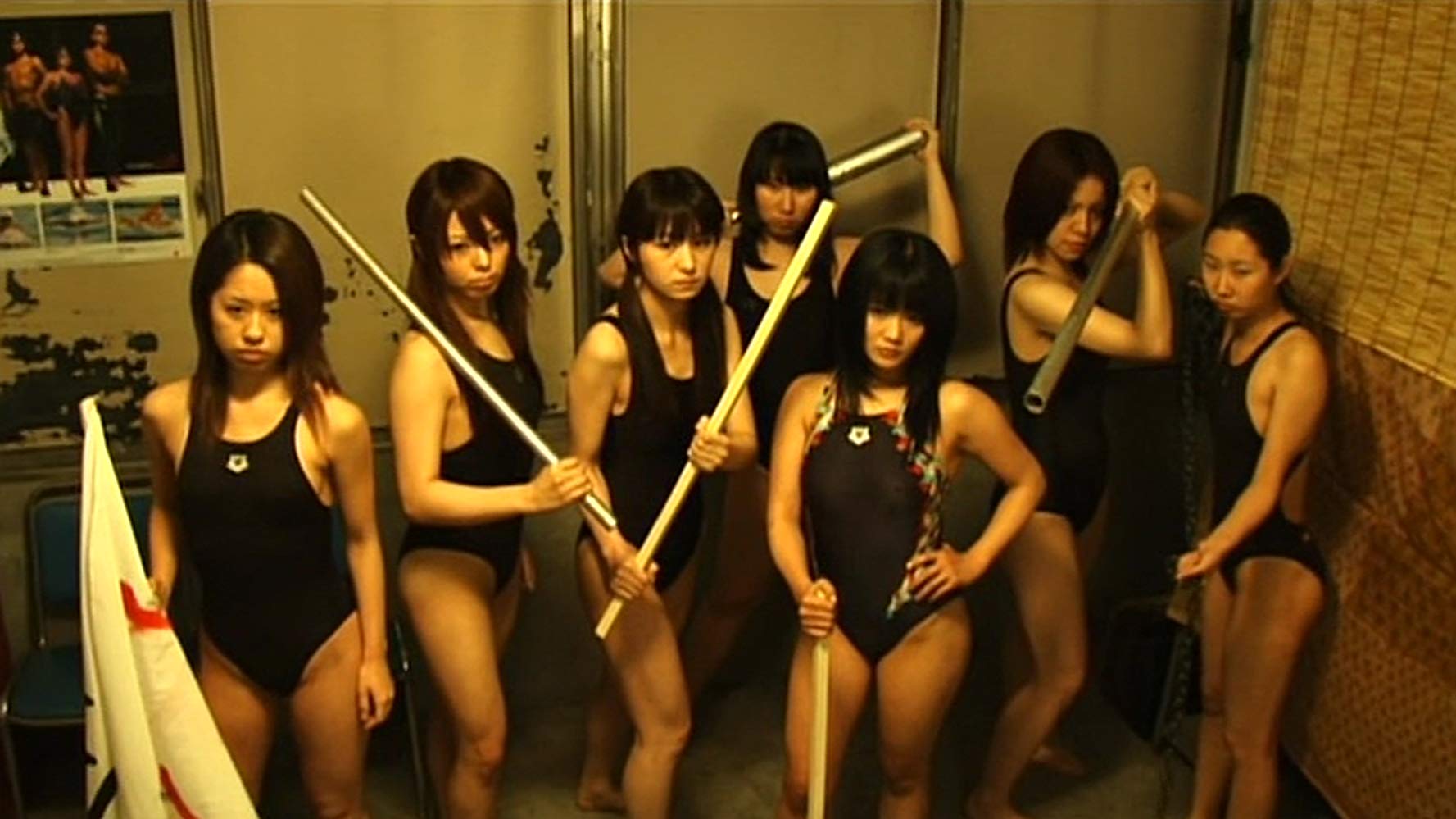 The surprise about Attack Girls' Swim Team vs. the Undead is that given such a gonzo title (at least, the one it is titled in English-language release), the film plays itself seriously and rarely plants tongue in cheek as all the aforementioned examples in this genre niche do. Equally, Koji Kawano lacks much in the way of style. The film often seems uncertain – obsessed with its softcore element and indifferent to anything else or too low budgeted when it comes to the zombies and gore and, as a result, never pushes things into the appealingly absurd tongue-in-cheek arena that you keep expecting it to go.
Certainly, the film does maintain a reasonable level of gore. However, the zombie scenes feel limited – the number of zombies running around could be counted on two hands. About the only point the film hits its promised gonzo level is the fight with the scientist at the climax where the girls proclaim their team bathing suits as armour and go into combat using everything from nose plugs and flippers turned into blades, as well as an absurd series of multiple twist revelations about various people disguising themselves as others, before Sasa Handa defeats bad guy mentor Sakae Yamazaki by lying back, opening her legs and firing laser beams at him out of her pussy.
Director Koji Kawano had previously made another lesbian film with Love My Life (2006). He went onto make other horror films with Cruel Restaurant (2008) and several other films, all of which appear obscure and do not have releases in the West as yet.
---