---
USA. 1996.
Crew
Director/Producer – Gilbert Adler, Screenplay – Gilbert Adler & A.J. Katz, Story – Bob Gale & Robert Zemeckis, Photography – Tom Priestley, Music – Chris Boardman, Crypt Keeper Theme – Danny Elfman, Visual Effects – Available Light Inc (Supervisor – John T. Van Vliet), Special Effects Supervisor – Tim Storvick, Makeup Effects/Crypt Keeper Design – Kevin Yagher Productions (Supervisor – Kevin Yagher), Additional Prosthetic Effects – Todd Masters Co, Production Design – Gregory Melton. Production Company – Universal.
Cast
Dennis Miller (Rafe Guttman), Angie Everhart (Lilith), Erika Eleniak (Katherine Verdoux), Chris Sarandon (Reverend Jimmy 'JC' Current), John Kassir (Voice of The Crypt Keeper), Phil Fondacaro (Vincent Prather), Corey Feldman (Caleb Verodux), Aubrey Morris (McCutcheon), Kim Kondrashoff (Jenkins), William Sadler (Mummy), Eric Keenlyside (Sheriff Noonan), Matt Hill (Reggie), Robert Paul Munic (Zeke)
---
Plot
Rafe Guttman, a disreputable private eye, is hired by Katharine Verdoux to find her missing brother Caleb. The search leads Rafe to a brothel being operated beneath a mortuary where the vampire Lilith uses the working women to lure men for her to feed upon.
---
Bordello of Blood was the second of the films spun off from the cable anthology series Tales from the Crypt (1989-96). The first film Tales from the Crypt Presents Demon Knight (1995) was so-so but was generally well received and obtained a number of good reviews within the genre. Bordello of Blood was the second but was reviled by everybody. Its' lack of success fairly much brought about an end to the Tales from the Crypt film series – there was the subsequent Ritual (2002) but that dithered around in release for some time, eventually being dumped straight to video minus the Tales from the Crypt banner.
Bordello of Blood was directed by Gilbert Adler who had produced the tv series and also directed the Crypt Keeper sequences for the first film. Like Demon Knight, Bordello of Blood is a self-contained single story rather than an anthology with the only connection between either film and the tv series being the introductory figure of the Crypt Keeper and his campy puns.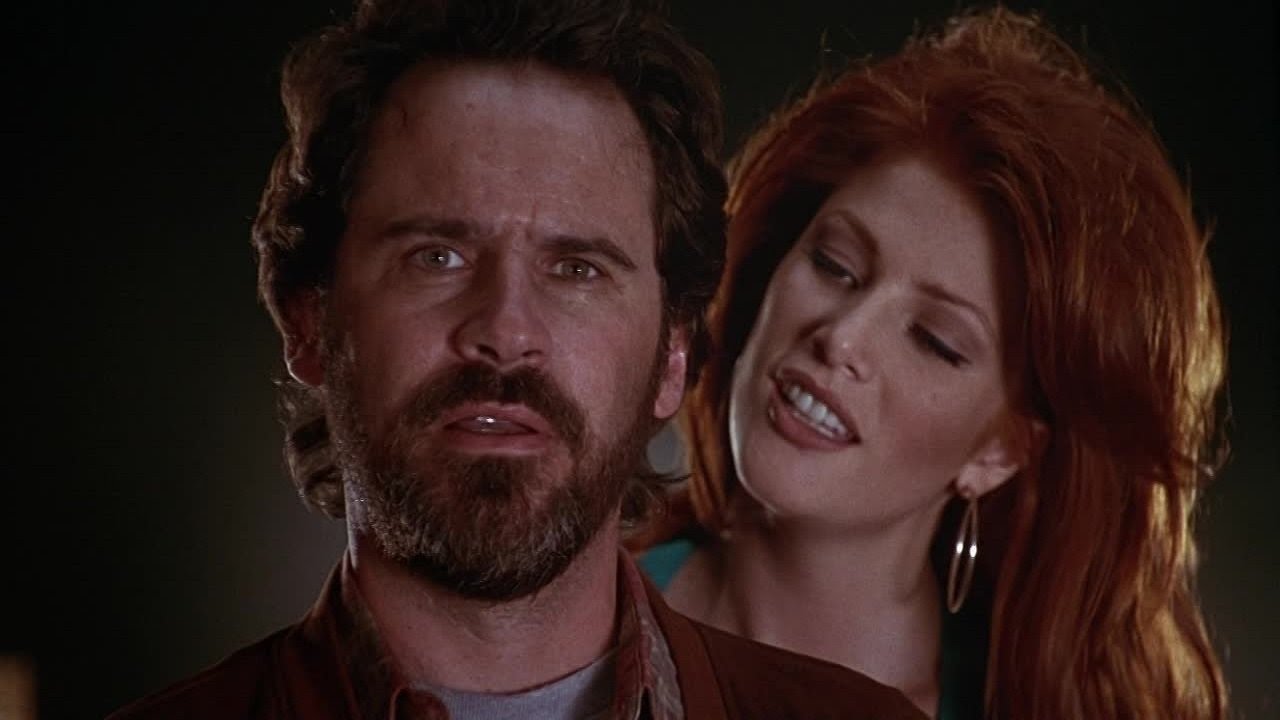 Bordello of Blood is fairly awful. The story is an incredibly slight sub-Fright Night (1985) whimsy – sloppy PI tries to save a missing guy from vampires who run a brothel beneath a funeral parlour. It is a story that would be strained to fill a half-hour episode of the tv series and one that has clearly been designed with the expectation that the film would be carried by the makeup effects set-pieces.
The worst part about Bordello of Blood is that it fails to take itself seriously. Dennis Miller has a line at one point – "I feel like I'm in a bad Tales from the Crypt episode." It is a glib and cynical line that betrays the film's lack of seriousness in itself. Moreover, it is one that fails to appreciate the truth of the statement – where in fact he is in a bad Tales from the Crypt episode. For all its failings, at least the first film did take itself seriously.
Stand-up comedian Dennis Miller is badly miscast as the hero of the show. He wanders through the film keeping up a running banter of irritating and unfunny one-liners. He is certainly not taking any of it seriously. Former model Angie Everhart at least has a role where she is not cast as a bimbo, but gives a bitchy, campy reading that shows either she is not taking any of it seriously either, that she lacks any discernible acting ability or both. Baywatch (1989-2001) regular and Playboy model Erika Eleniak is marginally better – she is cast in a role where she plays a prudish church administrative assistant, which is about as far removed from bimbo parts as possible. There is a cliched twist ending that has been stolen outright from The Fearless Vampire Killers (1967).
---
---