---
Crew
Directors – Elan Dassani & Rajeev Dassani, Screenplay – Madhuri Shekar, Based on the Audio Play by Madhuri Shekar, Producers – Nina Arand Aujla & Ian Watermeier, Photography – Yaron Levy, Music – Ronit Kirchman, Visual Effects – VFX Legion, Special Effects Supervisor – Mik Kastner, Production Design – Ryan Martin Dwyer. Production Company – Blumhouse Television/Purple Pebble Pictures.
Cast
Sarita Choudhury (Usha), Sunita Mari (Pallayi), Bernard White (Krishnan), Omar Maskati (Sandeep Patel), Rachel Cora Wood (Kelly)
---
Plot
Pallayi is an Indian immigrant who lives a Westernised life in New Orleans. She is in daily contact with her mother Usha in Delhi, a traditionalist and a believer in astrology who urges Pallayi to marry before her thirtieth birthday. Pallayi reluctantly goes on a date that her mother sets up but instead meets the handsome, charming Sandeep. The two go out and become involved. Usha becomes concerned and paranoid about Sandeep to the extent of hiring a private detective to investigate his background. As Sandeep offers to buy an apartment and Pallayi moves in with him and quits her job, Usha tells Pallayi about a man who stalked her before Pallayi was born. This ended when she accidentally pushed him from a bridge during an altercation, killing him. She believes that Sandeep is the reincarnation of that man. Usha's husband Krishnan however becomes certain that she is losing her mind.
---
Evil Eye was one of a series of four tv movies released by Blumhouse (see below for their other films) on Amazon Prime under the label 'Welcome to Blumhouse'. The films were released two at a time, two weeks apart. The other films consist of the non-genre The Lie (2018) and Black Box (2020) released two weeks earlier, and Evil Eye and Nocturne (2020) released seven days later.
Evil Eye is adapted from an audio play that was released on Amazon's Audible streaming service in 2019, written by Madhuri Shekar. Shekar comes from Indian parents – although unlike the character on screen here, she was born in the US and then moved to India. She is a graduate of the Julliard drama program and has written a number of other plays.
The film version is directed by twin brothers Elan and Rajeev Dassani who are also of Indian parentage and born in the US. Both brothers had worked in various visual effects departments since the early 2000s. Both had individually made a handful of short films, while Rajeev had directed the full-length films The Nevsky Prospect (2012) and Watercolor Postcards (2013).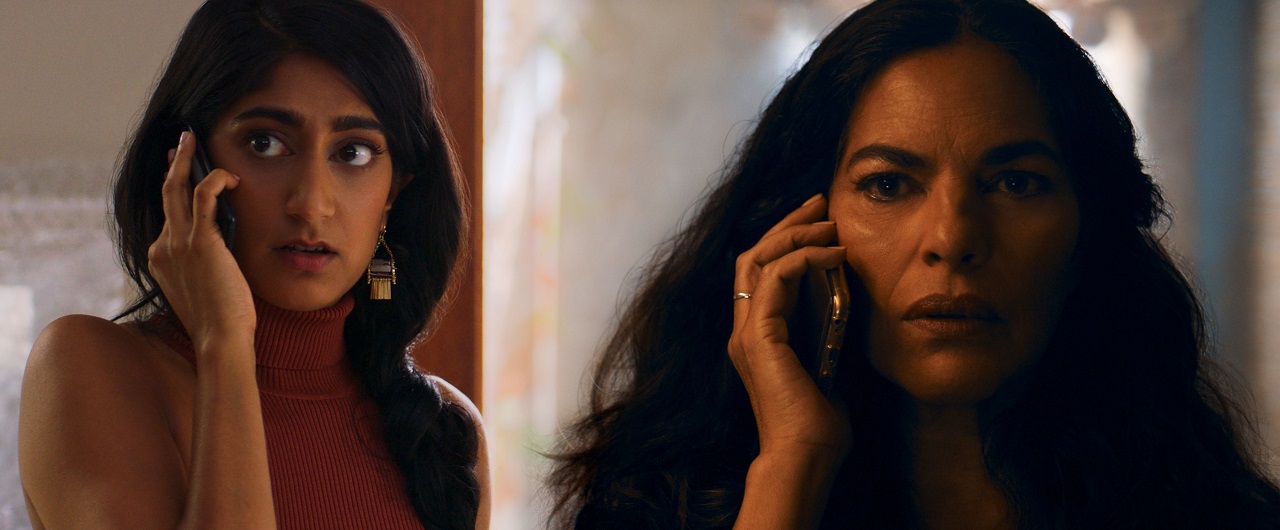 Blumhouse have been at the forefront of Hollywood's Woke awakening since 2017, which has pushed for greater opportunities and exposure to diverse ethnic groups, women and minorities. Blumhouse's Get Out (2017) made the name of Jordan Peele and was based around uncomfortably digging into race relations in the US and proved a big hit.
I say this not in any critical way but to give some background to Evil Eye . Blumhouse has mined Woke culture since Get Out, sometimes with bizarre results – the relentlessly misandrist remake of Black Christmas (2019) is the most obvious example that comes to mind. You get the impression in most cases that they are simply giving one of their medium budgets to diverse filmmakers and allowing them to do what they want just to see what might stick.
In this vein, Evil Eye – not related or to be confused with Mario Bava's giallo The Evil Eye (1963) – is an attempt to do the same with a largely Indian cast and creative crew. I wish though I could say that the film that emerged is something that works as successfully as Get Out. The main problem with Evil Eye is that it make a pitch for a certain audience – conservative upper middle class households in India – and not the general audience for horror films. Consider the plot – young woman seeks to break away from her traditional mother who is fearful and superstitious and concerned about her meeting the right guy; much conversation ensues about these choices but young woman decides to move in with the guy anyway; mother's fears are eventually proved right as the new guy proves to be the reincarnation of a guy who stalked her.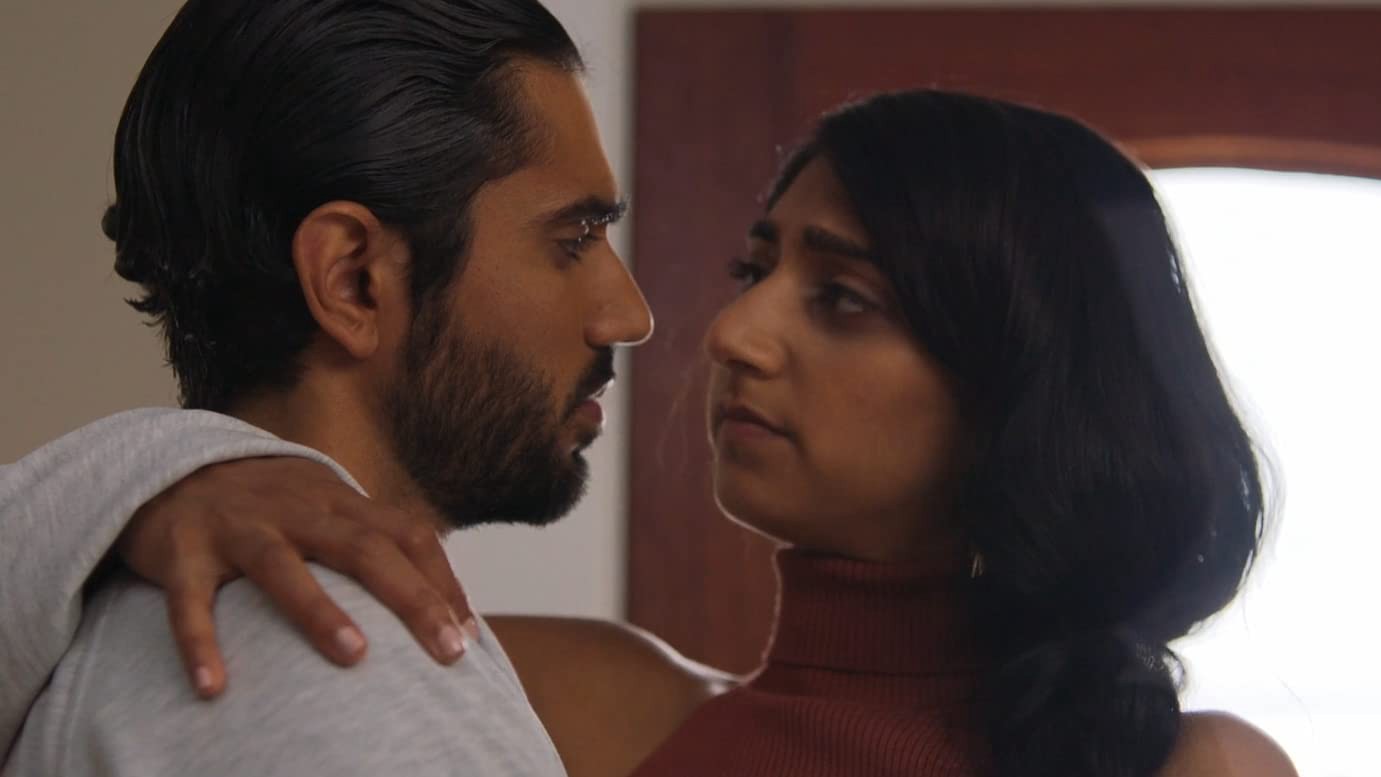 If you were to take the elements of Indian cultures out of Evil Eye and replace the actors with a standard American cast, what you would have would be a regular Lifetime tv movie – one in which a modern girl defies her traditional mother who believes in astrology and assorted New Age superstitions and urges her daughter to marry the right person only for daughter to ignore mother's concerns but mother be proven right in her suspicions at the end. None of this exactly seems the sort of film that strikes a note with where most horror audiences come from. Indeed in most Western countries, I think millennials would laugh at the idea a parent even has a say in who they choose to move in with, let alone the whole concept of a guy still having to ask a parent's permission to marry.
Beyond that, Evil Eye is talk heavy – legacy of it being adapted from an audio play – where much of the show consists of mother and daughter and occasionally others having international phone conversations. The middle of the film seems to set up an interesting arc where it suggests that the mother might be wrong in the leaps and bounds of connection she makes. However, the film lacks too much subtlety to ever fall into being an example of The Ambiguously Fantastic where you cannot be certain whether she is imagining things or they are real. Everything that is set up happens in obvious ways that are all clearly spelt out from the outset where the film simply takes a direct route from A to B avoiding any twists and simply has what the mother predicted would happen be exactly what happens.
Jason Blum and his Blumhouse production company have produced a number of other genre films including:- Hamlet (2000), Paranormal Activity (2007) and sequels, Insidious (2010) and sequels, Tooth Fairy (2010), The Bay (2012), The Lords of Salem (2012), The River (tv series, 2012), Sinister (2012) and sequel, Dark Skies (2013), Oculus (2013), The Purge (2013) and sequels, the tv mini-series Ascension (2014), Creep (2014), Jessabelle (2014), Mercy (2014), Mockingbird (2014), Not Safe for Work (2014), Ouija (2014) and sequel, 13 Sins (2014), The Town That Dreaded Sundown (2014), Unfriended/Cybernatural (2014), Area 51 (2015), The Boy Next Door (2015), Curve (2015), The Gallows (2015), The Gift (2015), Jem and the Holograms (2015), The Lazarus Effect (2015), Martyrs (2015), Visions (2015), The Visit (2015), The Darkness (2016), Hush (2016), Incarnate (2016), The Veil (2016), Amityville: The Awakening (2017), Get Out (2017), Happy Death Day (2017), The Keeping Hours (2017), Split (2017), Stephanie (2017), Bloodline (2018), Cam (2018), Delirium (2018), Halloween (2018), Seven in Heaven (2018), Truth or Dare (2018), Upgrade (2018), Black Christmas (2019), Ma (2019), Prey (2019), Don't Let Go (2019), Sweetheart (2019), Black Box (2020), The Craft: Legacy (2020), Fantasy Island (2020), Freaky (2020), The Hunt (2020), The Invisible Man (2020), Nocturne (2020), You Should Have Left (2020), Black As Night (2021), The Black Phone (2021), Dashcam (2021), Firestarter (2022), M3gan (2022), Mr Harrigan's Phone (2022), Nanny (2022), Soft & Quiet (2022), Run Sweetheart Run (2022), Sick (2022), They/Them (2022), The Visitor (2022), Torn Hearts (2022), Unhuman (2022), The Exorcist: Believer (2023), Five Nights at Freddy's (2023), There's Something Wrong With the Children (2023) and Totally Killer (2023).
---