---
Crew
Director/Screenplay – Pablo Raybould, Producers – Pablo Raybould & Ben Manning, Photography/Visual Effects Supervisor – Alexander Thorn, Music – The Unfinished, Makeup Effects – Jenny Binns & Steve Bosworth. Production Company – Shooting Lodge Productions.
Cast
Laurence Sanders (Les Jarvis/Greg Lupeen), Pablo Raybould (Detective Inspector), Chris Simmons (Mike), Ben Manning (Bob), Ste Johnston (Haskins), Rebecca Gardener-Tildesley (Rachel the Runner), Joel Beckett (Bruce), Kascion Franklin (Ryan), Stephan Bessant (Trace), Julie Peasgood (Verity), Vicki Abedola (Alison), Paul Roff (Steve the Cyclist), Rob Joiner (Scott the Cyclist), Albert Moses (Hospital Patient), Alex Moses (Albert the Porter)
---
Plot
Les Jarvis learns that a zombie film is coming to shoot in his sleepy West Midlands town. At the same time, the police are investigating a series of deaths around the town and believe a wolf may be responsible. Les, his friend Mike and the bar owner Bob get jobs as extras on the film. Les is a lookalike for the film's temperamental star Greg Lupeen. The crew think that maybe they can use Les to stand in for Greg while he is ill again but Greg erupts in anger when he finds what they are planning to do. While on set, Les tries to cook sausages on one of the arc lights only to electrocute Greg and cause a power cut through the town. With Greg hospitalised, the crew decide they can use Les to complete the film. Meanwhile, the police find that Greg was bitten by a timber wolf while on location at a zoo and believe he may be a werewolf.
---
The Snarling is a directing/writing debut for Pablo Raybould who has been employed as an actor since the early 2000s, although most of this seems to be British television work and nothing that has particularly surfaced on my radar prior to this. Raybould can be seen in the film in front of the camera in the role of the portly detective inspector.
We've had assorted horror films that take place on horror films sets with the likes of Lights Camera Dead (2007), Skeleton Crew (2009), Bleading Lady/Star Vehicle (2010), Fright Flick (2011), Silent But Deadly (2011), Cut Shoot Kill (2017) and Virgin Cheerleaders in Chains (2018), even a zombie film that takes place on a zombie film set with I Survived a Zombie Holocaust (2014). The Snarling offers the novelty of a werewolf film that takes place on a zombie film set.
There are a good many references to An American Werewolf in London (1981) throughout. A big deal was made out of the casting of Albert Moses who played a minor role as a hospital porter in American Werewolf. Moses is now cast as an aging patient, while his son Alex plays the porter and they exchange lines taken directly from the film. Near the start there are also two victims hiking across the moors just like David Naughton and Griffin Dunne in American Werewolf.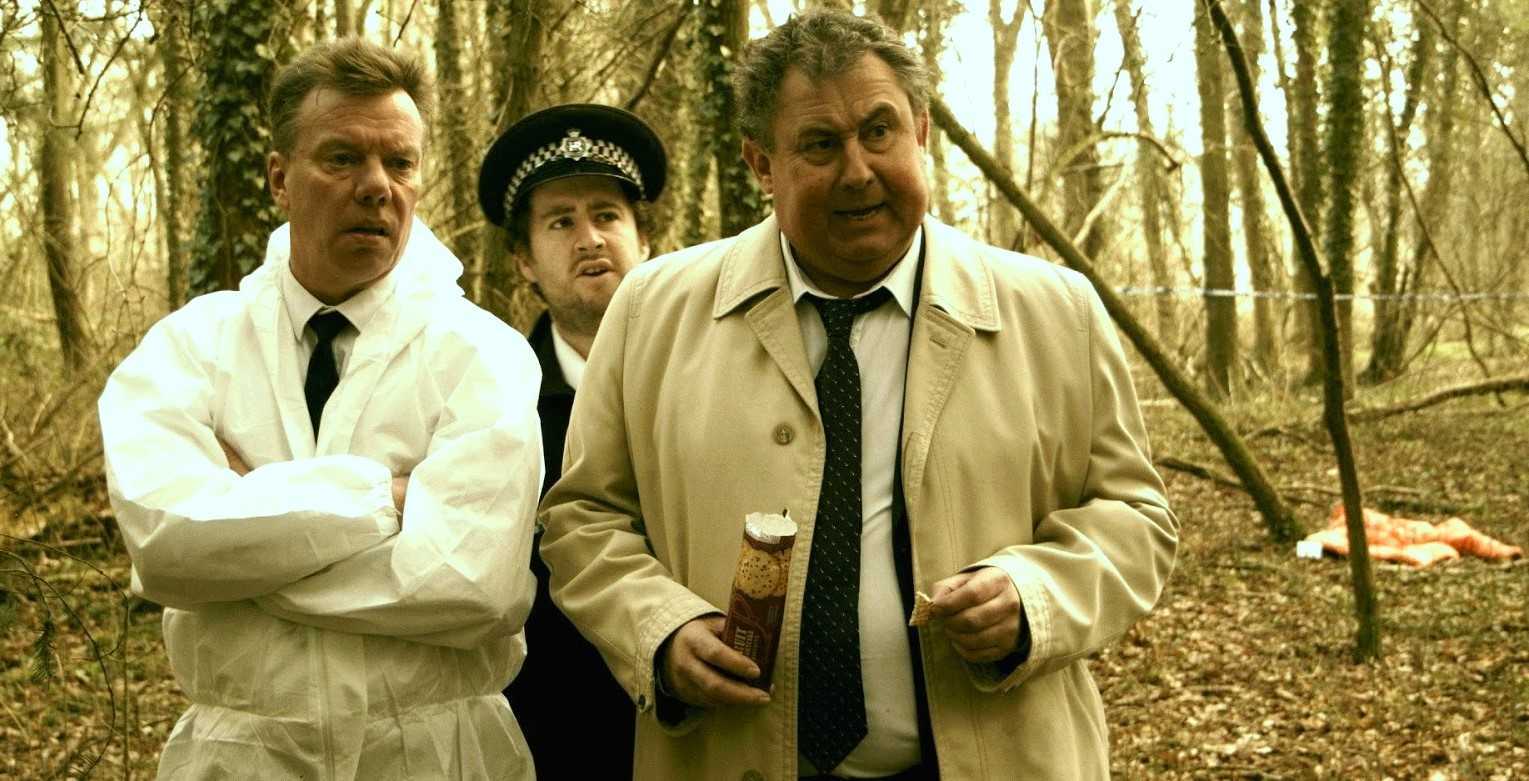 Certainly, as a werewolf film goes, The Snarling places much more emphasis on the humour. On the other hand, Raybould avoids the one big thing that was American Werewolf's selling point – makeup effects. No doubt due to a low-budget, the werewolf here is barely even seen. When we do get to see it near the end, Raybould seems to use quick cutting to avoid the use of any elaborate makeup effects.
I am not a huge fan of British bloke humour. Much of the film is dependent on the central character and his friends being idiots. There are extended gags set up around Laurence Sanders cooking sausages on the arc lights on the set, or the three of them conversing at the local pub. Occasionally some of the banter is amusing, other times it feels strained. More amusing are the scenes with Raybould playing the inspector dealing with an idiotic junior officer (Ste Johnston). There are also some quite snappy and clever cuts Raybould makes where he goes from people beginning a sentence in one scene and it being finished by the person speaking in the subsequent scene.
---