---
UK. 2009.
Crew
Director – Jon Wright, Screenplay – Stephen Prentice, Producers – Cavan Ash, Tracy Brimm, Arvind Ethan David & Kate Myers, Photography – Trevor Forrest, Music – Paul Hartnoll, Visual Effects – Stranger (Supervisors – Paddy Eason & Hugh Macdonald), Makeup Effects Design – Paul Hyett, Production Design – Julian Nagel. Production Company – BBC Films/Slingshot/Screen West Midlands/Pathe/Forward Films
Cast
Tuppence Middleton (Justine Fielding), Alex Pettyfer (Bradley White), Dimitri Leonidas (Alexis), Calvin Dean (Darren Mullet), April Pearson (Natasha Cummings), Olly Alexander (Jason Banks), Tom Hopper (Marcus), Peter Amory (Head Teacher), Geoff Bell (Games Teacher), Georgia King (Sophie), Mary Nighy (Helena), Larissa Wilson (Khalila), James Floyd (Nasser)
---
Plot
The school mourns the suicide of Darren Mullet. Jason Banks interrupts the funeral to accuse all of them of mouthing platitudes when none of them were Darren's friend and bullied him for being overweight. Afterwards, at the same time as she goes out with Alexis, head girl Justine Fielding is troubled by these accusations. She has no memory of who Darren was and is shocked to learn that he had a crush on her. However, the undead Darren then begins to appear around the school, taking revenge on his tormentors and those who drove him to take his life.
---
I was intrigued to check out Tormented on the basis of Irish director Jon Wright's two subsequent films – the highly enjoyable alien monster film Grabbers (2012) and Robot Overlords (2014), a much better film than its title suggested. Tormented did receive a theatrical release in the UK but went straight to VOD in the US.
Boiled down to a level of pure plot, Tormented is no more than a variant on the bullied kid enacts supernatural retribution from beyond the grave film. We have seen this in assorted US films such as Tamara (2005), The Gallows (2015) and Some Kind of Hate (2015). In fact, this is a film that you suspect would work a good deal better transplanted to the America education system rather than the British public school it uses as a setting.
As such, Jon Wright does little that is notable. The horror elements are singularly unimaginative – a series of run of the mill deaths. Towards the end, Wright starts to aim half-heartedly for the over-the-top element – in particular, where Larissa Wilson comes across a copy of Edvard Munch's The Scream (1893) with her name on it, only to have a plastic bag thrown over her head and be left gasping for air just like the face in the painting, followed by her arms being severed in a guillotine and having to dial the principal's office with her nose only for her screams for help to be taken as a prank call.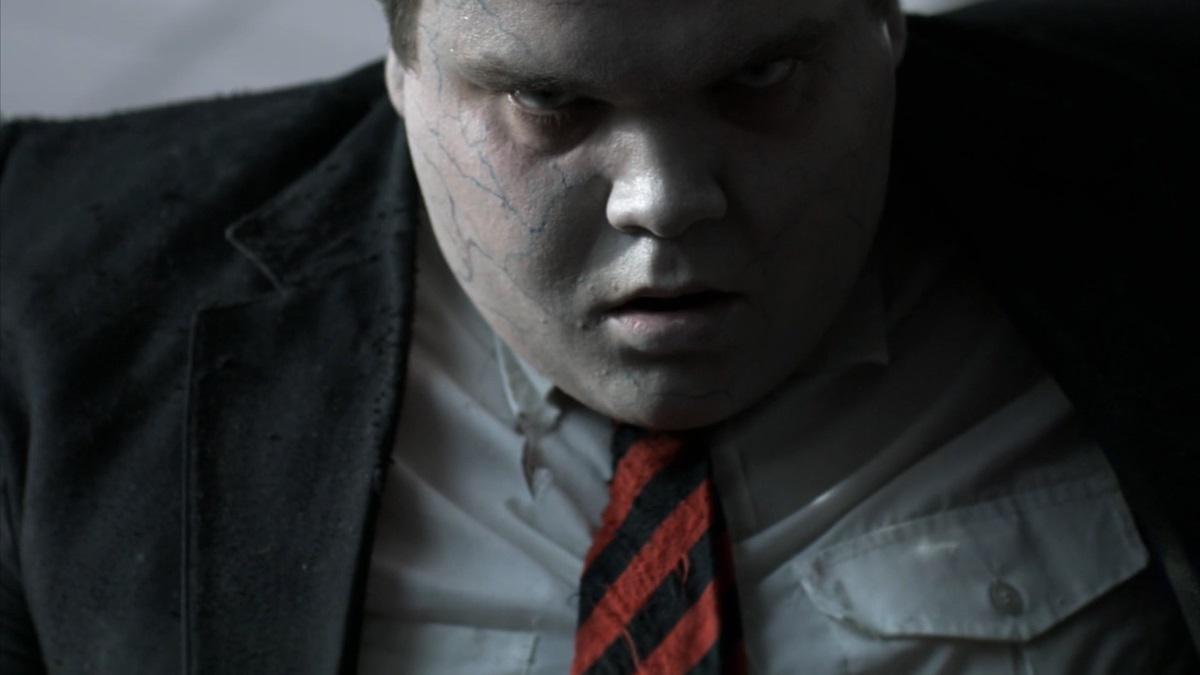 What impresses about Tormented is the cast that Jon Wright has managed to assemble, which include some talented names who all etch characterisations that have a bite to them. Top-lined is Alex Pettyfer whose name went international a couple of years following this. The surprise about the film is that Pettyfer, though top-lined, is more of a supporting character and is bumped off halfway through. Nevertheless, he gives a performance as the school bully where he radiates handsomely charismatic menace and never seems less than completely in charge of his performance.
About fifth down the cast list is Tuppence Middleton who after making her debut here has become a name of renown in serious works like The Imitation Game (2014), the tv mini-series War and Peace (2016) and has worked with the Wachowskis on Jupiter Ascending (2015) and Sense8 (2015-8). She is playing the virtuous head girl and gives an intent and proper performance that left me more impressed than many of the subsequent roles I have seen her in.
---
Trailer here
---