---
Crew
Director – Troy Nixey, Screenplay – Guillermo Del Toro & Matthew Robbins, Based on the 1973 TV Movie Written by Nigel McKeand, Producers – Guillermo Del Toro & Mark Johnson, Photography – Oliver Stapleton, Music – Marco Beltrami & Buck Sanders, Visual Effects Supervisor – Glenn Melenhorst, Visual Effects – Iloura, Creature Effects Supervisors – Chet Zar, Mike Elizalde & Keith Thompson, Creature Effects – Spectral Motion, Special Effects Supervisor – Angelo Sahin, Makeup Effects – KNB EFX Group Inc (Supervisors – Howard Berger & Greg Nicotero), Production Design – Roger Ford. Production Company – Necropia/Gran Via.
Cast
Bailee Madison (Sally Hirst), Katie Holmes (Kim), Guy Pearce (Alex Hirst), Jack Thompson (William Harris), Julia Blake (Mrs Underhill), Alan Dale (Charles Jacoby), James Mackay (Librarian), Garry McDonald (Emerson Blackwood), Edwina Ritchard (Housekeeper)
---
Plot
Young Sally Hirst is sent to join her father Alex in Providence, Rhode Island where he and his girlfriend Kim, an interior decorator, are restoring a large old mansion. The abandonment by her mother has caused Sally to become morose and withdrawn. Sally then discovers a hidden cellar. She is drawn to voices she hears whispering and calling to her from behind an iron grating and removea this. Soon after, she sees things scuttling about the house. She tries to befriend the creatures but finds they prove increasingly malicious in nature. Her father blames the creatures' actions on Sally and brings in a psychologist. Kim starts to believe Sally and digs into the house's past, uncovering the existence of a race of malevolent fairy creatures that live in the dark.
---
The fad for remakes of 1970s/80s horror films goes on. We have seen a huge amount of these over recent years – the likes of The Texas Chainsaw Massacre (2003), Toolbox Murders (2003), Willard (2003), Dawn of the Dead (2004), The Amityville Horror (2005), Assault on Precinct 13 (2005), The Fog (2005), Black Christmas (2006), The Hills Have Eyes (2006), The Omen (2006), Sisters (2006), When a Stranger Calls (2006), The Wicker Man (2006), Halloween (2007), The Hitcher (2007), April Fool's Day (2008), Day of the Dead (2008), It's Alive (2008), Long Weekend (2008), Prom Night (2008), Friday the 13th (2009), The Last House on the Left (2009), My Bloody Valentine (2009), Night of the Demons (2009), Sorority Row (2009), The Stepfather (2009), And Soon the Darkness (2010), The Crazies (2010), I Spit on Your Grave (2010), Mother's Day (2010), A Nightmare on Elm Street (2010), Piranha (2010), Fright Night (2011), Straw Dogs (2011), The Thing (2011), Maniac (2012), Carrie (2013), Evil Dead (2013), Patrick (2013), Poltergeist (2015), Suspiria (2018), Child's Play (2019), Jacob's Ladder (2019), Pet Sematary (2019), Slumber Party Massacre (2021), Firestarter (2022) and Hellraiser (2022). (For a more detailed listing see Films That Were Remade and Remakes)..
Don't Be Afraid of the Dark is the first of these to remake a tv movie, namely Don't Be Afraid of the Dark (1973), which may well say something about how available horror properties have all been used up by the other remakes. It does seem slightly incongruous the idea of a tv movie, which is usually something that is cheaply produced, being remade on the big screen – moreover, in seeing something that in its original format was all about avoidance of gore being remade in a fad that has become very liberal with its gore content.
Don't Be Afraid of the Dark is produced and written by Guillermo Del Toro, the Mexican director famous for genre films such as Cronos (1993), The Devil's Backbone (2001), Blade II (2002), Hellboy (2004), Pan's Labyrinth (2006), Hellboy II: The Golden Army (2008), Pacific Rim (2013), Crimson Peak (2015), The Shape of Water (2017), Nightmare Alley (2021) and Guillermo Del Toro's Pinocchio (2022). In the last few years, Guillermo Del Toro seems to have had his finger in every conceivable pie with dozens of projects on the go from being the original director of The Hobbit films to the dumped adaptation of H.P. Lovecraft's At the Mountains of Madness and other announced projects such as Pinocchio, The Ring 3D, Marvel Comics' Dr Strange and new versions of Frankenstein and Dr Jekyll and Mr Hyde, among others.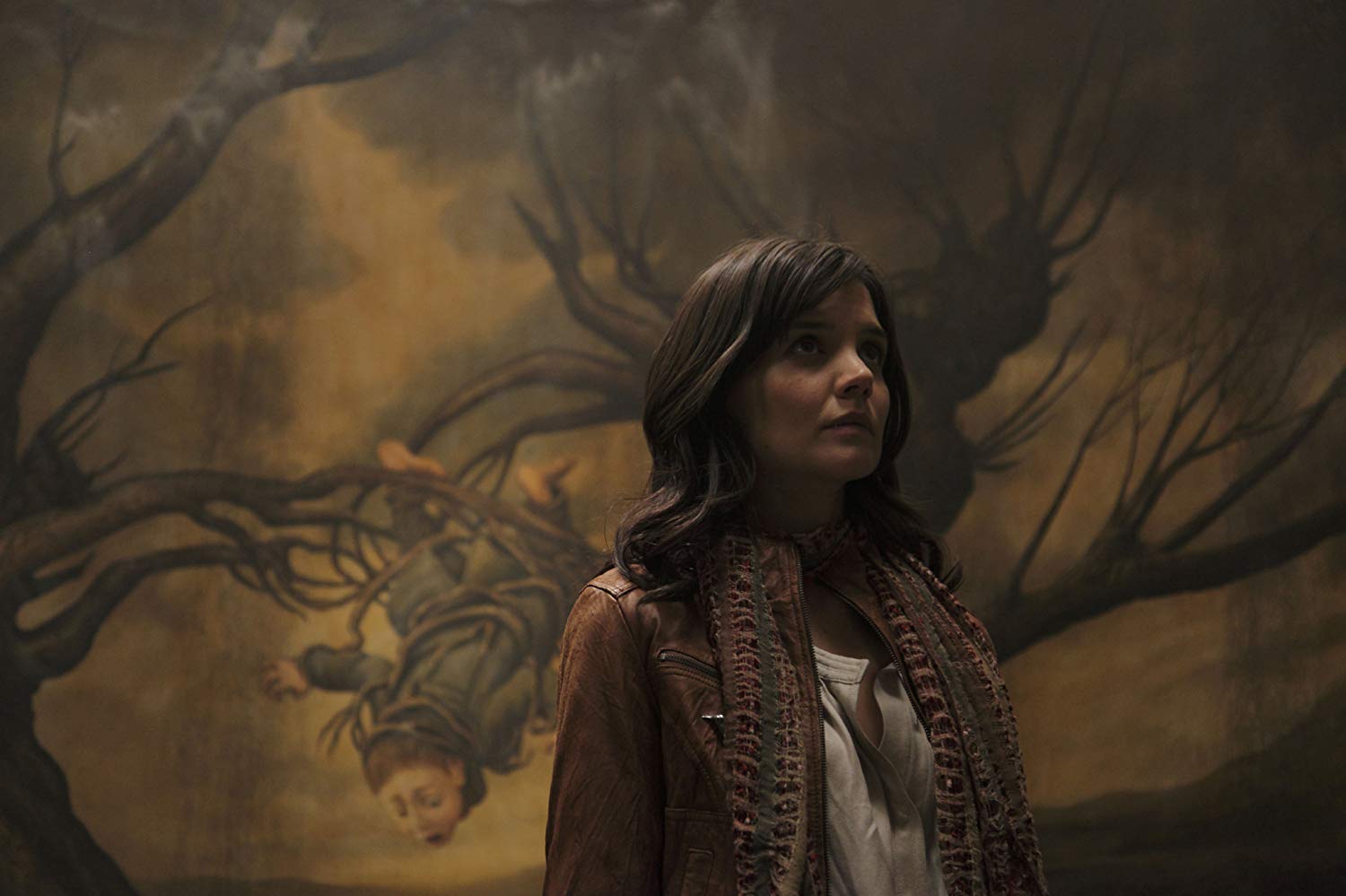 Even aside from that, Del Toro has lent his name in various capacities to numerous other works. Del Toro also wrote/produced Scary Stories to Tell in the Dark (2019), The Witches (2020) and the tv series Guillermo Del Toro's Cabinet of Curiosities (2022- ) and co-wrote The Hobbit: An Unexpected Journey (2012), The Hobbit: The Desolation of Smaug (2013) and The Hobbit: The Battle of the Five Armies (2014). He also produced other genre works like such as Chronicles (2002), Hellboy Animated: Sword of Storms (2006), Hellboy Animated: Blood and Iron (2007), The Orphanage (2007), While She Was Out (2008), Julia's Eyes (2010), Splice (2010), Kung Fu Panda 2 (2011), Puss in Boots (2011), Rise of the Guardians (2012), Mama (2013), The Book of Life (2014), Kung Fu Panda 3 (2016), Pacific Rim: Uprising (2018) and Antlers (2021), as well as the tv series The Strain (2014-7). He co-writes Don't Be Afraid of the Dark with Matthew Robbins, the director of Dragonslayer (1981) and Batteries Not Included (1987) and co-writer of Warning Sign (1985) and Del Toro's Mimic (1997) and Crimson Peak.
Direction has been handed to newcomer Troy Nixey, a former comic-book artist and writer who impressed Guillermo Del Toro after sending him a short film he had made. Nixey's comic-book work was subsequently adapted to the screen with the animated Batman: The Doom That Came to Gotham (2023).
Don't Be Afraid of the Dark 2011 generally follows the plot of the original tv movie. The principal difference here is in making Sally, the central point-of-view character, into a child (Bailee Madison) whereas in the original Sally was an adult woman (played by Kim Darby) who moved into a house she inherited from her grandmother. Neither she nor her husband had any children. Although such is still present in part here, the original played far more as a story where Kim Darby kept seeing things and hearing voices whispering but everybody around her could not and thought she was going mad. In the original, we only ever saw the goblin creatures (which were much more humanoid there) towards the end, whereas here they make regular appearances throughout. The ending of both films is the same, although the identity of the person who is snatched is different.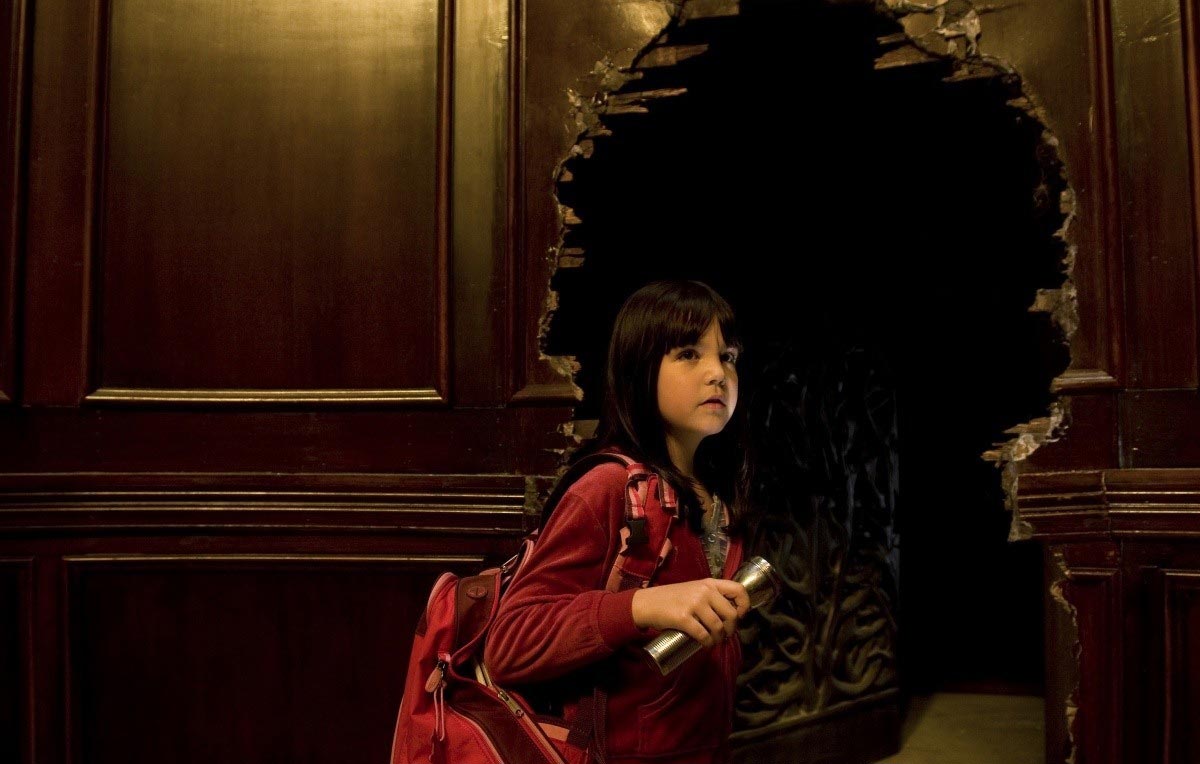 The original film was largely a haunted house film grafted onto a supernatural-vs-rationalism "is she going mad?" plot. The house and range of creatures that we have here is much more elaborate than in the original. The house here comes decked out with a maze of overgrown gardens, fountains filled with exotic fish and mist-covered lakes. It is now a film where the house seems to sit on the borderland with another world as we saw in Guillermo Del Toro's Pan's Labyrinth – or perhaps even more so a less family-friendly version of The Spiderwick Chronicles (2008).
Don't Be Afraid of the Dark 2011 starts in well with a gut-squirming scene where the house's 19th Century owner Blackwood (Garry McDonald) has a maid (Edwina Ritchard) pinned down in the cellar and we see him chiselling out her teeth as sacrifice to the creatures. This hits in with a nastiness that presages well. Thereafter, Troy Nixey absorbs us in consistent mood and does a good job of constantly suggesting things scuttling through the shadows, creeping up on people, fleeing from the light or about to jab an iron spike through the grille into Guy Pearce's ear before he turns away. Nixey gets off at least a couple of good jumps – especially one when Bailee Madison goes searching under the blankets of her bed and abruptly shines her light directly into the face of one of the creatures.
On the other hand, what Don't Be Afraid of the Dark 2011 resembles is a well oiled and polished scare show, one that produces a good deal of creepiness and atmosphere, that wheels out all the expected moves perfectly capably, but in the end never pushes the material past a point where it rattles an audience in their seat and leaves them exiting the theatre buzzing. For that, it must come out as falling on the side of accomplished but ever so disappointing.
---
---