---
Crew
Director/Screenplay – Richard Wenk, Story – Richard Wenk & Donald P. Borchers, Producer – Donald P. Borchers, Photography – Elliott Davis, Music – Jonathan Elias, Visual Effects – Apogee Inc, Makeup – Greg Cannom, Production Design – Alan Roderick Jones. Production Company – New World/Balcor.
Cast
Chris Makepeace (Keith), Robert Rusler (AJ), Dedee Pfeiffer (Amaretto/Alison Hicks), Grace Jones (Katarina), Sandy Baron (Vic), Gedde Watanabe (Duncan), Billy Drago (Snow)
---
Plot
In order to join a fraternity, Keith and his friend AJ agree to procure some booze and a stripper for a party. With a nerdish friend and all the money they have, they go to the mysterious After Dark club to try to persuade one of the strippers to perform. Instead, they find that the After Dark club is a hangout for vampires. There AJ becomes the victim of the fearsome vampire dancer Katarina.
---
Vamp was one of a spate of vampire movies that came out in the mid-1980s that reinvented the vampire for hip, modern teen audiences. This was a fad that also included the more high profile likes of Fright Night (1985) and The Lost Boys (1987), along with more comedic efforts such as Once Bitten (1985) and My Best Friend is a Vampire (1987). When I first saw Vamp back in the 1980s, it seemed cute but a re-reviewing of it a decade later shows just how dated it has become.
Director Richard Wenk and producer Donald P. Borchers have clearly construed the film as sort of a quick knockoff of Martin Scorsese's After Hours (1985) – with the addition of vampires. As in After Hours, there is an akilter sense of anything can happen bizarreness at work – Chris Makepeace gets caught in a killer elevator and chased around the streets; there are albinoid street gangs; meetings with an ambiguous girl who insist she knows the hero but he cannot remember.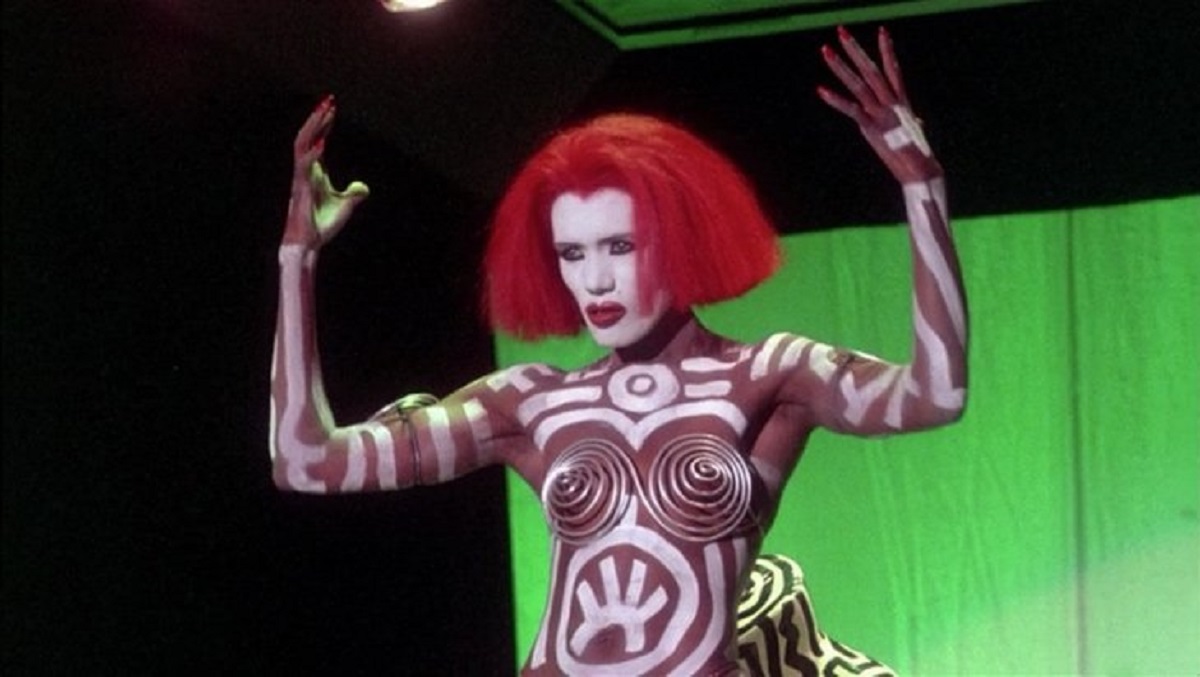 Alas, these scenes hit an oddly disjunct sense of humour that feels like a handful of elements that never satisfyingly connects into a whole. Richard Wenk lacks the ability to weave them into a sense of the bizarrely weird like Scorsese did, leaving you with the feeling that you are caught in a nightmare that keeps taking even more surreal dogleg turns. Instead, the overall level of humour is juvenile. Wenk shoots everything in a garish pink and green lighting scheme – even the sewers are lit in pink and green. In its time, such a look seemed cutting edge but nowadays the results seem so datedly 1980s.
The best and most striking thing about the film is the primal charge that singer Grace Jones carries in her appearances. In piercing blue contact lenses, scarlet red hair, white body paint and a bikini of Day-Glo canework and avant-garde dance moves, crawling her way up Robert Rusler's body with fangs bared to rip his throat out, she is the one thing that lights the film up. Vamp is the also only of Grace Jones's film appearances – see also Conan the Destroyer (1984) and A View to a Kill (1985) – to exploit the animal rawness of her musical performing persona without wimping the character out.
---
---