aka Vampire Killers
---
Crew
Director – Phil Claydon, Screenplay – Paul Hupfield & Stewart Williams, Producer – Steve Clark-Hill, Photography – David Higgs, Music – Debbie Wiseman, Visual Effects – Rushes Post Production (Supervisor – Hayden Jones), Special Effects – Special Effects (LM) Ltd, Makeup Effects – Millennium FX, Production Design – Keith Maxwell. Production Company – Momentum Pictures/Alliance/AV Pictures/Velvet Bite Ltd.
Cast
James Corden (Fletch), Mathew Horne (Jimmy McLaren), MyAnna Buring (Lotte), Paul McGann (The Vicar), Vera Filatova (Eva), Ashley Mulheron (Trudie), Louise Dylan (Anke), Lucy Gaskell (Judy), Silvia Colloca (Carmilla), Emer Kenny (Rebecca), Emma Clifford (Miss Rossi)
---
Plot
Jimmy McLaren's girlfriend Judy walks out on him at the same time as his best friend Fletch is fired from his job as a clown for punching a kid. Fletch suggests to Jimmy they go away tramping to get over things. At random, they choose the village of Cragwich. However, Cragwich has had a curse placed on it by the vampire Carmilla that causes every girl to become a lesbian vampire upon turning eighteen. Fletch and Jimmy are directed to stay at Mircalla's Inn in the forest. There they are joined by four female tourists. Once they arrive at the inn, they and the girls become prey to the lesbian vampires that prowl the forest. As they join forces with the local vicar who is trying to stop the menace before his daughter's birthday, Jimmy comes to realize that he is the descendent of the lord that killed Carmilla and is destined to stop the lesbian vampires as they plan to resurrect Carmilla.
---
Lesbian Vampire Killers was conceived in exactly the same way that Snakes on a Plane (2006) was – namely that the scriptwriters sat down and tried to think up the most absurd title they could and then wrote a film around it. Both films comes with a post-informed irony in that they are trying to be bad films but have their tongues planted in cheek and in so doing hope to win an audience with their knowing cynicism. This seems to be born out with Lesbian Vampire Killers receiving a cinematic release when it was initially only intended as a direct-to-dvd effort.
By its very title, Lesbian Vampire Killers draws on the lesbian vampire film fad of the 1970s, most notably Hammer's Karnstein trilogy The Vampire Lovers (1970), Lust for a Vampire (1971) and Twins of Evil (1971), as well as various continental efforts such as Vampyros Lesbos (1970), Daughters of Darkness (1971), The Blood Spattered Bride (1972) and The Daughter of Dracula (1972). Most of these took the lesbian vampire as patented by J. Sheridan Le Fanu's Carmilla (1872) and cast it amid much in the way of softcore erotica, all enacted by bosomy overripe heroines.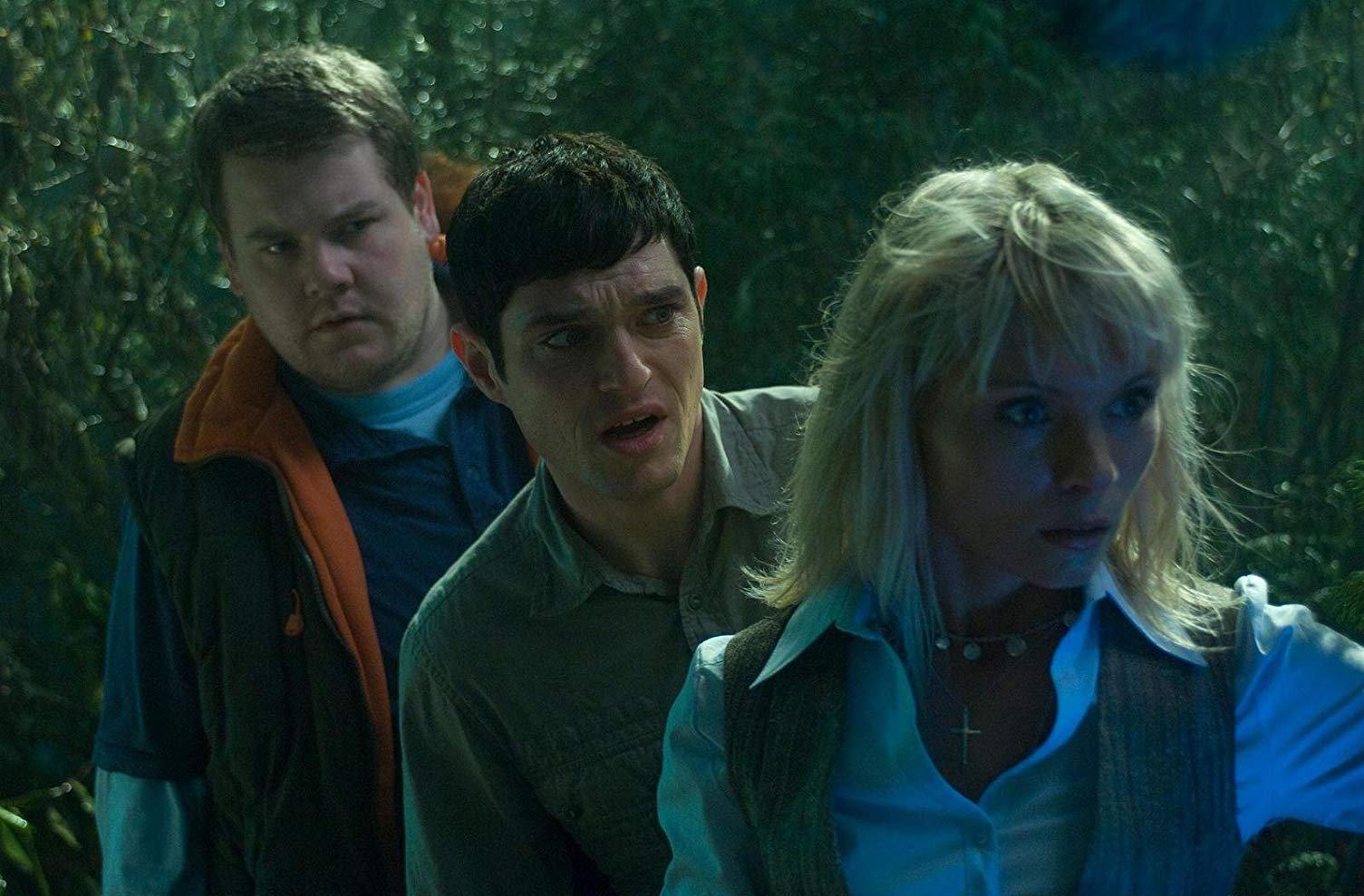 Around the same time as Lesbian Vampire Killers came out, there seemed to be a mini-revival of the British lesbian vampire film, albeit casting it amid the greater relaxation of modern LGBT relationships, with Vampire Diary (2006) and Temptation (2009). It is clear that Lesbian Vampire Killers has set out with the intent of doing for the lesbian vampire film the same thing that Shaun of the Dead (2004) did for the George A. Romero zombie film.
Lesbian Vampire Killers is pitched fairly and squarely into the midst of British lad culture, the same demographic that reclaimed beer drinking, centrefolds and sports from the disapproving eye of feminism in the 1990s by pitching it back through a mocking tongue-in-cheek eye. It feels almost as though the film could have been written by the editorial staff for lad magazines like Maxim, Loaded and Stuff.
Much emphasis is placed on having numerous well stacked women running around wearing not much (although, surprisingly for a film like this, there is little actual toplessness or nudity, certainly far less than the original Hammer lesbian vampire films made thirty years earlier, and amazingly almost nothing in the way of the titular lesbianism beyond one or two brief shots of women in embrace). It is the sort of film that has been designed not to be watched on the cinema screen but over several crates of beer as a bloke invites his mates over one evening so everyone can laugh themselves silly at what is going on on screen. Only a few months later also saw the British-made Doghouse (2009) featuring a group of unreprentant cavemen lads taking on women who had been transformed into zombies.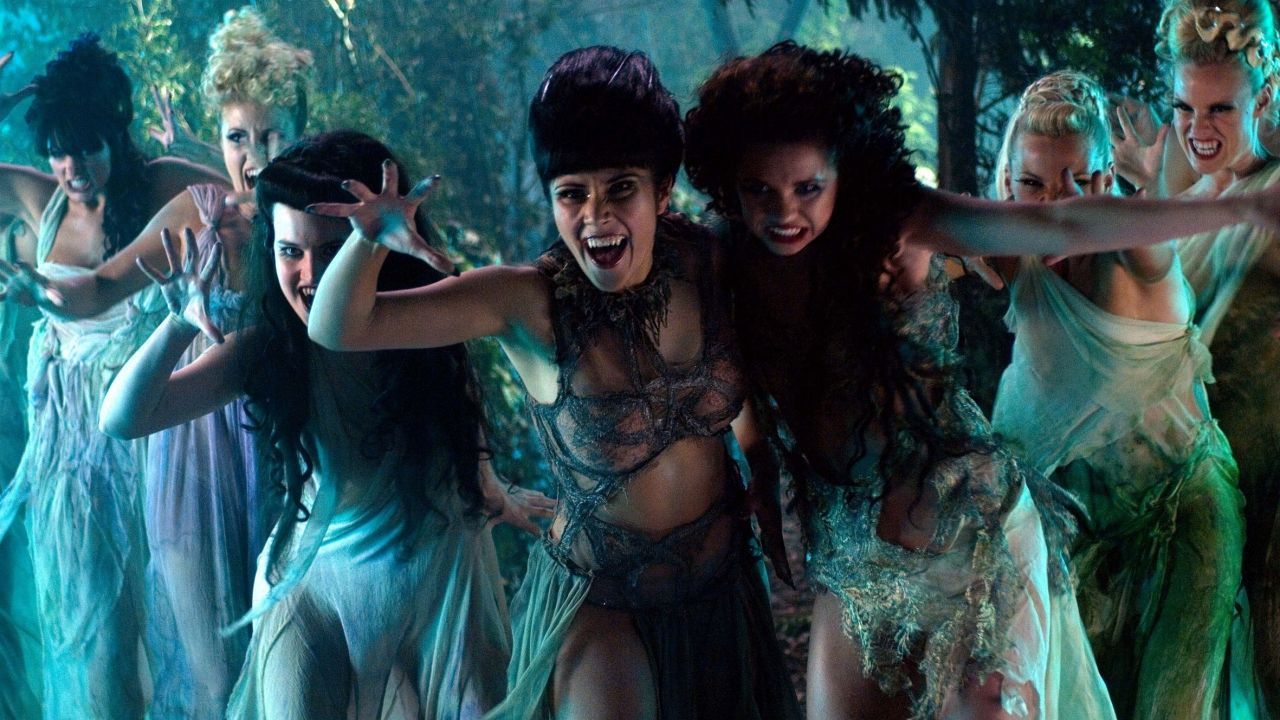 The scriptwriters had worked as producers/writers for various British MTV shows, while the film features the comedy duo of James Corden and Mathew Horne, who have appeared together in the comedy tv shows Gavin and Stacey (2007-9) and Horne and Corden (2009). Most of the humour is pitched down below belt level. Almost all of the dialogue in the first half consists of James Corden making jokes about wanting to have sex with various of the women and a number of repetitive gags made about the device to despatch the vampires being a 'cock sword' – a sword with a penis-shaped hilt. (It is fairly clear that this is a lad film as much of the film plays on a male fantasy of gorgeous women making out with each other, yet when it comes to even any vague suggestion of male-on-male relations James Corden has to repeatedly assure Mathew Horne that he doesn't want to "bum" him, something that spears the male oriented focus of the lesbian vampire fantasy with precision).
In terms of a horror film, or even a horror parody, Lesbian Vampire Killers does little. Despite there being ample material for such in the originals, there is no deflation of horror conventions or parody of the cliches, as Shaun of the Dead did, only the running of crude gags over the basic concept. The average episode of Buffy the Vampire Slayer (1997-2003) or Angel (1999-2004) held a far more sophisticated play of both ideas and genre parody than anything that goes on here.
The gags are occasionally amusing, rarely uproarious but produce little more than the occasional smile. James Corden carries the show with a loud and crass performance. On the other hand, Mathew Horne, even though he is supposed to be the hereditary vampire slayer, is a wimpy presence on screen. Most of the film's plot is repetitive and involves much running back and forth in the forest. While the film has a certain raucously sarcastic energy that carries it through its first half, the principal gag and humour tires at least half-an-hour of running time before the film ends.
---
---