---
USA. 1985.
Crew
Director – Jack Bender, Teleplay – Bill Bleich, Producer – Ervin Zavada, Photography – Rexford Metz, Music – Brad Fiedel, Special Effects – Jack Monroe, Makeup Effects – Tom Burman Studio, Production Design – Charles Hughes. Production Company – ABC Circle Films.
Cast
Lee Montgomery (Phil Grenville), Shari Belafonte-Harper (Melissa Cavender), Jonna Lee (Sandy Matthews), LeVar Burton (Vinnie Davis), Peter De Luise (Mitch Crandall), Jonelle Allen (Lucinda Cavender), Cindy Morgan (Vicky Jensen), Dedee Pfeiffer (Mary Masterson), Kevin McCarthy (Judge Crandall), Dick Van Patten (Martin Grenville), Mark Blankfield (The Ghoul), Kurtwood Smith (Captain Warren Jensen), Dennis Redfield (Lester Mitchell), Sheila Larken (Janet Grenville), Joe Gieb (Elf)
---
Plot
It is Halloween in the town of Pitchford Cove. A group of school friends decide to break into the town museum to 'borrow' costumes for a Halloween party. They also find an old trunk that contains a parchment and take it with them to the graveyard. Breaking the seal on the parchment, they amuse themselves by reading aloud the rituals on it. Thinking nothing has happened, they go on to the party unaware as behind them the dead, werewolves, ghouls and vampires crawl out of their graves. Various of these creatures invade the party being held by Melissa Cavender. Melissa is given the bite by her vampire ancestor Lucinda and the two of them start infecting the others at the party. Meanwhile, Phil Grenville has met cheerleader Sandy Matthews and the two are attracted, although he is unaware that she died in the 1950s. They discover the monsters have emerged and realise they have until midnight to place the seal back on the parchment in order to stop all hell from being unleashed.
---
The Midnight Hour is a US tv special made for the Halloween season. These Halloween specials are made semi-regularly for US tv – popular shows such as Charlie Brown, The Addams Family, The Munsters, Scooby Doo, Fat Albert, American Dad and Family Guy have all made Halloween Specials at various points, while The Simpsons (1989– ) has made it into an annual artform. (I have a more detailed listing here at Films About Halloween). The Midnight Hour has gained a minor reputation as a classic in the field, partly one suspects due to the nostalgia factor.
The Halloween special and effective horror are usually mutually exclusive things. It is just the same as the attempts to mix horror and music – there has never, as far as I am aware, ever been a good horror song that works in terms of horror as all that singers do is turn things into jokily unserious riffs on monsters and scary things. Likewise, Halloween specials reduce the monsters to comedic caricatures and almost always fail to take the material seriously.
Anything scary ends up, as here, going no further than Halloween masks and cliched mist-covered graveyards, with the monsters treated no more seriously than Halloween revellers – a running gag throughout the film centres on a zombie sitting on a settee in the midst of the party or partygoers' reactions to the monsters' appearances assuming them to be costumes. On of the pluses is Jonelle Allen who has an aloof presence that glides through the film – although she disappointingly fades away from the film once she infects Shari Belafonte-Harper with the vampire bite.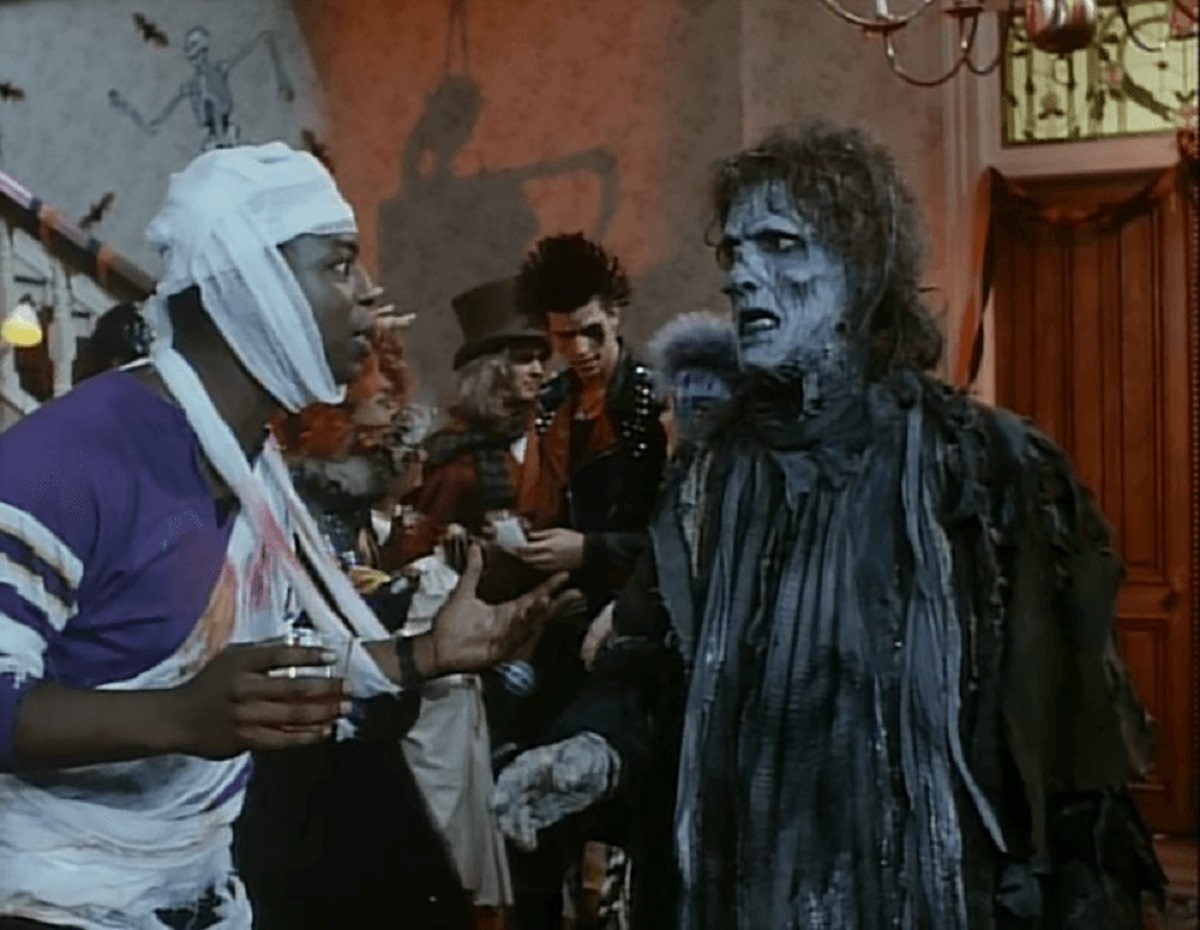 Certainly, the film does feature a great soundtrack of classic monster-themed songs – Devil or Angel (1960) by Bobby Vee, Lil Red Riding Hood (1966) by Sam the Sham and the Pharaohs, Bad Moon Rising (1969) by Creedence Clearwater Revival, Clap for the Wolfman (1974) by The Guess Who, and naturally In the Midnight Hour (1966) by Wilson Pickett – even peculiarly at one point, The Smiths' How Soon is Now (1984). Indeed, with its dancing and comically friendly as opposed to threatening monsters, The Midnight Hour could almost have been conceived as a feature-length expansion of the Michael Jackson Thriller (1983) music video. The film stops still at one point so that Shari Belafonte-Harper can sing a song Get Dead with a chorus of dancing zombies and vampires where she offers up such groan-worthy lines such as "I'm dead, you're dying/Everybody should try it, get dead."
One of the most fascinating things about The Midnight Hour in retrospect is the cast line-up, which includes many names that would go onto bigger and better things. A couple of years later LeVar Burton became a fan favourite as navigator Geordi LaForge on Star Trek: The Next Generation (1987-94); Shari Belafonte was the daughter of singer Harry Belafonte and was just starting to find her career as an actress; Peter DeLuise is the son of Dom DeLuise and has had a regular career as an actor, perhaps best known to genre fans as a regular on tv's seaQuest DSV (1993-6); Dedee Pfeiffer is the younger sister of Michelle, although her career as an actress never took off. Lee [Harcourt] Montgomery had a minor genre career as a child actor in the 1970s in films such as Ben (1972) and Burnt Offerings (1976) but faded away not long after this.
Director Jack Bender has made a great deal of television between 1980 and the present, although not many theatrical films. His one other notable genre film was Child's Play 3 (1991). On tv, his other occasional forays into genre material include the L. Frank Baum biopic The Dreamer of Oz (1990), the teen slasher Killing Mr Griffin (1997); The Tempest (1998), which updated Shakespeare to the American Civil War period; and the time travel film Rewind (2013).
---
Full film available here
---