---
Crew
Director – Tim Burton, Screenplay – Seth Grahame-Smith, Story – John August & Seth Grahame-Smith, Based on the TV Series Created by Dan Curtis, Producers – Christi Dembrowski, Johnny Depp, David Kennedy, Graham King & Richard D. Zanuck, Photography – Bruno Delbonnel, Music – Danny Elfman, Visual Effects Supervisor – Angus Bickerton, Visual Effects – Buf, MPC (Supervisor – Arundi Asregadoo), Mattes and Miniatures, Method Studios Vancouver & The Senate (Supervisor – Anton Yri), Special Effects Supervisor – Joss Williams, Prosthetic Makeup Effects Designer – Joel Harlow, Production Design – Rick Heinrichs. Production Company – Infinitum Nihil/GK Films/The Zanuck Company.
Cast
Johnny Depp (Barnabas Collins), Eva Green (Angelique Bouchard), Michelle Pfeiffer (Elizabeth Stoddard), Bella Heathcote (Victoria Winters/Josette DuPres/Maggie Evans), Helena Bonham Carter (Dr Julia Hoffman), Jackie Earle Haley (Willie Loomis), Chloe Grace Moretz (Carolyn Stoddard), Jonny Lee Miller (Roger Collins), Gulliver McGrath (David Collins), Christopher Lee (Captain Clarney), William Hope (Sheriff), Alice Cooper (Himself), Ray Shirley (Mrs Johnson)
---
Plot
In 1760, young Barnabas Collins sails to the New World with his family. They create a fishing industry and settle a town in Maine, which becomes known as Collinsport where Barnabas's father builds a mansion that they name Collinwood. As he grows up, Barnabas has an affair with the maid Angelique. However, when he says that he loves Josette DuPres instead, Angelique uses her sorcerous powers to kill Barnabas's parents and cause Josette to walk off the cliff. A distraught Barnabas dives after Josette but Angelique has placed a curse on him and he emerges as a vampire. He becomes a scourge and is eventually buried inside an iron coffin. 176 years later in 1972, shy Victoria Winters arrives at Collinwood to take up a position as governess to young David Collins. Under the matriarch Elizabeth Stoddard, Collinwood is decaying and the family fortune has dried up. A workman's excavation uncovers Barnabas's coffin and he returns to life, albeit puzzled by the modern world. Barnabas returns to take his place at Collinwood, revealing his true nature to Elizabeth who requests that he keep it a secret. However, his return draws the attention of Angelique who is still alive in the modern day and runs the Angelbay firm that has put the Collins family company out of business. She comes, determined to seduce him back to her. Barnabas sets about to revive the family business but this means having to take on the wiles of Angelique. At the same time, Barnabas finds himself falling for Victoria because of her resemblance to Josette.
---
The tv series Dark Shadows (1966-71) was a considerable hit during its day and still has a cult following today in syndicated re-runs. Dark Shadows was the creation of producer Dan Curtis, who subsequently went onto a career producing horror for television with a number of adaptation of classic horror tales and other cult works like The Night Stalker (1972) and Trilogy of Terror (1975). The show was originally conceived as a Gothic soap opera that aired five days a week and was broadcast in black-and-white during its first year.
At first, the series focused on governess Victoria Winters (Alexandra Moltke) as she came to stay at the foreboding Collinwood mansion and was drawn into the family dramas. The series was regarded as slow-moving and began to flag until the introduction of Canadian actor Jonathan Frid as vampire Barnabas Collins eight months into the first year. The initially threatening Barnabas came to be the most popular character on the show with Frid becoming regarded as a sex symbol, although subsequent rewriting softened the character to make him more of a tragic hero.
As Barnabas came to dominate the show, there was a clamouring for his backstory and we were introduced to characters such as his love Josette DuPres and the witch Angelique who placed the vampire curse on him. This began a series of storylines that often become excessively complicated and confusing to outsiders involving extensive flashbacks to the 18th Century to tell the stories of the characters and their counterparts there then ventures into alternate timeline versions of the present-day, even alternate versions of the 18th Century, not to mention the introduction of a host of other horror elements, including ghosts, witches and warlocks, a werewolf family member, time travel staircases and a Frankenstein-like creation.
I was too young to catch the series first time around but my introduction to it came through second-hand copies of an interminable series of spinoff novels – some thirty books with continuity that often completely contradicted the tv series – by Marilyn Ross (in reality writer Daniel Ross). The show also spawned two film spinoffs during its run with House of Dark Shadows (1970), which retold the introduction of Barnabas Collins, and the superior Night of the Dark Shadows (1971), which focused on David Selby's Quentin dealing with the vengeful ghost of Angelique and did not feature Jonathan Frid.
There was a single season revival Dark Shadows (1991), featuring Ben Cross as Barnabas and Lysette Anthony as Angelique, although this only lasted for twelve episodes. There was a further one-hour pilot revival made in 2004, featuring Alec Newman as Barnabas and Marley Shelton as Victoria Winters, although this was never aired. Nowadays, the original show, which accrued more than 1400 episodes, has gained a certain camp reputation in reruns where its quick shooting schedule, low production values and sporadic technical gaffes is a source of amusement.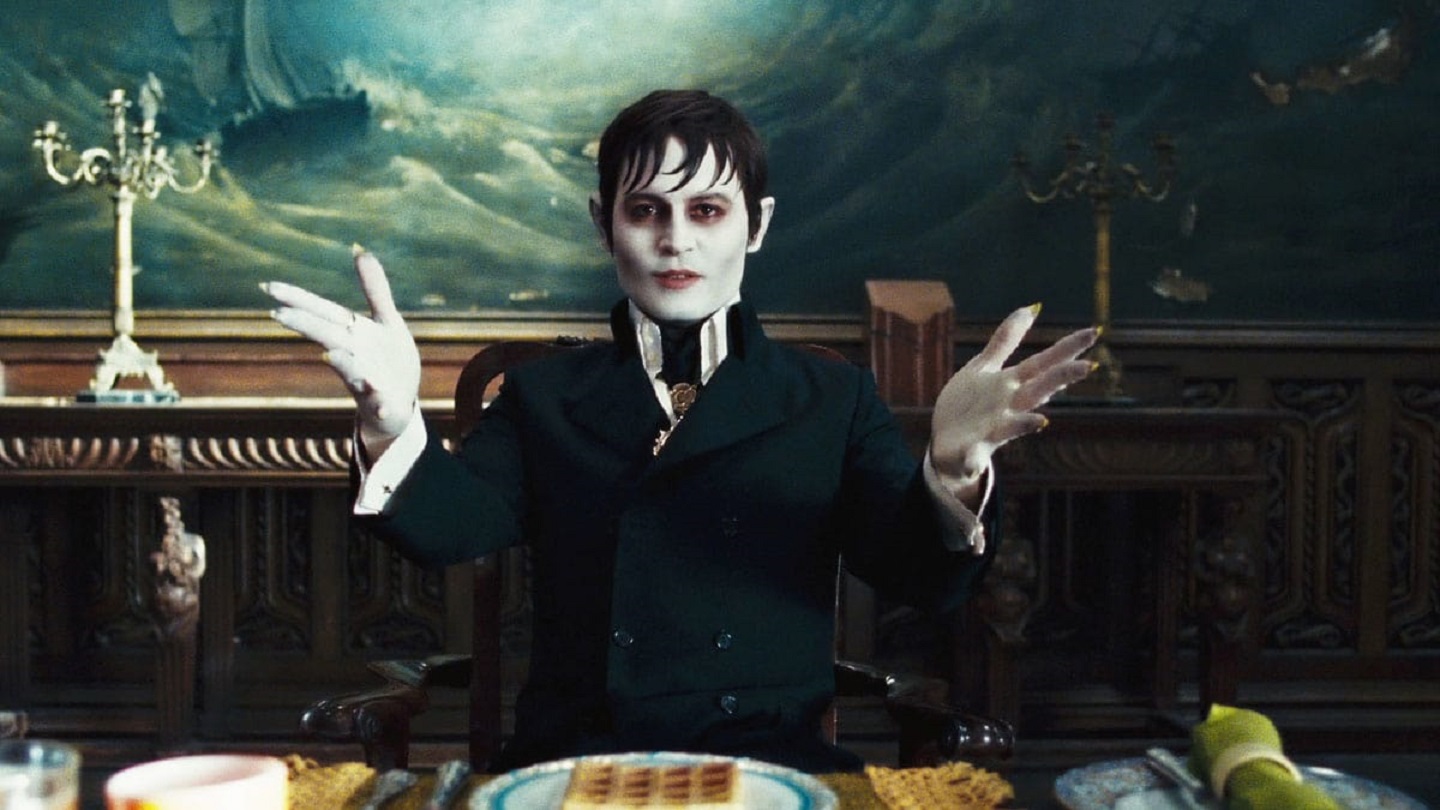 This big screen version of Dark Shadows emerges as part of the fad for reviving old tv series as cinematic franchises that has been going on since the success of The Addams Family (1991), The Beverly Hillbillies (1993), The Fugitive (1993), Car 54, Where Are You? (1994), The Flintstones (1994), The Brady Bunch Movie (1995), Flipper (1996), Maverick (1996), Mission: Impossible (1996), Leave It to Beaver (1997), The Saint (1997), The Avengers (1998), Lost in Space (1998), The Mod Squad (1999), My Favorite Martian (1999), Wild Wild West (1999), Charlie's Angels (2000), I Spy (2002); Scooby-Doo (2002), Starsky & Hutch (2004), Thunderbirds (2004), Bewitched (2005), The Dukes of Hazzard (2005), The Honeymooners (2005), Miami Vice (2006), Transformers (2007), Get Smart (2008), Speed Racer (2008), Land of the Lost (2009), Star Trek (2009), The A-Team (2010), Yogi Bear (2010), The Sweeney (2012), 21 Jump Street (2012), The Equalizer (2014), Jem and the Holograms (2015), The Man from U.N.C.L.E. (2015), Dad's Army (2016), Baywatch (2017), CHiPs (2017), Fantasy Island (2020) and The Munsters (2022). Several of the surviving cast members from the tv series – Lara Parker (the original Angelique), Kathryn Leigh Scott (who played Maggie Evans and Josette), David Selby (Quentin) and Jonathan Frid who died only a month before the film's release – can be briefly seen as a group that enter during Barnabas's ball.
The Dark Shadows revival comes from no less than Tim Burton. Tim Burton was a former Disney animator who emerged as a director with Pee-Wee's Big Adventure (1985) and then a string of hits including Beetlejuice (1988), Batman (1989), Edward Scissorhands (1990), Batman Returns (1992), The Nightmare Before Christmas (1993) and Ed Wood (1994) that propelled him to become one of the most distinctive and quirky voices in fantastic cinema throughout the decade. Burton's films have an eccentric humour, a love of oddball outsiders and an amazing flair of production design and costuming. On the other hand, come the 2000s and Burton feels like he is coasting by on his past successes with a series of films – Planet of the Apes (2001), Big Fish (2003), Charlie and the Chocolate Factory (2005), Sweeney Todd: The Demon Barber of Fleet Street (2007), Alice in Wonderland (2010), Frankenweenie (2012), Big Eyes (2014),  Dumbo (2019) – that feel increasingly lacking in the imaginative fire of the younger Burton. The line-up of regular cast members – Johnny Depp doing something weird, Burton's girlfriend Helena Bonham Carter – never varies, there are the same almost black-and-white sets and weirdly coloured costume schemes but the quirky distinctiveness merely feels like something that is going through the motions. Indeed, most people I spoke to before watching Dark Shadows made indifferent comments like "it's been over a decade since I felt enthused about a Tim Burton film" or "I wish Tim Burton would find his mojo again."
Dark Shadows comes from the pen of regular Tim Burton writer John August, and Seth Grahame-Smith, the novelist who wrote How to Survive a Horror Movie (2007) and then had a hit with the genre mash-ups Pride and Prejudice and Zombies (2009) and Abraham Lincoln, Vampire Hunter (2010). Burton produced the film version of latter with Abraham Lincoln, Vampire Hunter (2012), while the former was subsequently adapted as Pride and Prejudice and Zombies (2016). Grahame-Smith also wrote The Lego Batman Movie (2017) and producing It (2017), The Lego Ninjago Movie (2017), Child's Play (2019) and It: Chapter Two (2019), as well as created the R.L. Stine tv series Just Beyond (2021- ).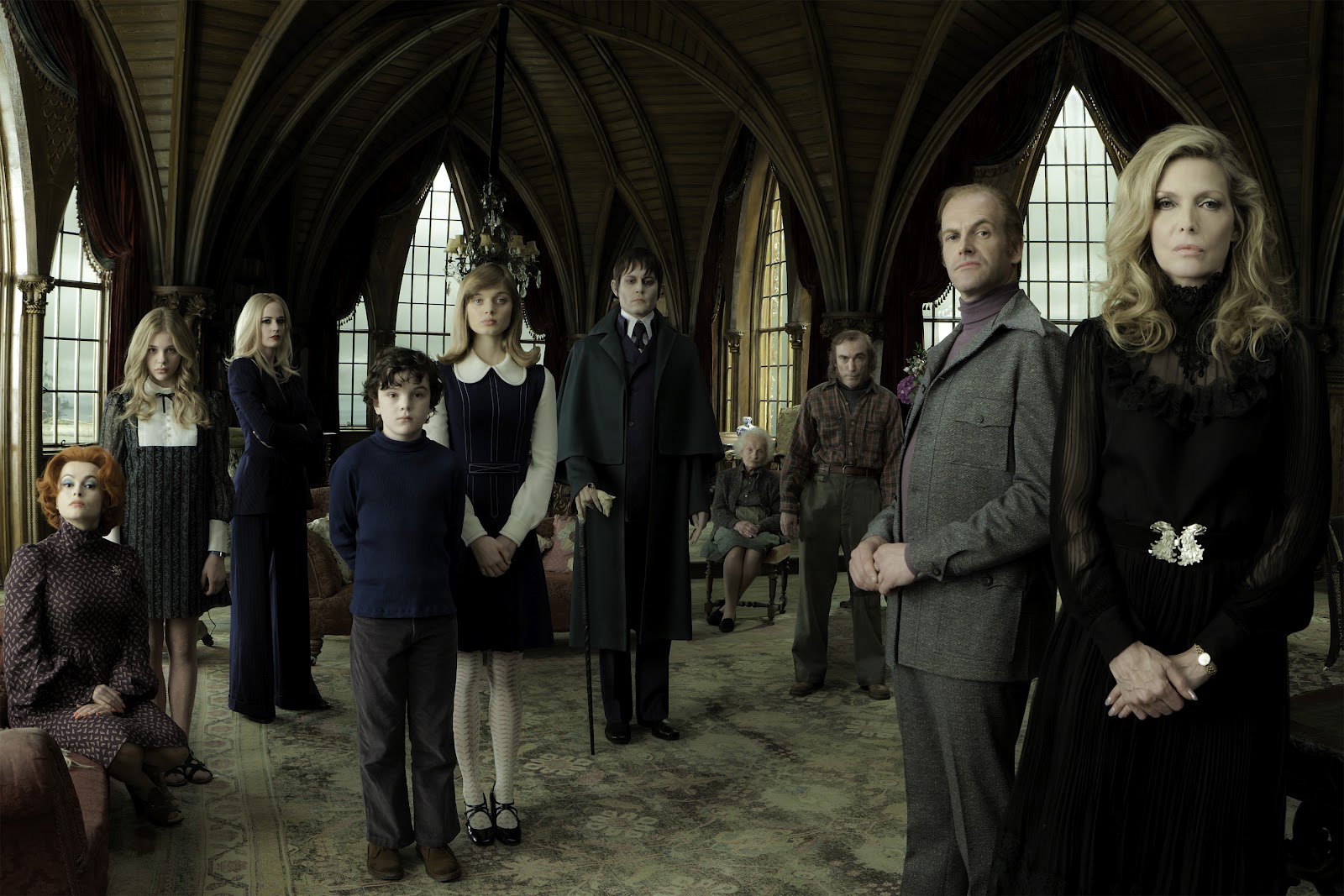 The script keeps to the essential aspects of the excessively complicated storyline of the original soap opera, focusing around the arrival of Victoria Winters, the revival of Barnabas and the backstory about Angelique and Josette. Most of the regular characters are there, although some of these have been condensed – Victoria Winters is combined with Maggie Evans, a waitress that Barnabas became convinced was a reincarnation of Josette, while the character of Quentin has been eliminated and the werewolf role is now played by Carolyn, who goes from a woman in her twenties in the tv series to a cynically disaffected fifteen year-old (Chloe Grace Moretz).
The main difference between the tv series and the 2012 film is all in the tone. TV's Dark Shadows was a Gothic soap opera. Its' cheap mood and atmosphere is often ridiculed by people watching it today but it worked for audiences back then who bought into it sufficiently to make the show a hit. Even at the height of its most preposterously complicated storylines, the tv series took itself seriously. On the other hand, Dark Shadows 2012 is a film that has been construed in the same vein as The Brady Bunch, Starsky & Hutch and 21 Jump Street – as something that sets out to mock and deflate a less sophisticated original. Johnny Depp's Barnabas Collins is no longer an ambiguous character that is half villain, half hero, merely a comic fish out of water figure. Now, I am not saying that a Dark Shadows film played straight and taking all of the Gothic mood seriously might have necessarily made for a great film today, but a film that revives an original only to ridicule is something that has my critical hackles raised before I even sit down to watch it. It's the old adage – if you buy up a property that has a cult recognition value then why throw it out when all that this does is alienate the fanbase and accrue a bad reputation?
I tried to set this aside and view the film simply as it was in its own terms. Even then, I ended up disappointed. Dark Shadows 2012 has far more of a conscious sense of the time period that the series was set in than the tv series itself did. Thus this film is turned into a big retro in-joke and makes a great deal of obvious comic play out of this – of seeing Johnny Depp's Barnabas trying to cope with things like lava lamps, disco balls, tv sets, women doctors, an androgynous Alice Cooper, regarding cars and excavating machines as demons, reading Love Story (1970), watching episodes of Scooby Doo, Where Are You? (1969-72) and so on. The film's sense of the period is exemplary but Tim Burton only makes play for obvious and easy jokes, not to mention feels like he is coming along over two decades after the point when filmmakers started mining the 1970s for comedy potential. By now, many of the comic targets aimed at by the film seem cliches.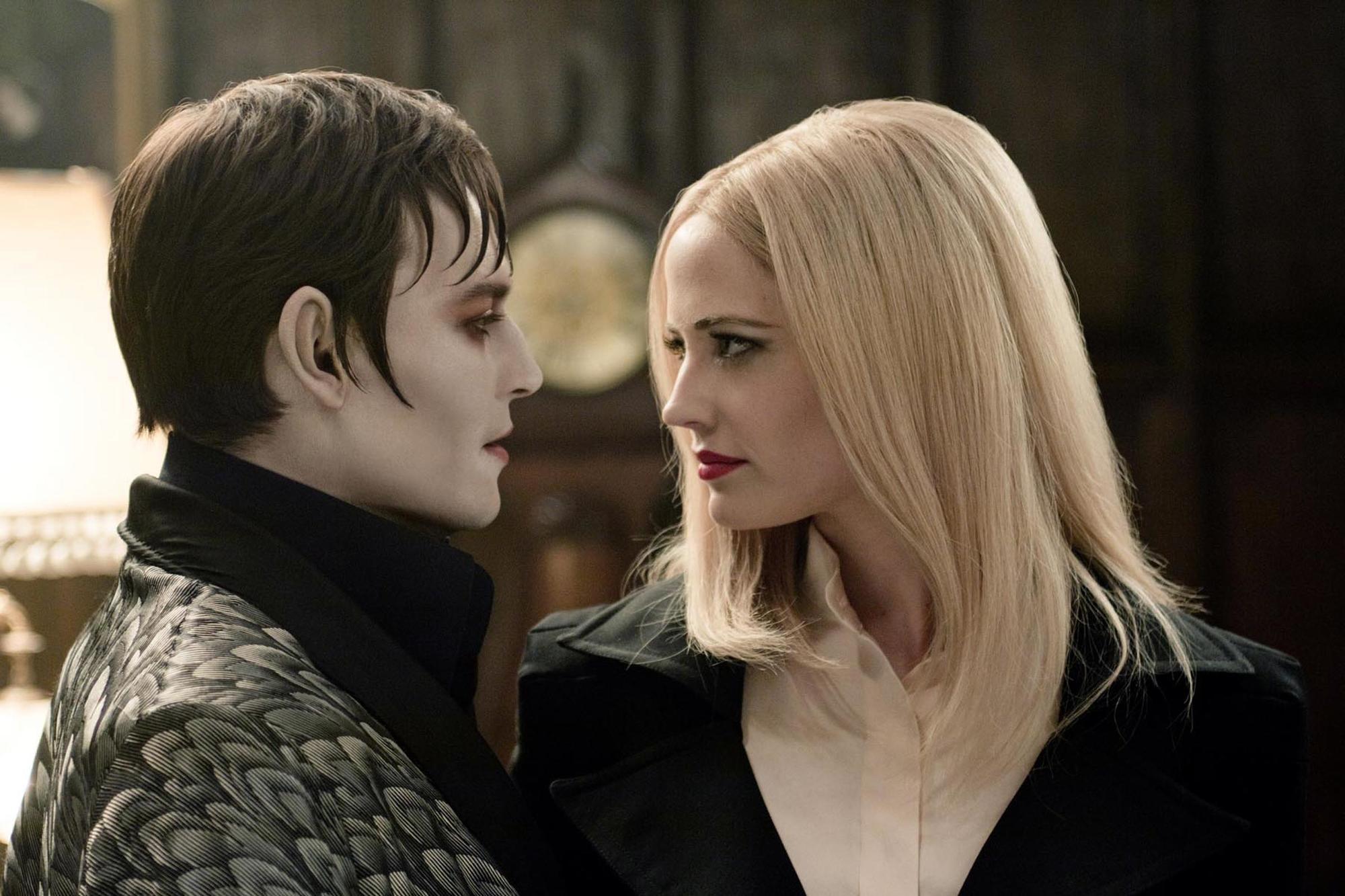 The film arrays an impressive cast, although fails to give them not much to do – Michelle Pfeiffer holds her own as the matriarch, Helena Bonham Carter gets far too little screen time as Julia Hoffman, the young and talented Chloe Grace Moretz is not given much more to do other than pout and sneer, the beautifully sensual Eva Green is reduced to no more than a one-dimensional vamp, Christopher Lee gets a single scene cameo that could have ended on the cutting room floor for all the difference it makes.
As Barnabas, Johnny Depp gives another of the silly performances he seems to specialise in in Burton's films, walking stiffly through the 1970s surroundings with straight-faced comic deadpan while affecting a fake British accent. It has become a thing that Depp and Burton do every couple of years and has increasingly gone beyond Depp giving career defining performances as he did in his earlier work with Burton and feels now like a private show that the two put on to amuse one another that seldom communicates itself to the rest of the audience. Tim Burton's style is Gothic by way of The Addams Family, a cartoony silliness best exemplified by a monumentally unfunny scene where Johnny Depp and Eva Green wreck an entire office during a torrid embrace that crawls up and down the walls, or a series of montage shots with Johnny Depp sleeping upside down amid the curtains or in the linen closet. It feels like a long time since the point when Tim Burton was able to adeptly balance Gothic comedy with the sinister undertow he did in works like Beetlejuice and The Nightmare Before Christmas.
Tim Burton's other films of genre interest include the kitsch Pee-Wee's Big Adventure (1985); the bizarre ghost story Beetlejuice (1988); Batman (1989); the genteel artificial boy fairy-tale Edward Scissorhands (1990); Batman Returns (1992); Ed Wood (1994), a biopic of the world's worst director; the alien invasion comedy Mars Attacks! (1996); the ghost story Sleepy Hollow (1999); the remake of Planet of the Apes (2001); Big Fish (2003) about an habitual teller of tall tales; Charlie and the Chocolate Factory (2005); the stop-motion animated Gothic Corpse Bride (2005); the horror musical Sweeney Todd: The Demon Barber of Fleet Street (2007); Alice in Wonderland (2010); the stop-motion animated Frankenweenie (2012); Miss Peregrine's Home for Peculiar Children (2016); and the live-action remake of Dumbo (2019). Burton also produced Henry Selick's darkly brilliant stop-motion animated fantasies The Nightmare Before Christmas (1993) and James and the Giant Peach (1996); as well as the live-action conte cruel Cabin Boy (1994), Batman Forever (1995), the animated 9 (2009), Abraham Lincoln, Vampire Hunter (2012) and Alice Through the Looking Glass (2016). The Death of "Superman Lives": What Happened? (2015) is a fascinating documentary about Burton's failed Superman Lives project.
---
---