aka Dracula and Son
(Dracula, Pere et Fils)
---
Crew
Director – Eduard Molinaro, Story – Alan Godard, Eduard Molinaro & Jean-Marie Poire, Based on the Novel Paris Vampire by Claude Klotz, Producers – Alan Poire & (US Version) – Robert Dorian & Joe Masefield, Photography – Alan Levent, Music – Vladimir Cosma, Production Design – Jacques Bufnoir. Production Company – Gaumont.
Cast
Christopher Lee (Count Dracula), Bernard Menez (Victor Dracula), Marie-Helene Breillat (Nicole), Catherine Breillat (Marsha)
---
Plot
In the 19th Century, Count Dracula takes Marsha prisoner and makes her his bride. She gives birth to a son Victor. In the present-day, Dracula is awoken after the Communists commandeer his castle. He and Victor are forced to flee with only the clothes they wear. In an attempt to get across the French border, they hide in the coffins of two French sailors, only for the coffins to be despatched overboard at sea. Dracula ends up in England where he is cast as a vampire in a horror film, which makes him into a star. Victor meanwhile gets a job as a night watchman at a morgue in Paris. When Dracula comes to France on a publicity tour, the two are reunited. However, they end up conflicting when both are attracted to the beautiful Nicole.
---
For many, Christopher Lee will always be the definitive Count Dracula. Lee appeared in Hammer's cornerstone film Dracula/The Horror of Dracula (1958) and then a succession of sequels with Dracula – Prince of Darkness (1966), Dracula Has Risen from the Grave (1968), Taste the Blood of Dracula (1970), Scars of Dracula (1971), Dracula A.D. 1972 (1972) and The Satanic Rites of Dracula/Count Dracula and His Vampire Bride (1973), eventually quitting after becoming tired of the lack of anything interesting he got to do each time. Less known are his other ventures into playing Dracula outside of the Hammer films. These include Count Dracula (1970), a tatty remake of the Bram Stoker novel from exploitation director Jesus Franco, and his appearance as both Dracula and Vlad the Imapler in In Search of Dracula (1975). Even more obscure is this French comedy, which not that many people know about.
Dracula, Father and Son was made not long after the hit of Mel Brooks' Young Frankenstein (1974), which made affectionate fun of the Universal Frankenstein films. There were several imitators around this period that sought to do the same for Dracula and the vampire film – see the likes of Tender Dracula (1974), Vampira/Old Dracula (1974), Love at First Bite (1979) and Mama Dracula (1980). The casting coup the producers managed to achieve was inveigling Christopher Lee back to the role of Dracula after he had vowed never to play it again.
The film is apparently very funny in its original form – alas, for English-speaking audiences, we only got to see it in a badly dubbed form that gives many of the characters moron voices, changes the plot and most criminally replaces Christopher Lee's magnificent basso voice with the gravitas-free delivery of an anonymous voice actor. We also get the addition of some extremely cruddy drawings in lieu of opening narration.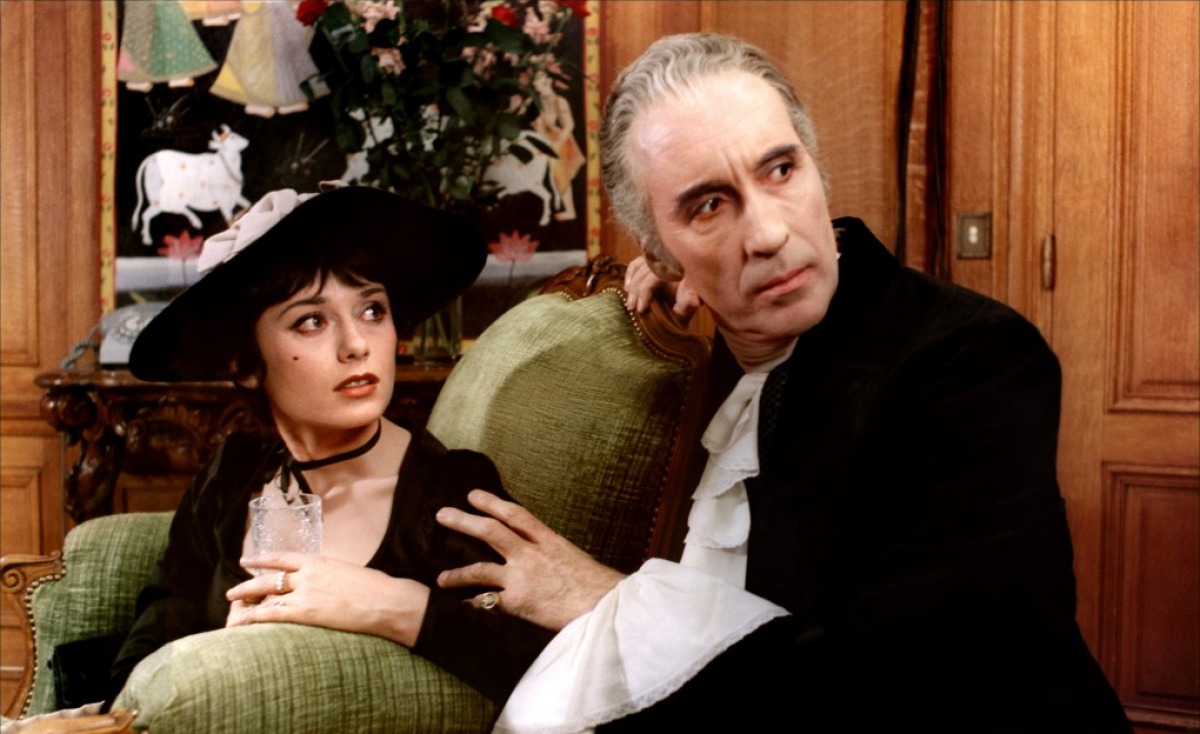 The Dracula/vampire comedy was done far better three years later with Love at First Bite – Dracula, Father and Son prefigures some of that film's plot, particularly the scenes where Dracula is forced to flee Transylvania after his castle is taken over by the Communists (this holds an additional amusing gag where a hammer and sickle is wielded instead of a crucifix). Though badly mangled in the English-language edit, enough of the original film survives in the form of the odd gag. There is the rather amusing scene where Dracula arrives in England and goes to sink his teeth into the neck of a woman lying in bed, only to find that he has punctured an inflatable sex doll.
There end up being some amusing plot twists – especially where Lee is hired to play Dracula in a British horror film and in a very meta scene is at one point mistaken for Christopher Lee. Later Bernard Menez is cast as Dracula in a toothpaste commercial. There is a rather droll scene where Lee puts the bite on a woman, invites her back to spend the night in an adjoining coffin but gets tired of her blathering and tells her to go into the other room to get a change of music only for her to open the curtains and be incinerated. Unfortunately, the latter third of the film descends to a lot of tiresome running around in the competition between Lee and Menez for the affections of Marie-Helene Breillat, which drags the show out.
Dracula, Father and Son was made by Eduard Molinaro, a prolific French director who usually specialised in comedies. His most famous work was La Cage aux Folles (1978) and its sequel La Cage aux Folles II (1980). Molinaro was married to Marie-Helene Breillat, who plays the romantic lead in the film. The most interesting name though is her younger sister Catherine who plays Dracula's bride near the start. At the time the film was made, Catherine Breillat was a novelist and had tried her hand at acting in several films. Catherine made her directorial debut the same year as this with A Real Young Girl (1976), although that was not released until 1999. Two decades later, Catherine's name rose as director of sexually explicit works such as Romance (1999), Fat Girl (2001) and Anatomy of Hell (2003), as well as a couple of ventures into genre material with the adult fairytale adaptations Blue Beard (2009) and The Sleeping Beauty (2010).
---
---