---
Crew
Director – Wes Craven, Screenplay – Michael Lucker, Charles Murphy & Chris Parker, Story – Vernon Lynch, Charles Murphy & Eddie Murphy, Producers – Mark Lipsky & Eddie Murphy, Photography – Mark Irwin, Music – J. Peter Robinson, Visual Effects – Fantasy II Film Effects (Supervisor – Gene Warren Jr), Digital Effects – Hammerhead Productions, Mechanical Effects – Image Engineering (Supervisor – Peter Chesney), Makeup Effects – K.N.B. EFX Group Inc. Production Company – Paramount.
Cast
Eddie Murphy (Maximilian/Guido/Preacher Pauley), Angela Bassett (Rita Veder), Allen Payne (Justice), Kadeem Hardison (Julius Jones), John Witherspoon (Silas), Zakes Mokae (Dr Zeko), Shalil Khan (Nikki), Joanna Cassidy (Captain Dewey)
---
Plot
A ship crashes in Brooklyn harbour with all its crew dead. The vampire Maximilian emerges, having travelled from the Bermuda Triangle in search of a woman to help him continue the vampire species. He believes he finds her in police detective Rita Veder as she comes to investigate the bodies on the ship. Maximilian then sets about trying to romantically woo Rita.
---
In the mid 1980s, Eddie Murphy rose to become one of the top Black actors in Hollywood with the likes of 48 Hrs (1982), Trading Places (1983), Beverly Hills Cop (1984) and Coming to America (1988). By the early 1990s, Murphy's star had started to fade somewhat with progressive flops like Harlem Nights (1989), Boomerang (1992), The Distinguished Gentleman (1992) and Beverly Hills Cop III (1994). Murphy had not had a hit for the better part of a decade prior to this vampire comedy, which was intended as a comeback. Murphy of course bounced back considerably with his very next film, The Nutty Professor (1996), which was then followed by successive hits like Dr Dolittle (1998), Holy Man (1998), Bowfinger (1999) and Shrek (2001).
To direct, Eddie Murphy brought on board Wes Craven, the cult director of A Nightmare on Elm Street (1984). (Murphy was apparently a huge fan of Craven's The Serpent and the Rainbow [1988]). However, Vampire in Brooklyn goes sadly wrong. Perhaps it was a mismatched idea in the first place teaming up a comedy star and a director renowned for oneirological horror. The results seem to be two different talents that end up mutually drowning one another out. Wes Craven had never made a comedy before – all his films are serious and lack even the usual light relief that peppers much horror, and his attempts at comedy here fall flat, particularly the scenes with Kadeem Hardison's ghoul.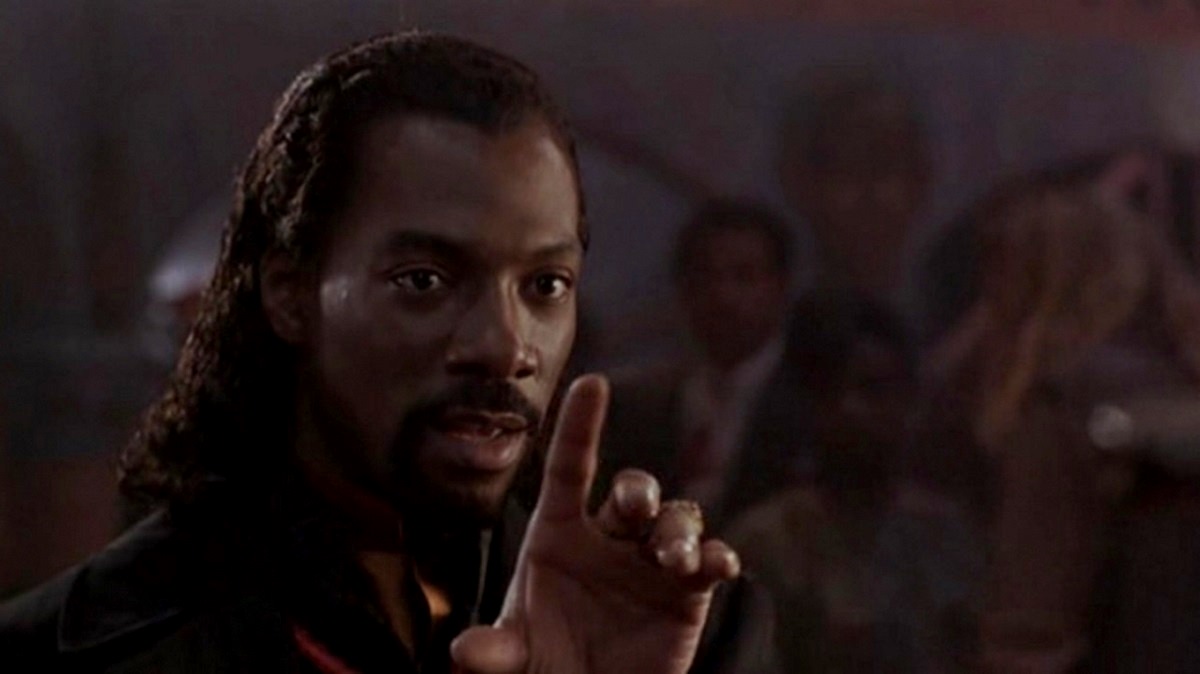 On the other hand, Eddie Murphy seems to drown Wes Craven out. Eddie Murphy has his finger in every creative pie in Vampire in Brooklyn – he produces the film, while the story comes from he and his brother Charles. One gets the impression that Murphy and brother regarded their script as a work of brilliance – it isn't – and merely brought Wes Craven on board as hired gun and gave him little creative freedom in interpreting the script. Certainly, one believes that a genre specialist like Wes Craven would have steered the script in far more interesting directions than the Murphys do.
Vampire in Brooklyn feels like one of the middle-of-the-road vampire comedies that were made in the mid 1980s – Once Bitten (1985), Vamp (1986), My Best Friend is a Vampire (1987) etc – the type that would at best be regarded as direct-to-video material today – that had by mistake gained an A-budget and been conducted with top-drawer effects. The film is entirely routine.
Certainly, Eddie Murphy plays well as the vampire Maximilian, delivering the part with a courtly genteel and a mercurial underlying danger. Murphy indulges his penchant for playing multiple roles as he has done in other films and plays two other parts under considerable makeup – that of a street preacher and of a petty lowlife Italian hood. Unfortunately, both characters seem superfluous to the film and the script has difficulty tying their extended scenes into anything else. Angela Bassett, her Best Actress Academy Award nomination from the previous year notwithstanding, gives a disappointingly neurotic and almost completely closed-off performance, as though she was not interested in the film at all.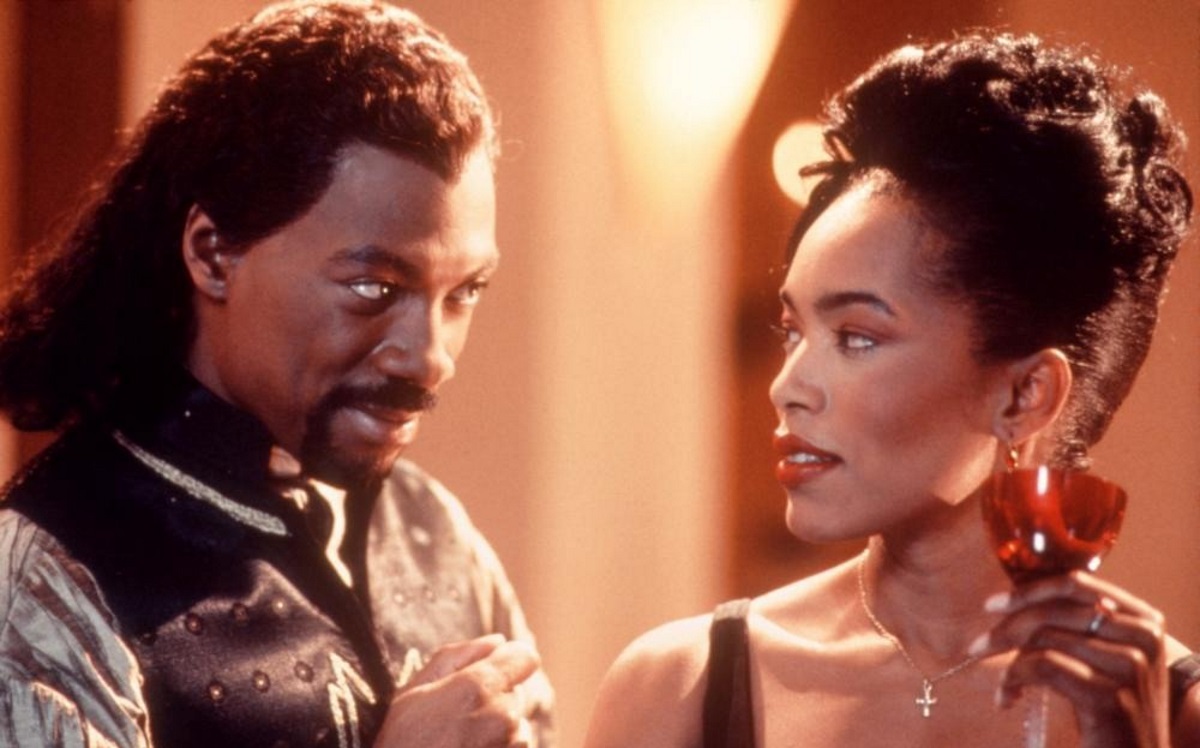 Vampire in Brooklyn in the end is a disappointment, a series of oddly mismatched elements – a White director working with an almost completely Black cast; a horror director trying to do a comedy; a comedy star trying to do horror; and a B-script with an A-budget – and to no particular surprise it never clicks together.
Wes Craven's other genre films are:– the brutality and revenge films The Last House on the Left (1972) and The Hills Have Eyes (1977); the suburban witch film Summer of Fear/Stranger in Our House (1978); Deadly Blessing (1981) about murders around a religious cult; the comic-book adaptation Swamp Thing (1982); Invitation to Hell (tv movie, 1984); A Nightmare on Elm Street (1984); Chiller (tv movie, 1985); The Hills Have Eyes Part II (1985); Deadly Friend (1986) about a teen inventor who revives his girlfriend from the dead; The Serpent and the Rainbow (1988), a strikingly beautiful film about Haitian voodoo; Shocker (1989) a campily incoherent film about an undead executed killer; Night Visions (tv movie, 1990); The People Under the Stairs (1991); Wes Craven's New Nightmare (1994); the slasher deconstruction trilogy of Scream (1996), Scream 2 (1997) and Scream 3 (2000); the werewolf film Cursed (2005); the dispossessed soul slasher film My Soul to Take (2010); and Scre4m/Scream 4 (2011). Wes Craven has also written the scripts for A Nightmare on Elm Street III: The Dream Warriors (1987), Pulse (2006) and The Hills Have Eyes II (2007), and produced Mind Ripper (1995), Wishmaster (1997), Carnival of Souls (1998), Don't Look Down (1998), Dracula 2000 (2000), Feast (2006), The Breed (2006), The Hills Have Eyes (2006), The Last House on the Left (2009), The Girl in the Photographs (2015) and the tv series Scream: The Series (2015-9). He also created the tv series The People Next Door (1989) and Nightmare Cafe (1992).
---
---