---
Crew
Director – Cody Calahan, Screenplay – Adam Seybold, Story – Cody Calahan & Adam Seybold, Producers – Chad Archibald, Cody Calahan & Christopher Giroux, Photography – Jeff Maher, Music – Stephanie Copeland, Makeup Effects – Shaun Hunter, Production Design – Steven Dubois. Production Company – Breakthrough Entertainment/Black Fawn Films.
Cast
Alanna LeVierge (Helen), Nina Kiri (Molly), Adam Christie (Ed), Kate Fenton (Dr Headly), Michael Lipka (Roman), Brooke Henderson (Helen's Mother)
---
Plot
A young prostitute is visited by a mysterious stranger and becomes pregnant overnight. Just as she gives birth, she stabs her stomach, killing herself. Twenty-three years later, the child has grown up as Helen, a bicycle courier and aspiring actress living in Toronto. After having an accident on her bicycle, Helen begins to experience nightmare visions and abrupt personality changes. She learns from the doctor that she was born with an unformed twin that absorbed into her own body. Helen now believes that the twin is trying to take over her body, leaving her at war with the dangerous and unstable personality inside herself.
---
Let Her Out was the third film from Canadian director Cody Calahan who had previously made the social media horror film Antisocial (2013) and its sequel Antisocial 2 (2015) and subsequent to this went on to make The Oak Room (2020) and Vicious Fun (2020) about a support group for serial killers. In between this, Calahan has also produced a number of other genre films with the likes of Sweet Karma (2009), Exit Humanity (2011), Monster Brawl (2011), Septic Man (2013), Ejecta (2014), Hellmouth (2014), Bite (2015), The Sublet (2015), Bed of the Dead (2016), The Heretics (2017) and I'll Take Your Dead (2018).
The plot seems a novel variation on the Jekyll and Hyde theme, one that dispenses with any potions or outward transformation scenes and focuses instead on the psychological battle of opposing personalities within the same body. This reminds less of a Jekyll and Hyde film than Adam Mason's Luster (2010), which featured Andrew Howard warring with his alter ego – both films have similar scenes where the protagonists handcuff/chain themselves up to prevent the other personality from emerging. The idea of the absorbed twin was also used in the Stephen King-based doppelganger film The Dark Half (1993), while the whole plot of the malignant twin taking over the heroine's body was substantially used later in James Wan's Malignant (2021).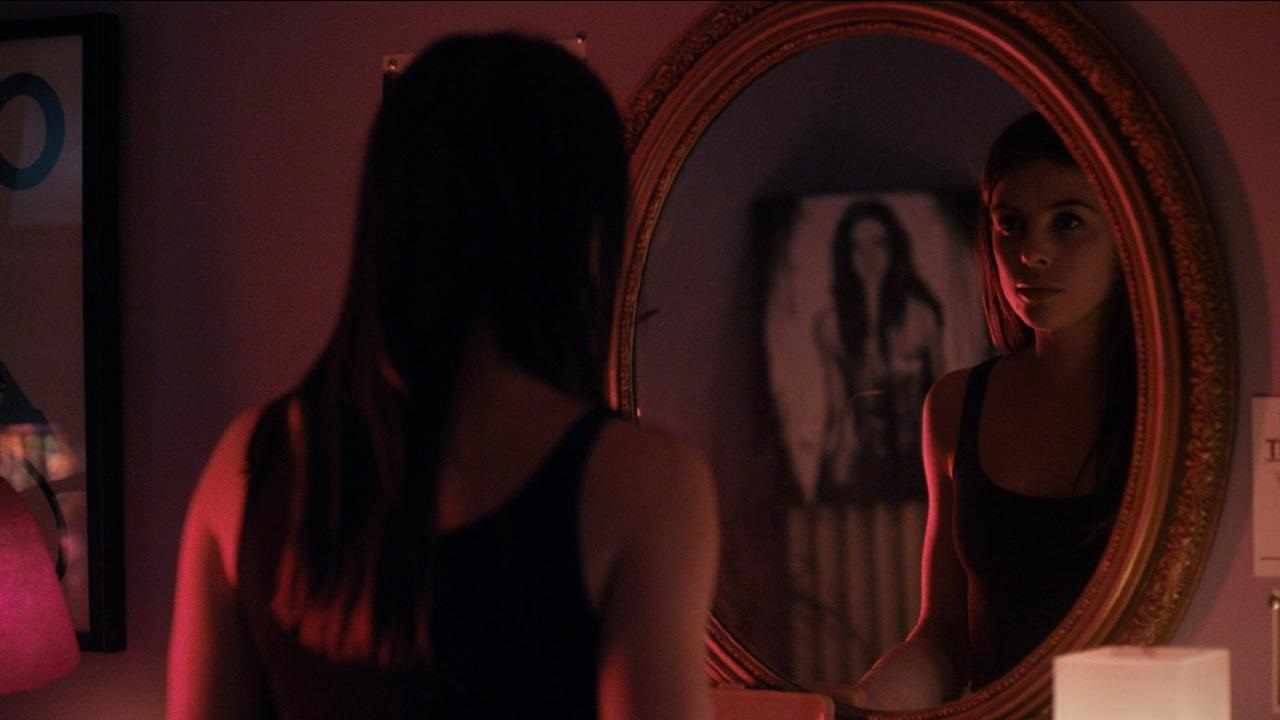 There is also the addition of a prologue in which Helen's prostitute mother (Brooke Henderson) becomes pregnant overnight after being visited by a Mysterious Stranger and stabs herself to death as she gives birth, although this never has any relevancy to what happens subsequently, leaving you wondering just who the Mysterious Stranger was.
A good part of the first half of Let Her Out feels like it coasts by on autopilot. It is another B-budgeted horror film and Cody Calahan trades in regular jumpshocks with a tedium. After taking a long time to get there, Let Her Out finally starts to get interesting during the second half where Alanna LeVierge starts battling her alternate personality and is constantly reacting in horror to find what her other half has done. Cody Calahan gives these scenes a reasonable relentlessness and makes the film come to life in these parts.
There is an undeniably entertaining scene where Adam Christie pursues Alanna LeVierge wanting her and she turns and responds to him with a knife. The film arrives at an undeniably Clive Barker-inspired climax where Alanna LeVierge's inner self tears her skin off to take over the body.
---
---