---
Crew
Director – Robin Pront, Screenplay – Micah Ranum, Producer – Cybill Lui Eppich, Photography – Manu Dacosse, Music – Brooke Blair & Will Blair, Visual Effects – Monsters Aliens Robots Zombies (Supervisor – Tristan Zerafa), Special Effects – FX North, Prosthetics – Applied Arts FX Studio, Production Design – Zosia MacKenzie. Production Company – Anova Pictures/XYZ Films/Madrona Drive/Wildling Pictures.
Cast
Nikolaj Coster Waldau (Rayburn Swanson), Annabelle Wallis (Sheriff Alice Gustafson), Zahn McClannon (Carl Blackhawk), Hero Fiennes Tiffin (Brooks Gustafson), Charlotte Lindsay Marron (Molly Johnson), Shaun Smyth (Dr John Boone), Melanie Scrofano (Debbie), Jason Jazrawy (Deputy Hanson)
---
Plot
In Echo Falls, Minnesota, Rayburn Swanson is a former hunting enthusiast. He has renounced hunting and now manages an animal sanctuary in the memory of his daughter Gwen who mysteriously disappeared. Haunted by the loss, Rayburn has developed an alcohol problem. At the same time, the town's sheriff Alice Gustafson deals with a murdered girl's body. This piques Rayburn's interest, he initially thinking the dead girl might be his daughter's body. On the sanctuary's video feed, Rayburn sees a camouflaged figure pursuing a girl through the woods. He is shot at by the hunter but manages to rescue the girl. Between them, he and Alice pursue the killer who specialises in hunting girls.
---
The Silencing was a US/Canadian production. Despite supposedly taking place in Minnesota, the film was shot in Ontario, Canada. The cast is an odd mix with the supposed Minnesotan natives being represented by Danish actor Nikolaj Coster Waldau and British actors Annabelle Wallis and Hero Fiennes Tiffin (nephew of Ralph Fiennes). The show is overseen by Dutch director Robin Pront, previously known for The Ardennes (2015).
The film seems to set everything up to operate as a Police Procedural. There is a killer loosely based on Robert Hansen, a real-life serial killer of the 1980s who would fly women into the Alaskan wilderness and then hunt them. Nikolaj Coster Waldau has the interesting role of the father who was a former hunting enthusiast who has abandoned doing so following the disappearance of his daughter and now manages a game preserve. There's Annabelle Wallis as the local sheriff with a screw-up brother (Hero Fiennes Tiffin) who has connections to one of the girls and may even be the killer. And there is the locale of a backwater town where policing divisions are caught between the sheriff's department and the local Indian reservation.
The great disappointment of The Silencing is that it sets everything up promisingly and then lets it fall through its fingers. Nikolaj Coster Waldau does an effective job of making his handsome looks ache with anguish. There's a solid and tightly wound plot that must have looked good on paper. However, the film up on screen rarely holds anything that grips you. Even the revelation of the killer's identity comes with a lack of surprise that feels as though you could have guessed who it was by eliminating the most likely suspects and picking the most innocuous seeming member of the cast line-up. Robin Pront directs with a desaturated colour scheme that renders everything a muddy grey.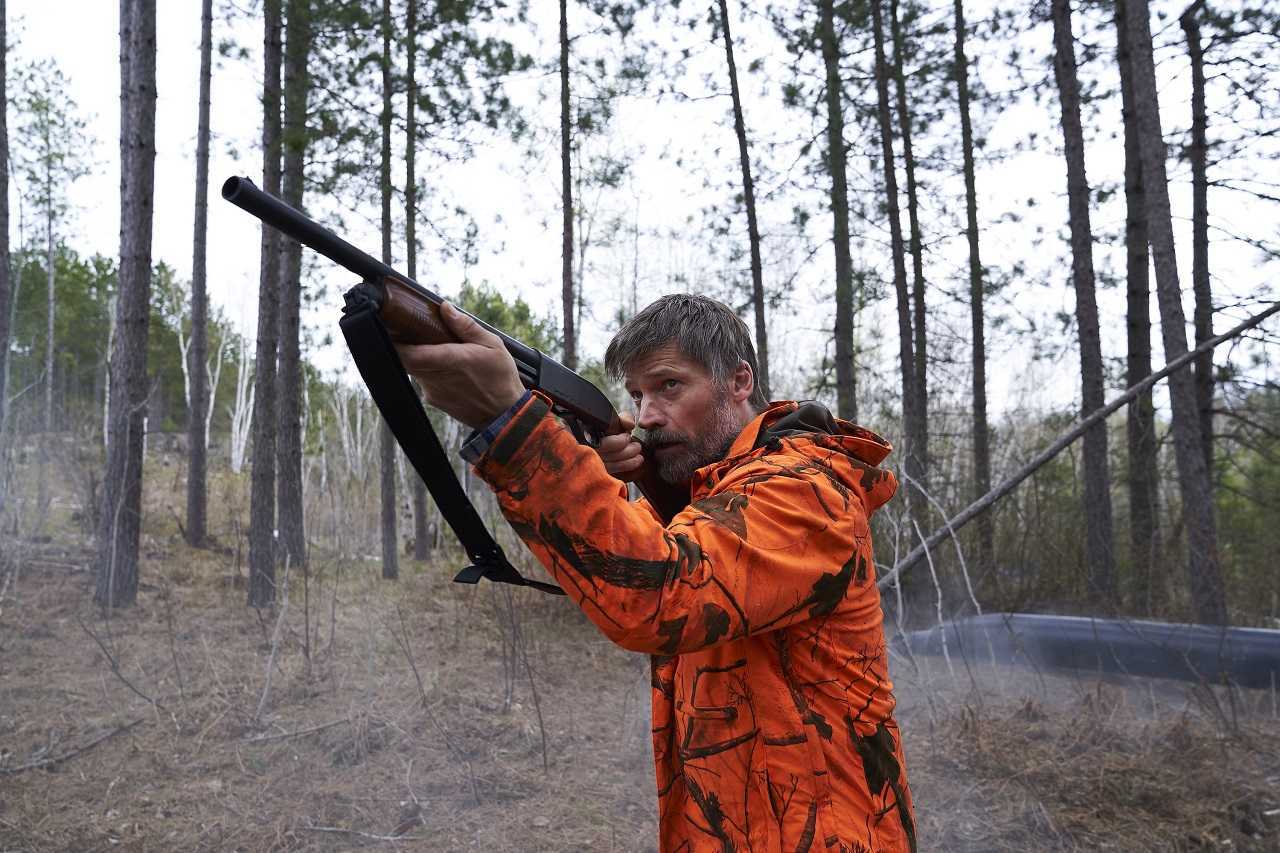 There are moments that The Silencing emerges out of its desaturated blandness. There is some mild tension where Nikolaj Coster Waldau is abruptly shot at by a crossbow and hunted through the woods by the killer. By far, the best sequence in the film is where Nikolaj Coster Waldau comes across hunted girl Charlotte Lindsay Marron in the woods and determines to rescue her, bodily carrying her out and having to shelter in one of his old traps as night comes.
This latter sequence is followed by a kicker twist where Annabelle Wallis [PLOT SPOILERS] suspects that the killer might be her brother and then abruptly turns and shoots Nikolaj in order to protect the brother. The expectation of the story arc of a police procedural plot is that it sets up Nikolaj and Annabelle as opposing personalities with the assumption that they will pair up to defeat the killer. However, this is an effective jolt that spins the expectation on its head. On the other hand, the film never quite runs with it after that point – there are a few scenes where Nikolaj is forced to hide in the Indian reservation as a fugitive and then Annabelle's sheriff simply sees the error of her ways.
---
Trailer here
---