---
Crew
Director – Stephen Scott, Screenplay – Lori Bailey, Erin Berry, Joel Plue & David Pluscauskas, Producer – Mike Carriere, Photography – Mick Reynolds, Music – Trevor MacGregor, Visual Effects Supervisor – Kevin Pitts, Makeup Effects Design/Supervisor – Carlos Henriques, Production Design – Andrew Berry. Production Company – MJC Entertainment.
Cast
Jason Mewes (Thomas Capper), Jordan Prentice (Sheriff Shelby), Marc Hickox (Bobby), Kim Poirier (Sandra), Benz Antoine (Deputy Jimbo), Patrick McKenna (Victor), Anand Rajaram (Kyle), Jai Jai Jones (Winston), William Sadler (Mr Capper), Nicole Arbour (Jackie), R.D. Reid (Ed), Vanessa Burns (Anya), Rebeka Coles-Budrys (Titianna)
---
Plot
Rural Louisiana. Thomas Capper puts a pitchfork through his father's throat after he threatens Thomas's beloved goat Lisa. The rarely speaking Thomas then kills his father's two lesbian Russian mail-order brides, takes the goat and starts driving. He picks up hitchhiker Bobby, a director of EPK films, who is joining the set of the horror film 'Silent But Deadly' that is shooting locally. There Bobby gets Thomas a job as a production assistant. Meanwhile, Sandra is making a documentary about the local dwarf sheriff Shelby as he investigates the murders at the Capper farm. The investigation leads them to the film set. When the craft services cook kills Lisa for a meal, Thomas snaps and starts killing the production crew.
---
Silent But Deadly was a horror comedy made in Canada (even if it is pretending to be set in backwater Louisiana). It was a feature-length debut for director Stephen Scott. Silent But Deadly should not be confused with Silent But Deadly (2012), a US film that came out shortly after about a killer stalking a retirement home. The theme of the horror film set around the shooting of a low-budget horror film was surprisingly prevalent in a number of other low-budget independently-made horror films around the same time – see also Lights Camera Dead (2007), Skeleton Crew (2009), Bleading Lady/Star Vehicle (2010) and Fright Flick (2011).
You know you are in for a certain type of horror film from the opening scenes that manage to throw together Russian lesbian mail-order brides (Vanessa Burns and Rebeka Coles-Budrys) making out in gratuitous detail, Jason Mewes snapping after his beloved goat is threatened and plentiful gore with William Sadler receiving a pitchfork to the throat and the Russian lesbians axes in the head.
You feel as though Silent But Deadly should have been funny. It certainly marshals the elements to do so – a goat-loving non-speaking psycho, gratuitous lesbian sex scenes, an aggressively pompous dwarf sheriff, much in the way of the skewering of the pretensions of the film crew. Instead, the film degenerates into shrill caricatures that only come on a one-note pitch.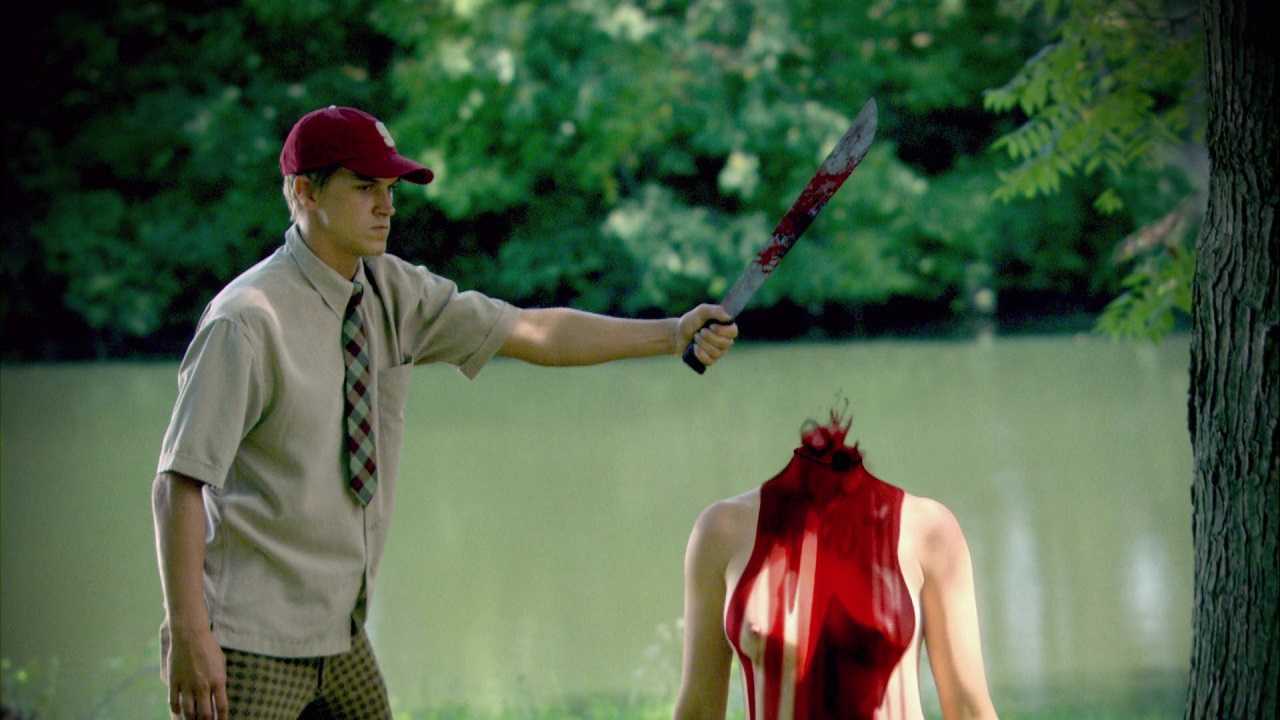 Stephen Scott is clearly aiming for a sarcastic sense of humour but there is rarely anything in the film that hits in as funny. There is the odd line – like where the sheriff (Jordan Prentice) heads into the kitchen tent searching for the slaughtered cook – "There's nothing there," and is told "Look in the pot." Or the director's dying line to the filming cameraman: "Don't let them pan and scan this for television." I was also somewhat amused by a campfire scene with one character making a spirited defence of Moonraker (1979) as the best of all James Bond films. Stephen Scott certainly allows the gore to flow plentifully – there is a nifty effect where Jason Mewes throws a two-handed saw and carves a man in two, even if the effect is spoiled by digital gore – and a fine scene where Benz Antoine is cleaved in two with a scythe.
Aside from William Sadler, the major name the film has on board is that of Jason Mewes, best known as the stoner Jay in Kevin Smith's Jay and Silent Bob films – Clerks. (1994), Mallrats (1995), Chasing Amy (1997), Dogma (1999) and Jay and Silent Bob Strike Back (2001). The principal conceit here has been to in effect cast motormouth Mewes in the Silent Bob role – as a sullen psycho who maybe speaks a total of a dozen words throughout the film. Jordan Prentice certainly gives his part as the dwarf sheriff a determined comic energy.
---
---