---
Crew
Director/Screenplay – Glen Morgan, Based on the 1971 Film Written by Gilbert Ralston, Producers – Glen Morgan & James Wong, Photography – Robert MacLachlan, Music – Shirley Walker, Visual Effects Supervisor – Stuart Robertson, Visual Effects – Centropolis Effects, Special Effects Supervisor – Bob Comer, Animatronics – The Character Shop (Supervisor – Rick Lazzarini), Production Design – Mark Freeborn. Production Company – New Line Cinema/Hard Eight Pictures.
Cast
Crispin Glover (Willard Stiles), R. Lee Ermey (Frank Martin), Laura Elena Harring (Cathryn), Jackie Burroughs (Mrs Stiles), Kimberly Patton (Miss Leech)
---
Plot
Willard Stiles is a shy, socially maladjusted man who lives at home with his crippled mother. Willard works in the office started by his late father, which has been brought out by the ruthless ruthless Frank Martin who constantly degrades and humiliates Willard. Willard's mother complains of rats in the basement. Willard goes to kill the rats off but is instead impressed by the intelligence of one white rat. He befriends the rat and names it Socrates. He begins to train the rats and then uses them to take revenge against Martin for the increasing humiliations he forces on him.
---
Although largely forgotten in horror annals today, the original Willard (1971) was a reasonable hit in its day. Willard was the film that popularised the Nature's Revenge cycle of the 1970s, which included the later likes of Jaws (1975). Willard inspired a sequel Ben (1973) and then this remake.
The remake comes from the directing-writing-producing team of Glen Morgan and James Wong. Morgan and Wong started out writing Penelope Spheeris's The Boys Next Door (1985) and episodes of various Chris Carter series such as The X Files (1993-2002, 2016-8) and Millennium (1996-9), before going onto to create the great tv series Space: Above and Beyond (1995-6). Wong and Morgan then broke out into film, making the likes of Final Destination (2000), The One (2001) and the subsequent Final Destination 3 (2006), the remake of Black Christmas (2006). Willard was their third film, the first in which Morgan rather than Wong took the director's chair. After these, they appeared to part ways with James Wong going on to direct Dragonball: Evolution (2009), produce the tv series' The Event (2010-1), American Horror Story (2011– ), Scream Queens (2015-7) and Next (2020) and to write the tv mini-series remake of Rosemary's Baby (2014) without Morgan, while Glen Morgan on his own subsequently signed on as a producer of tv's Bionic Woman (2007), Tower Prep (2010), The River (2012), Intruders (2014), Lore (2017-8) and The Twilight Zone (2019-20).
Morgan and Wong's scripts for The X Files and Millennium were among some of the very best of either series, while Space: Above and Beyond was a series that ended well before its time. Alas, the intelligence of their tv work is something that Wong and Morgan have never been able to translate to their films, all of which have been flat both in conception and delivery. Willard is an equal disappointment.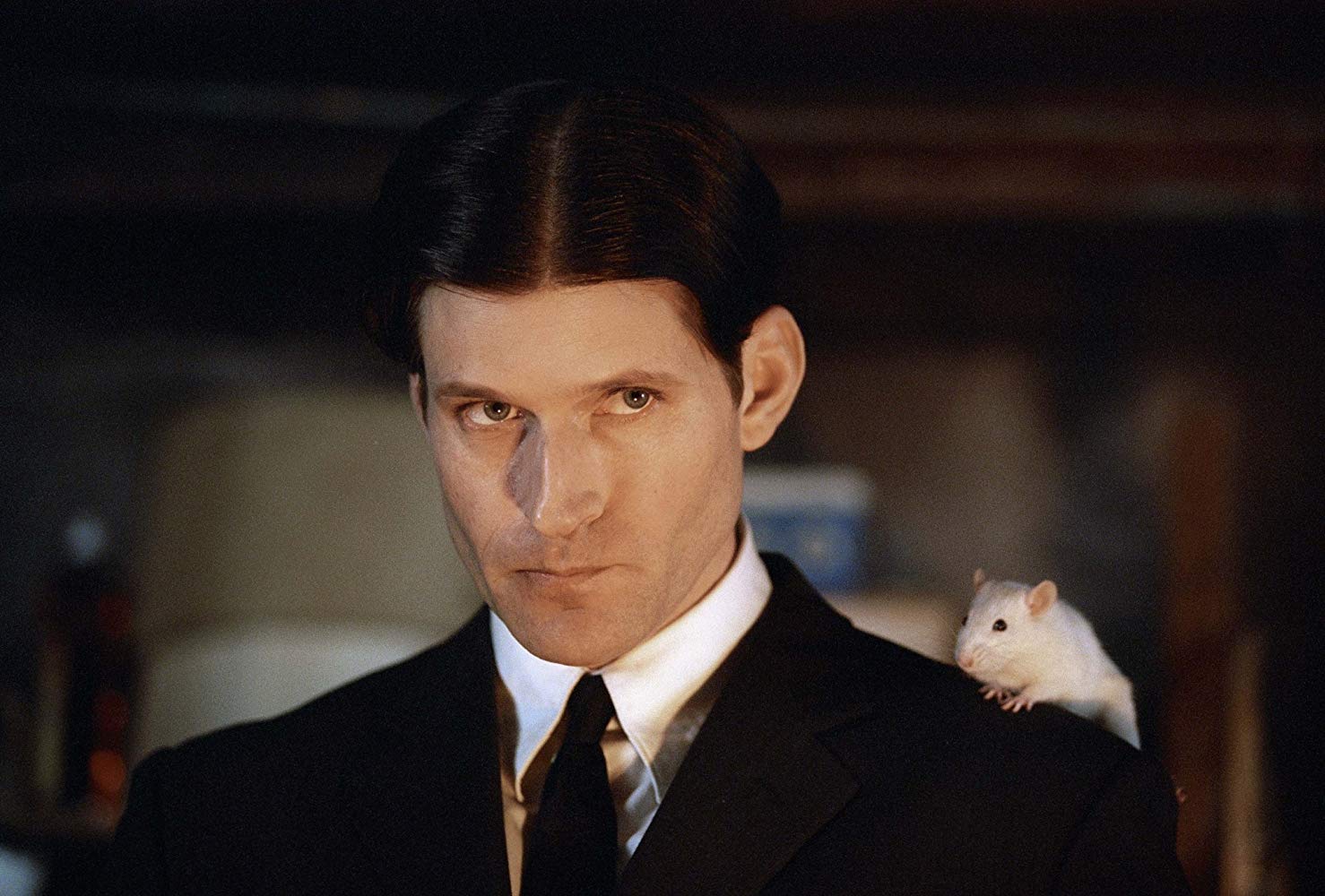 The original Willard worked through the horror of seeing rats on the move and in the conviction engendered by Bruce Davison's performance. However, the film here lacks a basic credibility. For some reason, Wong and Morgan set the remake in a highly stylised modern equivalent of a 1940s film noir milieu – the score is all chopping strings like it had been sampled from an Alfred Hitchcock film, while the house and costumes are like something out of an Old Dark House thriller. Everything is caricatured – from the emotions engendered to the setting and R. Lee Ermey's villainy.
Most caricatured of all is Crispin Glover's performance as Willard. Crispin Glover is all bony, angular physique and intensely introverted and withdrawn body language. Indeed, Glover looks like he had not changed either in performance or clothing from his bad guy role in Charlie's Angels (2000). It is a performance that comes across as creepy and lacks any of the boyishly warm charisma that Bruce Davison brought to the part in his outing. It is also a performance that lacks the innocence of Davison's – Morgan and Wong seem to have little sympathy for Willard and Crispin Glover plays the part much nastier than Bruce Davison ever did. The scenes where Willard loses it in fits of histrionics contain some ludicrously over-the-top acting upon Glover's part.
Wong and Morgan also have a tendency to be cutely self-referential in their films. In this version, we see several pictures of Willard's late father – which turn out to be photos of a now middle-aged Bruce Davison; when the rats pursue the cat, it inadvertently lands on a remote and turns on the Easy Listening tv channel, which is playing the Michael Jackson theme song from Ben; the cat itself is named Scully in an obvious reference to The X Files; and there is an asylum fadeout that has been directly copied from Psycho (1960). There are numerous ratty references – Three Blind Mice plays on the soundtrack; R. Lee Ermey has a speech referring to the rat race: "Business is a rat race. I will not allow myself to be devoured by all those other rats because of you;" and the inevitable visual pun where a computer mouse is replaced by a real mouse. It is cute and vaguely amusing but it is also makes for a film that tip its audience off that it is a remake in a very self-aware way, such that you never suspend your disbelief to absorb oneself in the drama. One wishes Morgan and Wong would go back and recapture some of the conceptual joy and standout characterisation that marked their tv work.
---
---