---
Crew
Director – David Carson, Teleplay – Bryan Fuller, Based on the Novel by Stephen King, Photography – Victor Goss, Music – Laura Karpman, Digital Visual Effects – Stargate Visual Vancouver (Supervisor – Eric Grenaudier & Sam Nicholson), Special Effects Supervisor – Randy Shymkiw, Production Design – Stephen Geaghan. Production Company – Trilogy/MGM.
Cast
Angela Bettis (Carrie White), Kandyse McClure (Sue Snell), Patricia Clarkson (Margaret White), Emilie de Ravin (Chris Hargensen), Rena Sofer (Rita Desjardins), Tobias Mehler (Tommy Ross), David Keith (Detective John Mulcahey), Jesse Cadotte (Billy Nolan), Meghan Black (Norma Watson), Laurie Murdoch (Principal Morton), Katharine Isabelle (Tina Blake), Malcolm Scott (Jackie Talbot), Chelan Simmons (Helen Shyres), Michael Kopsa (John Hargensen), Bill Dow (Mr Scharnhorst)
---
Plot
Detective John Mulcahey questions Sue Snell and others over what happened at Ewen High School in the town of Chamberlain. All the other kids at school regarded seventeen year-old Carrie White as weird by because of her staunchly religious upbringing. While in the gymnasium shower, Carrie started to have her first menstrual period and was so innocent in matters of sexuality that she thought she was bleeding to death. PE teacher Rita Desjardins found the other girls cruelly taunting Carrie and punished them. Deciding to make it up to Carrie, Sue asked her boyfriend Tommy Ross to invite Carrie to the school prom. At first unsure whether this was another prank, Carrie defied her mother to accept the invitation. After being banned from the prom for defying Ms Desjardins, bitchy Chris Hargensen plotted revenge by rigging the ballot to have Carrie and Tommy elected the king and queen of the prom and then dumping a bucket of pig's blood over Carrie's head as she was crowned. However, all of them reckoned without Carrie's vast psychokinetic powers. Tired of the constant humiliations, she stood up and wielded her powers to turn the prom into a conflagration.
---
This is a tv mini-series remake of the Stephen King novel Carrie (1974). Carrie had of course been adapted to screen before as Brian De Palma's Carrie (1976) with Sissy Spacek in the title role. Carrie – which was in fact the first Stephen King novel ever adapted to the screen – was a classic. It was copied by a number of other films and both Sissy Spacek and Piper Laurie were nominated for Academy Awards for their performances. The original was such a classic that it could still be sequelised 23 years later as The Rage: Carrie 2 (1999), before yet another remake with the heavily disappointing theatrically released Carrie (2013).
Here Carrie joins a spate of Stephen King works that have been adapted as tv mini-series – a medium that seems better suited to King's doorstopper-sized tomes than feature-film length. Television has also seen adaptations of King books like Salem's Lot (1979), It (1990), The Tommyknockers (1993), The Stand (1994), The Langoliers (1995), The Shining (1997), Firestarter Rekindled (2002), 'Salem's Lot (2004), Desperation (2006), Bag of Bones (2011) and original King-penned works like Golden Years (1991), Storm of the Century (1999) and Rose Red (2002), not to mention entire tv series like The Dead Zone (2001-2) and Kingdom Hospital (2004).
One cringed at seeing the names of Pen Densham and John Watson come up, listed as Executive Producers. Densham and Watson have produced a number of genre tv and several film outings that have tended to be worse more than they have been worthwhile. Look at the likes of the horror film The Kiss (1988), the Kevin Costner Robin Hood, Prince of Thieves (1991), Upworld/A Gnome Named Gnorm (1991) and the tv revivals of The Outer Limits (1995-2001) and The Twilight Zone (2002-3). On the plus side, Carrie is written by Bryan Fuller, a self-confessed Star Trek nerd who launched his career when he sold a script to Star Trek: Deep Space (1992-9) during its open pitch call and later became a producer and script editor on Deep Space Nine and Star Trek: Voyager (1995-2001). In recent years, Fuller has created several quirky and cultish, albeit short-lived, genre shows such as Dead Like Me (2003-4), Wonderfalls (2004) and Pushing Daisies (2007-9) and served as an executive producer on Heroes (2006-10), before creating/producing the tv series Hannibal (2013-5), American Gods (2017-21) and Star Trek: Discovery (2017– ).
The question you have to ask is what purpose a modern remake of Carrie – and for tv, no less – serves. The material in the original, which includes scenes containing menstruation, religious repression and abuse, nasty revenge schemes involving the slaughter of a pig and the dumping of its blood on someone, not to mention the climax of the story that has the heroine taking revenge and burning dozens of people, is not exactly the stuff of tame tv movies and certainly deserves the R-rated release that the 1976 film enjoyed, not the PG-rating of a tv mini-series, for an adequate treatment.
The main problem that a remake of Carrie is also stuck with is that the 1976 version was such a classic that any remake suffers from comparison to the original. For one, the original was so perfectly cast that it is hard to imagine anyone else inhabiting the roles. Even though the character descriptions that Stephen King gave in the book differ considerably from the actors cast in the roles in the film, it is difficult to imagine anyone other than Sissy Spacek, Piper Laurie, Nancy Allen or John Travolta in the respective roles when you read the book.
Despite this casting problem, the new actors here do variably well. Angela Bettis does the super-shy butterfly transformation thing reasonably convincingly. The biggest disappointment is the relatively nondescript performance given by Patricia Clarkson as Carrie's mother. For some reason, the religious element and craziness of Mrs White has been played down here. Though Patricia Clarkson is an actress that has gained a fine indie reputation in recent years and several award nominations, nothing in her performance approaches anything of Piper Laurie's genuine madness in the original. The one who does particularly well is Emilie de Ravin, later a regular face on tv's Lost (2004-10). De Ravin gets into the part with considerable relish and gives Nancy Allen a run for her money. Rena Sofer makes for a strong Rita Desjardins, although Jesse Cardotte and Tobias Mehler as Billy Nolan and Tommy Ross respectively give passable performance, but never imbue the mini-series with much that is memorable.
This Carrie has also been updated to the modern era. There is not much difference between the two stories but the one thing that you cannot help but feel is that the modern generation of teens has become a whole lot more knowing – case in point being a discussion here about the appropriate terminology for different styles of pubic shaving. Although, this is actually something that works in the mini-series' favour, against which the idea of a religiously repressed and ultra-shy Carrie seems even more of a contrast.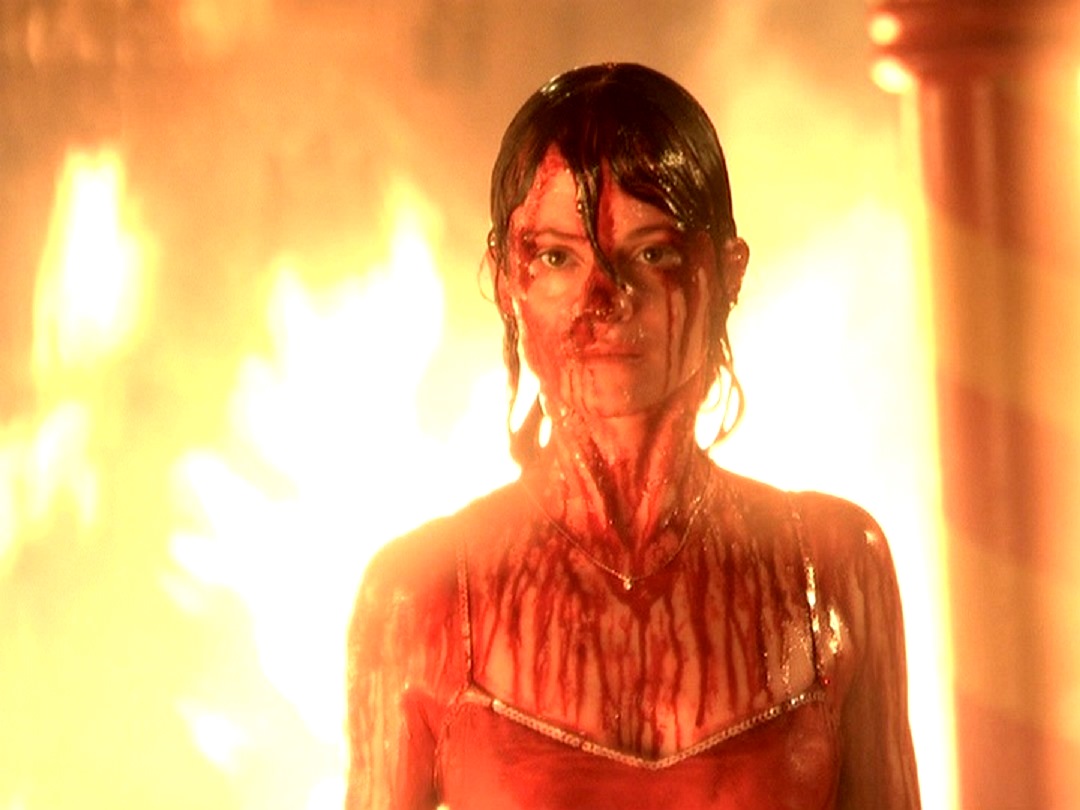 The partial problem with Carrie as a mini-series was that the novel, being Stephen King's first, was one of his shortest and come nowhere near the 700-1000+ page length that most of his subsequent works do. Thus, Carrie is much better suited to feature-film length and has to be padded somewhat to fill the more expansive canvas of a mini-series. Nevertheless, Bryan Fuller turns out several nicely written passages, particularly when he gets the opportunity to open up the basics and create a number of scenes of his own. He does a fine job of exploring and strengthening the motivations of both Chris Hargensen and Sue Snell over their various responses to Carrie and the prom – in fact, does so much stronger than Stephen King did in the novel. There is a fine scene between the principal and Chris Hargensen's lawyer father (Michael Kopsa) who is threatening action over Chris's dismissal from the prom. There is a witty little speech where Meghan Black outlines the strata of cool that the school exists on – from the 'ultras' to the difference between nerds and geeks and how beneath all of them lies Carrie. There is also a nicely subtle scene where Chris plays with Carrie's head subsequent to Tommy asking her out.
The main problem with Carrie 2002 is that Brian De Palma has been replaced by David Carson. Brian De Palma transformed the Stephen King book with a series of flamboyant directorial stylistics that were completely dazzling. However, David Carson is a tv director, probably best known for his work on the various incarnations of the modern Star Trek and the first Star Trek: The Next Generation theatrical outing Star Trek: Generations (1994). Carson restages a number of scenes from Carrie 1976 – the scene in the principal's office where he keeps calling Carrie Cassie and her powers erupt, the subsequent scene where a boy on a bicycle taunts her and is thrown off. The mini-series also restores a number of elements from the novel – the scene (which was originally filmed for the 1976 film but cut) where the young Carrie comes across a neighbour sunbathing topless and calls down a rain of meteorites after her mother punishes her. Bryan Fuller does approximate the documentary-like style of the book, which was told via a series of reports, interviews and investigations, by creating a framing device where a detective (David Keith) is interviewing several of the participants about what happened.
While Brian De Palma put everything he had visually into his Carrie, David Carson seems to approach the story as just another tv assignment and churns it out with a nondescript lack of artistry or style. The one scene that shows up the difference between Brian De Palma and David Carson is the prom climax. David Carson has almost entirely replicated every incident that occurs in the original – even down to Tommy being hit on the head by the falling bucket – sometimes even shot for shot. This version has a slightly more elaborate display of psychic powers with tables and chairs flying around and Carrie sweeping a corona of water away from her feet to stop herself being electrocuted. For all that, this version's climax is a bland scene and lacks anything of the virtuoso directorial triumph that Brian De Palma turned it into. Certainly, David Carson does stage a more elaborate aftermath to the prom scene, following the book in having Carrie walk through the town, blowing it up, and a more effects-elaborate scene where she psychically causes Chris Hargensen and Billy Nolan's vehicle to wrap itself around a power pole.
David Carson is also too liberal when it comes to showing Carrie's powers. He includes numerous scenes of her levitating hairbrushes, all the objects in the living room, shoving her mother out the door or throwing furniture out windows, which tends to overdo the effect. Brian De Palma, if anything, went other way and underplayed the psychic powers but David Carson never seems to know when too much kills the magic. The other minor difference is that Angela Bettis's Carrie seems much more knowing about what her powers are and how to use them. Sissy Spacek's Carrie seemed like an innocent in the use of her powers – when they emerged, they were like the primal anguish of an underdog suddenly given expression; while here, Angela Bettis's Carrie seems almost premeditated in her actions.
Perhaps the most notable change of the entire mini-series is the ending. [PLOT SPOILERS]. Unlike Stephen King and Brian De Palma's respective versions, the mini-series does not kill Carrie off but allows her to live and has Sue Snell secretly drive her off to Florida so that she can set up anew in secrecy. This was purportedly inserted for the purpose of kicking off a Carrie tv series, as had just happened with the Stephen King novel The Dead Zone. However, the poor ratings reception of the mini-series put paid to this idea. One cannot say they were exactly downcast about this as the idea of Carrie as a weekly tv series seems lame – you cannot help but imagine something like tv's The Incredible Hulk (1977-81) with Angela Bettis wandering from situation to situation trying to do good and every week erupting into a psychic conflagration when something made her angry. The ending does allow David Carson to restage Brian De Palma's famous last scene of the graveside dream jump – albeit quite differently. Here it is both Carrie and Sue that visit Carrie's grave, not just Sue, and rather than a hand jump up out of the grave it is the dead Patricia Clarkson reaching out to grab a dreaming Angela Bettis's shoulder and say "Sin never dies." Needless to say, it lacks the effectiveness that the original scene had.
Other Stephen King genre adaptations include:- Carrie (1976), Salem's Lot (1979), The Shining (1980), Christine (1983), Cujo (1983), The Dead Zone (1983), Children of the Corn (1984), Firestarter (1984), Cat's Eye (1985), Silver Bullet (1985), The Running Man (1987), Pet Sematary (1989), Graveyard Shift (1990), It (tv mini-series, 1990), Misery (1990), a segment of Tales from the Darkside: The Movie (1990), Sometimes They Come Back (1991), The Lawnmower Man (1992), The Dark Half (1993), Needful Things (1993), The Tommyknockers (tv mini-series, 1993), The Stand (tv mini-series, 1994), The Langoliers (tv mini-series, 1995), The Mangler (1995), Thinner (1996), The Night Flier (1997), Quicksilver Highway (1997), The Shining (tv mini-series, 1997), Trucks (1997), Apt Pupil (1998), The Green Mile (1999), The Dead Zone (tv series, 2001-2), Hearts in Atlantis (2001), Dreamcatcher (2003), Riding the Bullet (2004), 'Salem's Lot (tv mini-series, 2004), Secret Window (2004), Desperation (tv mini-series, 2006), Nightmares & Dreamscapes: From the Stories of Stephen King (tv mini-series, 2006), 1408 (2007), The Mist (2007), Children of the Corn (2009), Everything's Eventual (2009), the tv series Haven (2010-5), Bag of Bones (tv mini-series, 2011), Carrie (2013), Under the Dome (tv series, 2013-5), Big Driver (2014), A Good Marriage (2014), Mercy (2014), Cell (2016), 11.22.63 (tv mini-series, 2016), The Dark Tower (2017), Gerald's Game (2017), It (2017), The Mist (tv series, 2017), Mr. Mercedes (tv series, 2017-9), 1922 (2017), Castle Rock (tv series, 2018-9), Doctor Sleep (2019), In the Tall Grass (2019), Pet Sematary (2019), The Outsider (tv series, 2020), The Stand (tv mini-series, 2020-1), Chapelwaite (tv series, 2021- ), Lisey's Story (tv mini-series, 2021), Firestarter (2022), Mr Harrigan's Phone (2022) and The Boogeyman (2023). Stephen King had also written a number of original screen works with Creepshow (1982), Golden Years (tv mini-series, 1991), Sleepwalkers (1992), Storm of the Century (tv mini-series, 1999), Rose Red (tv mini-series, 2002) and the tv series Kingdom Hospital (2004), as well as adapted his own works with the screenplays for Cat's Eye, Silver Bullet, Pet Sematary, The Stand, The Shining, Desperation, Children of the Corn 2009, A Good Marriage, Cell and Lisey's Story. King also directed one film with Maximum Overdrive (1986).
---
---