---
USA. 1976.
Crew
Director/Producer – Matt Cimber, Screenplay – Robert Thom, Photography – Ken Gibb, Music – Herschel Burke Gilbert, Makeup – Gale Peterson. Production Company – Tease Inc.
Cast
Millie Perkins (Molly), Lonny Chapman (Long John), Vanessa Brown (Cathy Strickland), Peggy Feury (Doris), Stafford Morgan (Alexander McPeak), Rick Jason (Billy Batt), Jean Pierre Camps (Todd Strickland), Mark Livingston (Tripoli Strickland), Richard Kennedy (Detective Beardsley), George 'Buck' Flower (Detective Stone), Gene Rutherford (Sam Walters), Jim Sims (Austin Slade), John Goff (Molly's Father), Verkina (Young Molly), Stan Ross (Jack Dracula), Roberta Collins (Clarissa Jenks)
---
Plot
Molly works as a cocktail waitress in a Santa Monica bar and also helps out nannying her unemployed sister's two boys. However, Molly has another whole life. She invites two star football players to a hotel room for an orgy and contrives to tie them both to the bed and slices them up with a safety razor. She is troubled by childhood memories of sexual abuse at the hands of her late father, a sea captain. She is also obsessed with and has fantasies about the men she sees on the tv screen. When she meets Alexander McPeak, the star of a shaving commercial, she takes up with and then becomes obsessed with 'shaving' him.
---
Matt Cimber is a director who has developed a minor cult reputation. Cimber first emerged in the late 1950s, directing Single Room Furnished (1968) for his girlfriend Jayne Mansfield (in her last role). He then went onto make the likes of Man and Wife (1969), He and She (1970) and The Sensuous Female (1970), all of which were low-budgeted and charted (for the time) quite risqué sexual barriers. Cimber then discovered Blaxploitation cinema and made the likes of The Black Six (1974), the satiric The Candy Tangerine Man (1975) and Lady Cocoa (1975). Although it was after this period that Cimber's reputation began to grow with the likes of the acclaimed Pia Zadora erotic classic Butterfly (1982), the sword-and-sorcery spoof Hundra (1983) and the spaghetti Western parody Yellow Hair and the Fortress of Gold (1984). The Witch Who Came from the Sea, which has been a difficult film to find for many years, remains the cultiest entry in Cimber's oeuvre. Cimber is still directing and putting out films well into the 2010s while in his seventies.
The Witch Who Came from the Sea is a film that leaves one flabbergasted by the sheer boldness of what it is that Cimber and writer Robert Thom are doing, in their challenge of taboo areas and willingness to experiment with entirely unconventional narrative. Perhaps the nearest analogy one might make is to Roman Polanski's Repulsion (1965), which subjectively took place inside a woman's fraying sanity. Although The Witch Who Came from the Sea is not quite as out there as Repulsion, it has the same sense of placing one inside the disturbed mind of a woman and seeing the surreal disjunctions that she is making and leaving us to draw our own conclusions about her psychological motivation. The other film that it reminds of somewhat in terms of its alienating sense of mood is the cult classic Carnival of Souls (1962).
That said though, The Witch Who Came from the Sea is an original film that exists entirely in a category of its own. It seems to be a psycho film but one that takes place on the peculiar level of Freudian dream symbolism. Cimber and Thom make all sorts of allusions and connections – a swim of imagery in regard to the sea, mermaids, tattoos and Millie Perkins's sea captain father; a peculiar obsession with television stars, between shaving commercials and throats slit with a razor; and some erudite symbolism involving a mural of Botticelli's Birth of Venus and even Hans Christian Andersen's The Little Mermaid (1837) involving sex, incest and the severed tail of the mermaid and her pain at being able to walk on land. The entire film feels like this mandala of word associations that takes place on a subconscious symbolic rather than a narrative level, and as such proves fascinating.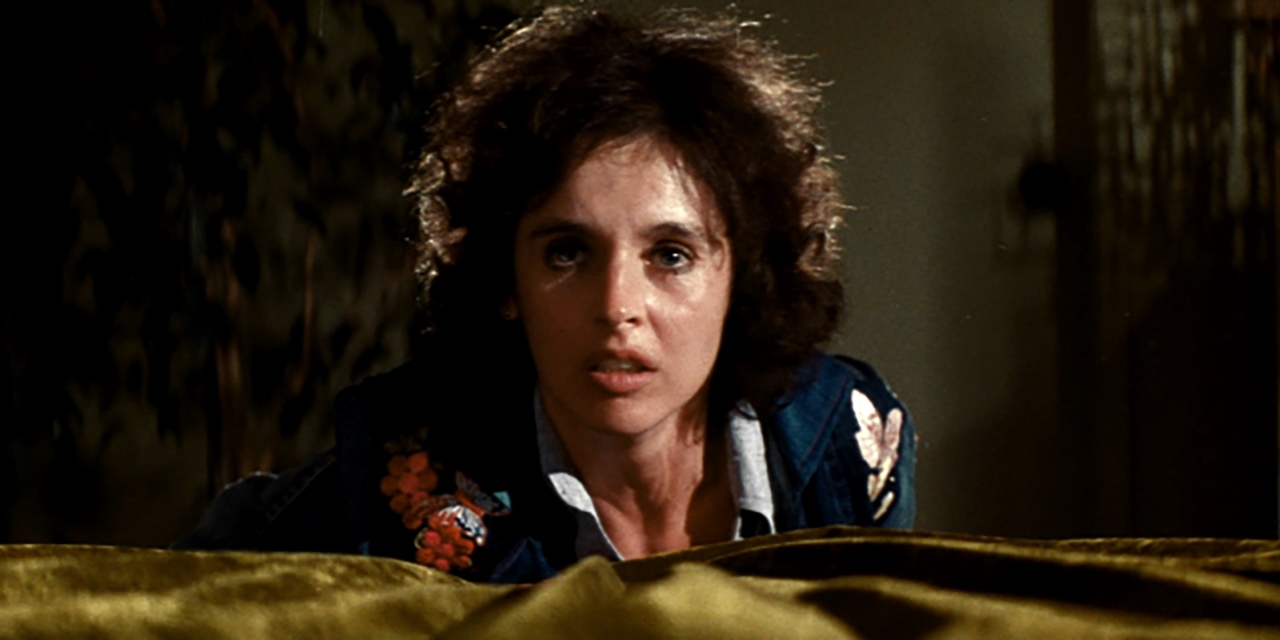 Cimber directs in a way that seems to hover in an ambiguous place between dream, Polanski-esque subjective surrealism and shock horror. This is most effectively demonstrated by the beginning of the film, where we are introduced to Millie walking her two nephews on the beach and lecturing them about proper English, which is contrasted with flash fantasies away to seeing the muscle-builders in the background on the beach hung and gutted on their own equipment. This is followed by a scene back at her sister's place where the two are bickering about various things and Cimber then abruptly throws us into the midst a sequence where we see Millie engaged in an orgy with the two footballers, smoking a bong pipe, contriving to tie them both to the bed and then producing a safety razor and setting to slicing them up. It is a genuinely shocking scene, all the more so for Cimber's contrast of the calm, nice girl Millie we first see and the abrupt introduction of such a jolting element. Moreover, Cimber directs the scenes with the footballers in a tripped-out hallucinatory way where we have no idea what we are watching – whether it is fantasy, flashback or quite what. The whole film swims in this fascinating daze where we are not sure where it is going to go from one minute to the next.
In the central role is Millie Perkins, who first came to attention as the title character in The Diary of Anne Frank (1959). Perkins expectedly gives a very good performance and conveys an absolute conviction in the complexities of the part. Of course the interesting fact about the film is that the screenwriter, the late Robert Thom, was her husband. Thom is best known for a handful of bizarre screenplays, which include the satiric sf films Wild in the Streets (1968) and Death Race 2000 (1975), as well as Robert Aldrich's very strange The Legend of Lylah Clare (1969). In the DVD featurette, Perkins tells about how Thom wrote the part for her, basing many elements – the childhood abuse and the father hiding in the closet – on his own life, while incorporating elements from hers – the fact that her father was a sea captain.
Matt Cimber manages to get other excellent performances from the rest of his cast, especially Lonny Chapman and Vanessa Brown, who manages to convey a nervous energy beneath everything she says. The one other name to emerge out of the film was Dean Cundey, who went on to become cinematographer for John Carpenter, most notably with Halloween (1978) and other big-budget features such as Back to the Future (1985), Who Framed Roger Rabbit? (1988) and Jurassic Park (1993). Perhaps though, one feels that Cundey's role on the film has been subsequently over-emphasised – he is for example only listed as 'Associate Director of Photography' on the credits – while the dvd tends to give the impression that he was the principal cinematographer.
---
Trailer here
---