---
Crew
Director/Screenplay – Rose Glass, Producers – Andrea Cornwell & Oliver Kassman, Photography – Ben Fordesman, Music – Adam Janota Bzowski, Visual Effects Supervisor – Gary Brown, Visual Effects – Technicolor, Special Effects Supervisor – Scott MacIntyre, Prosthetic Makeup – KM Effects (Designer – Kristyan Mallet), Production Design – Paulina Rzeszowska. Production Company – Escape Plan.
Cast
Morfydd Clark (Maud), Jennifer Ehle (Amanda Köhl), Lily Frazer (Carol), Lily Knight (Joy), Rosie Sansom (Esther), Turlough Convery (Christian)
---
Plot
In a small seaside town in rural England, Maud takes a job as a home care nurse for Amanda Köhl, a former star dancer who is now dying of cancer. Maud has recently undergone a religious conversion. The two have discussions about religion and Maud believes she can save Amanda's soul. Maud intervenes to tell Amanda's girlfriend Carol that she should leave her alone. Amanda then mocks Maud's religious beliefs during a party, causing Maud to slap her. Maud is dismissed from the job. On her own, Maud's loneliness and religious obsessions descend into a dark place and possible hallucinations as she seeks answers from God about what to do.
---
Saint Maud was a directorial debut for British director Rose Glass who had previously made a series of short films throughout the 2010s. After premiering at Sundance in 2019, the film played several film festivals where it received a good deal of word of mouth acclaim and several awards.
I made a point of deliberately not reading too much about Saint Maud before watching – the best way to watch a film and preserves its surprises as something fresh, I usually find. This led to some initial confusions when it came to eventually sitting down to watch the film. For almost the first hour, we are absorbed in the business of Morfydd Clark tending the ailing Jennifer Ehle and Morfydd's increasing concern for saving Jennifer's soul. This seemed like a regular indie drama and I kept wondering what there was in this that could be considered a horror film.
The true horror of the film begins as Morfydd is dismissed from the job and starts to descend into obsession. This include a preoccupation with the artwork of William Blake. Blake was a 18th/19th century English poet and artist whose religious visions has inspired a cultish fascination – his work also turns up as inspiration for the serial killer Francis Dolarhyde in Manhunter (1986), Red Dragon (2002) and tv's Hannibal (2013-5).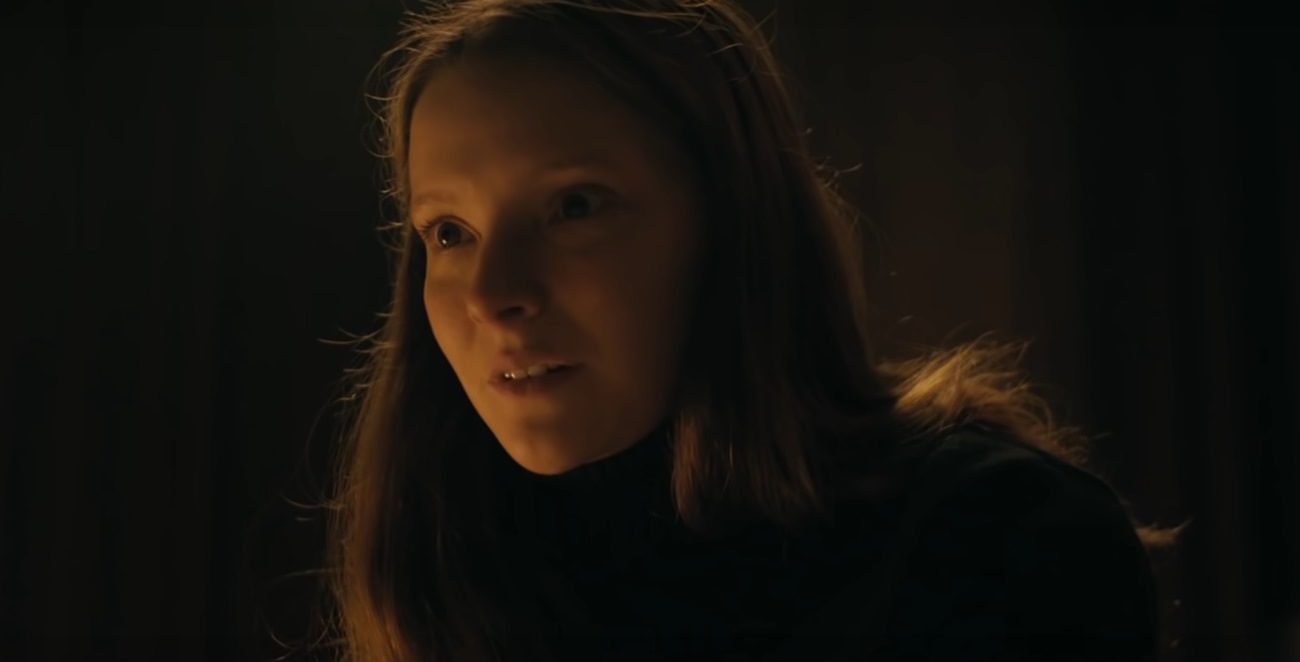 In one extraordinary vision, a distraught Morfydd prays for divine guidance and we see her being lifted up off the floor of her apartment and levitated in mid-air. At later points, we see her manifesting a set of glowing angel's wings. The most vivid scene is the one where Morfydd goes to confront Jennifer Ehle who turns and taunts the weakness of her faith, seemingly driven by demonic agency. Although equally, we also cannot be if all of these are not subjective hallucinations.
It becomes apparent throughout this we are watching a film about Disturbed Psychology. Morfydd Clark is a descendent of the likes of Catherine Deneuve in Repulsion (1965), Max Von Sydow in Hour of the Wolf (1968), Isabelle Carré in Anna M. (2007) and Haley Bennett in Swallow (2019). All of these are works where the respective directors follow the path of an individual's descent into psychological disintegration, although perhaps the work this most closely resembles is In the Trap (2019), which came out only about a month later, with its extraordinary twist ending. The film's final vision tying into the William Blake motifs is particularly bleak.
I had seen Morfydd (it's a Welsh name and is pronounced Mor-fith) Clark in a variety of other genre works – The Man Who Invented Christmas (2017), The City & The City (2018), Crawl (2019), Dracula (2020) – without making much distinction. However, her performance here – one that comes with a fragile delicacy that seems afraid to talk to a mouse – marks her as someone with a promising future. Jennifer Ehle has a long career on film and tv and gives a seasoned performance as the dying patient.
---