---
Crew
Director – Duncan Skiles, Screenplay – Christopher Ford, Producers – Christopher Ford, Andrew Kortschak, Walter Kortschak, Cody Ryder & Duncan Skiles, Photography – Luke McCourbey, Music – Matt Veligdan, Visual Effects – Graham Holly, Production Design – Latisha Duarte. Production Company – End Cue Productions.
Cast
Dylan McDermott (Don Burnside), Charlie Plummer (Tyler Burnside), Madisen Beaty (Kassi), Samantha Mathis (Cindy Burnside), Lance Chantiles-Wertz (Billy), Brenda Sherman (Susie Burnside), Emma Jones (Amy), Mark Nash (Uncle Rudy), Kat Perez (Friendly Woman), Jonathan Riggs (Pastor Randy)
---
Plot
Tyler Burnside is a teenager living in a town that is plagued by a serial killer who has been nicknamed The Clovehitch Killer (due to the type of knots he uses to bind his victims). Tyler steals his father Don's truck to sneak off and make out with Amy. However, she is put off when she discovers a pornographic picture of a bound woman beneath the seat. Even though Tyler insists the picture is not his, rumours spread around the school. Tyler sneaks into his father's locked garden shed and finds a hidden compartment containing pornographic pictures of bound women and women's driver's licences. Tyler approaches Kassi, a weird girl at school who is obsessed with The Clovehitch Killer, and asks for information. She shows him police files her grandmother has obtained. As the two start investigating Tyler's father, Don becomes aware that Tyler has found his hidey-hole but insists the material is not his.
---
The Clovehitch Killer was the second film for Duncan Skiles who had previously made The Last of the Great Romantics (2014). Screenwriter Christopher Ford has been a regular writer for Jon Watts since his early short film Clown (2010), writing the scripts for Watts' full-length expansion of Clown (2014), Cop Car (2015), Spider-Man: Homecoming (2017) and Chaos Walking (2021). Outside of that, Ford had also previously written Robot & Frank (2012).
The Clovehitch Killer is based on the B.T.K Killer. Somewhat. There are a number of strong similarities – both the B.T.K. Dennis Rader and Dylan McDermott here broke in to victim's houses and bound and killed them; both kept driver's licences as souvenirs; both were Cub Scout masters; both were regular family men who attended church. In a series of scenes taken directly from the B.T.K. story, we see Dylan McDermott dressing in woman's clothing and a female mask and taking photographs of himself bound (which Rader would later use to masturbate to later). But there are also a number of dissimilarities – Dylan McDermott is friendly and outgoing, shown as maintaining the guise of a decent family man, whereas Dennis Rader was described as a petty martinet. Also the ending of both killer's stories is very different.
The plot of The Clovehitch Killer falls in the same vein as films like The Hawk (1993) and the Stephen King adaptation A Good Marriage (2014), both of which centre around a wife who suspects that her husband might be a serial killer and sit in a place of uncertainty as we follow her doubts. The difference here is that it is a teenage son who believes his father might be a serial killer otherwise all three works follow similar story arcs. The film that The Clovehitch Killer (and these others) owes the most to though is surely Alfred Hitchcock's Shadow of a Doubt (1943) in which a teenage girl believes her uncle might be a serial killer.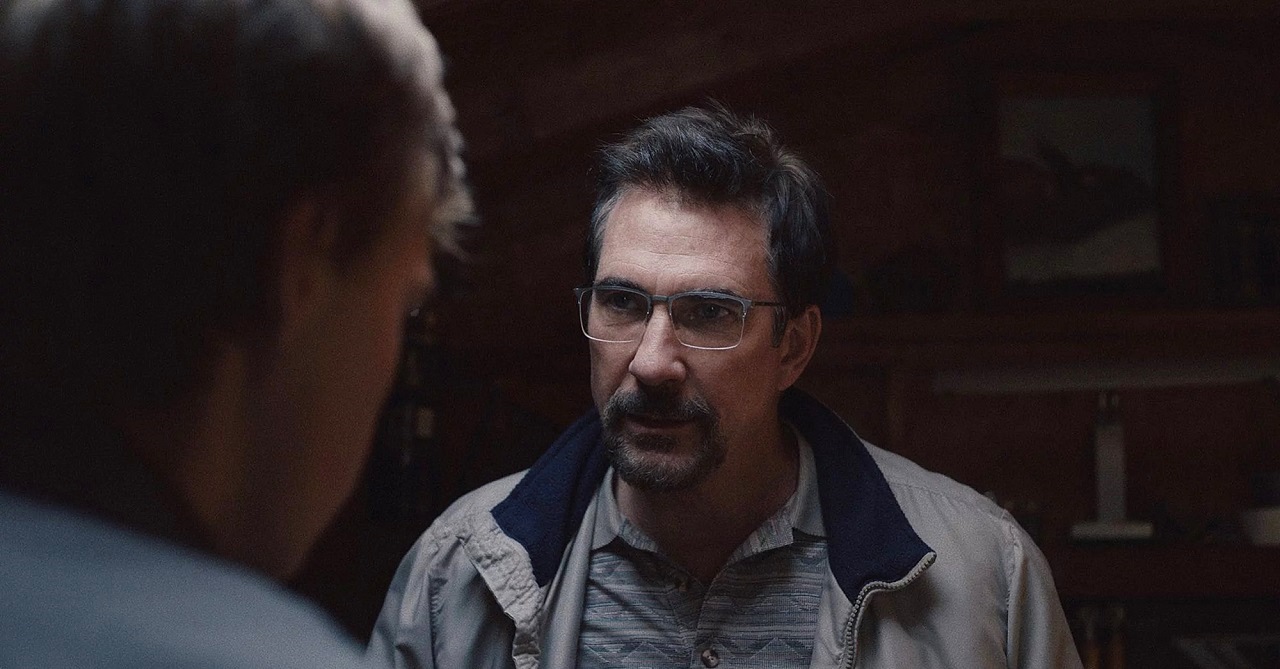 The Clovehitch Killer also chooses to set everything against the backdrop of Bible Belt America. It is seen as a sexually repressive place beneath which Dylan McDermott is tormented and struggling with sexual urges, while his son Charlie Plummer inadvertently becomes the subject of gossip and rumour after the picture of a bound woman is found in the car. Even the most morally judgmental character (Lance Chantiles-Wertz as Charlie Plummer's best friend) is accused of being in the closet.
Dylan McDermott is an actor who emerged from a solid career in the 1990s in in particular the tv series The Practice (1997-2004). Into the 2010s, he has taken on some much darker roles – notedly as a regular on various seasons of American Horror Story (2011- ). It's a great performance that McDermott gives here. He has an unnervingly ordinary bonhomie as the father. What takes you aback is the smoothness of his ability to lie, be it explaining the evidence Charlie Plummer finds away as belonging to his hospitalised brother, or instantly turning from being caught with a bound woman to saying he is having an affair with her, while lecturing Charlie Plummer about proper gun safety in a stern paternal voice at the same time as Charlie is pointing a rifle at him.
Much of the show also ends up being stolen by a wonderfully sprightly performance from Madisen Beaty, a face that one is going to have to keep an eye on in future. Charlie Plummer also plays well even if most of his performance is one that requires him to come across as fairly gloopy.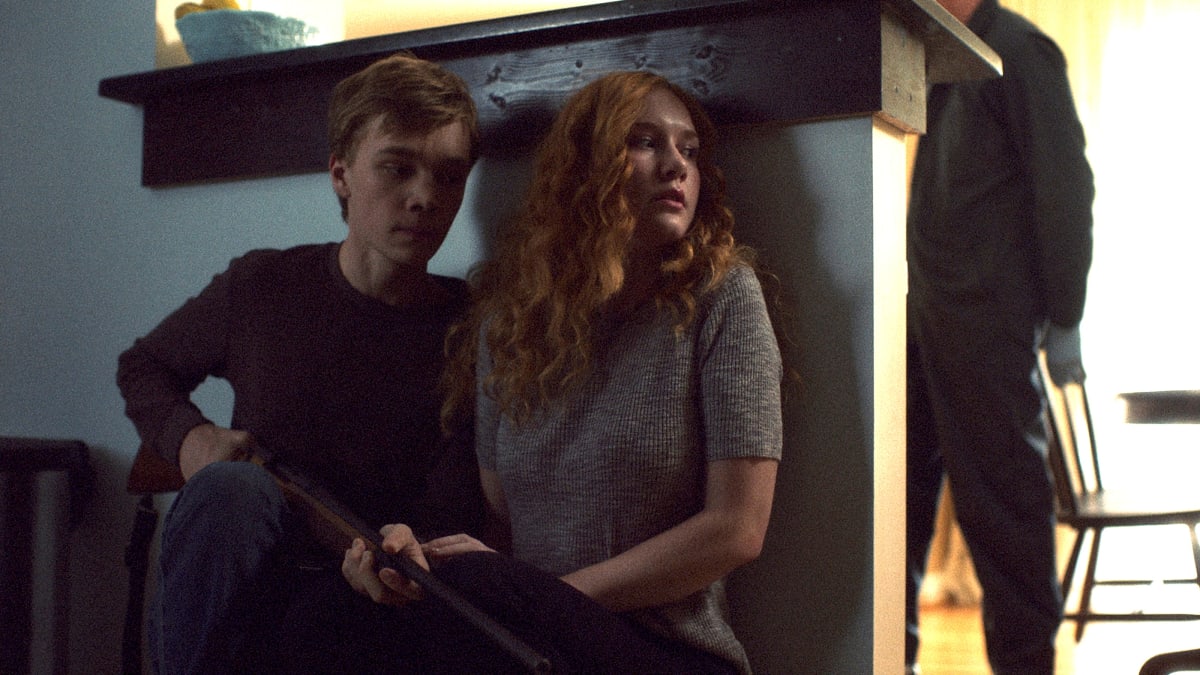 The film's finest scenes are the ones come after Charlie Plummer goes away to camp and Dylan McDermott sends his wife and daughter away to her parents' place for the week. Next we see Dylan following a woman (Kat Perez) he meets in a supermarket, contriving to do a contracting job on the property that adjoins her house. Things get singularly deranged where we then see Dylan McDermott at home alone, wearing a woman's slip and heels, along with a mask, trying to take Polaroids of himself. This is interrupted as Madisen Beaty turns up at the door, whereupon he invites her in and creepily suggests taking Polaroids of her. After she leaves, we see him flailing about on the bed in thwarted rage. This is contrasted to the scenes where we see him sitting on the bed with his kill kit methodically laid out beside him as he calmly takes a call from his wife and daughter.
That is before he breaks into Kat Perez's house, tells her in a calm way a bogus story that he is a bank robber on the run and that he is not going to hurt her. You are astonished by the disarming friendliness of his manner, even as he ties her up. Next we see as he places a plastic bag over her head and leaves her struggling down the side of the bed, making noises like a dog yapping. However, what really makes the film work and The Clovehitch Killer an excellent film is the twists that come after that point as the script backtracks to tell an entirely different parallel story that happens inside the margins of everything that happened since Dylan McDermott was on his own.
(Nominee for Best Original Screenplay and Best Actor (Dylan McDermott) at this site's Best of 2018 Awards).
---