---
Crew
Director – Dave Franco, Screenplay – Dave Franco & Joe Swanberg, Story – Mike Demski, Dave Franco & Joe Swanberg, Producers – Dave Franco, Elizabeth Haggard, Teddy Schwarzman, Ben Stillman, Christopher Storer & Joe Swanberg, Photography – Christian Sprenger, Music – Danny Bensi & Saunder Jurriaans, Visual Effects – Eric Binmoeller, Special Effects Supervisor – Kai Shelton, Makeup Effects Design – Stephen Prouty, Production Design – Meredith Lippincott. Production Company – Black Bear Pictures.
Cast
Dan Stevens (Charlie), Sheila Vand (Mia Mohammadi), Jeremy Allen White (Josh), Alison Brie (Michelle), Toby Huss (Taylor)
---
Plot
Charlie, his wife Michelle, his brother Josh and Josh's girlfriend Mia, who is also Charlie's business partner, decide to get away for the weekend. Charlie rents a lavish home on the coast for the weekend. They have issues with the caretaker Taylor who had earlier declined to rent the house to Mia who has an Arabic surname. The four settle in. That night, while Josh and Michelle are asleep, Charlie and Mia get into the hot tub and this ends up with them having sex in the shower. The next morning, this creates tensions. Mia then discovers a hidden spy camera inside the showerhead. This ends with a violent confrontation between her and Taylor in which she knocks him out. The others argue about what to do. When they return to deal with Taylor, they find him dead, unaware that a mysterious figure in black has snuck in and killed him. As they try to dispose of the body, Charlie and Mia struggle to keep their guilty secret from coming out. At the same time, the masked figure starts stalking the group.
---
Dave Franco is the younger brother of James Franco. James's career has been by far the more prominent nevertheless Dave has been working as an actor from the mid-2000s with supporting performances in some high-profile films including Superbad (2007), Charlie St. Cloud (2010), Fright Night (2011), 21 Jump Street (2012), Warm Bodies (2013) and Neighbors (2014) with larger roles in Now You See Me (2013) and sequel, Nerve (2016) and voicing the lead role in The Lego Ninjago Movie (2017), along with parts in a couple of films directed by James with The Disaster Artist (2016) and Zeroville (2019). The Rental represents Dave Franco's debut as a director (although he is not present in an acting capacity).
James Franco has made quite a number of films as director. Most of them feel like works straining to be more than they are – he has adapted a number of literary works with universally underwhelming results – and most of them lack a good reputation. The sole exception might be The Disaster Artist, while I thought Child of God (2013) was okay. The surprise is that while his acting career is largely undistinguished, Dave Franco in his only directorial outing so far outstrips everything that brother James has done with over thirty films as director to his credit. (In watching, you do wonder if something personal managed to sneak into the script – the central drama of the film is after all about a handsome and assured cad of an older brother who steals away the girlfriend of the screw-up, underachiever brother, which could well suggest that Dave might harbour just one or two feelings of sibling rivalry).
Everything is conducted with an admirable economy. Most of the film takes place in a single location. There is only four characters plus the caretaker of the house who turns up for a few scenes and the shadowy figure of the killer. For all its feeling of a film produced on an economy budget, Franco does manage to pull in the reasonable high-profile cast including Dan Stevens; Iranian-American actress Sheila Vand, best remembered for the title role as the vampire in A Girl Walks Home Along at Night (2014); as well as Alison Brie (who is Dave Franco's wife in real life).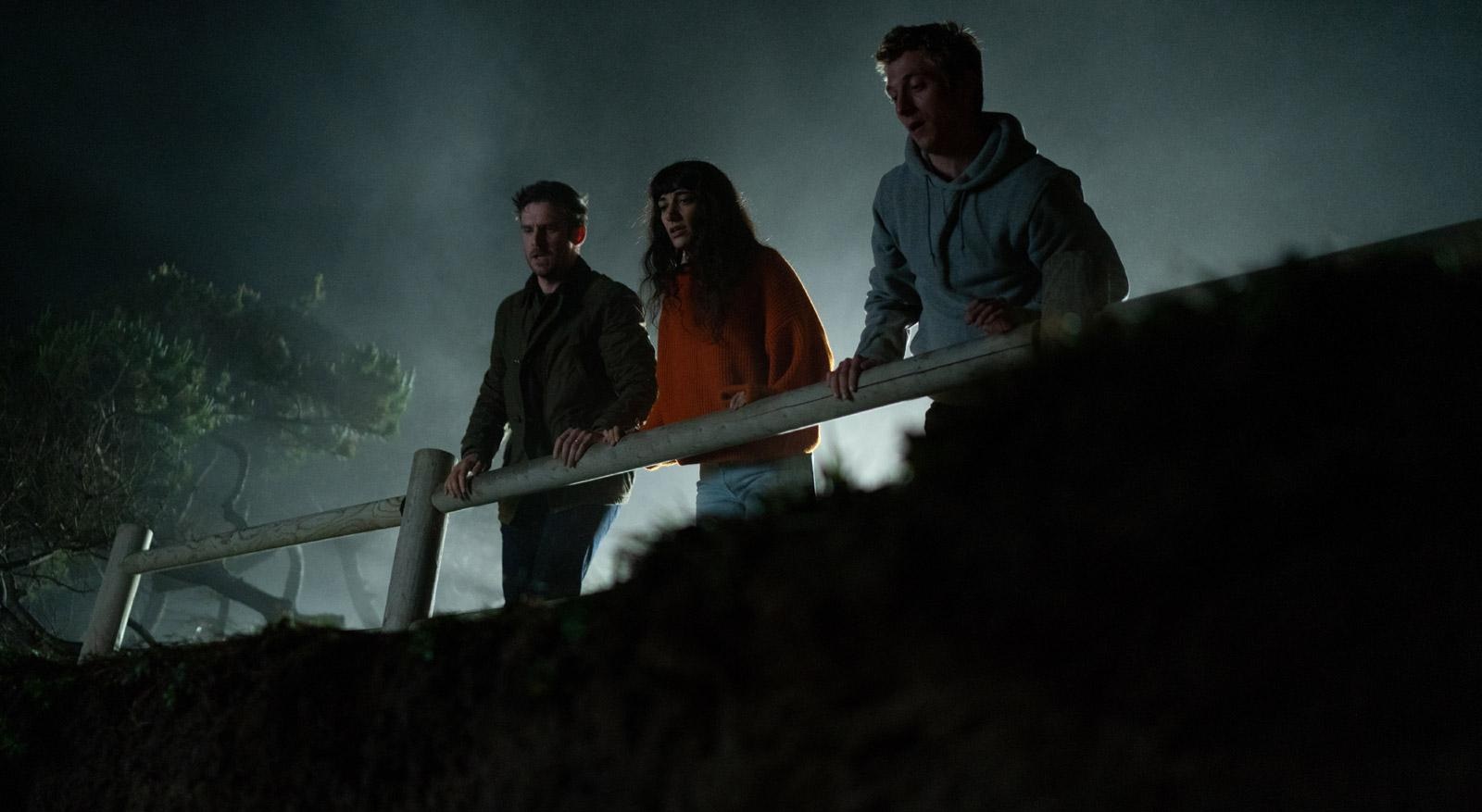 The Rental quickly absorbs. Franco and co-writer Joe Swanberg do an excellent job of creating a quartet of well-rounded characters and then pitting them first into brittle, edgy conflicts with the caretaker and then against each other. It is a film about secrets and how one guilty secret comes to poison a whole weekend and the relationship between the four characters. Franco twists around this and pushes the guilt into uncomfortable complications with considerable ingenuity.
The final quarter of the film does introduce a psycho into the proceedings and pushes what had been up until then a relationship thriller into conclusive genre territory. (If anything, this makes The Rental resemble a much better version of the B-budget slasher Playing with Dolls (2015) and sequels). Dave Franco pulls this off with considerable expertise that leaves me eager to see what he next does as a director.
Dave Franco co-writes and co-produces the script with Joe Swanberg, Swanberg gained a name for a bunch of micro-budgeted freely distributed non-genre films such as Kissing on the Mouth (2005), LOL (2006), Hannah Takes the Stairs (2007), Art History (2011), Autoerotic (2011), Caitlin Plays Herself (2011), Silver Bullets (2011), The Zone (2011), All the Lights in the Sky (2012), Marriage Material (2012), Drinking Buddies (2013), 24 Exposures (2013), Happy Christmas (2014), Digging for Fire (2015), Win It All (2017) and Build the Wall (2020), plus one genre entry with the The Sick Thing That Happened to Emily When She Was Younger episode of V/H/S (2012). Like the Franco brothers, Swanberg also doubles as a writer and actor and has made several appearances as an actor in the films of Adam Wingard.
---
Trailer here
---