---
Crew
Director – Joe Lynch, Screenplay – Turi Meyer & Al Septien, Producer – Jeff Freilich, Photography – Robin Loewen, Music – Bear McCreary, Visual Effects – Atmosphere Visual Effects (Supervisor – Andrew Karr), Special Effects – Comer Special Effects (Supervisor – Bob Comer), Makeup Effects – WCT Productions MCT Ltd (Supervisor – Bill Terezakis), Production Design – Brentan Harron. Production Company – Summit Entertainment/Constantin Film
Cast
Erica Leerhsen (Nina), Henry Rollins (Colonel Dale Murphy), Texas Battle (Jake), Steve Braun (Jonsey), Danielle Alonso (Amber), Aleksa Palladino (Mara), Matthew Currie Holmes (M), Crystal Lowe (Elena), Kimberly Caldwell (Kimberly Caldwell), Wayne Robson (Old Timer), Ken Kirzinger (Pa), Ashlea Earl (Ma), Clint Carleton (Brother), Roselee Tio (Sister), Jeff Scrutton (Three Finger), Cedric De Souza (Neil)
---
Plot
A group of contestants are recruited for the reality tv show 'Ultimate Survivalist Adventure' hosted by retired colonel Dale Murphy, where they are expected to have to survive as though they are in a post-holocaust setting. The production team treks to the backwoods of Greenbrier County, West Virginia. However, once shooting starts, the cast and crew are stalked and slaughtered by a family of in-bred cannibals.
---
Wrong Turn (2003) was a film of modest if forgettable effect. It did only modest box-office business – although, apparently enough to inspire three sequels. The basic set-up derivatively revisited the Backwoods Brutality cliches of The Texas Chain Saw Massacre (1974). (There is a scene here where Erica Leerhsen is tied up at the dinner table and taunted by the family that is a blatant steal from Texas Chain Saw).
Though Wrong Turn 2: Dead End comes from two of the production companies behind the first film, Summit Entertainment and Germany's Constantin Film, none of the actors or personnel from the original are involved in the sequel – something that is never a good sign. Wrong Turn 2: Dead End failed to attain a theatrical release like its predecessor had and went straight to DVD. It was followed by a string of sequels, prequels and eventually a reimagining of the original.
The first Wrong Turn came along a little too early for the Torture Porn fad of Saw (2004), Hostel (2005) et al and suffered from a critical tameness in never pushing itself to any extreme. This is a problem that Wrong Turn 2: Dead End remedies with great enthusiasm. The opening scene is a kicker where Kimberly Caldwell is stopped in her sports car on a backroad and one in-bred bites her mouth off and then she is hacked in half down the middle with an axe and the two hicks walk off each carrying one of the halves. It is a great opener – not the least of which is the vicarious pleasure of seeing a self-absorbed Hollywood starlet being hacked apart. Alas, the film keeps the best scene for the start.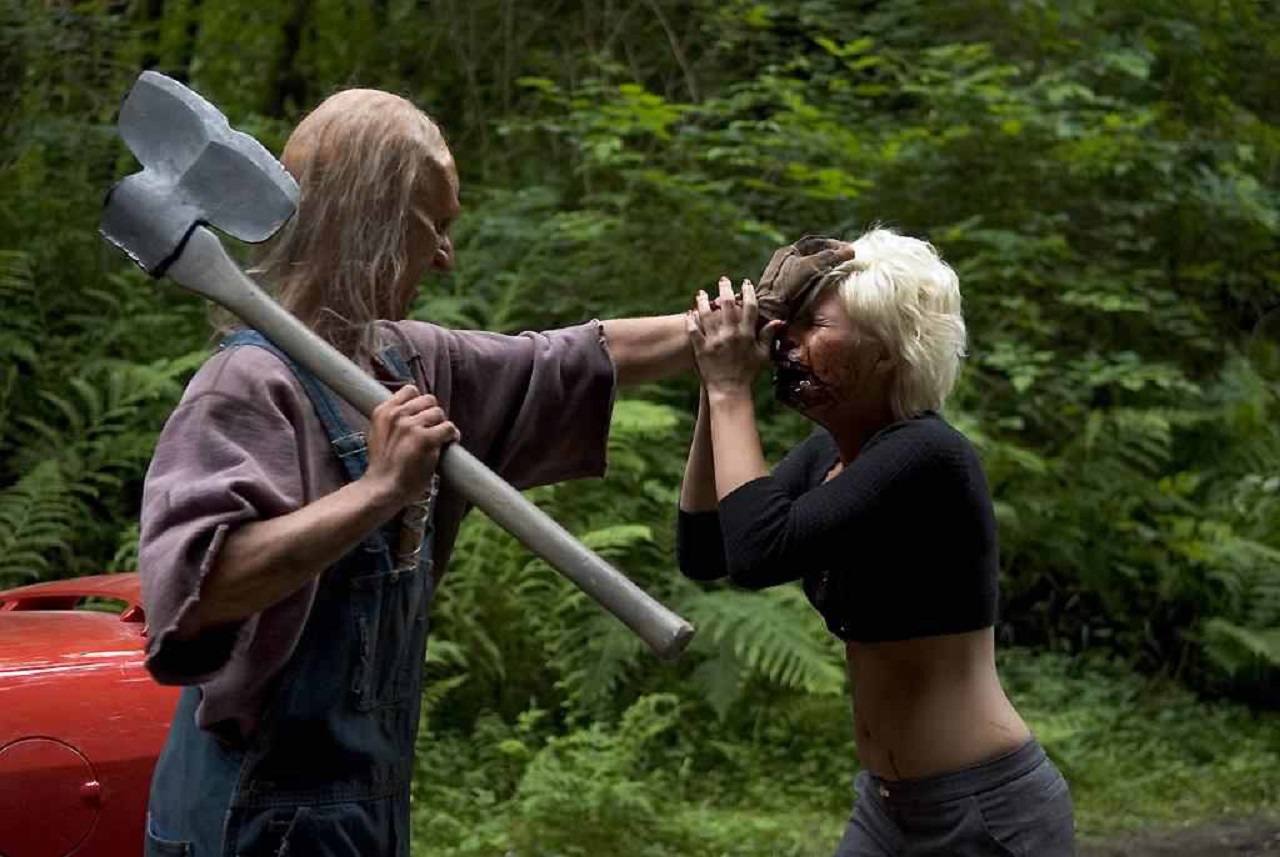 Eventually, Wrong Turn 2: Dead End feels like a Friday the 13th sequel – a film that has been arranged for the sole purpose of serving up a series of gory despatch set-pieces every few minutes. Thus we get scenes like two victims being caught in a rope trap and dangled upside down and then an arrow piercing through one's head and the other's eye. Occasionally, director Joe Lynch comes up with something inventive – like a Steadicam shot pacing a victim from in front as she is running and then abruptly gets an axe in the head.
Things build to a memorably gruesome climax where Henry Rollins goes down – getting two arrows fired into him and roaring "Is that all you got, bitch?" before being despatched with a barbed wire bolas – and then Erica Leerhsen bites out the father's neck and kicks him and his wife down into the plant's meat grinder. Outside of these sporadic novelties though, there is almost nothing to the film.
The victim complement is the standard spread for the modern horror film – a group of anonymous good-looking actors who are only able to be told apart by affected personality quirks. Most of them are unlikeable and self-absorbed characters – the cheating asshole boyfriend (Matthew Currie Holmes), the jerk who keeps making come-ons (Steve Braun), the camera slut (Crystal Lowe), the aforementioned Hollywood starlet. Amid this, the one who decides to have some fun is former punk rock singer Henry Rollins as a drill sergeant, where Rollins takes full opportunity to play to the gallery and effortlessly steals the show from the anonymous teens.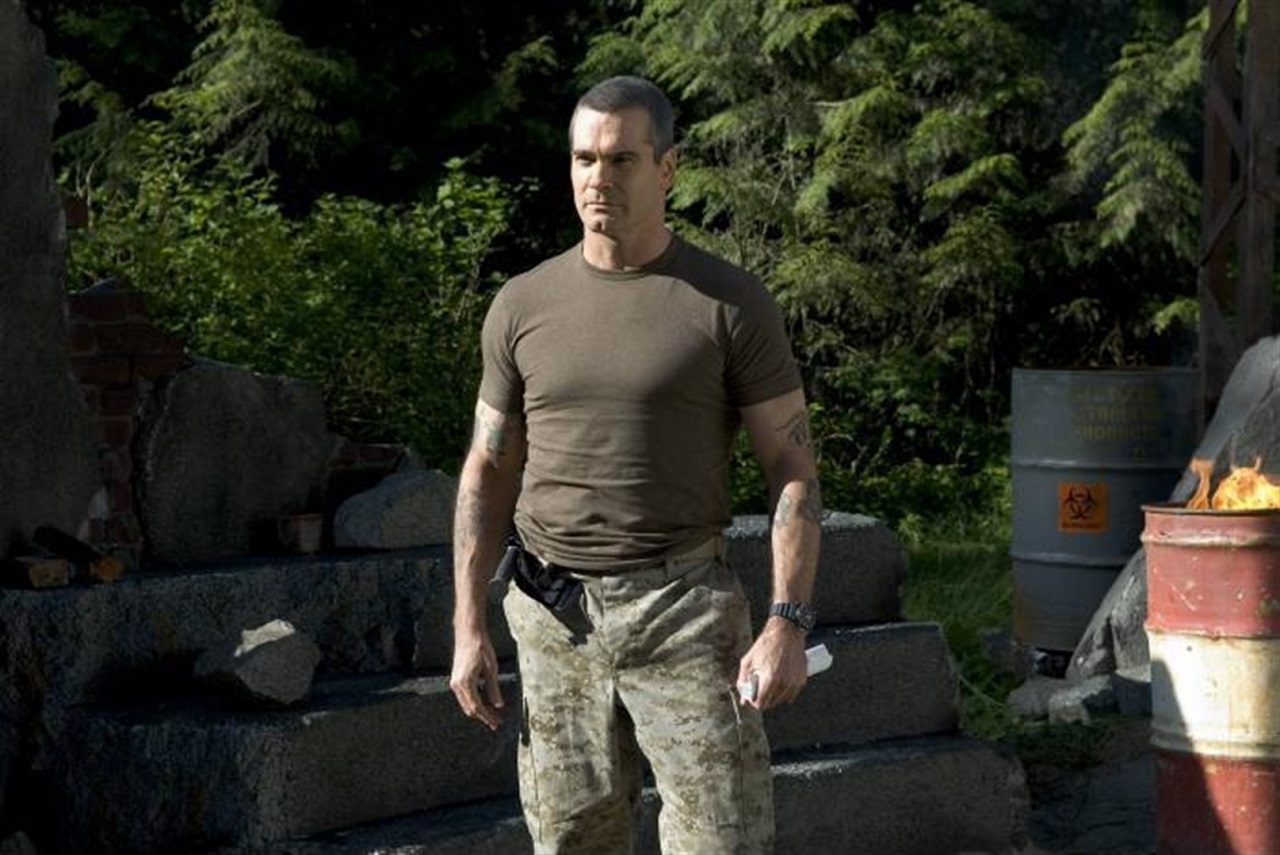 Unfortunately, what Dead End does not seem to grasp is that the murderous reality tv show idea has become well and truly overused by now – see the likes of Battle Royale (2000), Series 7: The Contenders (2001), Slashers (2001), Halloween: Resurrection (2002), Hell Asylum (2002), My Little Eye (2002), Reality Check (2002), Cruel World (2005), Survive This (2005), Are You Scared? (2006), The Condemned (2007), Elimination (2010), Incite Mill (2010) and Camp Dread (2014).
The treatment of the theme here is hackneyed. Even so, the scenario presented is a hard-to-believe as a reality tv show – there do not appear to be any camera people or cameras filming the operation, excepting a handful of remote controlled cameras mounted in some trees and on the foreheads of the opposing participants.
Wrong Turn 2: Dead End was followed by four further sequels Wrong Turn 3: Left for Dead (2009), Wrong Turn 4: Bloody Beginnings (2011), Wrong Turn 5: Bloodlines (2012) and Wrong Turn 6: Last Resort (2014). Wrong Turn (2021) was a reimagining of the original.
Joe Lynch subsequently went onto direct an episode of Chillerama (2011), the full-length Knights of Badassdom (2013) about LARPers, the action film Everly (2014) and Mayhem (2017) about a mass-insanity inducing virus loose in an office and the action film Point Blank (2019), while he has also produced Ghoul (2015) and the tv mini-series 12 Deadly Days (2016).
---
---