---
Crew
Director – Cameron Casey, Screenplay – Darren Bevill & Daniel Frisch, Story – Darren Bevill & Brennan Freemantle, Producer – Daniel Frisch, Photography – Christopher Gosch, Music – Tristan Clopet & Patrick Morganelli, Visual Effects – Paul Curley, Production Design – Simone Kaye. Production Company – Frisch Head Films/We Bros Wobble.
Cast
Bret Roberts (John Doe), Lauren Parkinson (Daisy), Scott Barrows (Bubba), Chris Cleveland (Detective Frye), Travis Eberhard (Charlie), Brian McGuire (Walt), Erin Callahan (Margo), Bonnie Rotten (Veronica), Malice McMunn (Caroline), Carolina Campbell (Amanda), Jake Allyn (Michael)
---
Plot
John Doe is a guitar-playing drifter who has a liking for picking up girls with tattoos and killing them in the midst of sex. Meanwhile, Daisy lives on a ranch in the desert with her hulking brother Bubba where the two of them enjoy hunting and killing people after which they cook and eat their flesh. John wanders into town and takes a liking to Daisy after encountering her at the bar where she works. He persuades her to go out and sparks quickly fly. However, the fact that both have secret lives as killers is something that is bound to collide. That and the detective on John's trail.
---
Appetites was the second film for Cameron Casey, an up and coming filmmaker. Casey had previously directed the stoner comedy Budz House (2011).
Occasionally you can look at a film and it unconsciously tells you a great deal about the people who made it. In this case, you can fairly much guess that Cameron Casey's idea of life involves a lot of time spent at bars, drinking hard liquor, imbibing various illicit substances, a taste for cool cars and chicks with tattoos, and a certain belief in the sex appeal of the image of the rock god strumming a guitar. The entirety of Appetites feels like a film designed to play to that fantasy of cool.
Appetites is a film that both caught my attention at the same time as it left me feeling it was also amateurish. The opening scene, shot in black-and-white, featuring a backwoods hick sitting on the porch of his house and rubbing his crotch as two deer mount one another in the field beyond fairly much grinds our face in the level that Casey wants to maintain. On the other hand, the next few scenes seem amateurishly set up and shot.
The film does pick up a few scenes later as real-life fetish porn star, the heavily tattooed Bonnie Rotten, turns up at a motel room to be greeted by Bret Roberts wearing only a floppy felt hat, sunglasses and with a guitar covering his crotch. What follows is a few-holds-barred sex scene that culminates with Roberts strangling her as he is having an orgasm, whereupon she gurgles out white fluid that you are left supposing is semen, after which he sits back over her naked body strumming his guitar before slamming a knife into her back. A similar scene plays out later in the show where Roberts picks up mohawked and heavily tattooed Malice McMunn, a real-life stripper, and likewise kills her.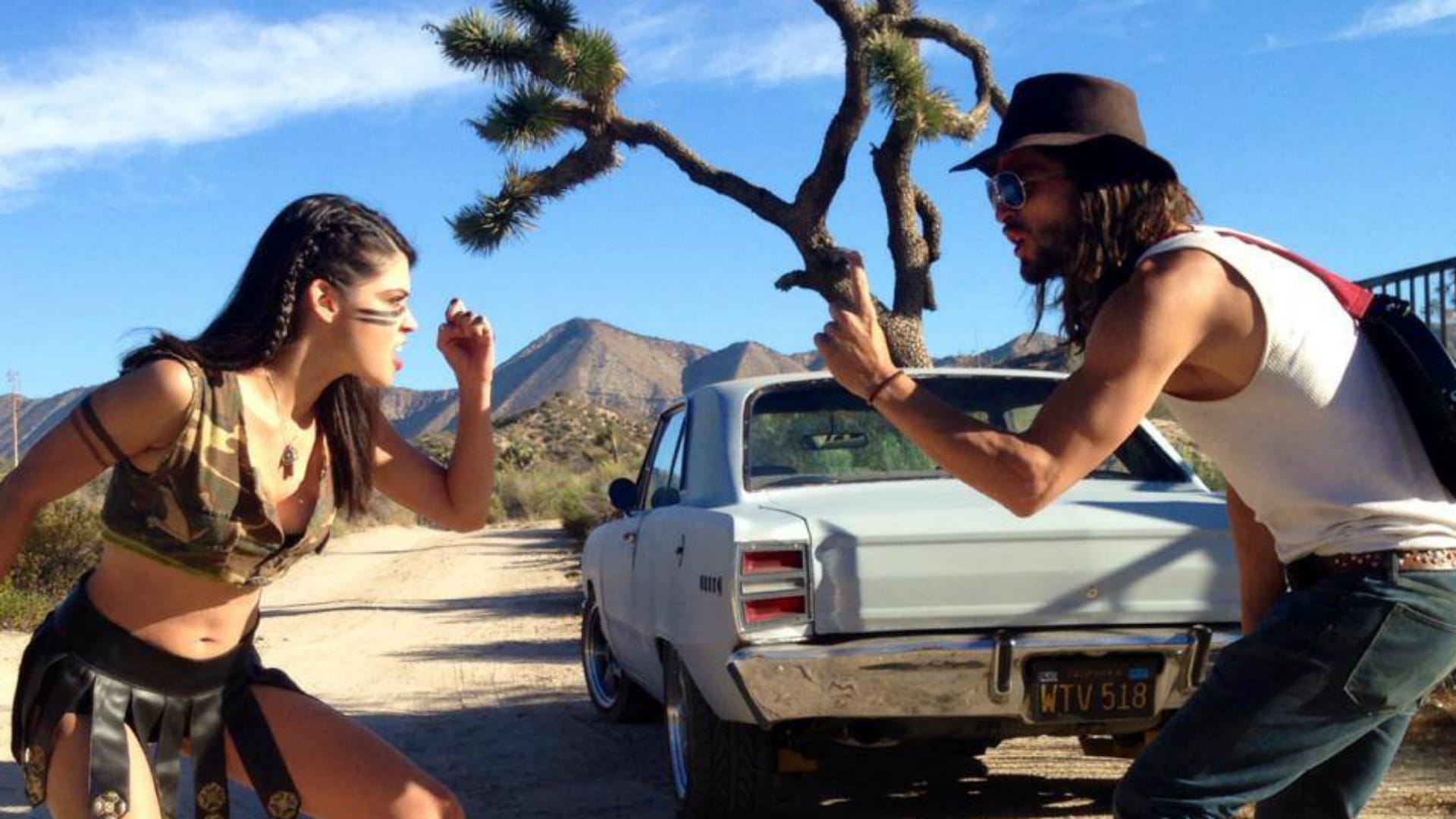 In these scenes, Cameron Casey gives us a film that is determined to push across a line where many other horror films would stop. On the other hand, there is also the film he makes outside of these scenes. The idea of two psychos in love is a good one. You expected the film to come together akin to something like The Honeymoon Killers (1970) or Natural Born Killers (1994) and show the two of them on a crazed killing spree/road trip. Only the film never goes there. Firstly, there is Lauren Parkinson's character. While the scenes with Bret Roberts and the tattooed girls hit a nerve, the scenes with her and Scott Barrows as her hulking brother feel only like cliched rehashes of Backwoods Brutality cinema and lack any of the rawness or sadism that you expect.
The other major downer is Bret Roberts' performance. Roberts plays the entire role with a louche boredom. He is like someone posing at being a rock star bumming around with a guitar to impress girls but only looking like an aimless loser. Whenever he opens his mouth, he is the sort of whiny character you just want to punch in the face and yell "shut up" at. Roberts writes and performs several songs himself and they are laughably terrible.
Crucially, though Cameron Casey creates two badass characters, the film slows right down so that the two of them can conduct a painfully earnest romance throughout the middle of the show. Where this should explode into a frenzy of violence, the film arrives at a damp squid of an ending.
---
---