---
Crew
Director/Screenplay – Thomas Dekker, Producers – Thomas Dekker, Jordan Yale Levine, Scott Levenson & Jason Rose, Photography – Austin F. Schmidt, Music – Ceiri Torjussen, Makeup Effects Designers – Ron Karkoska & Mark Villalobos, Production Design – Danica Vallone. Production Company – Yale Productions/SSS Entertainment/Isle Empire Pictures.
Cast
Rory Culkin (Jack Thurlowe), Lin Shaye (Teresa Thurlowe), Daveigh Chase (Shanda), Louis Hunter (Duncan), Britt Robertson (Cleo), Natasha Lyonne (Nancy), Michael Sirow (Jeffrey)
---
Plot
Jack Thurlowe receives news that his father has been decapitated in a car crash. He and his best childhood friend Shanda travel back home. Jack finds his mother untroubled but, as he stays, her behaviour becomes increasingly more disturbed. Jack also experiences strange things around the house – noises in the attic that lead him to find tape recordings and videotapes left by his father. Through these, Jack begins to discover troubling things about himself – that he had a twin brother Andy who may have been murdered by his father, that he was subject to sexual abuse from a teenage male babysitter – although he has no memory of these.
---
Thomas Dekker may not be a household face yet, although he has been acting since the age of six and has racked up a number of credits in films like A Nightmare on Elm Street (2010), Kaboom (2010), Plush (2013) and Fear Clinic (2015), as well as appearances as a regular on tv series such as Terminator: The Sarah Connor Chronicles (2008-9), The Secret Circle (2011-2) and Backstrom (2015). Dekker made his directing-writing debut with Whore (2008), a dark look at the hopes and dreams of a group of young Hollywood wannabes. Jack Goes Home was Dekker's second feature film as director.
Whore is not an easily available film so Jack Goes Home was my first immersion to Thomas Dekker as writer-director. I had been recommended the film by a couple of people but must confess that I found it hard to get into. It feels as though Dekker is trying to channel the works of Richard Bates, Jr – Excision (2012), Suburban Gothic (2014) and in particular Trash Fire (2016), which this has many similarities to – and their blackly funny take on middle-class disaffection.
Dekker fills the film with weird characters – Lin Shaye's increasingly nastier and more histrionic performance as the mother; Louis Hunter as the next door neighbour who stands in the window masturbating and may have gay intent towards Rory Culkin; a single scene cameo from Natasha Lyonne as the receptionist at the vet clinic that consists more of Rory Culkin doing a monologue about her job. One of the most alienating parts of the film is actually Rory Culkin who has the gorgeous long hair of a classic poet but a space cadet face that leads to a curiously blank and impassive performance.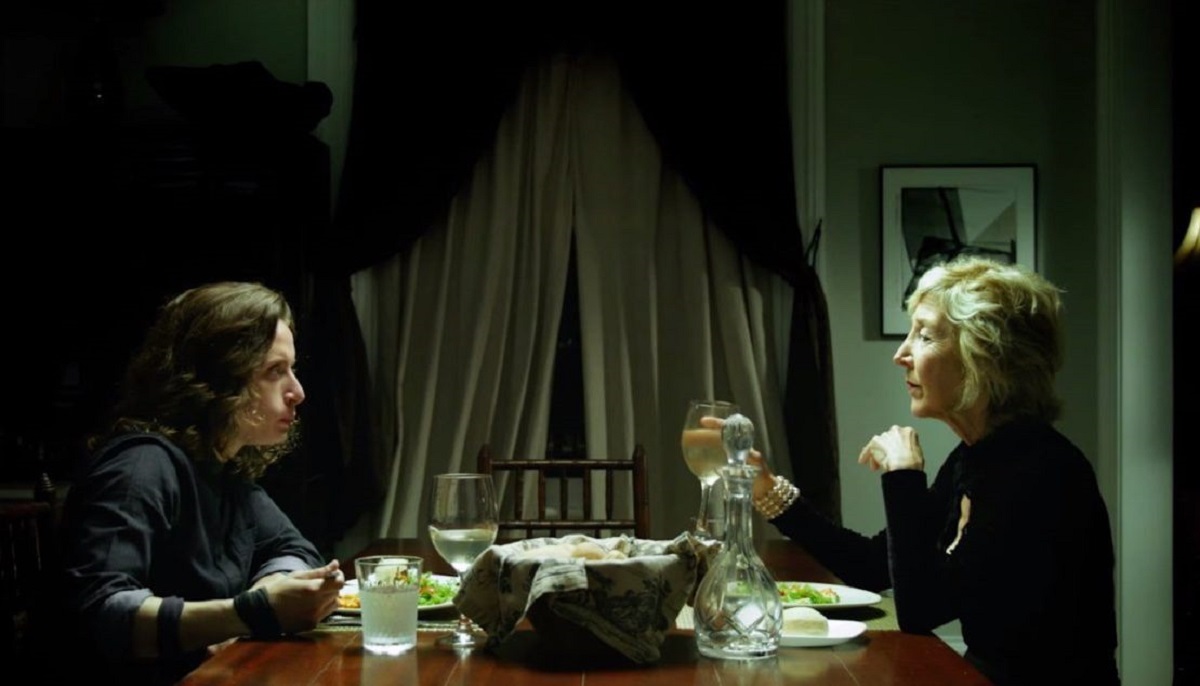 The problem with Jack Goes Home is that it consists of odd pieces of character observation on the sidelines and a certain mystery that develops halfway through about what happened in Rory Culkin's past but nothing that ever coalesces into much of a plot. The characters and Rory Culkin's curiously blank performance have a weirdness. You feel that someone like Richard Bates, Jr would have spun them with an appealingly quirky and even affectionate humour but in Thomas Dekker's hands they just adds up to a puzzling sense of alienation that goes nowhere.
I wasn't ever sure if I was going to have to review Jack Goes Home as a genre film. Dekker strains at constant horror effect without the film ever coming out and being a horror film. And it is only near the end when it comes to the twist ending that we realise the film has been operating in genre territory.
[PLOT SPOILERS] Even then Dekker delivers a twist ending that has been reduced to a cliche by too many copies of The Sixth Sense (1999) over the last decade. While the final scene comes with a certain sting as the camera pulls up over the house, it is a disappointment that Dekker resorts to such a tired and overused twist.
---
---