aka Dinosaurs – The Movie
USA. 1991.
Crew
Director – Brett Thompson, Screenplay – Wili Baronet & Lisa Morton, Story – Baronet, Producer – Luigi Cingolani, Photography – Rick Fichter, Music – Frederic Teetsel, Music Supervisor – Joe Lamont, Visual Effects Supervisor – Chojii Kikugawa, Computer Effects – Donna Tujillo & Habib Zargarpour, Creatures Designed/Created by John Criswell, Production Design – Michael Stuart. Production Company – Smart Egg Pictures.
Cast
Omri Katz (Timmy Shepherd), Tiffanie Poston (Jamie Shepherd), Shawn Hoffman (Mick), Tony Doyle (Rex), Marc Martorana (Tops), Pete Koch (Link), Megan Hughes (Missy), Steven Anderson (Gil Shepherd), Mimi Maynard (Dana Shepherd), R.A. Mihailoff (Mr Big)
Voices
Patrick Labyerteaux (Rex/Mr Big), Ron Sherwood (Forry), David Jollife (Tops)
---
Plot
When their parents, two research scientists, go away and leave them behind, Timmy Shepherd comes up with the idea of he, his sister Jamie and Jamie's boyfriend Mick sneaking into their parents laboratory and watching a videotape of their favourite cartoon series 'Dinosaurs' on the lab's widescreen tv. However, unknown to them their parents have left a teleportation experiment running and they are instead dematerialised and transported into the tv screen. There they find themselves in the prehistoric land of the cartoon. The brutal and stupid Neanderthals, The Rockies, take the cooling element that holds back the lava flow. It is up to Timmy and the others to get the help of Tops and Rex, the two dinosaur heroes from the tv series, and head to Saur City to stop the Rockies before the entire land is destroyed in a matter of hours.
---
There are some films where one can clearly see that a good intention has been fouled up; there are others, like this, that leave one wondering how such a misbegotten idea could have gotten off the ground in the first place. Behind Adventures in Dinosaur City one can see there was probably the idea of doing a children's adventure set inside the world of a film/tv show a la Who Framed Roger Rabbit? (1988), Stay Tuned (1992), Last Action Hero (1993), Pleasantville (1998) and such like. However, the idea went wrong about there. For such films to work, the media world ventured into must either dazzle with high energy creativity or be taken from or at least satirise familiar tv shows or films.
In concept, Adventures in Dinosaur City seems to be trying to conduct a take on The Flintstones (1960-66) or even more so of the appealing sitcom Dinosaurs (1991-3), which premiered the same year the film came out. (Notedly the film was renamed Dinosaurs – The Movie in some parts to capitalise on the show's popularity). Unfortunately, the tv show ventured into here looks utterly lame.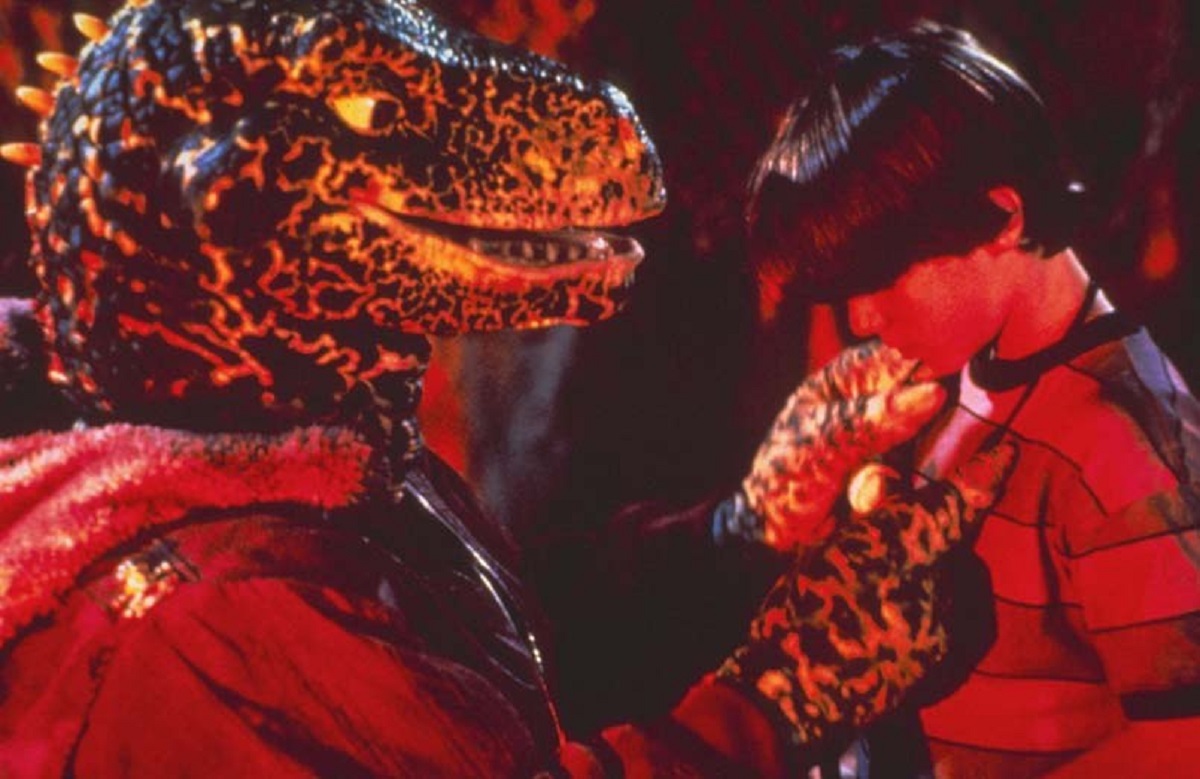 Everything about the film is awful. The animatronics for the full-body dinosaur suits are stiff and unconvincing – the heads hardly even move. Even worse are The Rockies who are all played horribly loud and stupid, with the exception of the woman who tries badly to do a Neanderthal imitation of Mae West.
Director Brett Thompson later went onto make a documentary about Edward D. Wood Jr with The Haunted World of Edward D. Wood Jr (1996) and has written scripts for low-budget genre films like Blue Demon (2004), Thralls (2004) and Glass Trap (2005).
---
Trailer here
Full film available online here:-
---