---
Crew
Director/Photography – Mark Atkins, Screenplay – Anna Rasmussen, Producer – David Michael Latt, Music – Heather Schmidt, Visual Effects Supervisor – Joseph J. Lawson, Practical Dinosaur Effects – Vincent Guastini Prods. Effects & Design Studio (Supervisor – Vincent Guastini), Production Design – Dawn R. Ferry. Production Company – The Asylum.
Cast
Gabriel Bennett (Tommy Harris), Amber Patino (Chloe Harris), Ashton Pulis (Ethan), John Briddell (Dr. Reginald Reynolds), Tamara Goodwin (Ms. Hadley), Shanynn Samiyah Covington (Cynthia), Jhey Castles (Helen Harris), Roy Abramsohn (Jon Harris)
---
Plot
Young Tommy Harris is competing to earn his school's YAPS (Young Academic Palaeontologist School) prize – the winner will have the opportunity to create a project at Vista Tech labs under Dr Reginald Reynolds. Tommy comes up with the idea of genetically editing bird eggs to cause them to revert to their dinosaur ancestry. However, rival contender Ethan sabotages Tommy's project and goes on to win the prize. The teacher Ms Hadley persuades Reynolds to take Tommy on to help only for the bullying Ethan to make Tommy do all the work. Back home, Tommy manages to hatch one of his eggs, producing a moderate size dinosaur, which he names Spike. Tommy then has the problem of how to hide Spike from his parents, as well as provide the more oxygen-rich environment it requires. When Spike gets loose at the school, Reynolds determines to capture and claim it for himself.
---
The Asylum is a low-budget US company that specialises in 'mockbusters' – cheap films that seek to capitalise on the publicity of upcoming big-budget releases with soundalike titles. Various Asylum films have included the likes of Snakes on a Train (2006), Transmorphers (2007), Allan Quatermain and the Temple of Skulls (2008), The Day the Earth Stopped (2008), The 18 Year Old Virgin (2009), Paranormal Entity (2009), Battle of Los Angeles (2011), Abraham Lincoln vs. Zombies (2012), Age of the Hobbits (2012), among others.
Jurassic School came out in between the releases of Jurassic World (2015) and Jurassic World: Fallen Kingdom (2018). Unlike most of The Asylum's films, which are made for adult audience, this was made as a children's movie. You cannot help at times be reminded of Prehysteria! (1993) and sequels, a series of pitifully cheap children's-oriented copies made of the original Jurassic Park (1993) by low-budget producers/directors Albert and Charles Band.
Jurassic School was directed by Mark Atkins, who has edited many of The Asylum's films and directed quite a number of others (see below). Jurassic School is actually one of Atkins' better films. The film has a reasonably accomplished level of cheap effects. Both young Gabriel Bennett and Amber Patino as his sister play with a certain conviction.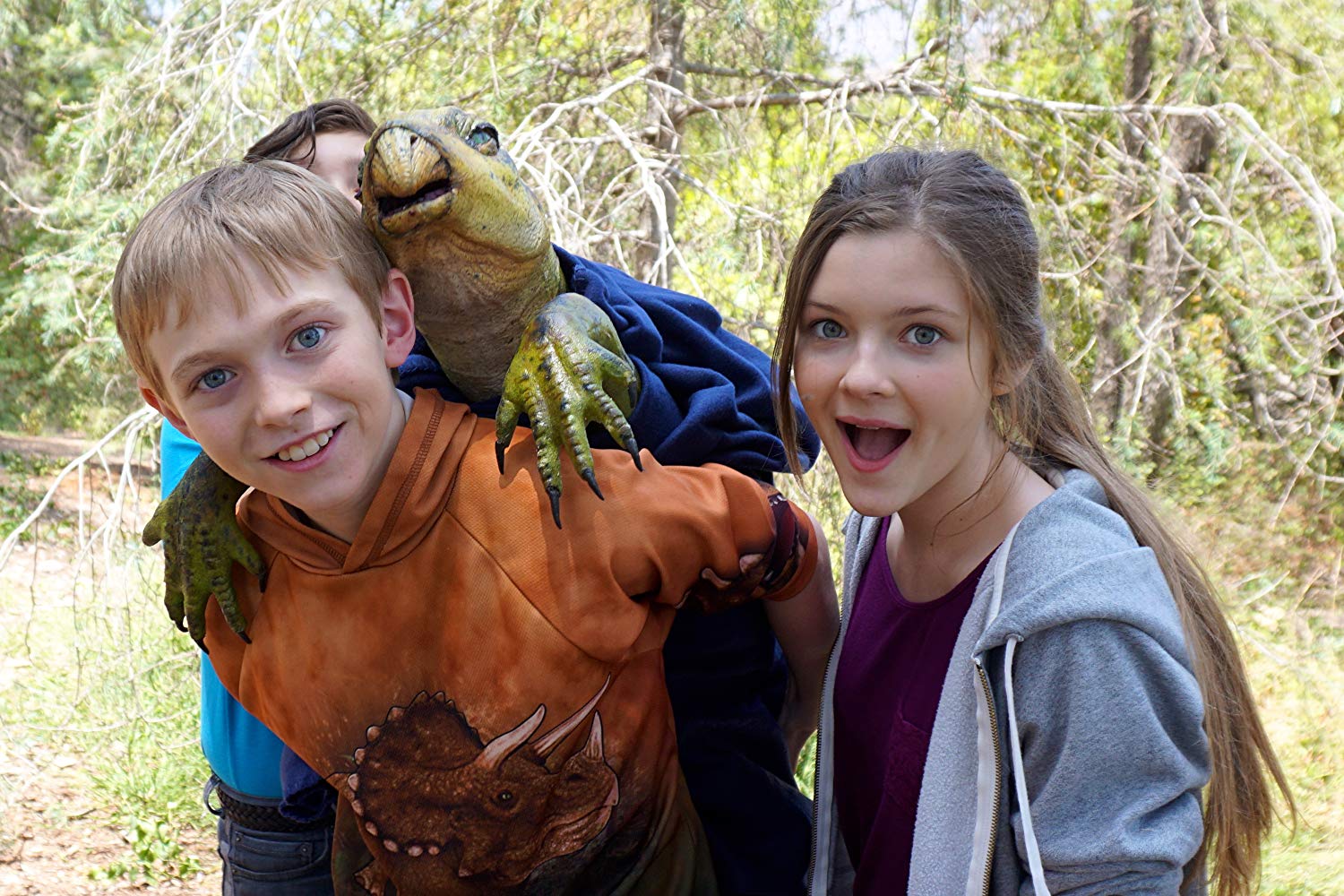 Less effectively, the bad guys – John Briddell and young Ashton Pulis – tend to be one-dimensional caricatures that come almost with bright red neon lights shouting out who they are. Certainly, Pulis goes to town on the obnoxiousness in a way that owns his parts of the show – even if the character makes a difficult to believe seeing the error of his ways and switch to aid the heroes at the end.
Anna Rasmussen's script does some handwave science that tries to make the proceedings sound convincing – at least she appears to have read up on dinosaurs. Gabriel Bennett does have a very ungainly device where he conducts his genetic engineering that involves a structure made of what looks like Lego (the purpose of which is unclear) that drops liquid onto a large egg.
One also finds the scholarship being competed for to have a bar for entry that seems ridiculously high – that pre-adolescent kids are required to demonstrate something new (ie. undiscovered) about dinosaurs at the same time as combining both digital and analogue processes. The script also has the rather improbable idea that major scientific breakthroughs can be made by young kids with jury-rigged home equipment and that these are something that well-funded laboratories are unable to achieve.
Director Mark Atkins is an Asylum regular was has also made Night Orchid (1997), Evil Eyes (2004), Halloween Night (2006), Allan Quatermain and the Temple of Skulls (2008), Dragonquest (2009), The Haunting of Winchester House (2009), Princess of Mars (2009), Battle of Los Angeles (2011), Alien Origin (2012), Sand Sharks (2012), Jack the Giant Killer (2013), Knight of the Dead (2013), Android Cop (2014), Dragons of Camelot (2014), P-51 Dragon Fighter (2014), Road Wars (2015), A Perfect Vacation (2015), Planet of the Sharks (2016), Empire of the Sharks (2017), 6-Headed Shark Attack (2018) and Monster Island (2019).
---
---