---
Crew
Director – Sidney Miller, Screenplay – Rowland Barber & Arthur Ross, Story – Lawrence L. Goldman, Story Idea – Irving Block & Jack Rabin, Producer – Lewis J. Rachmil, Photography (b&w) – Frank G. Carson, Music – Raoul Kraushaar, Special Photographic Effects – Irving Block, Louis DeWitt & Jack Rabin, Art Direction – William Flannery. Production Company – DRB Productions.
Cast
Lou Costello (Artie Pinsetter), Dorothy Provine (Emmy Lou Rossiter), Gale Gordon (Raven Rossiter), Peter Leeds (Bill Burton), Ruth Perrott (Aunt May), Jimmy Conlin (Magruder), Veola Vonn (Jackie Delaney), Charles Lane (Stanford Bates), Robert Burton (First General), Will Wright (Pentagon General)
---
Plot
In the small desert town of Candy Rock, Artie Pinsetter is the local garbage collector who dreams of fame as an inventor. He has created Max, an erratic artificial intelligence. He is in love with Emmy Lou Rossiter and she wants to marry. However, they face the problem of her father Raven Rossiter who owns everything in town and does not think Artie is right for her. Artie has to resort to sneaking Emmy Lou out of the house in his garbage cans in order to spend time with her. While they are out at Dinosaur Springs, Emmy Lou wanders into a cave and instantly grows to thirty feet tall. Raven is in the middle of an important tv interview and mishears, thinking that Artie is telling him that Emmy Lou is pregnant. He orders the two of them to be married and kept out of the way until the tv people have gone. As soon as they are married however, Emmy Lou's size starts to cause problems, not the least of which is an army unit nearby who thinks she is part of an alien invasion and order her shot down.
---
The 30-Foot Bride of Candy Rock was the one and only solo film for Lou Costello of Abbott and Costello fame. Costello and Bud Abbott began as a stand-up comedy act on vaudeville in the 1920s then successfully transferred this to radio. Film followed soon after and they appeared in One Night in the Tropics (1940), making their first headlining film with Buck Privates (1941). Over the next sixteen years, they made 36 films, sometimes releasing up to four films a year. They are mostly remembered today for their team-ups with the Famous Monster beginning with Abbott and Costello Meet Frankenstein (1948). (See below for their other genre entries).
By the 1950s, their popularity started to wane from overexposure and they dissolved their working relationship in 1957 (parting amicably despite it being reported otherwise). Costello tried to pursue a solo career for a time and paired with other comedians on stage. The only solo film he made was The 30-Foot Bride of Candy Rock but he died of a heart-attack in March 1959 (aged only 53) before the film was ever released.
The Abbott and Costello genre entries of the late 1940s/early 1950s were based around the Famous Monsters that Universal had been created in the 1930s. By the 1950s, new fears were on the horizon – of alien invaders and atomic monsters – and the Universal monsters suddenly became outdated. Abbott and Costello had endeavoured to climb aboard the science-fiction boom once before in the outer space comedy Abbott and Costello Go to Mars (1953). In his solo effort here, Lou Costello owes an even greater debt of inspiration to the 1950s SF boom – namely that The 30-Foot Bride of Candy Rock is a blatant copy of the classic B-movie Attack of the 50 Foot Woman (1958) that came out the year before, albeit is played for comedy here.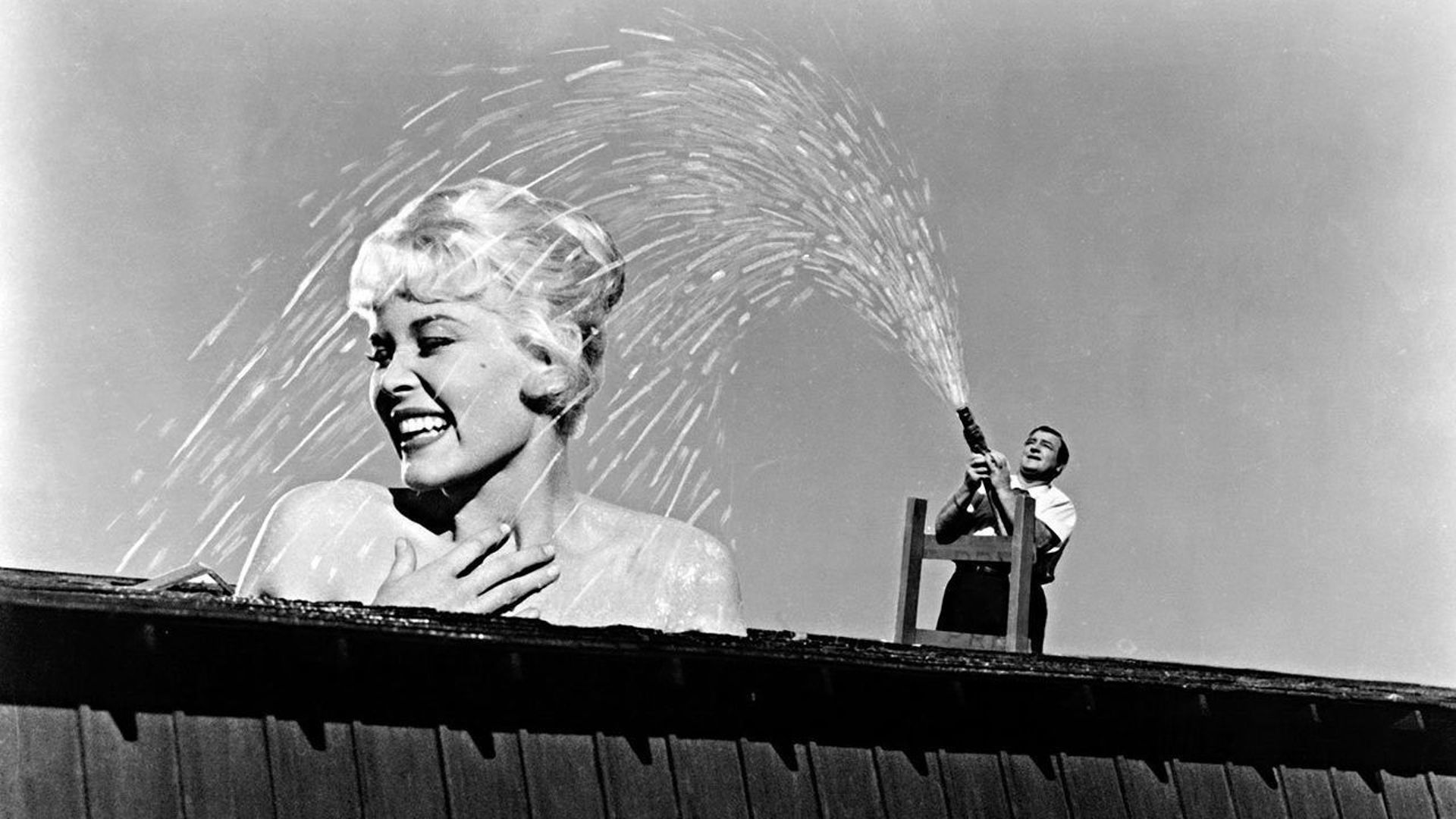 The 30-Foot Bride of Candy Rock is actually a better film than Attack of the 50 Foot Woman was. One should remember that 50 Foot Woman was produced on a Z-budget with some pitiful effects whereas 30-Foot Bride was produced on a substantially better budget and the effects rise to what could be could considered quite acceptable for the era. There are no laughably obvious effects with papier-mache hands bursting in through doors that we get in 50 Foot Woman.
The big and small scenes are played for some cute comedy value – the giant-sized Dorothy Provine trying to make breakfast for Lou; the two of them trying to go to sleep in the desert for their first married night; he running a firehose up to a hole through the roof of the barn so she can take a shower. The only weak part is that 30-Foot Bride never gives any explanation for why Dorothy Provine suddenly gets big – she wanders into a cave in the desert against Lou's warnings and returns a giantess, no more explanation than that.
The comedy is amiable enough, never too much from what Lou was doing back when he and Bud were together. It should be said that Lou seems a bit stranded without a partner to run his routines off. One thing that does blight the film seeing it in the modern era is an undeniable sexism, something that frequently lurked beneath the films the two boys made. Even when Dorothy Provine grows so tall she could squish Lou between her two fingers, he is ordering her around: "Here now, you take orders from me," to which she responds with a meek "Yes, dear." When she gains giant-size, she also seems to become shrewish, prone to temper flare-ups and irrational jealousy after seeing him being given a ride by Veola Vonn. The message of the film would seem to be that women becoming oversized – ie. growing beyond their traditional station – is a bad thing and they should be tamed and made good wives again.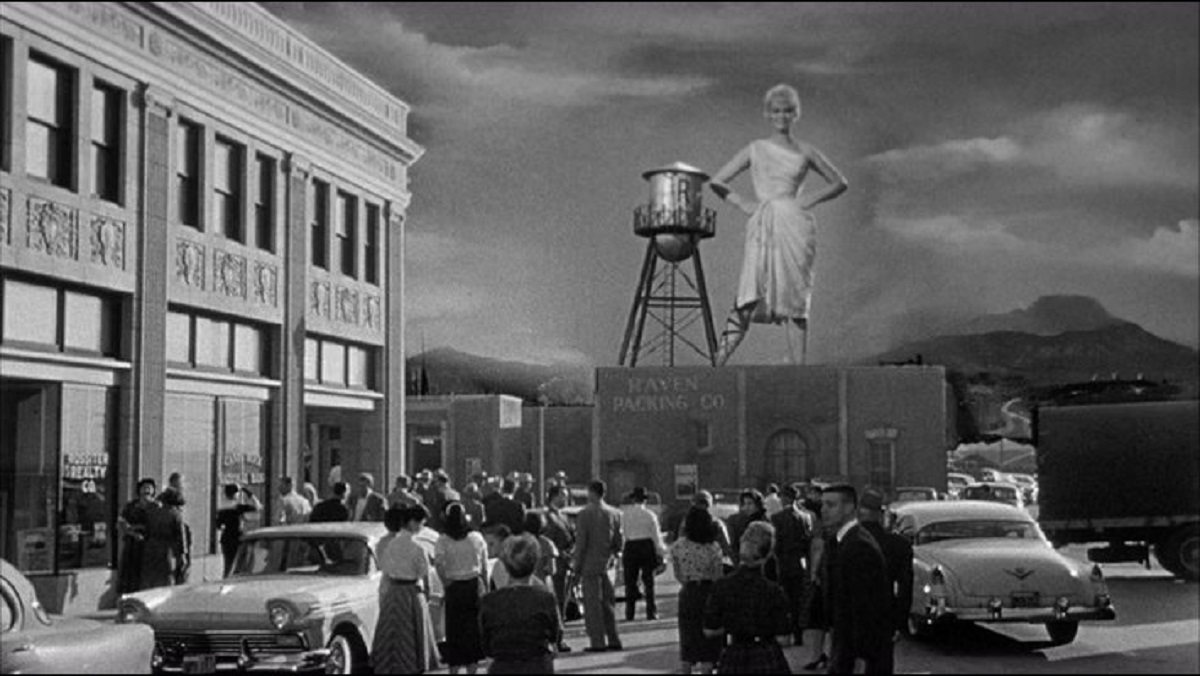 The other oddity of the film is that it writes Lou in as being an inventor. No problem with that but you cannot help but find it ever so improbable how the plot contrives to have him as a nobody who yearns for recognition by the scientific community while oblivious to the fact that he has come up with a series of discoveries that would by any account make him one of the most sensational scientists of all time. Not only has he build an admittedly erratic working artificial intelligence but also a voice recognition system for it, while the climactic scenes have him discovering the secrets of anti-gravity and time travel.
The film also arrives at a completely gonzo climax in which the A.I. Max throws Lou and the attacking soldiers back and forward in time, meaning that they flip through different costumes ranging from the Civil War to cavemen. In the final scenes, Dorothy Provine is shrunk back to size and thrown up into orbit where she ends up bumping into flocks of birds and Sputnik.
Abbott and Costello's other films of genre note are:– Hold That Ghost (1941), The Time of Their Lives (1946), Abbott and Costello Meet Frankenstein (1948), Abbott and Costello Meet the Invisible Man (1951), Comin' Round the Mountain (1951), Jack and the Beanstalk (1952), Abbott and Costello Go to Mars (1953), Abbott and Costello Meet Dr Jekyll and Mr Hyde (1953) and Abbott and Costello Meet the Mummy (1955).
---
---