---
Crew
Director – Josh Stolberg, Screenplay – Kyle Barnett Anderson, David Bernstein & Jamie Kennedy, Producers – Jim Busfield, Ben Feingold, Jamie Kennedy, Ash R. Shah & Steve Small, Photography – Andy Strahorn, Music – Todd Haberman, Visual Effects Supervisor – Christian Cardona, Production Design – Russell M. Jaeger. Production Company – Morocco Junction.
Cast
Ben Begley (Ed), Herbert Russell (Zach), Ross Nathan (Bradley), John Livingston (Doug), Rita Volk (Katnip), Caitlin Wachs (Scary), Jonathan Silverman (Chineca Lame), Jamie Kennedy (Justmitch/Willy Wanker), Hank Baskett (Stephen A. Templesmith), Bruce Jenner (Skip Bayflick), Chanel Gaines (Boo), Tara Reid (Effing White), Sam Panckake (Tracey), Mark Harley (Thor), Terra Jole (Teddy), Jeff Torres (Tonto), Daniel Buran (Captain Jack), Ron Butler (President Snowbama), Brandi Glanville (Housewife Veronica), Kyle Richards (Housewife Heather), Camille Grammer (Housewife Tanya), Kayden Kross (Chastity), Sophie Dee (Topless Girl), Ania Spiering (Blue Princess)
---
Plot
Best friends Bradley, Ed and Zach head to Las Vegas for the wedding of Doug and Tracey. After a drunken night out on the town, they wake up in the year 2213 where they find Zach has volunteered them in The Hungover Games. These are a series of televised bloodsports where characters from various media franchises must battle one another to the death. They are thrown into the arena where they must compete with superheroes, characters from horror movies, incarnations of Johnny Depp and Real Housewives. In the midst of this, Ed finds himself aided by and attracted to the hunter Katnip.
---
The Hungover Games falls into a certain breed of movie parody we have had ever since Scary Movie (2000) and sequels. This involves taking a bunch of films of the previous twelve months vintage and running them together with some lame and usually vulgar gags. The most prolific directors in this particular genre have been the team of Jason Friedberg and Aaron Seltzer who have made the likes of Date Movie (2006), Epic Movie (2007), Meet the Spartans (2008), Disaster Movie (2008), Vampires Suck (2010), The Starving Games (2013), Best Night Ever (2013) and Superfast! (2015). We have also seen other films in this vein with the likes of Superhero Movie (2008), A Haunted House (2013) and sequel, 30 Nights of Paranormal Activity with the Devil Inside the Girl with the Dragon Tattoo (2013) and Meet the Blacks (2016). Indeed, The Hunger Games (2012) was previously parodied in Friedberg and Seltzer's The Starving Games.
The central concept of The Hungover Games is a mash-up between The Hunger Games and The Hangover (2008). At which you have to admit that the central trio of actors – Ben Begley, Herbert Russell and Ross Nathan – all do a good job of mimicking the look and mannerisms of their counterparts in The Hangover series. The means whereby they go from a Las Vegas stag party to end up in a dystopian future is clearly something we are not meant to ask too many questions about and the film quickly glosses over the hows.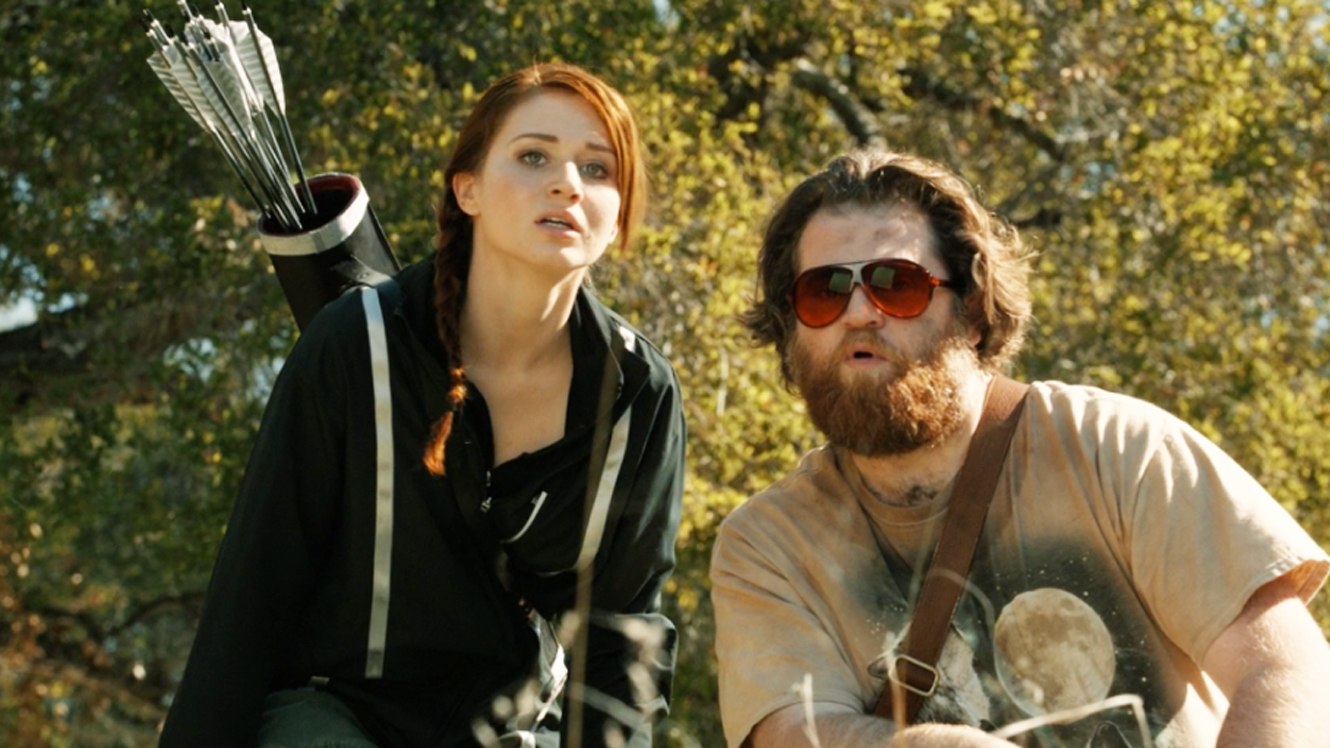 However, the concept that the film then plays with – a future where various characters from popular franchises such as Avatar (2009), Django Unchained (2012), Ted (2012), Carrie (2013), an equivalent of Thor, the various Real Housewives tv series, even The Human Centipede (The First Sequence) (2009) – are pitted against one another is mildly amusing.
I didn't dislike The Hungover Games as much as I did the Scary Movies or the films of Friedman and Seltzer. Most of the abovementioned parodies leave you with the experience of being able to feel your grey cells evaporating as you watch. It is still a fairly stupid and witless film but it has the odd moment like the campfire scene among the various incarnations of Johnny Depp in which Captain Jack is thought to be gay and Willy Wonka a creepy child molester.
This was the sixth film for Josh Stolberg who had previously made comedies such as Kids in America (2005), The Life Coach (2005), Conception (2011) and Feels So Good (2013), as well as the horror film Crawlspace (2013). Stolberg has more credits as a screenwriter, including films such as Good Luck Chuck (2007), Sorority Row (2009), Piranha (2010) and Piranha 3DD (2012).
---
---