---
Crew
Directors – Joe Dante, Carl Gottlieb, Peter Horten, John Landis & Robert K. Weiss, Screenplay – Michael Barrie & Jim Mulholland, Producer – Robert K. Weiss, Visual Effects – The LA Effects Group, Production Design – Ivo Cristante. Production Company – Westward Productions.
Cast
(in order of appearance)
Arsenio Hall (Apartment Dweller), Monique Gabrielle (Taryn Steele), Lou Jacobi (Murray), Griffin Dunne (Doctor), Peter Horten (Harry Landers), Michelle Pfeiffer (Brenda Landers), Steve Guttenberg (Jerry Stone), Rosanna Arquette (Karen), Steve Forrest (Captain Steve Nelson), Joey Travolta (Butch), Sybil Danning (Queen Lara), Robert Colbert (Blackie), Forrest J. Ackerman (President of the USA), David Allen Grier (Don Simmons), B.B. King (Himself), Henry Silva (Himself), Belinda Balaski (Beatrice Pitnik), Steve Allen (Himself), Rip Taylor (Himself), Henny Youngman (Himself), Ed Begley Jr (Griffin), Matt Adler (George Bailey), Ralph Bellamy (Mr Gower), Kelly Preston (Violet), Marc McClure (Ray), Corinne Wahl (Sherrie), Carrie Fisher (Mary Brown), Paul Bartel (Doctor)
---
A number of well-known comedy directors came together to make this grab-bag of comic sketches. These included Joe Dante, the director of The Howling (1981) and Gremlins (1984); John Landis, director of The Blues Brothers (1980) and An American Werewolf in London (1981); Carl Gottlieb, director of Caveman (1981); and the less well-known names of actor Peter Horton and Robert K. Weiss, who is mostly a producer but has also directed various Weird Al Yankovic parody music videos. John Landis had earlier made Kentucky Fried Movie (1977) in the same vein.
The sketches self-consciously delve through various popular culture and genre parodies using the loosely uniting theme of late-night channel flipping. For all that, most of Amazon Women on the Moon fails to amount to anything particularly funny. A couple of segments are amusing – the John Landis-directed skit in which Arsenio Hall becomes accident prone all at once in his apartment; and a Ripley's Believe It Or Not send-up that asks the question: Was Jack the Ripper really the Loch Ness Monster?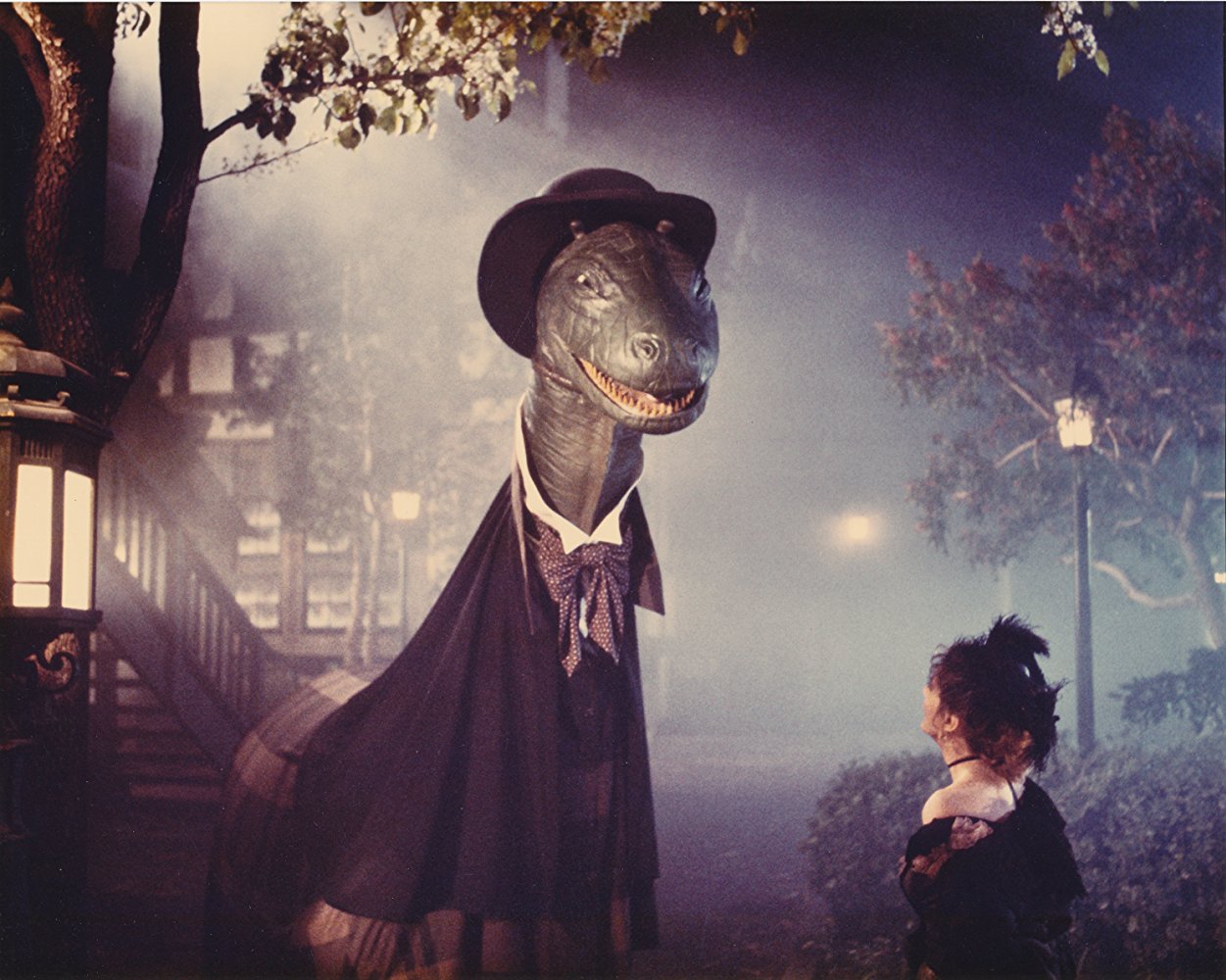 The Son of the Invisible Man piece, parodying the 1940s Invisible Man sequels, in which Ed Begley Jr goes dancing around naked thinking he is invisible, and the title story parodying 1950s B-grade outer space films like Cat-Women of the Moon (1953) and Queen of Outer Space (1958), would probably have sounded funny on paper, but seem belaboured on film.
On the other hand, there are those sequences that would have sounded juvenile on paper too, ranging from the instantly forgettable – the literally interpreted Video Pirates piece, a segment about a lonely bachelor who finds a participatory dirty video – to that which goes on at length to no – one where Rosanna Arquette's computer throws Steve Guttenberg's pick-up lines back at him – or awful points – Griffin Dunne's thoroughly terrible acting as a doctor who misplaces Michelle Pfeiffer's baby.
---
---