---
Crew
Director – John Schultz, Screenplay – Mark Burton & Adam F. Goldberg, Story – Mark Burton, Producers – Barry Josephson, Photography – Don Burgess, Music – John Debney, Visual Effects Supervisor – Douglas Hans Smith, Visual Effects – CIS-Vancouver (Supervisor – Randy Goux), Hy*drau*lx, Look Effects Inc, Rhythm and Hues Studio (Co-Supervisor – Mike O'Neal) & Soho VFX (Supervisor – Allan Magled), Special Effects Supervisor – Ken Durey, Production Design – Barry Chusid. Production Company – 20th Century Fox/Regency Enterprises/Josephson Entertainment/Dune Entertainment.
Cast
Carter Jenkins (Tom Pearson), Austin Butler (Jake Pearson), Ashley Tisdale (Bethany Pearson), Robert Hoffmann (Ricky Dillman), Ashley Boettcher (Hannah Pearson), Henri Young (Art Pearson), Regan Young (Lee Pearson), Doris Roberts (Grandma Pearson), Kevin Nealon (Stuart Pearson), Gillian Vigman (Nina Pearson), Andy Richter (Nate Pearson), Tim Meadows (Sheriff Armstrong)
Voices
Thomas Haden Church (Tazer), Josh Peck (Sparks), Kari Wahlgren (Razor), Ashley Peldon (Skip)
---
Plot
After teenager Tom Pearson is caught by his parents hacking into the school computer to alter his grades, his father decides to take the family away on a holiday. Joined by Tom's older teenager sister Bethany and younger sister Hannah, they head to the lakeside holiday resort of Greek Landing. There their Uncle Nate, his son Jake and twin boys Lee and Art, as well as their grandmother also join them. Bethany's cocky boyfriend Ricky also follows them up to the lake house and fakes car trouble in order to stay the night with the intention of having his way with Bethany. When the tv reception goes out, Ricky forces Tom up onto the roof to sort the satellite out. They are startled to encounter a quartet of green-skinned, four-armed, pint-sized aliens from the planet Zircon who are the spearhead for an invasion force. The aliens fire a dart that takes over Ricky's mind and turns him into their remote-controlled zombie. Tom, Jake and the other kids barricade the aliens in the attic. Realising that the aliens are only able to control the minds of adults but not the children, the kids set out to foil the invasion, while also trying to prevent their parents from being taken over.
---
Aliens in the Attic is typical of the family fare that comes out at holiday seasons these days. It is an item of about five minutes passing amusement whose prime raison d'etre is for parents wishing to park their children for an afternoon. It is so lacking in any distinguishing or standout qualities it can safely be forgotten the moment people have reached the parking lot on the way home.
A couple of decades ago, Aliens in the Attic would have been a copycat trying to jump aboard the bandwagon of the success of E.T. – The Extra-Terrestrial (1982) – something along the lines of films like Hyper Sapien: People from Another Star (1986), Mac and Me (1988) or Purple People Eater (1988). Indeed, the film bears a number of similarities to the slapstick alien invader film Spaced Invaders (1990). About the only major difference with Aliens in the Attic being made in 2009 rather than 1989 is that the aliens are created using CGI effects rather than animatronics and there is a far higher degree of culture-savvy in-reference humour.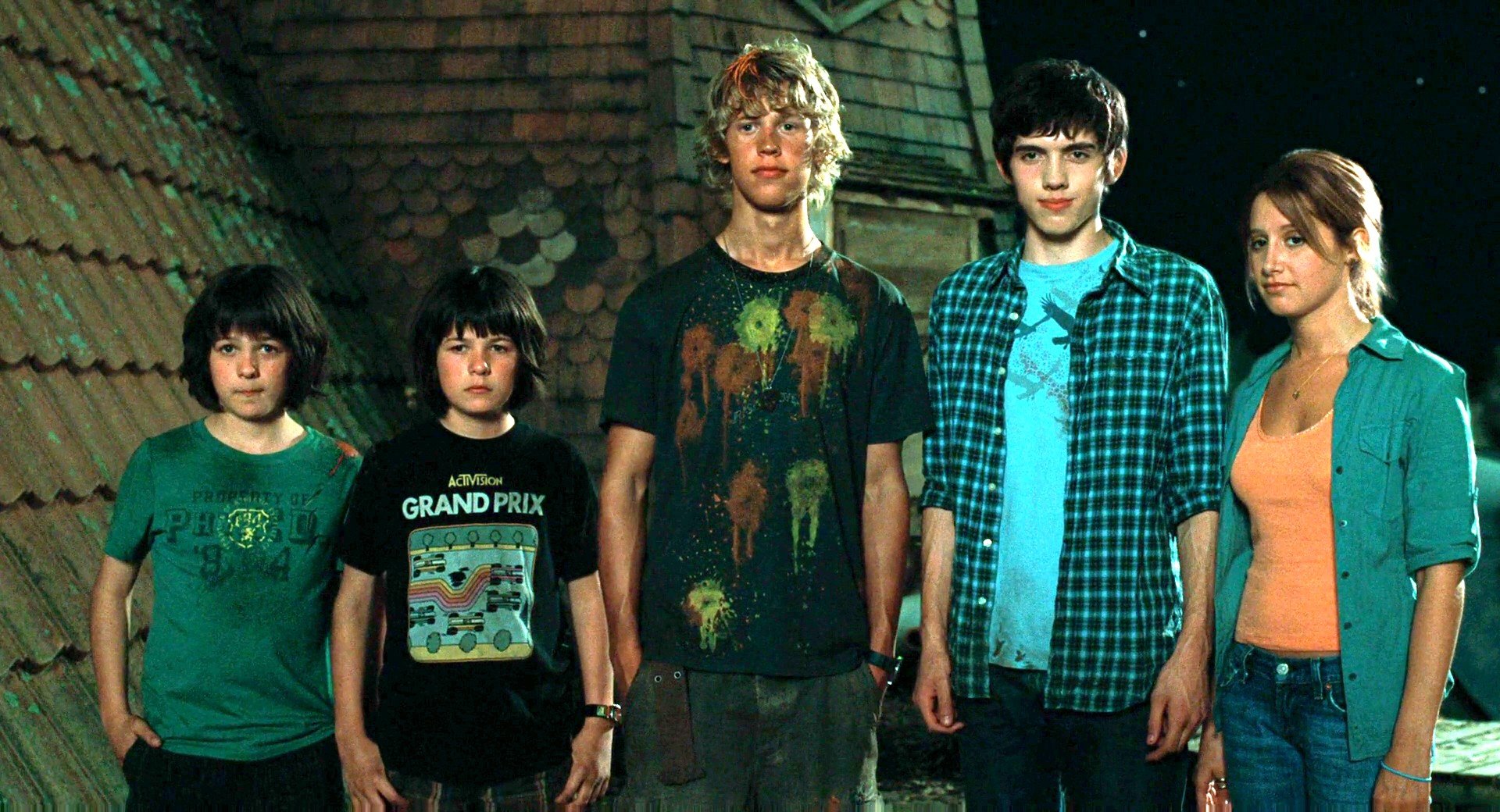 On a certain level, the film's basic premise – kids use their own resources to repel alien invaders that are hiding in their attic while trying to ensure their parents remain oblivious – is a winning one. It is easily the sort of idea that could have filled a series of Young Adults books and must have seemed like a potential winner to 20th Century Fox when they greenlit the project. Unfortunately, Aliens in the Attic has been placed in the hands of the wholly middle-of-the-road John Schultz who had previously directed the underwhelming likes of Like Mike (2002) and The Honeymooners (2005) and subsequently went onto Judy Moody and the Not Bummer Summer (2011).
The result is not so much a film that sparkles with invention and creativity but one that has largely been construed around the provision of a series of slapstick sequences or cute effects set-pieces every few minutes – the aliens switching off the gravity in the upstairs room and the kids floating in zero g until Carter Jenkins finds out how to propel himself using a fire extinguisher; they trying to hide a captured alien in a basket when the sheriff (Tim Meadows) comes to visit and is invited to the family barbecue and so on.
There is a great deal of slapstick humour derived from the scenes where obvious fall guy jerk Robert Hoffmann (who could almost be the younger brother of Sam Rockwell) is spun around, made to fall over, do idiotic things and generally embarrass himself after the kids get their hands on a remote control device dropped by the aliens that allow them to 'play' him like he were a videogame – one of the film's big set-pieces is a scene where the kids and aliens control Hoffmann and grandmother Doris Roberts like martial arts warriors fighting one another in a series of acrobatic moves.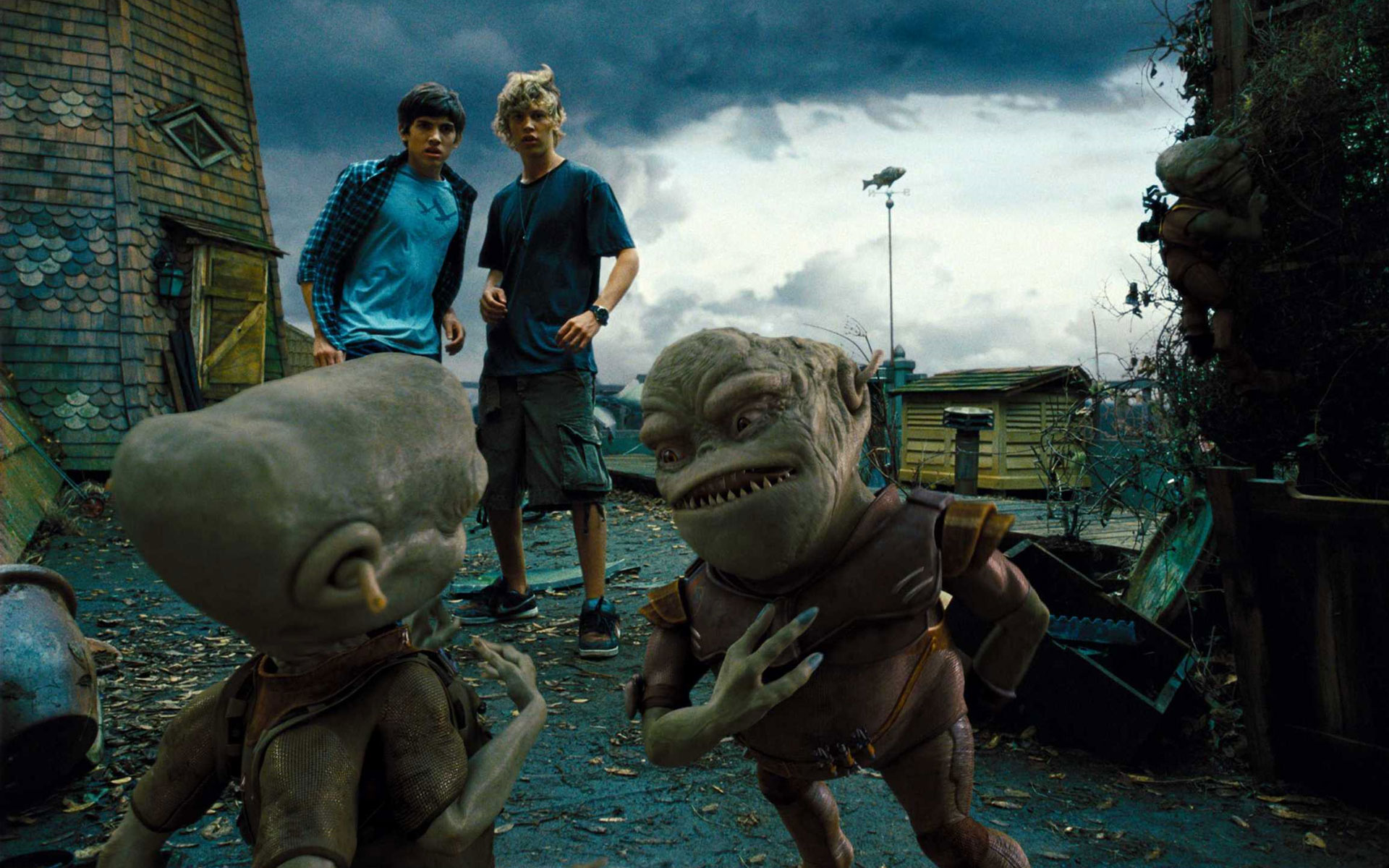 Most of the rest of the humour in Aliens in the Attic derives from the kids attempting to combat the aliens using a variety of homemade weapons or trying to hide the existence of the aliens from the adults. To John Schultz's credit, though the aliens speak English and use modern colloquialisms, the film is not overrun with an annoying barrage (or at least excess) of pop-culture humour, as is the case with many other films of this ilk. All of the kids play competently, with neither an overkill of saccharine or knowing cynicism.
However, the treatment remains strictly middle of the road and eminently forgettable. Under a more lively director, the basic premise could have amounted to something – imagine how much fun the idea could have been in the hands of a director like Robert Rodriguez or Joe Dante. Alas, handled by John Schultz, it amounts to no more than a school holiday season junk food snack.
---
---