---
USA. 2001.
Crew
Director – John A. Davis, Screenplay – John A. Davis, David N. Weiss, J. David Stem & Steve Oedekerk, Story – John A. Davis & Steve Oedekerk, Producers – John A. Davis, Steve Oedekerk & Albie Hecht, Music – John Debney, Music Supervisors – Jeff Carson & Frankie Pine, Production Design – Fred Cline. Production Company – O Entertainment/Nickelodeon/Paramount.
Voices
Debi Derryberry (Jimmy Neutron), Rob Paulsen (Carl Wheezer), Megan Cavanagh (Mrs Neutron), Mark DeCarlo (Hugh Neutron), Carolyn Lawrence (Cindy Vortex), Patrick Stewart (King Goobot), Martin Short (Ooblar), Jeff Garcia (Sheen), Candi Milo (Nick), Andrea Martin (Mrs Fowl), Crystal Scales (Libby)
---
Plot
Young Jimmy Neutron is a genius, having invented rocketships, a robot dog and a shrinking ray, among other things. He has been attempting to communicate with aliens, even though his mother warns him against talking to strangers. His messages have been picked up by King Goobot, ruler of the alien Yokians, who sees Jimmy's parents as a potential tasty treat. As Jimmy and his friends sneak out to the opening of a new amusement park, the aliens come and abduct the parents of every child in town. At first, the children celebrate their newfound freedom but soon find that there is nobody to look after them. Jimmy then mounts an expedition aboard amusement park rides turned into rocketships to go and rescue their parents.
---
After the amazing successes in computer animation in the last few years by studios such as DreamWorks and most notably Pixar, other companies have been jumping on the computer animation trend. Jimmy Neutron, Boy Genius is one such attempt. Jimmy Neutron comes from the family entertainment cable network Nickelodeon, who have produced a number of children's theatrical films in recent years, including the likes of the Rugrats movies, Snow Day (2000) and Clockstoppers (2002).
Jimmy Neutron is written by Steve Oedekerk, the screenwriter for light comedies such as The Nutty Professor films and Patch Adams (1998) and director of Kung Pow: Enter the Fist (2002) and the animated Barnyard (2006), and features the directorial debut of John A. Davis whose previous outing was an animated Christmas special called Santa vs the Snowman (1997).
As it goes, Jimmy Neutron, Boy Genius is likable. It brims over with a good deal of visual energy – it is bubbly, moves snappily and visually there is always something happening. There is one particularly appealing image of the kids taking off into space in a flotilla of amusement park rides converted into spaceships, a sequence that offers the gloriously surreal vision of rollercoasters, octopus rides, ferris wheels and the likes sailing through space. The image is momentarily a beautiful one, even if the scientific realist in one quibbled at the idea of people travelling through space in open ships and no spacesuits. There is also a cute scene where the kids pitch camp on an asteroid and sit around a fire narrating the plotline of The Blair Witch Project (1999) as a campfire tale.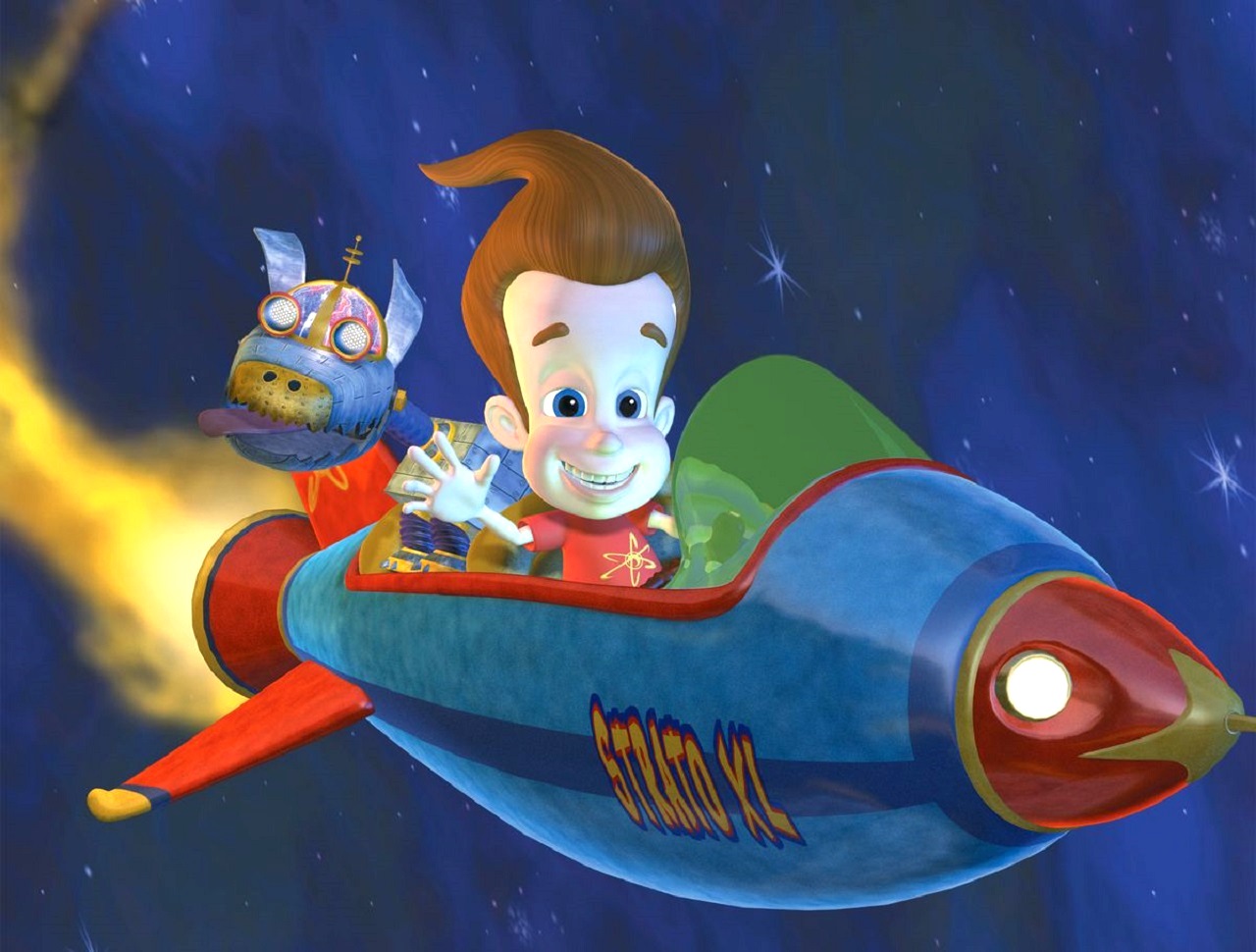 Mostly, Jimmy Neutron, Boy Genius serves to show how intelligent and sophisticated Pixar's entries in the computer-animation stakes are by comparison. Pixar films manage to come with a whole other level of sly asides and cleverness pitched to the adults. They manage to straddle both demographics, whereas Jimmy Neutron is merely a film pitched at age groups in the single digits. In Jimmy Neutron, the natural charms of any Pixar-esque wit and humour have been smoothed over by the commercial packaging of family entertainment formula and desire to present an upbeat moral message – the kids are allowed to celebrate their freedom from parental authority only as much as they are also allowed to miss their parents, and there is even a bizarre end message that turns the danger of sending messages into space into a warning against talking to strangers.
Ultimately, Jimmy Neutron, Boy Genius feels more like an episode of a Saturday morning animated children's series that has been packaged out with expensive animation and a soundtrack with teen pop names like *N'Sync, Britney Spears and No Secrets than a real film. Expect sequels and a franchise to follow. [It did – the animated tv series spinoff, The Adventures of Jimmy Neutron, Boy Genius [2002-6]).
There were two tv movies sequels, Jimmy Neutron: You Bet Your Lifeform (2004) and Jimmy Neutron: Attack of the Twonkies (2005).
Director John A. Davis next went onto make the animated The Ant Bully (2006). His work subsequent to that has been in television.
---
Trailer here
---